CNFT has the first-mover advantage on Cardano NFT marketplaces, having launched in July 2021 with the support of the community. Is it the best marketplace on the network? That's debatable, but it's definitely one of the market leaders.
CNFT also has some of the highest if not the highest volume of NFTs being traded on a daily basis, which is important especially when you plan to sell. But perhaps the most unique aspect of the platform is the fact that it offers token rewards (through $CNFT) to its traders.
This guide will serve as your full resource for everything CNFT.io, from buying to selling NFTs, to creating your own NFT project, to all the different features and parameters.
What is CNFT.IO?
CNFT.IO is the first non-fungible token marketplace on Cardano that allows users to discover and trade NFT collections, launch projects, and trade digital assets. You could even earn $CNFT rewards through buying or selling an NFT.
Every asset listed in the marketplace links to its website and/or social media pages for you to DYOR. It also has an easy-to-use interface that caters to both beginner and advanced users.
Lastly, the CNFT.IO team comprises 12 core members with diverse experiences in different industries. With their combined expertise, the team strives to make CNFT.IO one of the top NFT marketplaces on Cardano.
Connecting to CNFT
CNFT requires users to have a Cardano wallet for a full marketplace experience, but they can still view it publicly. Note that there are only five options, including Nami, Eternl, Flint, Gero, and Typhon.
Once you already have a Cardano wallet, you can connect to the marketplace by visiting the CNFT website. Click Link Wallet and choose any of the available options. We'll use Nami in this example, but other wallets will work the same.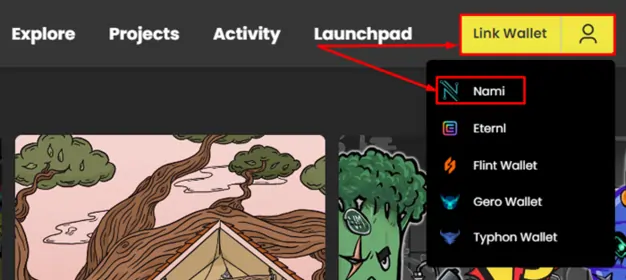 A notice will appear on your screen after connecting your wallet. Tap Access to proceed and type in your wallet password (if required).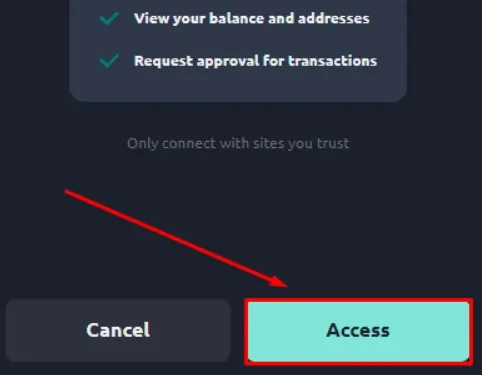 Note that the interface may be different depending on your wallet, but they all follow the same procedure.
You'll see your wallet connected to the CNFT marketplace in just a few seconds. Now's the time to explore and discover NFTs that reside on the Cardano blockchain.
Collections
An NFT collection is simply a group of NFTs that share the same concept or are under one project, usually having a limited supply. Collections come in any form, such as artworks, music, photography, games, ADA handles, and more. 
The CNFT marketplace is home to different types of NFTs that anyone can view, access, and buy. You can find them featured on the homepage, however, to explore more listings, click the Projects tab in the upper right corner of the marketplace.

The page will automatically direct you to the collections, categorized into trending projects, top 10 rankings by total sales, recently launched, etc. 
Explore any collection and tap it to see more information, such as total sales, floor price, owners, and more. Currently, you can't see the assets' history details, but the marketplace will roll out that feature soon.
Creator Royalties
There's an ongoing debate about whether or not creator royalties should be enforced in the web3 space. CNFT is taking the creators' side. 
Creator royalties are commission rewards that artists/creators receive every time their NFTs are sold on a marketplace, allowing them to continually benefit from their work and fund operations moving forward. For example, if the asset sale price is 100 ADA and the royalty percentage is 2.5%, the artist gets 2.5 ADA, which will be deducted from the seller's sale.
Note that creators will automatically receive royalties in their designated wallet addresses when using CNFT. 
$CNFT Rewards and Utility
The marketplace rewards buyers and sellers with 5% $CNFT for every NFT bought or sold. For instance, if you buy a collectible for 50 ADA, you'll receive 2.5 $CNFT while the seller also gets the same amount. 
The $CNFT tokens can help boost your listings, displaying them in the Explore tab where users can easily view them. There are two choices available: single or double boost.
Single boost costs cheaper than double boost because of their size difference. However, the bigger tile can be more useful when listing an asset for auction as it's more eye-catchy. 
Launchpad
The CNFT launchpad allows users to discover emerging NFT projects and participate in their minting event. You can track the most hyped upcoming drops and prepare to participate in their launches. However, the benefit is not only for buyers but also creators. 
Project developers can take advantage of the existing user base of CNFT to widen their reach instead of solely relying on their newly-formed community. Furthermore, they can also leverage the support of CNFT in terms of infrastructure, advisory, and more.
If you want to start an NFT project and are exploring different platforms, we have a CNFT Launchpad step-by-step guide section.
How to Buy NFTs on CNFT
The exciting part about exploring the CNFT marketplace is finding a digital asset you can buy. Just make sure you have enough ADA funds in your wallet to pay for the NFT plus fees.
Ready to own an NFT? Follow our simple guide below:
Log in to CNFT 
Go to CNFT and connect your Cardano wallet found at the top right corner of your screen. You can choose any of the options.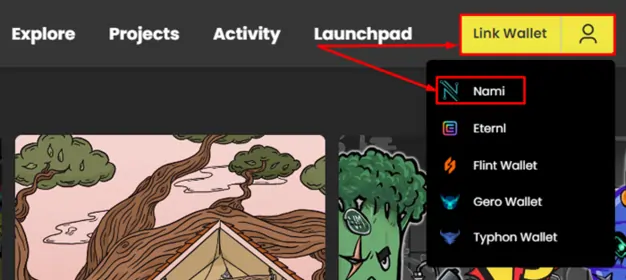 Choose an NFT
You can scroll down the homepage to see the listed NFTs, but the marketplace also has a search bar where you can type the asset name. You can also discover other collectibles under two tabs: Explore for random listings and Projects for finding specific collections.

You can also customize the NFTs on the marketplace by filtering the options. For example, you can set the ADA price range accordingly if you're on a budget. Some NFTs also come in discounted bundles, so, choose wisely. 
Buy the NFT
Once you've found an NFT you like, you can buy it by clicking on it. Remember to check the price and asset details before purchasing. Then move your cursor to the Buy Now button to proceed. For this example, I'm buying Underwater Model #9.
Your wallet will then prompt you to sign the transaction. Go ahead and do that. There may be times when the process takes too long due to congestion, but you'll receive a confirmation once it's done.
Head to your wallet and check your NFT. Success! You can now use it in any way you want.
How to Sell NFTs on CNFT
CNFT allows you to list your NFTs up for sale for other enthusiasts/collectors to buy. Note that while you can set a 'fair price' based on your perceived valuation of the asset, this doesn't mean it will get sold immediately. It's all about supply and demand when it comes to NFT trading.
If you want to list your digital assets for sale, follow these steps:
Link your wallet to CNFT
Go to the marketplace and connect your wallet. Once linked, you should see your ADA balance and NFTs. Click it to access your profile.
Sell your NFT
Go to your Inventory dashboard to see the NFTs you own. Choose any of the items and click the Sell Asset button. In my case, I only have Cosmic Moonbirds in my wallet, so it shows up.
Set a price
Now, you can set your NFT listing price. Note that there is a 2.5% service fee plus a royalty fee (varies per project), which the marketplace deducts from your earnings.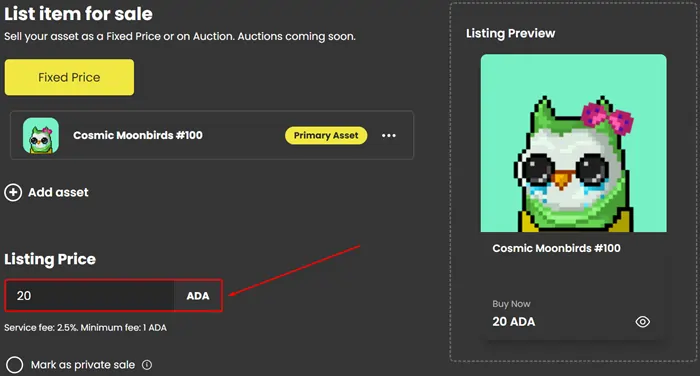 You can also see the listing preview of your NFT on the right side of your screen. Tap Create Listing to finish the process. Ta-da! Your item is now available on the marketplace. Check it out on your On Sale tab to confirm.
You can also change your listing price at any time.
How to Launch Your Own NFT Collection
CNFT Launchpad allows you to launch an NFT project directly on the marketplace. This makes it a lot easier for creators to launch since the platform will take care of the infrastructure required, leaving them with only one task: creating the NFTs and building their team.
To launch your NFT project on CNFT, follow the steps below:
Open the launchpad tab
You can find the Launchpad tab on the top-right of the webpage. Access it and click the Apply for launchpad button.

Create a project
If you don't have a collection yet, add one by tapping on the Create Project button. CNFT will automatically direct you to the next page so you can fill up your project details. 
Scroll down the page after typing the necessary details of your project. Check Apply for launchpad and set the current date. Click Create Project.
Wait for a while until the marketplace has successfully launched your project. The application works instantly. Go ahead and check the Launchpad tab to see your NFT collection.

Alternative Marketplace
CNFT is the pioneer NFT marketplace on Cardano, but it isn't the only popular one. Alternatively, you can also explore its largest rival, the JPG Store.
---
Join our newsletter as we build a community of AI and web3 pioneers.
The next 3-5 years is when new industry titans will emerge, and we want you to be one of them.
Benefits include:
Receive updates on the most significant trends
Receive crucial insights that will help you stay ahead in the tech world
The chance to be part of our OG community, which will have exclusive membership perks