Gone are the days of battling writer's block under looming deadlines. Meet Copy.AI, the ChatGPT alternative that transforms your ideas into remarkable results, leveraging the power of cutting-edge technologies right at your fingertips.
And the best part is that it won't require much time or a complex process.
You can access Copy.AI by simply using your Google or any existing email account on the platform. Don't fret if you don't have one because it's always free to create. Remember that it's necessary as it's your pass to unlock the door of boundless possibilities in writing content.
Once done, prepare to explore this new and exciting opportunity. But don't worry; we'll guide you every step of the way. So, you can see how to generate quality outputs in a short time.
What is Copy.AI
Copy.AI is a web-based writing assistant that can generate informative and engaging materials, including long-form blogs, compelling and persuasive copies, and attention-grabbing social media posts. These features enable professionals to deliver quality content with only just a few words and clicks.
Users can begin by naming the project and setting their preferred tone, which is important in effectively communicating with the audience. Next is to choose from a wide variety of tools available on the platform depending on their predetermined purpose. It ranges from writing product descriptions to more than 90 other selections.
Moreover, it supports, not only English but also over 25 languages, allowing users to write with more flexibility. 
Note: Don't forget to give this tool the necessary details it can work with. The more specific your descriptions are, the better its output will be.
Subscription Plans
You can use Copy.AI for free. If you want to get a feel of how it works, visit its official website, where you'll immediately see the sign-up options. Choose an account and proceed with answering or skipping the survey form.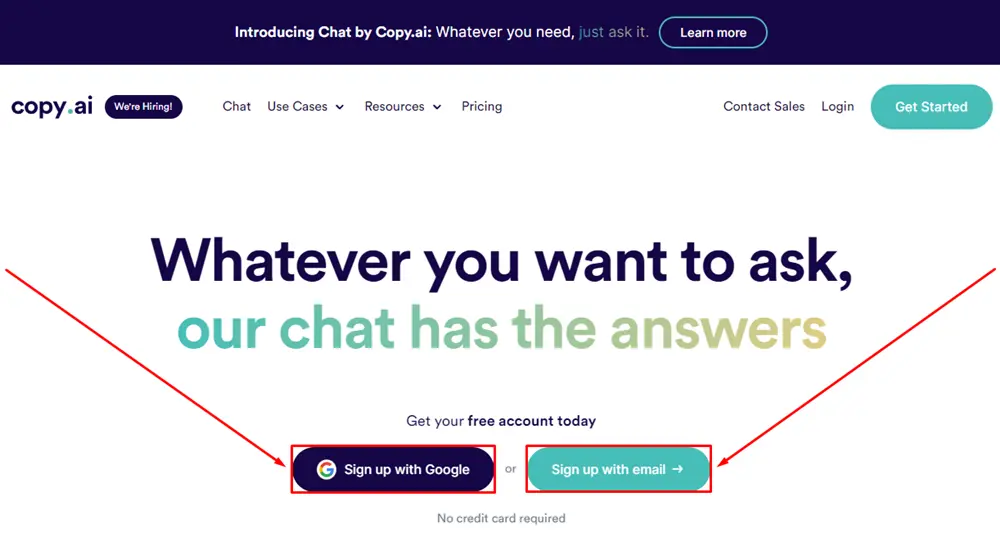 Once done, you're set to explore new and improved writing methods. But of course, this free plan only comes with limited advantages, as there's a pro subscription to access additional features.
Let's see the differences between the two below:
Free Subscription
Pro Subscription
1. $0
2. Up to 2,000 words monthly
3. Limited to one user only
4. Can access Chat
5. Generates five results at a time when using free tools
6. Only supports English
7. Doesn't have access to newest features
1. $0
2. Up to 2,000 words monthly
3. Limited to one user only
4. Can access Chat
5. Generates five results at a time when using free tools
6. Only supports English
7. Doesn't have access to the newest features
When considering subscription options for generating materials, weighing your specific needs is essential. While the free plan can be a viable choice for crafting short pieces due to its limited word count, Pro can be ideal for teams creating extensive and long-form articles. 
With this, you can access comprehensive features and benefits tailored to support the production of actual written content.
How to Use Copy.AI for Creating a Marketing Content, Resume, Essay, and a Blog Post 
Copy.AI has numerous applications, including but not limited to generating captivating marketing content, crafting impressive resumes, making stellar essays, and brewing up engaging blog posts. It's here to unleash your inner wordsmith and make writing an absolute breeze.
Find out how below:
Marketing Content
Marketing content encompasses a range of activities to increase product awareness and reach the target audience. It plays a crucial role in brand development, fostering consumer connections, and ultimately driving sales. Yet, executing this task can be challenging and requires careful consideration.
Thankfully, this too extends its virtual hands to generate a productive output through these steps:
Create a Project Name
The first step to creating marketing content is to name your project. It would help you quickly identify which content you want to work with as you generate more. 
Tap the New Project button or New Folder for sorting purposes. Wait until the website transfers you to the next page, where you can access the tools and Chat. 

Generate Content
In this sample, let's assume I'm creating a gaming project. With this in mind, I can choose from Copy.AI's available tools, like Product Descriptions on the screen's left part.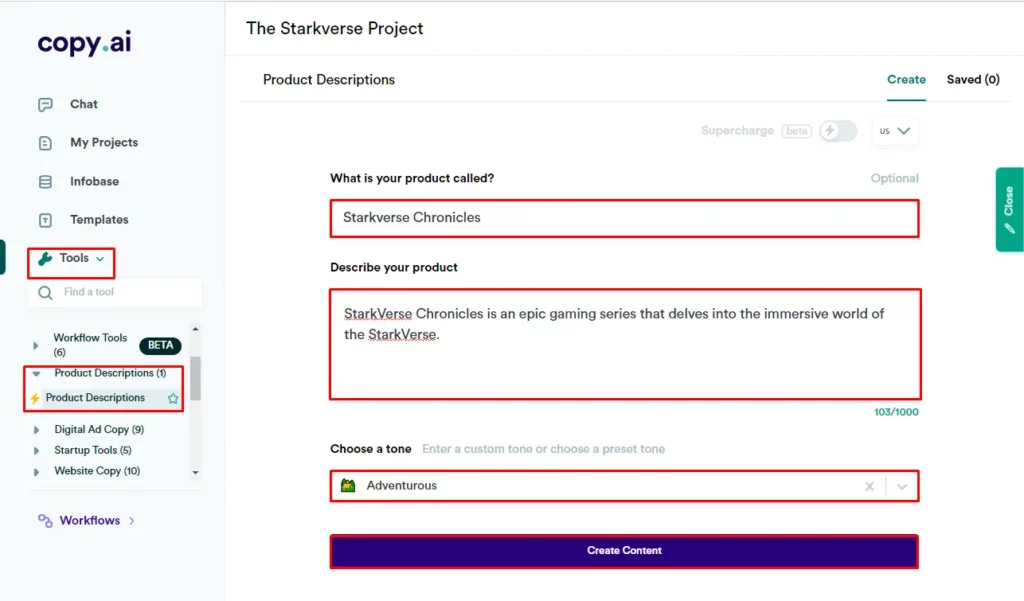 As you have seen, I only need to fill up three details: product name, description, and the appropriate tone. Once done, you only need to tap on Create Content to proceed.
Copy and Apply Necessary Changes
In under a minute, Copy.AI was able to generate multiple outputs. You only need to scroll a few times to choose the most applicable description.
I chose the first one, as it doesn't give away too much information but enough to paint a picture in my readers' minds.
However, expect that it won't be perfect. That's why it has a built-in editor tool where you can apply the necessary changes. Go ahead and add your insights while Copy.AI generates the content for you. 
Resume
Are you a newbie looking to find ways on how to create a resume the right way or an experienced professional who wants to do application improvements? Don't worry; Copy.AI can do these things too. Here's how:
Brainstorm with Chat
Copy.AI has a chatbot that you can brainstorm with; it's called Chat. Like most AIs, you only have to feed it a prompt, which is a set of instructions it'll follow.
Imagine being a fresh graduate ready to embark on your professional journey and secure the perfect job. A standout resume that sums up your skills and experiences would be best. 
Type it into the empty bar below and await Chat's response, tailored to help you craft a compelling resume that captures the attention of potential employers.
Now that you have an outline to follow, let's move on to the next step.
Create a Resume 
It'll be easier to make a resume by filling up your name and details in the Infobase section. Click on Add Info and head to the appropriate spaces on the right side of your screen, where you'll write a short description of yourself.
Once done, go to Chat and type a prompt. You can follow this format:
"Create a resume for #(insert name)"
Now, all that's left is to wait for its output, transfer it to a resume template, and submit it to your employer. However, don't forget to double-check its content to ensure there'll be no revisions to make.
Review and Revise
You can always improve the AI's output, especially if your resume seems lacking. It would also be best to maximize its available tools to help you achieve better results.
For instance, you can use its sentence rewriter, verb booster, or others to make your resume more suitable for the application. Otherwise, manually revise it on the built-in editing space to fill in the missing info.
See also: ChatGPT: Your Secret Weapon for Acing That Job Interview
Essay
Writing essays can be a challenging task, especially with unfamiliar topics. But that won't be a problem anymore, as Copy.AI can provide you a headstart with only three simple steps:
Access Chat
Begin asking the tool to generate an essay by using its chatbot. You can write a one-sentence instruction. However, expect that it'll only provide a generic response that could be far from what you wanted. 
The good thing is Chat has an Improve feature, which can automatically enhance your prompt for better results.
If you're satisfied, click the arrow button to generate the essay. Note that the tweaked prompt is also editable, which makes inserting your thoughts into the instruction easier. 
Generate Content
Now's the time for Copy.AI to create the essay based on your prompt. Wait for a few seconds until the result pops up on your screen.
Hit the Add to Editor button to format the essay as you see fit. As you can also see, the AI can provide data to support its claims.
Reminder: It's still important to verify the stated statistics, as there are no mentioned resources unless you're using the Pro plan. 
Review and Update
Crafting the perfect essay requires attention to detail and thoroughness. As you work on the final stages of your writing process, it is essential to cultivate the habit of carefully reviewing and scrutinizing your work. Immerse yourself in the output and diligently verify all the info presented to polish it.
See also: How to Write Essays with ChatGPT: Step-by-Step 
Blog Post
According to Envisage Digital, there are 4.4 million blog content posted daily. This statistic proves a vast opportunity in this field and generating high-quality articles fast can be a good strategy. Luckily, Copy.AI can help you accomplish this goal too:
Use a Template
It has numerous templates you can choose from based on your preferred content. There are also four options for writing blogs: Blog Post Wizard, Intro, Outline, and Section.
Pick one from the choices and wait until the platform transfers you to the next page.
Fill  the Details
Similarly to creating other content types, you must type your project details in the space provided: Blog title, description, and tone.
Click Create Content to generate your results.  
Edit Output as Needed
Revisions are crucial to ensure its quality and accuracy. Even though artificial intelligence models can provide relevant and coherent responses, there are instances where mistakes or inaccuracies may occur. By reviewing and editing the output, you can identify any errors, clarify ambiguous points, improve sentence structure, and enhance overall readability.
What Makes Copy.AI Unique? 
Copy.ai, the remarkable AI-powered writing tool, has become a game-changer in content creation. Its ability to discern the intent behind your content sets it apart from others. By offering a comprehensive array of features, this tool has revolutionized the approach of businesses, content creators, and marketers to crafting compelling materials.
Additionally, at the heart of Copy.ai lies its mesmerizing Freestyle tool, a writer's dream come true. It's like having a treasure trove of writing frameworks at your fingertips, turning the complex writing process into an enjoyable adventure of creativity.
Wait, that's not all! It's beginner-friendly, as it can provide prompt improvement recommendations to make the results closer to your expectations. With this, you can quickly churn out a mountain of content, even without deep knowledge of artificial intelligence use.
However, it's important to note that Copy.ai, like any tool, has limitations. While it showcases impressive capabilities, it may occasionally require user intervention to ensure the output meets your needs.
You might also like:
---
Join our newsletter as we build a community of AI and web3 pioneers.
The next 3-5 years is when new industry titans will emerge, and we want you to be one of them.
Benefits include:
Receive updates on the most significant trends
Receive crucial insights that will help you stay ahead in the tech world
The chance to be part of our OG community, which will have exclusive membership perks