Are you in search of a more liberating and unrestricted platform for exploring your creative side? Do you find Character.AI's limitations and filters stifling? You're in luck! Introducing CrushOn.AI, an innovative AI-driven platform that offers a completely unfiltered experience, allowing you to create your own characters and delve into any topic without constraints.
What Makes CrushOn.AI the Perfect Alternative to Character.AI?
Unlike Character.AI, CrushOn.AI does not impose any NSFW filters, providing its users with a no-holds-barred creative environment. This means that you can explore any topic, no matter how risqué or controversial, without any restrictions. CrushOn.AI aims to be the go-to alternative for users who feel constrained by the limitations of Character.AI.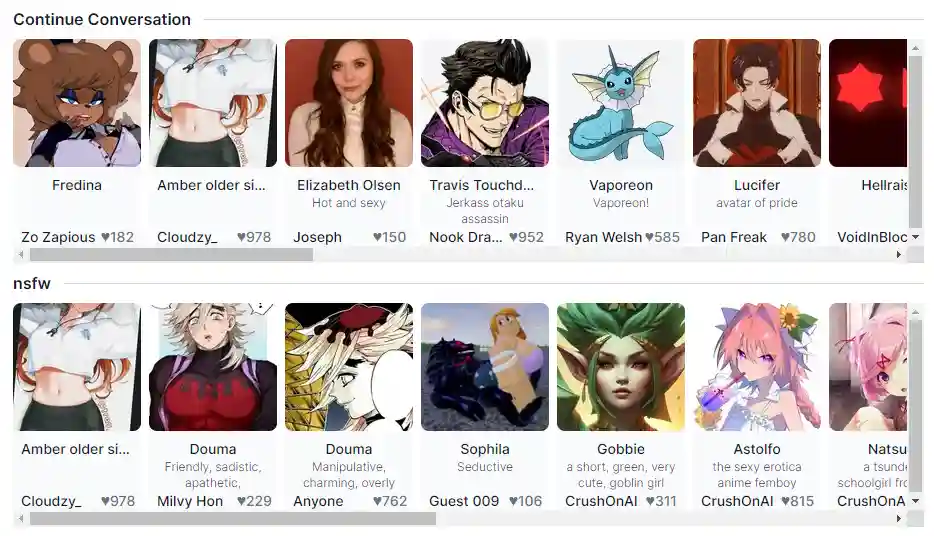 No NSFW Filter: CrushOn.AI embraces the full spectrum of creativity, enabling you to explore any topic without limitations.
Create Your Own Characters: Craft unique and fully realized characters with distinctive personalities and backgrounds.
Advanced AI Algorithms: CrushOn.AI is powered by cutting-edge AI technology that generates human-like responses and immersive experiences for users.
User-Friendly Interface: With its intuitive design, CrushOn.AI is easy to use, allowing you to dive right into your creative projects without any hassle.
Unleash the Full Potential of CrushOn.AI
CrushOn.AI is the ultimate platform for those seeking a more permissive environment to explore their creative ideas and develop their own characters. Whether you're a writer looking for inspiration, an artist seeking a muse, or someone who enjoys pushing the boundaries, CrushOn.AI has you covered. There are no filters, and the possibilities are truly endless.
How Can You Benefit from CrushOn.AI?
Adult Fiction Writing: Indulge in your wildest fantasies and create steamy stories without any limitations. CrushOn.AI is the perfect platform for crafting adult fiction that will captivate your readers.
Role-Playing Games: Immerse yourself in vibrant worlds and create unique characters with unrestricted personalities. CrushOn.AI allows you to develop captivating narratives for your role-playing games.
Entertainment: Explore and interact with AI-generated content that pushes the boundaries of creativity and provides endless amusement. CrushOn.AI offers a one-of-a-kind entertainment experience that will keep you coming back for more.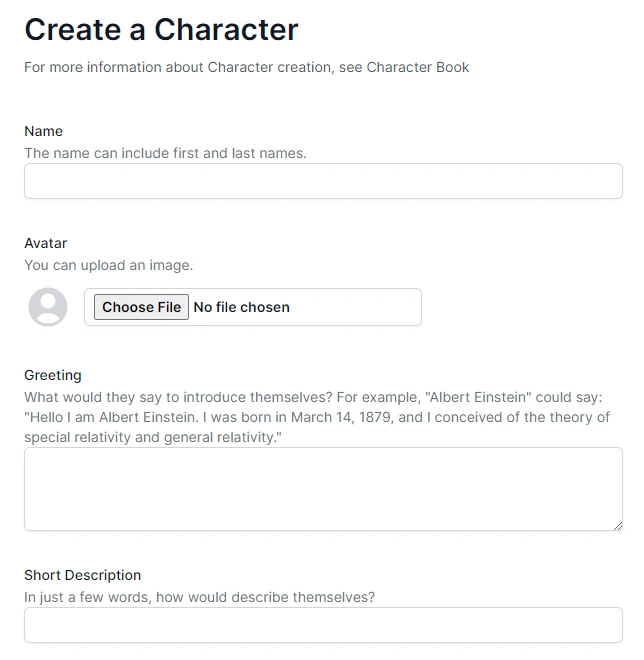 Tips for Getting Started with CrushOn.AI
Define Your Characters: Before diving into your creative project, take some time to develop well-rounded characters with unique traits and backgrounds. This will help you create more engaging and immersive content.
Experiment with Different Scenarios: Don't be afraid to explore various situations and themes. CrushOn.AI's unfiltered nature allows you to push the boundaries and take your creativity to new heights.
Collaborate with Others: Share your creations with friends or other users on the platform. Collaborating with others can help you refine your ideas and generate even more engaging content.
In Conclusion:
If you're searching for a platform that truly liberates your creativity, look no further than CrushOn.AI. As the perfect alternative to Character.AI, CrushOn.AI offers an unfiltered environment where you can create your own characters and explore any topic without restrictions. Embrace the limitless world of CrushOn.AI and let your imagination run wild!

Please note that CrushOn.AI is intended for a mature audience. By using the platform, you agree to the terms and conditions and acknowledge that you are accessing content that may be NSFW.