There are endless ways teachers can use ChatGPT, including creating educational materials to enhance students' learning and preparing assessment tasks that could determine learners' strengths and weaknesses. And that's only one of the two advantages they could get from this artificial intelligence (AI) tool.
In fact, according to the Walton Family Foundation's research in March 2023, 51% of teachers are already using ChatGPT. This statistic proves the growing recognition of AI's ability to revolutionize the teaching and learning experience.
As we stride confidently into this exciting new era, the time has come for educators to seize the opportunity and immerse themselves in the vast possibilities that ChatGPT offers. To walk you on this journey, we have prepared an array of innovative ways to leverage this remarkable tool. 
So, without further ado, let us plunge headfirst into AI-powered education. The future awaits, and it's time to dive in!
Brainstorm Ideas
Unleash the power of ChatGPT, the ultimate idea generator! Whether you're seeking new strategies to revolutionize your teaching or want exciting techniques to infuse fun into learning, this extraordinary tool has your back. 
However, remember that magic happens when you use the correct prompt. But fear not because we're here to guide you every step of the way.
Let's say you want to gather ideas about modern teaching steps to keep the class active throughout the period. You can instruct ChatGPT this way:

Topic:
Inventory management
"For the above-mentioned topic, brainstorm modern teaching ways to keep the class more active"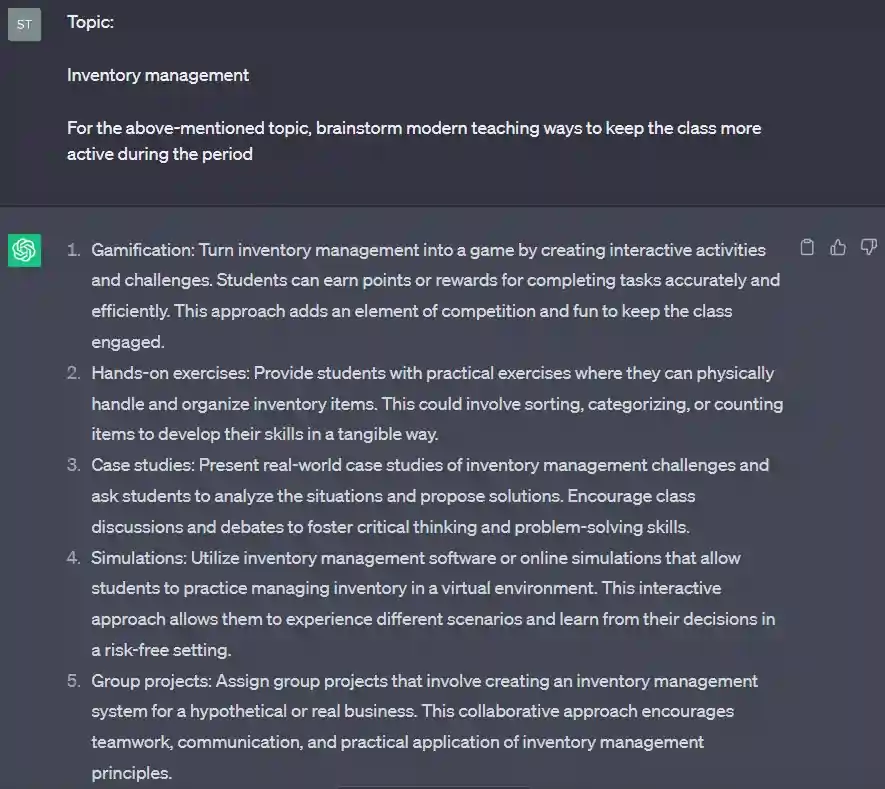 Observe ChatGPT's list, and you will see that the teacher and students both have roles to play. It's far from the traditional class setup where the professor consumes time by lecturing. 
Note that the sample is one of the numerous ways to get different results. As you become more familiar, you'll discover new techniques to supercharge your ChatGPT game with advanced prompts.
Create Drafts 
Lesson plans have always been a familiar task for you, integral to your responsibilities. Yet, crafting them has challenges, particularly when the content becomes repetitive. Not to mention, this endeavor can take too much time, robbing you of valuable moments that could be better utilized elsewhere.
Fortunately, with the assistance of ChatGPT, you can now delegate the initial drafting to the AI. Instead of starting from scratch, you can rely on its creative capabilities to generate a preliminary plan, allowing you to focus on refining and perfecting it as needed. This streamlined approach saves precious time, freeing you up for other important assignments.
Take this prompt as an example:

"Create a lesson plan for Grade 12 students about consumer price indices"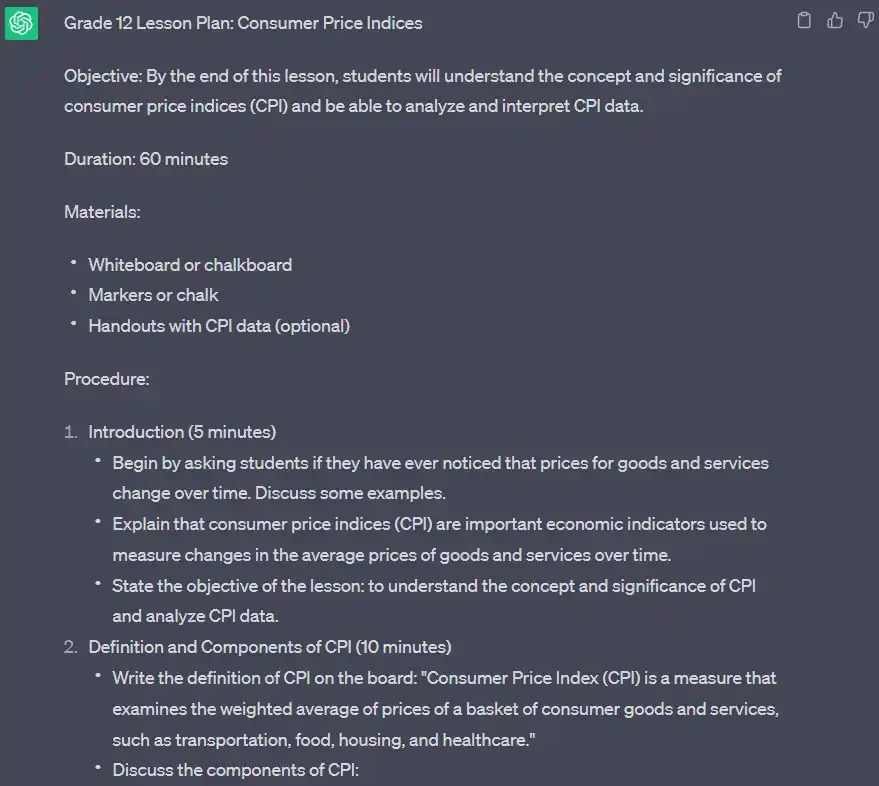 Don't forget to double-check its outputs because ChatGPT could hallucinate anytime, in which it would confidently claim made-up things as 'facts'. You may also add or remove details as you see fit.
See also: 5 Game-Changing Prompts Resources for ChatGPT
Simplify Complex Topics
Education is a fascinating journey filled with challenging topics, and teaching the younger generation can sometimes feel like a daunting task. However, as an educator, the ultimate goal is to effectively share your knowledge with them so they can thrive in the future.
The good thing is ChatGPT can help you simplify complicated topics. For instance, if you discuss energy and matter, your prompt can be in this format:

Topic: Energy and Matter
For audience: Grade 7 students
Content goal: Explain the topic to the audience in a simple way
Writing style: clear and descriptive 
The prompt has four parts: topic, audience, content goal, and writing style. This format helps the AI understand the output you want to achieve. And as you will notice, it gave a clear and descriptive explanation through examples.
You can customize your instruction to align the output with your purpose.
Make Presentation Outlines
Did you know you can take your presentations to the next level using ChatGPT with other tools? Yes, you've read that right. Now you won't have to be concerned about being in a rush, as you can easily accomplish this task. 
You can begin with this prompt:
I'm a high school Science teacher who wants to create a PowerPoint presentation about energy and matter. Give me subtopics I can input as slide titles.
You can also ask the AI to provide bulleted explanations for every slide title. Simply type this instruction:
"I'll be discussing Energy and Matter with my students. For each listed topic above, provide two bulleted explanations."
Wait, there's more! Not only can you copy and paste the ChatGPT-provided text, but you also have the freedom to jazz it up with your personal touch. Add some pizzazz with funky fonts, eye-catching colors, and snazzy designs. 
So, what are you waiting for? Let your creativity run wild and turn those dull slides into a visual masterpiece. 
Additional Tip: Make formatting a breeze with Microsoft Word! The trick is to transfer the AI's output to the app and head on to the View tab. Then, click the Outline button to unlock a world of formatting options. It's like magic!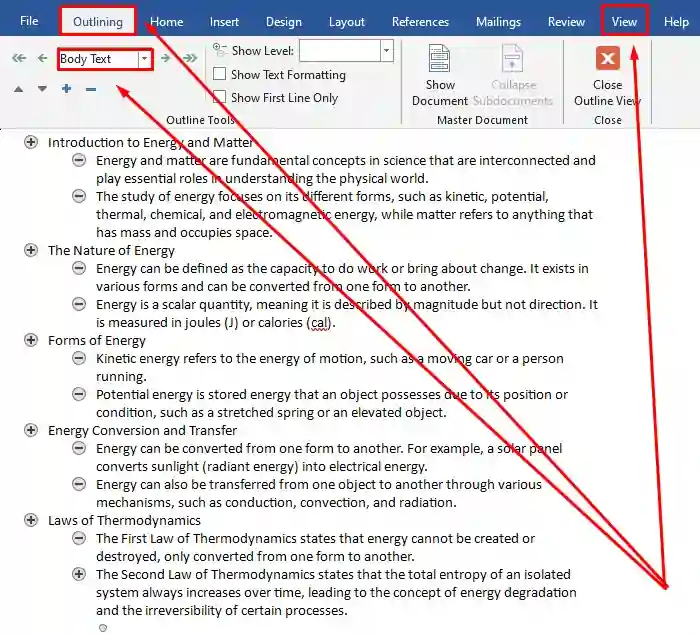 Ready for the final touch? Let PowerPoint continue the rest! It's as simple as hitting on Slides from Outline under "New Slides" and adding your saved document from Microsoft Word. Voila! Your presentation is about to get a whole lot snazzier.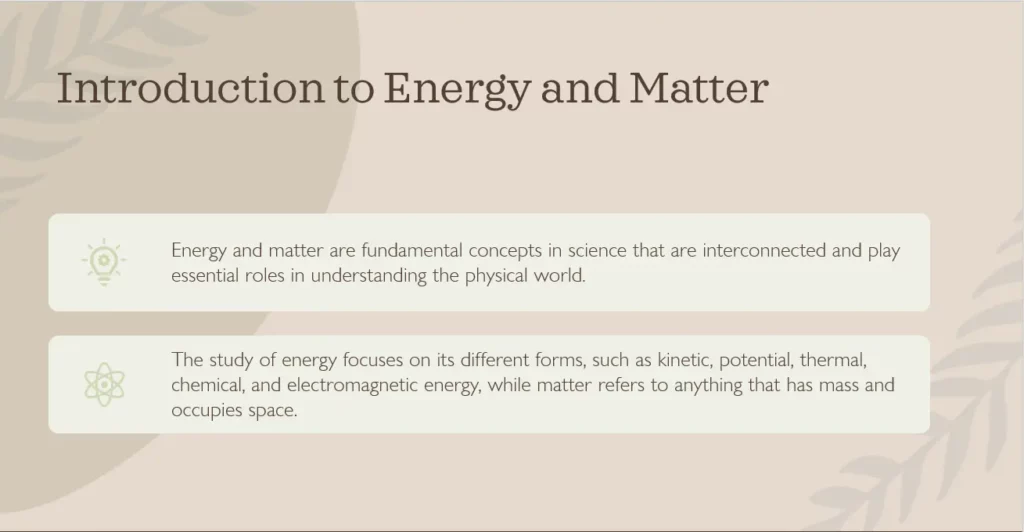 You can also check PPT's awesome designs to create a killer presentation in no time effortlessly. With just a few clicks, you're good to go! Remember, it's all about choosing the best slide style for your students. So go ahead and try it out.
Provide Examples
Need more easy-to-understand examples for your students? Don't worry; ChatGPT can help you with this task too. Let's check out how it can work.
For instance, you want to teach the young minds about the eight parts of speech. To achieve better results, you may ask the AI to give both the definition and sample for each. Considering this goal, type the prompt this way:

"Explain the eight parts of speech and give one sample for each."
Sometimes, AI can be like an idea generator. It gives you awesome insights that light up your brain with new possibilities. So, when you're stuck and need a fresh perspective, just tap into its info. It'll show you a whole new world of complex and diverse samples. 
Additionally, most of you may have wondered whether it'll work on Math problems, given that it's a large language model (LLM). Before you question it, Twitter users already did their experiments. Peter Yang's post is only one of them, showing how the AI answers confidently wrong.
But wait! There were clever folks who devised a brilliant idea to improve this tool. They decided to combine ChatGPT with Wolfram Alpha, resulting in a super-powerful AI assistant. It's like a dynamic duo joining forces.
Of course, that's only one possibility. Diverse technologies are popping up today, allowing almost everyone to mix and match different tools that could wield more advanced capabilities. And who knows? You can be a contributor too.
Prepare Questions 
Asking questions is a way for you to identify whether your students learned a thing or two in your discussions. But it's more than just a test—it's an invitation for them to seek more beyond what's taught in the four corners of the room. After all, obtaining knowledge isn't confined to what's handed to them; it's about exploring and finding answers on their own.
The challenge is how can you ignite their curiosity? You can start by feeding ChatGPT your lesson. Once done, instruct it to generate questions based on the provided info. Here's a sample prompt you can use:

"Prepare me five questions based on the given info above.."

That's your typical classroom setup. But if you're ready to spice things up and add some excitement, check out this alternative prompt:

"Based on the given info above, give me two questions that challenges the mainstream perspective."
This sample is perfect for topics that explore societal challenges. It's designed to shake up students' thinking and how they react to the world they live in. But don't worry; it's also loads of fun to dive into!
Plan Quizzes, Assignments, and Projects
ChatGPT doesn't seem to be running out of ideas. It can even provide quizzes, assignments, and project concepts for your students' requirements. And the key to achieving your preferred results is to be specific with your instruction. 
Suppose you're a college professor handling multiple subjects. Format your prompt this way:

"Give me a list of project ideas for students of BFA Major in Industrial Design to work on individually. You can cover subject areas, such as Drawing 1, Figure Drawing, 2-D Foundations, 3-D Foundations, and Photography 1."
It included the necessary info: project ideas (our purpose), students majoring in Industrial Design (who is it for), and subject areas (additional insights it can work on). A detailed prompt can be a good practice to get better outputs.
But remember, even with this sample, AI isn't flawless. You might come across some errors, so feel free to give it another try until you're happy with the outcome.
Additional Tip: You can command ChatGPT to create instructions based on its given list. Simply copy and paste its generated content on your preferred communication platform.
Generate Grading Metrics
Are you tired of thinking about your grading rubrics' composition? Look no further! ChatGPT is here to save the day and make your life as a teacher easier. No more pulling your hair out while trying to develop fair and comprehensive criteria.
Here's a sample you can try:

"Create a rubrics for BFA Major in Industrial Design students considering the listed project ideas."
Note that you can instruct the AI to provide a result in tabular format. Of course, you can adjust the metrics if you prefer to allocate more percentages to a particular criterion. 
Conclusion
The emergence of ChatGPT has stirred up interest from various industries, all eager to harness its many benefits. However, when it comes to the education sector, concerns about potential misuse have been widespread.
Thankfully, there are some who kept an open mind, like the professor who initiated ChatGPT integration in his class. Furthermore, there are now AI detection tools available that assist in shaping this new landscape. It can help determine whether a student's work has been generated by a machine or not, providing a potential solution to the concerns raised.
In this ever-evolving world of education, embracing new possibilities and innovative solutions can pave the way for a brighter future. With adaptability and handy AI tools by our side, we can navigate the challenges and unlock exciting opportunities for learning and growth. But only if we'll allow it.
---
Join our newsletter as we build a community of AI and web3 pioneers.
The next 3-5 years is when new industry titans will emerge, and we want you to be one of them.
Benefits include:
Receive updates on the most significant trends
Receive crucial insights that will help you stay ahead in the tech world
The chance to be part of our OG community, which will have exclusive membership perks