ChatGPT's capabilities are nothing short of exceptional, transforming the landscape of productivity and efficiency for its users. As the world marveled at its game-changing potential, some quickly adopted and integrated this innovative technology into their daily lives. 
However, academia isn't as excited as everyone else, as they had concerns about the possibility of plagiarism and cheating. The idea of students outsourcing their schoolwork to the chatbot was a cause for alarm among educators, who were understandably hesitant to embrace the AI fully.
One of the viral social media posts was about Darren Hudson Hick, a Visiting Assistant Professor at Furman University, who stumbled upon one of his students submitting a 500-word essay written by none other than ChatGPT; he knew something was amiss.
His intuition was confirmed when the student admitted to the deceit, but Professor Hick found himself lucky that he could catch the plagiarism. Without the glaring inconsistencies within the essay, he may have been unable to prove his suspicions.
This instance is only one of the examples that led some universities to ban the powerful language model from academe-related activities drastically. But, while some see this as a necessary measure, others contend that it's time to take a fresh look at the situation and consider the potential benefits that ChatGPT could bring to students with proper guidance and moderation in place.
ChatGPT in Class
Andrew Piper, a professor at McGill University, has recently incorporated the use of ChatGPT in his classroom, an unusual setup that many might disapprove of. However, this practice wasn't to introduce students to modern ways of cheating, plagiarizing, and other abuse of the tool's potential; it's the other way around.
Piper started his class by introducing AI to his students, highlighting the benefits it could offer them. During a live demonstration, he asked his students to explain the concept of "type-token ratio," a topic they had covered in their reading. When his students fell silent, Piper seized the opportunity to show them how ChatGPT could assist in such a situation.
He typed in the prompt, and the chatbot responded with a clear and concise explanation, complete with an example. It's as if the AI was teaching them in a way they could easily understand.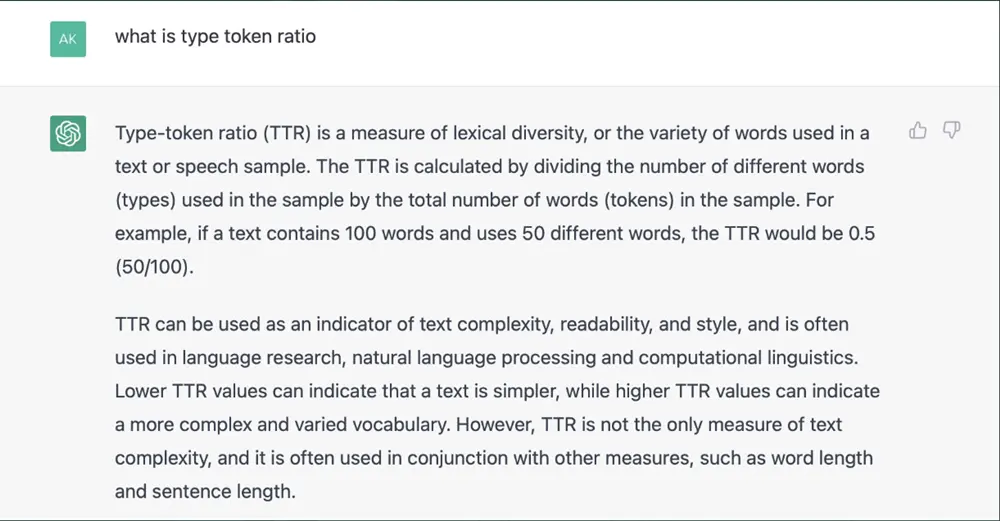 The Professor allowed the students to use ChatGPT for their papers, specifically to assist with the use of technical language when writing about statistical analysis such as t-tests or linear regressions. He explains that this type of writing may not be a strength for all students, as the course is a 200-level one and mastering technical language takes time.
He believes that ChatGPT can provide the necessary support for students to improve their writing skills and excel in their coursework.
However, Piper was careful to stress the limitations of ChatGPT's use, specifically in writing research papers. He said they could utilize it in writing their final project's technical aspect but not on other parts, such as introduction, framing, and discussion, as these should be the product of their ideas.
Additionally, Piper stated that any submission of papers written entirely by ChatGPT would not be accepted.
I emphasized that it was important that they do [the introduction, framing, and discussion themselves].

Andrew Piper
He believes that while ChatGPT can undoubtedly be a valuable tool for students, it should only supplement one's critical thinking and ingenuity. In this way, they can gain a deeper understanding of the material and develop the skills that will guide them in their future studies and careers.
Balancing the Two Sides
Piper's forward-thinking approach to incorporating ChatGPT into his classroom is a beacon of inspiration for the academic community to embrace AI's power instead of shying away from it. Utilizing the chatbot with expert guidance transforms the learning process into a more efficient and compelling journey of discovery.
But even with its potential benefits, Piper is not blind to the risks of this technology. That's why he stays vigilant in identifying entirely AI-generated content, which thankfully is still recognizable at present. 
However, will intuition be enough to detect machine-generated content as technology advances and adapt to mimicking human writing styles? 
While some may argue that AI detection tools are already shaping the current landscape and working together with the user's intuition to safeguard against misuse, Piper brought his insight to light. He stresses the importance of students understanding the possible risks when relying entirely on this technology.
Piper is a trailblazer in the field of education, embracing the advancements of AI with boundless enthusiasm. He recognizes the transformative power of this cutting-edge technology in the classroom, seeing it as a game-changer in the way students learn and grow. 
If you want to learn how to use ChatGPT for essays the right way, click here.
He understands AI's possibilities for education and deeply commits to exploring its full potential. However, he is also a realist, fully aware of the pitfalls that come with new technology. He knows that students may become overly dependent on it, mainly as it is still in its early stages. That's why he's balancing the two sides by properly guiding his students.
Although this can be a viable step in the academe, the debate on embracing AI still has a long way to go. 
You might also like:
---
Join our newsletter as we build a community of AI and web3 pioneers.
The next 3-5 years is when new industry titans will emerge, and we want you to be one of them.
Benefits include:
Receive updates on the most significant trends
Receive crucial insights that will help you stay ahead in the tech world
The chance to be part of our OG community, which will have exclusive membership perks