Ever gone on a trip to a country that uses a different currency? Imagine going to Spain with US dollars as you try to buy a cup of coffee. You'd be lucky if; a) someone sells you the coffee in exchange for your US dollars and b) if they don't overcharge you for the coffee.
Bridging is akin to exchanging your US dollars for Euros, but instead of conventional currency, we bridge our crypto money from Ethereum to Solana.
Bridging plays an integral role in the blockchain world since different protocols don't actually interact directly with one another. With web3 extending past Ethereum to other networks like Solana, Cardano, Avalanche, and others, bridging cryptocurrencies becomes a crucial part of the greater DeFi ecosystem.
If you're trying to expand your horizons to other blockchains and want to move your assets from one protocol to another, bridges can facilitate the transfer better than any other tool. Learn more about the different ways you can bridge Ethereum to Solana and vice versa in this guide.
What is Bridging?
Bridging is basically the process of transferring assets from one blockchain to another. They can either be coins, which are main blockchain assets like ETH, SOL, or ADA, or tokens, which are assets that don't represent blockchains such as $USDC, $LINK, or $GRT.
It's important to note that only a small number of cryptocurrencies have cross-chain support, which is why bridging exists. If an asset cannot be bridged or transferred, owners can swap it for a wrapped version in the receiving blockchain instead.
Here are three properties of wrapped crypto:
Wrapped crypto holds the same value and is parallel to the native crypto being wrapped.
Wrapped crypto exists on a network where the native crypto (crypto that exists on the original blockchain) is not supported.
Native tokens or coins can be exchanged for wrapped versions on the receiving protocol.
An example of this would be bridging Ethereum to Solana. Instead of sending ETH directly to the Solana protocol, which doesn't support it since they are built differently, you'll have to go through a bridge and exchange your $ETH for $WETH, which is supported on the Solana network.
Where to Bridge Ethereum to Solana
When it comes to bridging Ethereum assets to Solana and vice versa, there are three main methods that will be discussed in this article, each with its own unique approach.
For decentralized methods, we'll be using the following:
Wormhole Bridge: We will be exchanging $ETH on the Ethereum network for $WETH on the Solana protocol.
Allbridge: We will be buying $ABR with $ETH and receive it on the Solana network.
Another method we will be discussing later is bridging assets through centralized exchanges.
How to Bridge Ethereum to Solana with Wormhole
Wormhole is a popular bridge that allows you to send crypto between your Ethereum and Solana wallets. We highly recommend using MetaMask as your ETH wallet and Phantom as your SOL wallet.
STEP 1: Go to portalbridge.com.
STEP 2: Select the Source and Destination blockchains.
For this example, we will send from Ethereum to Solana, but the reverse is also applicable.
STEP 3: Connect the wallet of your source blockchain.
Refer to the image above and click on Connect to log your web3 wallet (source blockchain). It will automatically detect if you have a browser-based wallet.
STEP 4: Select the token and type the amount to transfer.
Once connected, click on SELECT A TOKEN and choose the asset you want to be transferred (in our case, ETH). Then type the amount you want to send then click NEXT.
STEP 5: Connect the wallet of the blockchain destination.

In this case, we'll connect our Phantom wallet since Solana is our destination chain.
BONUS STEP: Creating an associated token account
We added this step since some tokens require the creation of a token account, including the token in our example ($ETH). For more information, refer to these docs. But if it doesn't ask, no need to bother.

You will have to pay a small fee for it, but it should be quick.
STEP 6: Transfer
You may choose between manual and automatic transfers if the option is available. Once done, click TRANSFER.
STEP 7: Approve the transfer and receive your $WETH;
STEP 8: Go to Jupiter Aggregator.
STEP 9: Exchange your $WETH for any other Solana token.
There are a few other cryptocurrencies that support cross-chain functions like USDT and MANA that can be sent from Ethereum to Solana.
How to Bridge Ethereum to Solana with Allbridge
If you don't necessarily need your crypto to be wrapped, Allbridge has cross-chain assets that can be transferred from Ethereum to Solana.
STEP 1: Go to app.allbridge.io.
STEP 2: Choose an asset (for this article, we'll use $ABR)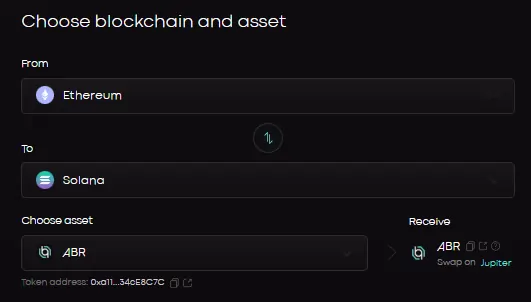 STEP 3: Connect your Ethereum wallet
STEP 4: Enter the address of the receiving (Solana) wallet and the amount of $ABR you want to send.
STEP 5: Approve the transaction.
STEP 6: Add the token to your wallet.
STEP 7: After about two minutes, check your Ethereum wallet to see if your tokens have appeared.
How to Bridge Ethereum to Solana with a Centralized Exchange
Before exchanging your Ethereum to Solana via centralized exchanges (CEX), it is important to note that NOT all crypto enthusiasts recommend using centralized exchanges due to their security risks. When transferring your assets via CEXs, make sure you know and understand the risks.
Here's how to bridge your assets from Ethereum to Solana with centralized exchanges:
STEP 1: Open your centralized exchange account.
STEP 2: Receive the specific cryptocurrency (let's say $ETH) you are sending.
STEP 3: Go to your crypto wallet.
STEP 4: Follow the instructions on your centralized exchange to transfer $ETH from your wallet.
STEP 5: Once the assets are received, convert them into crypto that is native to the receiving protocol (let's say $SOL).
STEP 6: If no trading pair is available for your sending and receiving blockchain (ETH/SOL), you can opt for a stablecoin instead.
STEP 7: In the event that no pair is available, exchange your $ETH to $USDC (or other stablecoins) via ETH/USDC then $USDC to $SOL via SOL/USDC.
STEP 8: Withdraw your $SOL.
STEP 9: Send the $SOL to your Solana wallet.
Conclusion
Bridging through CEXs can be used as a last resort for blockchain pairs that have no bridges in-between them like Ethereum and Cardano because of their history. For those that want to bridge assets from ETH to Cardano, they will have to do so through a multi-layered process or through a centralized exchange.
Centralized exchanges might offer lower fees and faster transaction times but most of them require KYC or know-your-customer data involving names, email addresses, and more. To protect your anonymity and avoid putting your assets at risk, opt for a decentralized bridge if it is available.
---
Join our newsletter as we build a community of AI and web3 pioneers.
The next 3-5 years is when new industry titans will emerge, and we want you to be one of them.
Benefits include:
Receive updates on the most significant trends
Receive crucial insights that will help you stay ahead in the tech world
The chance to be part of our OG community, which will have exclusive membership perks