Reddit Moons are blockchain-based community points exclusive to the r/CryptoCurrency subreddit. This cryptocurrency rewards Redditors based on their community contributions, such as creating content and commenting on posts.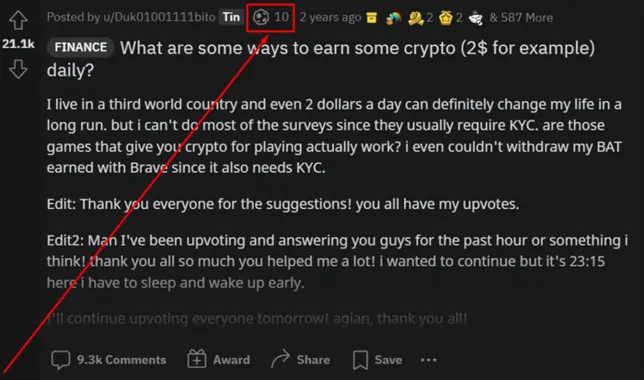 Redditors can earn Moons in different ways, one of which is through distribution every 28 days. But each gets varying amounts depending on different factors: upvotes, karma with modifiers, and contribution score. Let's determine how they work together.
Note that Moons are live on Arbitrum Nova, a new blockchain scaling solution geared towards gaming and social applications and secured by the Ethereum network.
The platform has upvote (approval/support) and downvote (disapproval) concepts, reflecting a user's sentiment about a post or comment; every member's net upvote (upvotes minus downvotes) determines their karma points.
Karma points are subject to changes as Reddit adjusts them using r/CryptoCurrency Improvement Proposals (CCIP). For example, users gain two karmas for each comment within the subreddit (CCIP-001).
After considering all modifiers, karma turns into a contribution score, the basis for rewards. Each contribution score percentage is the same as the Moon ratio a member will receive from the distribution. 
For instance, let's assume there'll be 500 Moons for this month's distribution. Stark, an active Redditor, earned 21 out of 100 community points, accumulating 21% of the contribution score. The same percentage determines her reward, which is 21% of 500 or 105 Moons.
Additionally, Moons have a similar concept to soulbound tokens when smart contracts (a program that handles blockchain-related transactions) distribute them based on upvotes, karma, and contribution score; it's all about building a reputation and identity to access exclusive perks.
However, Reddit doesn't stop with Moon distributions, as you can earn them in different ways, such as winning competitions in the subreddit, receiving tips, etc.
Additional Fun Fact: Other subreddits, aside from r/CryptoCurrency also have their own crypto. However, they don't call them Moons. r/FortNiteBR has Bricks, while r/ethtrader has Donuts.
Use Cases of Reddit Moons
Reddit Moons don't simply exist to glow in your Vault as they have real use cases within the subreddit.
Voting Power
Moons can go a long way, including having the right to vote and make significant changes to the r/CryptoCurrency community. But how does it work? 
There are two Governance poll types: the normal and weighted count. The normal Governance poll grants one vote to every member. For example, Evan (our founder) and Stark have the right to support or reject a proposal at most once each.
On the other hand, the weighted Governance poll grants varying powers to each subreddit member based on their earned (buying has exceptions) Moons. 
For instance, Evan can submit up to 50 votes if he has 50 Moons, while Stark, who has 20 Moons, can only vote a maximum of 20 times.
Moons are undoubtedly the community's way of hearing its members' voices, a vital aspect of shaping the subreddit's future.
Tip Authors
Spread good vibes across the subreddit by rewarding other users with Moons. Head to your favorite author/creator and click the Moon icon beside their username. You can send any tip amount as long as you have enough funds.
Don't forget that you're interacting with a blockchain, which requires paying gas fees. Transaction cost varies depending on factors like the number of transactions occurring. 
Thankfully, the costs are almost negligible because of Arbitrum Nova's scalability features. Still, you need to hold some ETH in your wallet.
Special Membership
You can use your Moons to support the r/CryptoCurrency community by availing premium membership that unlocks exclusive features, such as a vast library of GIFs to interact on posts and a matching badge and username to flex your style.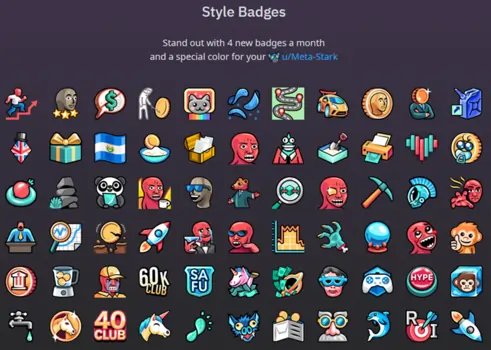 It currently costs 226 Moons monthly, but Redditors who don't have this crypto amount can use an alternative option; pay $4.99 with a Paypal or bank account.
Convertible to Reddit Coins
Reddit launched Coins and Moons as two separate concepts with different uses; you can utilize coins to buy awards for outstanding posts and comments on the entire social platform, while Moons are digital currencies rewarded specifically to the r/CryptoCurrency community for their contributions.  
Each has its limitations; Reddit allows the conversion of Moons into coins but not the other way around. It's also worth noting that you can only use the newly-transformed coins within the subreddit.
If you want to try converting your Moons to Reddit coins, visit your profile and head to Reddit Coins. Click the Convert Points to Reddit Coins button. Wait for a while until you receive a confirmation. 
Once successful, you can start giving Redditors the awards they deserve and continue spreading good vibes.
The SubReddit Governance
The r/CryptoCurrency subreddit formed a community-led governance where each member has the power to support or reject proposals. However, a poll can only proceed if the winning option meets the decision threshold (set not lower than 10% of Moon supply) and the majority of votes.
For example, the proposal about increasing karma for governance participation has a minimum requirement of 4.8M Moons to pass. Although most voters approved, it didn't reach the decision threshold, garnering only 3.5M Moons worth of support.

The participation of Moon holders is vital in this event, as their collaborative decisions can go a long way if prioritized; it'll benefit not only the Moons but also the entire community.
Moon Week
The community established Moon Week, a schedule for snapshots, proposal submissions, and crypto distributions. This guide aims to build a standard time frame to ensure clarity among members.
Here are the activities for each day: 
| | |
| --- | --- |
| Day  | Description |
| 0 | Posting of reminders about submission of governance polls |
| 1 | Posting of snapshots and approved governance polls |
| 2 to 7 | Voting period |
| 8 | Moon distribution |
The Moon Week happens every four weeks, starting on Wednesday. Redditors who want to join this event should mark that particular day or check it out on the subreddit's calendar. 
Reddit Vault App: A Crypto Wallet for Moons
The Reddit Vault app is the platform's digital wallet for storing blockchain assets, such as Moons and CryptoSnoos NFTs. It's also simple to use and doesn't require deep technical knowledge. 
If you want to create a Vault, you must remember that it's only accessible on mobile devices and doesn't work using a desktop. Thus, you should first download and install the Reddit app via Google Play or App Store.
Once done, open the Reddit app and click your avatar to see the Vault button. Tap it and wait for a few seconds until you're on the platform's Previews Terms of Use page; don't forget to agree after reviewing. 
Next is to secure your wallet by choosing a backup option: on Reddit or manually. Press any of the two to proceed.
You also need a password for your Vault to keep it secure, as it'll be the home of your Moons and NFTs. Complete the given requirements to move forward. You're almost done. But let's explore two important aspects of your wallet: address and recovery phrase.
You can find your Vault address and recovery phrase in the Settings menu. The wallet address is essential when sending or receiving cryptos and NFTs; if you get it wrong, it will be impossible to redo the transaction. 
On the other hand, you can use your recovery phrase to access the Vault; it's handy when you forget your password or lose your device by accident. However, you should treat it like a secret only you should know, as others can easily steal your assets when it falls into the wrong hands.
Congrats! You're all set. Go and take your time to discover this side of Reddit with your new wallet.
Moon2NFT Marketplace
Moon2NFT is an auction house where users can bid on Reddit avatars using Moons or sell their collections with a defined price range and duration. It also has a simple interface, making it easy to explore.
If you're curious about how this works, let's discover the answer in the next sections.
How to Bid on Reddit NFTs
Before you can explore the platform, the first thing you must do is connect your digital wallet. Its homepage has a Wallet Connect button, offering two options: Metamask and Wallet Connect.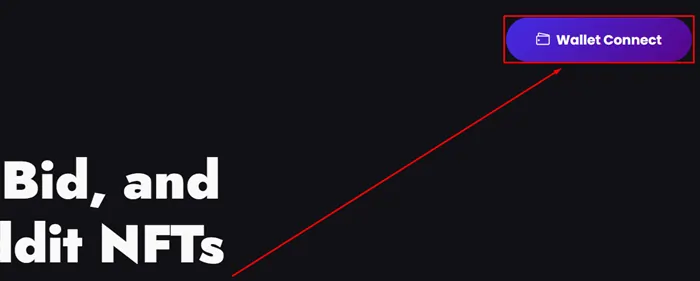 Choose your preferred wallet to proceed. Note that you can create an account for free if you don't have one yet. 
Additionally, Moon2NFT lives on Polygon, while Moons exist on Arbitrum Nova. In this case, you need blockchain bridging to make the process work. Don't worry; the platform has a Moons Bridge section that explains how to move assets. Note that it requires transferring at least 100 Moons and paying a 1% fee.
Once done, head to the auction page and apply the price filter; set it on low price to match your budget or high price to find potentially valuable assets.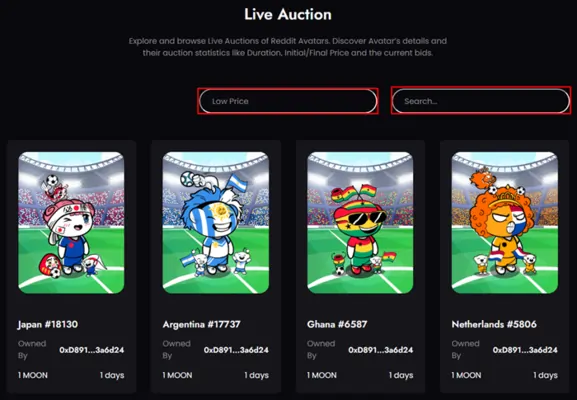 You can also search for the collectible name for it to appear instantly. Next is to click on the asset you wish to have. But wait; you have to bid higher than others to increase your chances of securing the avatar. 
After sending your bid, the only thing left is to wait for the owner's decision, as one has the final say on the result.
How to Auction NFT Avatars
Auctioning requires a Moon2NFT-supported wallet (e.g., Metamask) and the Reddit NFT you want to sell.
If you have them, visit the platform and connect your wallet. Once linked, head to the My Avatars tab and choose an NFT to auction.
It's time to set the initial and last price with the auction duration. Note that the starting price is the minimum value you want to sell your asset. But as each day passes, the least bid increases. 
For example, Evan (our founder) sets the prices at 1 Moon (initial) and 10 Moons (final) within 10 days (duration). Stark offered a bid of 1 Moon on the first auction day. Damocles, another bidder, has to provide a higher value on the second day; it can be 2 to 10 Moons, as long as Evan approves. 
You, as the auctioneer, have the power to approve or reject the bidders' offered amount for your assets. Once set, you can review live auctions on the My Auction tab.
---
Join our newsletter as we build a community of AI and web3 pioneers.
The next 3-5 years is when new industry titans will emerge, and we want you to be one of them.
Benefits include:
Receive updates on the most significant trends
Receive crucial insights that will help you stay ahead in the tech world
The chance to be part of our OG community, which will have exclusive membership perks