In crypto and financial markets, a bear is usually frowned upon as it represents declining valuations of assets, but Okay Bears made it its mascot as part of its goal to change our preconceived notions of undesirable conditions. The Okay Bears community preaches its battlecry: WAGBO, meaning we're all gonna be okay.
Okay Bears is built on the philosophy of carefree living, which aims to change our perceptions of what it means to be ordinary, laying the brand's foundation and showcasing a lifestyle many people can actually relate to.
At present, the bears are showing signs of becoming a blue-chip non-fungible token (NFT) project.
What is Okay Bears?
Okay Bears (OKB) is a community-driven web3 brand that empowers common individuals, leading a cultural shift in a polar world of winners and losers. OKB aims to create a community where members can enjoy access to a private channel of like-minded individuals, lo-fi music, exclusive drops, outdoor campaigns, exclusive live events, and access to collaborations with both indie and world-renowned businesses and brands.
Okay Bears intends to unlock a whole new world of web2, web3, and IRL experiences in order to become a globally-recognized brand one day, where its community can reap the benefits of its influence and prestige.
The Okay Bears Gen-1 NFT Collection
The Okay Bears collection consists of 10,000 algorithmically-generated bears built on NFT technology powered by the Solana blockchain. It is the first NFT collection of the Okay Bears project.
The design of each bear is simple and clean, but not really minimalist. It can be described as calm, easy-on-the-eyes, and relaxing.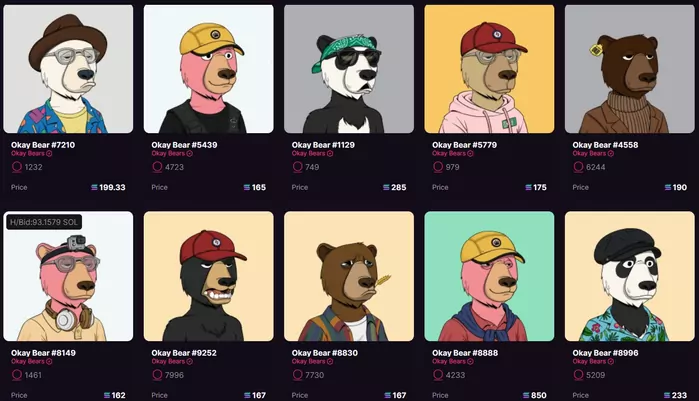 The use of soft lo-fi colors and aesthetics playfully catches one's attention. Each NFT embodies an expression, accessory, or color scheme that is widely relatable to most people, from tattoos to GoPros to yo-yos, OKB appears to have established its own distinctive style.
What Does Okay Bears Offer?
Okay Bears offers various exclusive holders-only perks, as well as product offerings for people outside its community. Let's explore each platform they are building.
Bear Market
The Bear Market is a mixture of sales channels stretching from web3, web2, and IRL (in real life) channels exclusively available for Okay Bears holders. There are three notable experiences offered:
Access to an Okay Bears marketplace with members-only perks – Okay Bears is working with Magic Eden, the #1 Solana marketplace, to build its own personal NFT marketplace.
Shopify x Web3 exclusive merch – Holders will gain access to exclusive merch through the integration of web3 and Shopify.
IRL Stores – Okay Bears plans to bring holders and curious eyes to the project by launching IRL pop-up stores around the world in various cities, conferences, and events.
Workshop
Okay Bears aims to work with grassroots community engagements, outdoor advertising, and corporate social responsibility (CSR) collaborations to market the project.
The project plans to continue brand-outreach campaigns through its community on Twitter and other social platforms, leveraging its marketing aptitude and promoting its powerful branding slogans, such as #WeAreOkay and #WAGBO to get the word out. 
The company also intends to launch outdoor advertising operations through buses, billboards, subways, and commercial videos. Lastly, Okay Bear plans to hold one-of-one CSR auctions on Solana.
The Park (OKB Discord Server)
The Park is an artistic visualization of Okay Bear's discord server, a virtual channel where members can vibe with one another, have fun, and listen to lo-fi music.
Community is the core of OKB, hence, it aims to create a digital space where nobody is an OG, a king, or a peasant. Everybody is just okay.
Studio
The Studio is a platform that gives holders access to future collections, artworks, Lo-Fi mixtapes, and other perks. For starters, the community will have access to future NFT drops.
Moreover, music can be a powerful tool in bringing the community together, and Okay Bear tries to enhance this experience through a curated collection of lo-fi albums created by the community to be published on Spotify.
The project fuses music and stories as it plans to regularly drop concept art wallpapers and folk tales to cater not only to your eyes and ears but also to your mind and soul.
Gallery
The Gallery is an online and offline space that aims to empower artists across the globe, displaying the 10,000 gen-1 bears in all their glory, as well as curated fan art collections.
The project acknowledges the sheer talent of its community by flaunting its fan art in the Gallery and giving full credit to the respective artists.
Bridging the gap between online and IRL art, Okay Bears plans to launch pop-up exhibits around the world to show 1-of-1 NFT artists and to use digital art installations as a platform to address hot topics and global causes.
Boutique
The project plans to spread the word of #WAGBO and increase brand awareness through IRL merch, prints, collectibles, and swag. The Boutique is broken down into two categories:
Exclusive Merchandise – Okay Bear holders have access to exclusive brand merchandise and will be welcomed with an IRL pack through the project's token-gated shop.
Limited-Edition Collectibles – Concept art and 3D craftworks will be sold exclusively to Okay Bear holders, while general items will also be made available for non-holders to increase brand awareness.
Okay Bears also intends to partner with various fashion, lifestyle, and sports brands in order to increase its exposure to the mainstream world on a global stage.
Platform
The Platform is a series of strategic gatherings aimed to advance the Solana NFT space. In the spirit of innovation, Okay Bears will hold keynotes, conferences, and meetups exclusive for Okay Bears holders and partnered collections. The Platform also includes the so-called Honeypot.
The Honeypot
The Honeypot is an incubator program designed to support start-up concepts that grow the OKB brand and service offering by investing in and providing them with licensing options.
What Makes Okay Bears Great?
Okay Bears has broken multiple sales records across Solana and the broader NFT space because it has done things in a different yet effective way, and the team is extremely competent in branding and guerilla marketing, which go hand in hand.
How did they pull it off?
Branding
Okay Bears has made an immensely powerful brand in a relatively short period by making no compromises on its product. Everything from the bears' colors, traits, and expressions is on-brand. And this extends to all its intellectual property, from the color scheme on the website, to the poetic manifesto.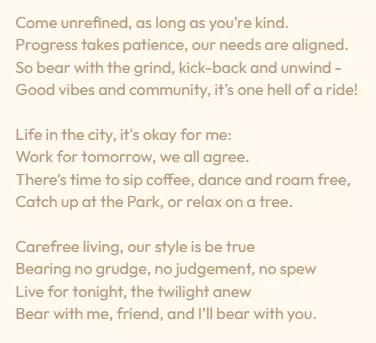 Everything screams "Okay". The message is sparkingly clear: that it's okay to be common individuals, that being a millionaire isn't entry-level, and that life can still be good even if present conditions don't seem like it.
They clearly state that they aim for a cultural shift where we recognize that the norm is, in fact, 'okay'. And it just so happens that a lot of people can resonate with being ordinary, yet most brands cater exclusively to the extraordinary, or those aspiring to be.
This has left an untapped opportunity where Okay Bears brilliantly laid the foundation for its brand.
Guerilla Marketing
Okay Bears has built its community organically, and by the time it gathered enough loyal followers, it launched three separate guerilla marketing campaigns before launch.
First, they encouraged the community to change their Twitter profile pictures to the 'okay' logo. The second campaign involved getting people outside and taking photos of their hands doing the 👌 (okay) sign and tweeting #WeAreOkay.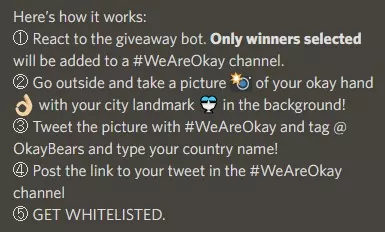 This resulted in around 4,000 people across 80 countries tweeting photos of their hands, some of which were on famous city landmarks like the Eiffel Tower and Big Ben.
The last marketing stint involved 'raiding' Twitter posts of brands that they resonated with, such as WWF and Time. The Okay Bears community has brought more awareness to benign causes like wildlife preservation, climate action, and mental health through these stints, which attracted more people to the project.
Safe to say, we're not dealing with amateurs here.
Who Created Okay Bears?
The Okay Bears website reveals a semi-DOXXED team of 12 members behind the project:
KAIS (co-founder) – with experience in building and leading design projects for Unicef, Greenpeace, Ford, United Nations, Dell, and Olympus
SUBY (co-founder) – an engineer with NFT development experience for web3 communities
RIO (digital artist) – with gaming experience in Clash Royale and Legends of Runeterra and movie experience in titles like Cinderella, May the Devil Take You, and Halfworlds.
MOONY (illustrator) – with experience in children's books, products, and design illustrations.
SHOEVAN (software engineer) – with experience as both an aircraft engineer and a web3 developer.
Conclusion
Okay Bears is a breath of fresh air in many ways, having exemplified better ways to market, introduced a collection that is unique, and showed the world just how powerful branding can be, especially when combined with blockchain technology.
It took the Solana and greater NFT space by surprise with only a few months of preparation. Now that it has successfully launched, the future appears bright for Okay Bears, but not quite certain. In time, we will see whether Okay Bears can truly become one of the top web3 brands in the world, or fall short of its ambitions.
---
Join our newsletter as we build a community of AI and web3 pioneers.
The next 3-5 years is when new industry titans will emerge, and we want you to be one of them.
Benefits include:
Receive updates on the most significant trends
Receive crucial insights that will help you stay ahead in the tech world
The chance to be part of our OG community, which will have exclusive membership perks