It all started with four friends with backgrounds in crypto and decentralized finance (DeFi) who saw shortcomings in existing non-fungible token (NFT) marketplaces and decided to innovate. Magic Eden is the result of such innovation.
After a successful launch in September 2021, Magic Eden became the top NFT marketplace on Solana at a record time and attracted millions of industry giants to fund its Series A round. And in May 2022, it has surpassed even OpenSea, becoming the world's largest NFT marketplace thanks to the attention generated from the Okay Bears collection.
What is Magic Eden?
Magic Eden (ME) is a market-leading NFT marketplace and decentralized application (dApp) on the Solana blockchain, enabling users to buy or sell NFTs, or launch their own collections. In fact, ME claims to hold over 90% market share for secondary trading volume on Solana.
Magic Eden boasts a friendly user interface, support for all popular Solana-based wallets, and even its own launchpad. If you go to the homepage, you can easily view various collections that are sorted and segregated using different metrics, such as upcoming launches, popular collections, top largest by market cap, most upvoted, most followed, and many more.
Another advantage of Magic Eden is its low transaction fee, which is merely 2%, coupled with the sub-dollar network fee of the Solana. Opensea users are often pleasantly surprised by how affordable ME and other SOL NFT marketplaces are, considering that ETH gas fees are so expensive on top of OpenSea's 2.5% fee per transaction.
Strangely, ME doesn't categorize its listings, unlike in OpenSea, where NFTs are categorized under art, collectibles, domain names, music, photography, etc. This is probably because SOL NFTs are not as diverse as ETH NFTs yet, and in time ME just might implement this feature when they see the need.
Notably, the marketplace is backed by several giant crypto VCs, including Coinbase Ventures, Alameda Research, Solana Ventures, etc.
NFT Collections
An NFT collection is basically a set of NFTs containing a specific number of individual NFTs, usually varying in terms of 'traits'. For instance, The Stoned Frogs collection consists of 8,400 NFTs while the Coral Tribe only has 6,565. You can directly view Magic Eden's verified NFT collections here.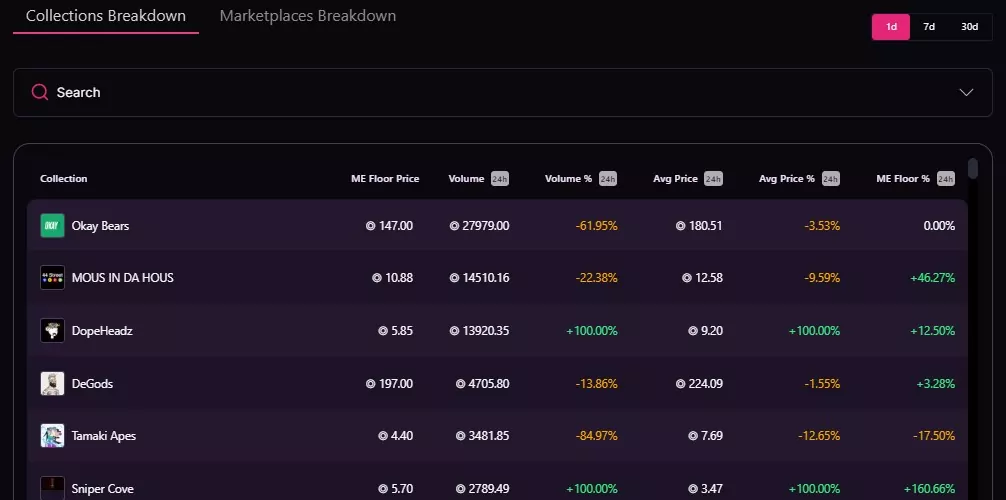 Note that ME also accepts unverified listings, but they aren't searchable on the site and generally have a higher risk of being a scam or potential rugpull. You can easily spot an unverified collection through its URL slug, which is usually gibberish. See example in bold: magiceden.io/marketplace/6jp4i9rxvT6qBtqBTb5gm2SGVfagaT4.
MagicDAO
MagicDAO is a decentralized autonomous organization (DAO) that is intended to be a platform and governance mechanism around the Magic Eden marketplace, where members can engage with each other and discuss major decisions that affect its future.
The DAO is currently organized on its Discord group, but all holders of the Magic Ticket NFTs are members by default.
Launchpad
The Magic Eden Launchpad is a service that allows NFT creators to launch their collections, allowing their fans or supporters to mint their NFTs. This is especially valuable for project runners who are non-developers or are not technically inclined to handle their own minting events, as the tool provides a visual interface that is simple and easy to use.
If you want to launch your own NFT collection on ME, head over to the Apply for listing section or on the Launchpad Submission Form.
ME Special Features
Auctions
Auctions are a type of sale where the seller of an NFT is able to set certain parameters, such as the minimum price and duration of the sale. The platform follows the English Auction format, which is the most recognized type of auction on the Internet.
Magic Eden offers two divisions of auctions:
Curated auctions: These are for creators who want to auction off their original NFTs.
Collection item auction: This is intended for collectors or traders who want to auction off an NFT that belongs to another creator listed on ME.
If you want to bid in live auctions, head over to the ME auctions page and bid on your chosen NFT.
How do I auction an NFT on Magic Eden?
You can auction any NFT by clicking on it, which will direct you to its Item Details page, where you'll find the Auction tab.
Fill in the parameters, such as the start time, duration, and starting bid. Note that once your auction has started, you can't cancel it anymore.
Drop Calendar
Magic Eden also has its own Drop Calendar, where you can see the upcoming NFT mints and their respective dates. It can be useful if you're busy and don't have the time to check for mints daily.
Watchlists
The Watchlist feature allows you to create a 'watchlist' of your favorite collections and easily view them on one page.
How to Buy NFTs on Magic Eden
The main reason you're trying to learn about Magic Eden is probably that you want to buy some NFTs. Therefore, here is a step-by-step guide on buying them in this marketplace.
1) Connect your web3 wallet to ME
Head over to Magic Eden's webpage and you'll see relevant information regarding upcoming mints, the top collections, etc. Just ignore all that for now and click on the Select Wallet button at the top-right section of the page.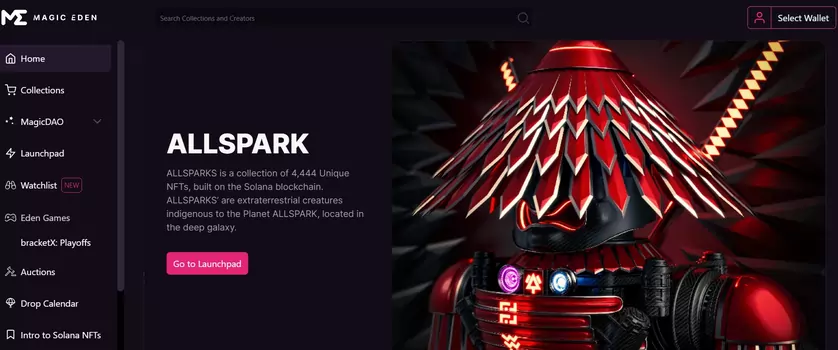 ME supports nearly a dozen wallets so choose whichever one you prefer. If you don't have any of the supported wallets, you can easily create one with our step-by-step guides then get back here. We highly recommend you use either Phantom or Solflare.
Once you connect to the marketplace, your wallet will be prompted to confirm, be sure to click it.
2) Browse or search collections
Once your wallet is connected to the site, you have two choices: search a particular collection in the search bar, or view the collections page by clicking on the Collections button on the left section of the platform.
3) Choose your NFT
After you found the right collection, it's time to choose which one to buy. After all, none of them are created equal and no two NFTs are the same. In this example, let's say you want to purchase a Coral Tribe NFT.
As you can see in the left panel, you can filter the NFTs in the collection by their price or attributes. You can also determine the rarity of the collection by checking its Moonrank or Howrare rank, placed at the top of each asset's price. Furthermore, you can sort the order of the NFTs displayed according to price, rarity, and recent listings.
If you find an NFT that catches your eye, click on it to view its Details page. For example, let's say I like Crypto Coral #2212, so I click on it.
Now you can see all its attributes, mint address, token address, owner royalties, etc. The Offers section lets you see how many users are currently bidding on this NFT, as well as their bid amounts. The Activities zone shows you the history of this NFT's listings, sales, and bids from other users.
If the NFT is up to your liking, you may buy it, but if not, you can always go back to the previous page and find something else or browse another collection.
4) Buy your chosen NFT
The final step is to buy your chosen NFT, where you'll have two options. You can either Make an Offer, which allows you to bid lower than the seller's asking price hoping he/she will bite, or Buy Now, which will instantly buy the NFT.
After you do any of the two, your wallet will be prompted to approve the transaction. Once you've bought an NFT, it will be transferred to your wallet in a few seconds.
How to Sell or List NFTs on Magic Eden
Selling an NFT on ME is much easier than buying. All you need to do is connect your web3 wallet to the website by clicking on the top-right button that says Select Wallet. Your wallet will be prompted for approval after.
Once connected, click on your profile, where all the NFTs in your wallet can be viewed.
Choose which NFT you'd like to list, and click on it.
You can either sell it at a fixed price or auction it. See our Auctions section for the latter.
After inputting the price, click List Now, which will prompt your wallet for confirmation. Approve it and then you're done.
How to Apply for Listing on Magic Eden
If you want to launch your mint on ME, head over to the Launchpad Application Form and wait for someone to reach out. But if you're only interested in listing your collection, head over to ME's Creator Dashboard and create an account.
Is Magic Eden Safe?
No web3 application is completely safe. With that being said, Magic Eden is investing in its security and implementing stringent KYC procedures for project creators that want to launch their collection on the platform. This is because rug pulls, where creators launch a project only to run away with investors' money, are so prevalent in the NFT space. This should minimize the chances of buyers getting duped.
However, scams or low-quality projects can still list their collections on ME, so users still need to do their research and not just buy random projects. Furthermore, make sure that when you log into the platform, you are accessing the right webpage. Phishers are very meticulous when it comes to exploiting common typos, such as magicedden.com or magicedem.com, where they'll put up a clone version of the platform, but instead of allowing you to buy NFTs, they empty your wallet.
Lastly, never trust anyone who gives you an ME link on chat, especially if you don't know them personally. And even if you do, their accounts could have been hacked.
---
Join our newsletter as we build a community of AI and web3 pioneers.
The next 3-5 years is when new industry titans will emerge, and we want you to be one of them.
Benefits include:
Receive updates on the most significant trends
Receive crucial insights that will help you stay ahead in the tech world
The chance to be part of our OG community, which will have exclusive membership perks