Branding is currently the new 'meta' in the non-fungible token (NFT) world lately, as projects that have made good impressions and remained consistent in their branding usually succeed (at least in the short term). This web3 technology has paved the way for a new paradigm of business and organization, where a team can create a vibrant community of NFT holders that support and identify with its brand.
The Stoned Frogs came to the scene and did just that, turning a lot of heads with its collection of hypnotic pot-smoking frogs, effectively executing what appears to be some of the greatest Twitter raid campaigns, and showing early signs of becoming a blue-chip project. But underneath all the guerilla marketing and community hype, the team is also building foundational infrastructures: a coffeeshop, a weed farm, various tokens, mystery boxes, and a whole lot more.
TSF is definitely not your average cannabis NFT project, as its catchphrase goes, "We are not here to take part we are here to take over!"
What is The Stoned Frogs?
The Stoned Frogs (TSF) is a collection of 8,400 colorful pot-smoking frogs that aims to become the leading Cannabis brand on the Solana blockchain, with the objective of manufacturing marijuana products and creating in-person cannabis coffee shops across the world while championing legalization.
The Stoned Frogs will also open an online store to sell CBD products and merchandise to its global community. All products online and offline will be payable with $SEEDS, the community's native token.
Like most NFT projects, TSF is very community-centric, as the team has planned multiple engagement ventures, IRL Reefer Parties, Mystery Box giveaways with cash and other prizes, a play-to-earn (P2E game), and other perks exclusively for its NFT holders.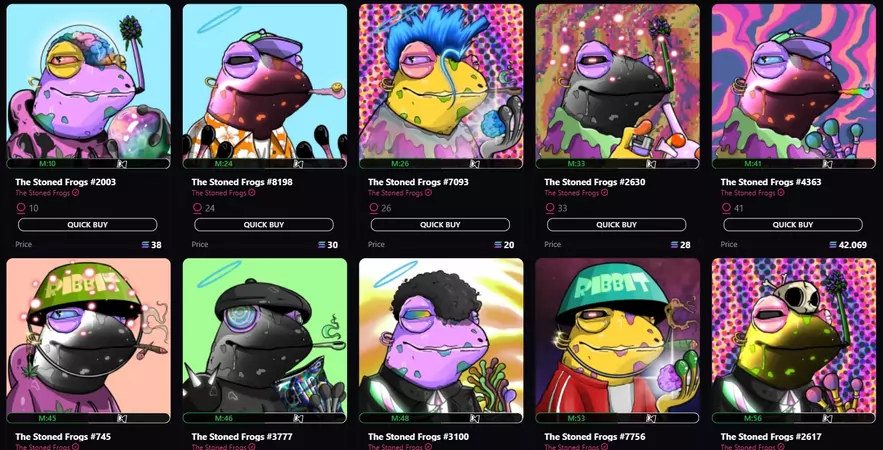 All the mint proceeds and secondary sales revenue will be allocated to the operation costs of running its planned businesses, while a small percentage will likely go to the founding team.
JOINT (Merging 2 Frogs)
In the future, holders will be able to merge two Stoned Frogs using $JOINT tokens, creating a 'higher frog' that provides higher staking multipliers. $JOINT can be bought with $SEEDS or acquired through opening Mystery Boxes.
Note that fusing frogs serves two purposes; the first is to reduce the supply of the collection, and the second is to reduce the supply of $SEEDS since the process will burn $JOINT and the $SEEDS used to purchase it, creating further deflationary pressure.
Lore
The Stone Frogs follows the story of an outcast frog who stumbles upon an other-worldly pond surrounded by cannabis plants. After touching the plant, the outcast turned into an Enlighted One and realized his true calling: Cannabis, paving the groovy path for generations to come.
Legacies of endless blazing of the sacred strain from dusk-till-dawn, all-you-can-eat fly buffets, and partying to the sounds of high-croaking frogs echoed for decades. Until one day, a cataclysmic storm swept through the enchanted pond, hurling the Stone Frogs away and scattering them to distant lands, their paradise lost forever.
The Elder Frogs still believe the Enlightened One is alive and waiting for everybody's return on the Enchanted Pond. New hope comes with 8,400 newly-hatched Stoned Frogs who are destined to find the lost paradise.
You can read the full lore on The Stoned Frogs website.
Mystery Box and $FLIES Token
In the beginning, the first token issued is $FLIES, which is designed to have no monetary value other than the fact that it can be consumed to open Mystery Boxes.
Mystery Boxes, on the other hand, contain a variety of prizes.
| | | | |
| --- | --- | --- | --- |
| | Cost per Box | Prizes Include: | Available Date |
| Mystery Box 1 | 20 $FLIES | $10,000 worth of prizes including NFTs, PS5s, Lottery Tickets, $FLIES, and $USDC. | May 17, 5 PM UTC |
| Mystery Box 2 | 40 $FLIES | $20,000 worth of prizes including NFTs, PS5s, Lottery Tickets, $FLIES, and $USDC. | June 7, 5 PM UTC |
| Mystery Box 3 | 60 $FLIES | $30,000 worth of prizes including NFTs, PS5s, Apple Watches, Joints for mutations, Flight + Hotel tickets, Lottery Tickets, $FLIES, and $USDC. | June 27, 5 PM UTCTBA |
| Mystery Box 4 | 80 $FLIES | $60,000 worth of prizes including NFTs, PS5s, Apple Watches, Rolex watch, Joint for mutations, Flight + Hotel tickets*, Lottery Tickets, $FLIES, and $USDC. | July 17, 5 PM UTC |
TSF Mystery Box
Staking a Stoned Frog is the primary way to earn $FLIES, at a rate of 1 $FLIES per 24 hours of staking. You can also earn additional $FLIES by participating in various activities set up by the team, including Twitter raid campaigns, delisting campaigns, joining AMAs, etc. The key to staying up to date is through TSF's discord group.
Note that in the future, $FLIES can be traded with a certain amount of $SEEDS.
TSF Reefer Parties
The Stoned Frogs Reefer Parties are planned IRL events for Frog holders that will typically involve Cannabis and Cannabis products, where the community can relax, smoke some bud, and feast with fellow frogs. It is said to possibly feature various prized competitions, including strain tastings, create-your-own strain, and more.
Staking Stoned Frogs (Profit-Sharing Model)
You can stake your Stoned Frog NFTs to earn $SEEDS daily, as well as earn a percentage of the profits generated by The Stoned Frogs Coffeeshop. The more frogs you stake, the higher your profit share; since revenue-sharing is divided into three different Staking Colonies.
| | |
| --- | --- |
| | Profit Share |
| The Eggs Colony (1-3 Frogs) | 5% |
| The Tadpoles Colony (4-6 Frogs) | 10% |
| The Stoned Frogs Colony (7+ Frogs) | 15% |
Staking Colonies
Note that the NFTs need to be staked prior to the payout. Furthermore, profits will be distributed quarterly to each holder's wallet address.
$SEEDS Token
$SEEDS is the primary utility token of The Stoned Frogs ecosystem and will be key to accessing most of its products and other perks. $SEEDS will have a deflationary supply, as the emissions generated from staking will be reduced by 2% every succeeding month.
Note that the token will be built on the SPL standard, running on the Solana network.
The Use Cases of $SEEDS include:
Paying for raffles and auctions that can win you whitelist spots and NFTs.
Purchasing Cannabis and Cannabis products or merchandise on The Stoned Frogs Coffeeshop and online store.
Playing The Stoned Frogs game.
Buying $JOINT for frog mutations.
The Stoned Frogs Game
TSF will release a game with two different modes, both of which will utilize $SEEDS.
Fight-to-Earn
The TSF fight-to-earn mode features a tower defense game where you can play solo in the 1v1 mode or ally with friends or form a team and battle in the 3v3 mode, offering both ranked and unranked matches. While unranked matches are great for practice, the Ranked Deathmatch games will enable you to wager $SEEDS and ace the leaderboards.
Note that winners take 90% of the wagered $SEEDS while the remaining 10% is burned, adding more deflationary pressure on the token.
There will also be tournaments with prizes organized by the team.
Plant-to-Earn
If you don't want to fight you can opt to plant instead. The plant-to-earn game mode enables you to plant $SEEDS, which would grow into Cannabis Trees. In time, the Cannabis Trees will generate even more $SEEDS, which you can harvest. But if you wait too long, the tree might wither and die, along with the $SEEDS.
More details to come in the future.
What is The Stoned Frogs Coffeeshop?
The Stoned Frogs Coffeeshop will be a real-world Cannabis Coffeeshop where fellow frog holders can chill, sip some coffee, puff and pass joints, share stories, and vibe together. Moreover, non-holders will also be welcome, as the shop offers beverages, weed, and cannabis products to all.
Holders will earn a share of the profits generated provided that they stake their frogs. Products will purchasable at a discount price through $SEEDS, even to non-holders.
The location is still being planned, but the team is currently discussing it with its legal council.
Online Store
The Stoned Frogs team will also put up an online store that allows users to purchase using $SEEDS or $SOL. The products will include:
Cannabis
Cannabis Products — Ashtrays, Rolling Papers, Lighters, and more!
CBD Products
Merchandise — T-Shirts, Hoodies, Hats, and more!
Miscellaneous — Seasonal gifts and products!
There will be no profit-sharing from the online store sales, but frog holders will enjoy discounts on all purchases, unlike non-holders who only receive discounted prices when purchasing with $SEEDS on the Coffeeshop.
Cannabis Farm
The Stoned Frogs Farm will be the main infrastructure to support the creation, organization, and distribution of Cannabis, its derivative products, and merch. The team also has plans to possibly create unique Stoned Frogs cannabis strains.
My Takeaway
The Stoned Frogs project has seen huge success shortly after launch, becoming the fastest project to hit 30K SOL in trade volume, before it was overtaken by Okay Bears and Communi3. I still think it has massive potential, but comes with some risk.
Firstly, it has a phenomenal marketing team, as evidenced by its fast growth and organized Twitter raid campaigns, which have been very effective, thus far. Whenever there are Twitter polls on the top NFT projects that include TSF, 8/10 the frogs usually come out on top. As for branding, they also seem very proficient; I see a lot of consistency in the color schemes used in marketing materials, but there is still room for improvement. I personally think the logo needs to look more refined and simple; which would make it stand out better and be more memorable.
The DAO team is also very competent, especially Gus, who has been very helpful to the community, contributing his wisdom and alpha calls. If you're in the TSF discord, you generally get the feeling that you're led by true professionals who have real-world experience running creative teams mixed with hardcore degens.
I see a little risk in the project considering its ambition to become the premier marijuana brand in all of Solana. The number of Cannabis projects trying to do so appears to be ever-increasing, Stoned Apes, TombStoned High, Best Buds, and a whole lot more. And that doesn't even include NFTs from other chains. However, I still think TSF has the potential to become a global brand, especially when governments are slowly seeing the value of the Cannabis industry and its growth potential, but it would definitely depend on how well the team, DAO, and community can execute.
Hop on the pond and hold on tight if you have what it takes; it's gonna be a wild ride from here.
---
Join our newsletter as we build a community of AI and web3 pioneers.
The next 3-5 years is when new industry titans will emerge, and we want you to be one of them.
Benefits include:
Receive updates on the most significant trends
Receive crucial insights that will help you stay ahead in the tech world
The chance to be part of our OG community, which will have exclusive membership perks