If you're a website owner, Google allows you and your writers to use artificial intelligence (AI) tools, such as ChatGPT, in creating content for your platform. In fact, it even encourages you to leverage this technology to generate more valuable and user-friendly articles for your readers.
It will not penalize you for utilizing an AI chatbot to generate your content, but it does enforce sanctions if this tech is employed in an unethical manner, like gaming the system to artificially climb up on rankings.
Our focus on the quality of content, rather than how content is produced, is a useful guide that has helped us deliver reliable, high-quality results to users for years. 

Google (emphasis, added)
If you possess the sincerity and passion for addressing people's concerns, then you don't have anything to fear in using ChatGPT for creating articles. 
But good intentions are not enough. 
It is also essential to understand how to effectively utilize this AI-powered chatbot to bring benefits to your articles, improve your search rankings, and gain a competitive edge against other content, all without any penalties.
How to Use ChatGPT For Web Content 
Prior to using ChatGPT, it is crucial to adapt the fundamental elements of crafting original content, as these are essential skills that every writer should possess. Once these aspects have been embraced and internalized, we can use the AI chatbot to amplify these skills and generate even more impactful and high-quality content.
3 Ways to Generate Original Content 
Creating original output goes beyond simply evading AI detection tools. Above all, it entails offering unique value or providing information that hasn't been covered extensively in other published articles.
ChatGPT can generate original content in terms of text by leveraging its ability to aggregate vast amounts of data and process them into new sets of sentences and paragraphs. But the idea and value it produces can be considered (un)original since they merely came from the years' worth of publications in its training data. 
Newbie writers often follow a similar approach, where they tend to rephrase information obtained from top search results and add minimal details to create the illusion of differentiation. Consequently, the resulting article ends up being essentially the same output written by a different author, providing no new value for the readers.
To avoid the perils of these methods, here are the essential standards you should implement in your article writing to effectively compete with well-established articles on the web.
See also: How to Write Winning Essays Using ChatGPT
Analyze Raw Data From Original Sources
Regardless of the topic you are working on, it is crucial to directly access original sources of information to acquire fresh and original data. Actively strive to uncover facts or intriguing angles that the top three websites in search results may have overlooked in their content. Though it may be a painstaking process, Google has the potential to reward your website for providing genuinely valuable information to readers.
Conduct Experiments
When writing about a physical or digital product, a platform, or a service, conducting experiments is among the most effective methods to generate original content. By testing their versatility, speed, user-friendliness, and comparing prices with competitors, you can provide readers with firsthand insights and valuable information.
Not all websites and writers are willing to invest time in conducting experiments related to their topics. Instead, they prefer to 'analyze' existing data available on the web. This presents you with an opportunity to differentiate yourself and deliver something of value to readers that not everyone is willing to undertake.
Launch Surveys or Polls
To infuse your content with more unique data, consider conducting surveys or polls within relevant social media groups or forums to gather insights into users' opinions and sentiments. By incorporating this rich and diverse data, your article will offer more than just a writer's perspective, making it highly valuable to readers.
You may also want to check out: Upgrade Your Writing Results With These ChatGPT Hacks 
How to Use ChatGPT to Enhance These Methods
The methods mentioned above are already effective on their own. However, you can enhance their power even further by leveraging the capabilities of ChatGPT.
Rather than manually reading through extensive raw data, brainstorming potential experiments, and creating a list of survey and poll questionnaires, you can automate these tasks using AI. Here's how you can do it.
Summarize a Raw Data 
To save a significant amount of time, you may summarize long, raw information using ChatGPT.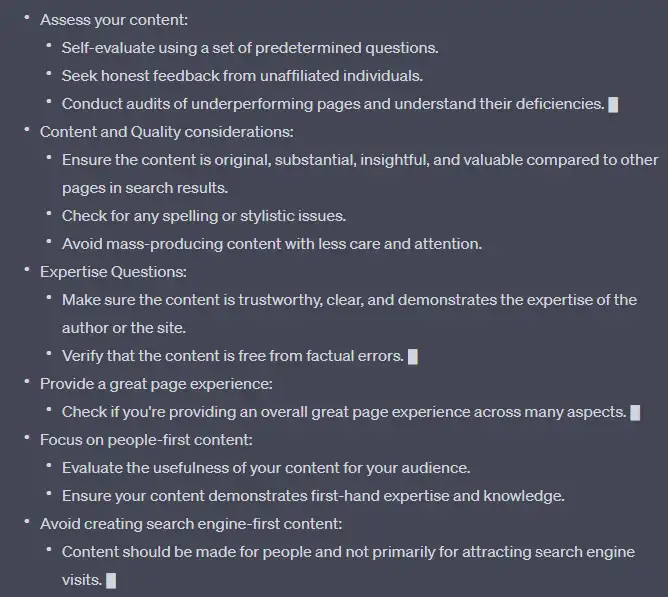 Suggested prompt: "If I were to create an article about this topic, what important information should I share with the readers? Summarize this content in bulleted form."

Note: I recommend manually reading the entire raw data first before running it on the chatbot, just to make sure you can squeeze all the relevant information you can gain from it.
Ask ChatGPT to Recommend Interesting Experiments 
When testing the quality, speed, and other aspects of a product or platform, it is necessary to leverage the generative tool's extensive ideas to help you choose the appropriate experiments to conduct.
Suggested prompt #1: "Suggest (5) interesting experiments I should conduct to test the (aspect) of (product/platform). This test would be included in a blog post, so generate ideas that people would be interested to see."
Suggested prompt # 2: "Suggest (5) unorthodox but safe experiments that I can conduct to test the (aspect) of (product/platform). This test would be included in a blog post."
Related content: ChatGPT Prompt Resources You Need to Check Out 
Let ChatGPT Generate Engaging Survey/Poll Questions 
There are numerous approaches to creating surveys or poll questions that can captivate members of specific social media groups or forums. Rather than investing hours in crafting these questions yourself, you can simply request the smart chatbot to generate them for you, saving valuable time and effort.
Suggested prompt # 1: "Create (5) interesting survey questions about (product/service) that people would be compelled to answer."
Suggested prompt # 2: "Suggest (5) poll questions about (product/service) that could provide interesting data on my article."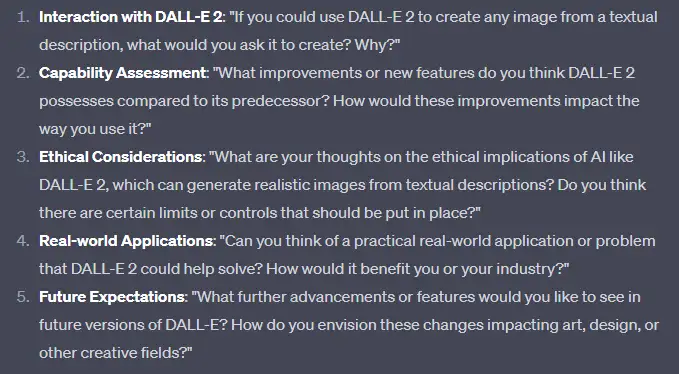 Note: When posting these inquiries on your chosen social media groups or forums, do not openly introduce them as 'survey or poll questions'. 
Here's a brief psychology/copywriting tip: Present your survey or poll questions as if you were seeking help or advice. When questions are packaged this way, individuals are more inclined to respond, as it boosts their sense of self-worth by offering assistance in the best way they can.

As a bonus, this approach may result in more detailed and comprehensive responses, allowing you to gather richer data from your questionnaires.
ChatGPT and SEO
ChatGPT can help boost your SEO efforts when you use it to generate ideas, create catchy headlines, and refine your tone. However, it can produce a negative impact on your article's rankings if you applied it to generate the majority of your content and keyword searches.
You should avoid using the chatbot in these areas as it still struggles to mimic most of the human writers' abilities including 'humanized' tone delivery, in-depth analysis, and sharing genuine first-hand experiences.
And overreliance on this tool for content creation can create more burdens than benefits when it comes to competing with other published articles.
The key to leveraging this AI chatbot effectively for your SEO plans is to exercise selectivity. Utilize it in areas where it can consistently deliver reliable results while avoiding areas where it may terribly fail, which could potentially hinder your articles' chances of achieving higher rankings on Google's index.
Use ChatGPT on These Few Selected Areas 
Leverage the AI tool's capabilities to create impactful headlines, adjust tones, and rewrite sentences in a more persuasive or reader-friendly manner. Excelling in these areas can contribute to improving your article's Google rankings.
Refrain from Using ChatGPT on These Aspects 
One crucial aspect of maximizing the benefits of the AI chatbot is knowing when and where not to utilize it. By avoiding using the tool to passively create a large part of your content, you increase your article's chances of providing greater value to readers and effectively compete with high-ranking websites.
Keyword Search 
As the training data for ChatGPT ends with events leading to September 2021, it lacks awareness of trends and events beyond this period, especially the latest ones. And relying on this tool for keyword search, which depends on the most current and highly searched topics on the internet, would not be advisable.
While you can now use a Bing plugin (available through ChatGPT Plus), that allows you to connect to the internet, its reliability to generate accurate and dependable keywords is yet to be seen. 
Creating Valuable and Reliable Content 
Making ChatGPT the primary source for creating content is a major mistake that can significantly diminish your ability to create valuable content.
Despite ongoing updates, it still has limitations including providing fluffs, made-up facts, and outdated information confidently. And even with its advanced AI prowess, it still cannot match the caliber and depth of high-quality articles created by human authors on the web – at least, for now.
Furthermore, its generated results are unlikely to meet the standards of Google's E-E-A-T or (Experience, Expertise, Authoritativeness, Trustworthiness) guidelines, which is one of the internet giant's main criteria in pushing content to the top of its search results.
---
Join our newsletter as we build a community of AI and web3 pioneers.
The next 3-5 years is when new industry titans will emerge, and we want you to be one of them.
Benefits include:
Receive updates on the most significant trends
Receive crucial insights that will help you stay ahead in the tech world
The chance to be part of our OG community, which will have exclusive membership perks