AI algorithms have advanced to such an extent that they can now generate award-winning, Monet-level art in under a minute. The release of Stable Diffusion in August 2022 captivated the world, demonstrating for the first time that AI can indeed turn thought into an image with painstaking accuracy (as other models at the time were incomparably inferior).
Thanks to open-source generative AI software making art accessible to everyone, even those who lack innate artistic abilities are now able to create masterpieces from scratch.
The introduction of Midjourney, a user-friendly paid tool, further widened the doors to those without a technical background. Suddenly, individuals from all walks of life, including grandmothers, could sell prints of graphics born from the fusion of their imagination and Midjourney's capabilities.
Money is great, but is it really okay to be monetizing AI art? If so, what are the do's and don'ts, according to the law? We aim to answer these questions as the proliferation of AI art generators has also created a rift in the art world.
At the heart of the controversy surrounding AI-generated art are two opposing factions. Traditional artists (including many digital artists in this context), who resist the spread of AI art generators and their methodologies, stand on one side, while the new-age art community, embracing the democratization of art and adaptation to the evolving landscape, occupies the other. The latter group believes that the benefits of AI outweigh its potential drawbacks.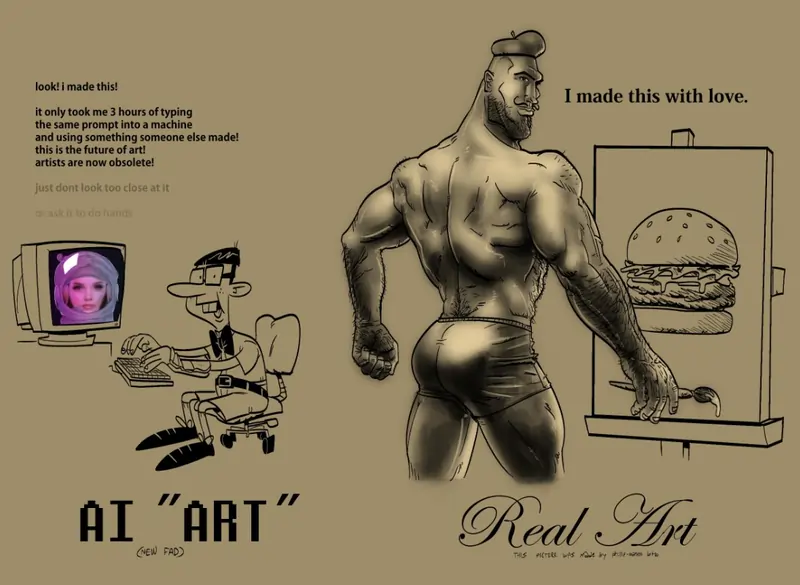 Many artists, particularly those steeped in tradition, worry about the implications of generative AI art on human creativity, authenticity, and the livelihood of artists. If visual designs of any kind can be crafted simply through verbal description, what value remains in manual artistic labor? Moreover, if the number of artists working by hand continues to decline, and future art becomes an endless cycle of rehashing the past, what purpose does art even serve?
Undeterred, a new generation of AI artists, consisting of both newcomers and veterans, has chosen to engage with these AI tools and innovate. They boldly explore this uncharted territory, eagerly anticipating the discoveries that lie ahead in this burgeoning frontier. And some of them are making crazy money.
In this article, we shall explore the core of the conflict between AI and traditional artists. How do AI art generators really work under the hood? Do they enable art theft on a massive scale or are they merely another advancement? And more importantly, what are the legal frameworks surrounding these cases?
How do AI artists make a living without breaking the law? These are the that will be answered in the next sections.
Artists Have a Valid Concern
The issues began not solely due to jealousy or the existential threat of AI towards artists (although these factors may have played a role), but largely because numerous users of these platforms have been exploiting the names of living artists in their prompts.
Kelly McKernan, a professional artist based in Nashville, Tennessee, known for her ethereal illustrations of nymphs and mortality, discovered that her name had been used over 12,000 times by users seeking to generate art resembling her work. In a conversation with The New Yorker, she expressed how it felt somewhat "infringe-y." And McKernan was far from alone.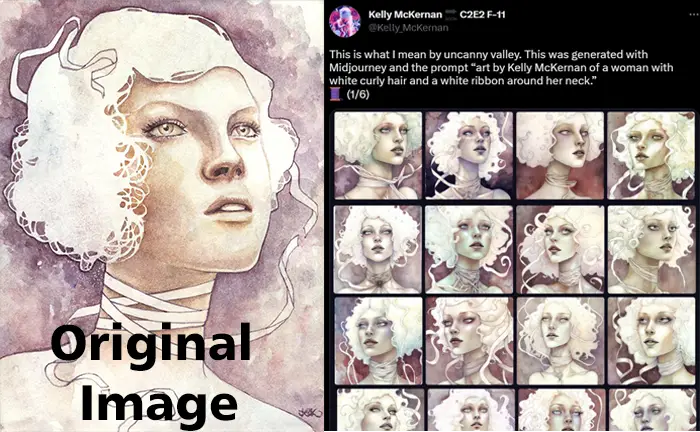 Hundreds of artists are currently suffering from unauthorized use of their names, fueling a class-action lawsuit that McKernan and others have made against AI art generators like Stable Diffusion, Midjourney, and DreamUp. Major brands like "Star Wars," "Pixar," and "World of Warcraft" have also found their IP used as keywords to produce similar art, but that warrants a separate discussion.
The point is that many artists have the right to be outraged because these platforms, in some ways, have made it easier for people to infringe on their work. However, determining what constitutes infringement can be more complex than it appears.
Undoubtedly, mimicking the art style of another creator and posing it as your own original work is contemptible and distasteful. Yet, such a phenomenon existed long before AI or even computers were invented. Take the story of legendary art forger Han van Meegeren, for instance. Make no mistake, the man's skills were undeniable.
Despite the impressive quality of his work, art critics dismissed it as unoriginal and derivative, claiming that his only aptitude was replicating other artists' creations. He could skillfully paint in the style of the Old Masters like Johannes Vermeer, Frans Hals, Pieter de Hooch, and Gerard ter Borch—similar to how today's AI models enable anyone to imitate any artist's likeness.
So what was his revenge? He successfully sold paintings—some of which garnered critical acclaim—purportedly created by other renowned artists. In reality, they were all forgeries crafted by his hand.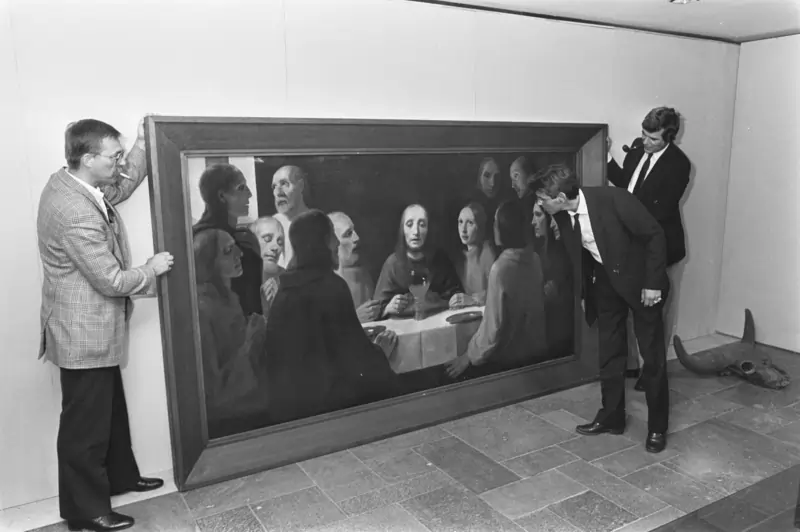 The distinction between van Meegeren and modern users monetizing the work of other artists lies in the effort and skill involved. Van Meegeren devoted decades to mastering the styles, techniques, signatures, and lives of the artists he emulated. In contrast, the average user can now achieve the same result instantly, without any prior artistic background or experience.
Furthermore, many AI artist today are imitating the styles of living, active creators, some of which are currently in their prime. Take Polish classical artist Greg Rutkowski, for instance, whose works have been used by industry giants Disney, Ubisoft, and Activision Blizzard in some of the world's most popular games.
But with his name being used in AI generators over 93,000 times, his life's work now represents only a small portion of the AI-generated images bearing a striking resemblance to his distinctive style. This raises concerns about the potential dilution of an individual artist's unique contributions to the world of art.
How could they not see this as a threat?
Nevertheless, this does not imply that AI art generators are inherently malicious. If appropriate measures are implemented to deter imitators, a significant portion of the problem can be mitigated.
But the issue extends beyond copying art styles.
How Do Generative AI Algorithms Produce Art?
Numerous artists have expressed their grievances with AI art on social media, with some even advocating for an outright ban. Although prominent art communities like DeviantArt and Artstation have implemented measures to safeguard artists from AI-related challenges, none of them have opted for a blanket ban.
According to DeviantArt CMO Liat Karpel Gurwicz, the technology gets stronger every day and is impossible to stop. "AI is not something that can be avoided". This situation has sparked debates over technology's role in the creative process and the implications for authorship in a world increasingly influenced by AI.
A prevalent misconception suggests that AI art generators merely replicate pixels from countless existing artworks to produce new pieces. However, that's not really how it works.
AI art is generated through a process where an AI system, often utilizing deep learning techniques, creates images based on an understanding of patterns and features in a dataset, which consists of billions of images scraped from the Internet. To make that possible, the AI needs to learn about objects, backgrounds, art styles, etc. based on the images and their descriptions (meta tags).
The keyword there is "learn." That's what human artists do. They learn from great artists that came before them.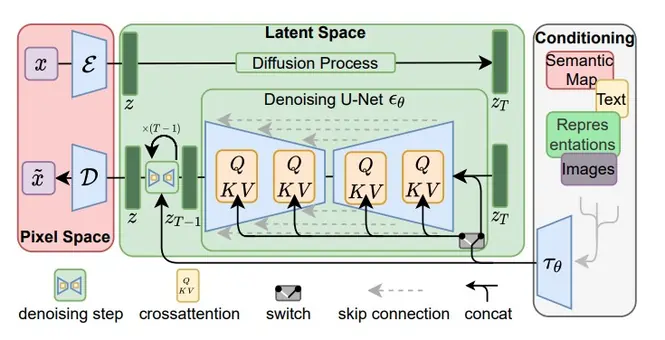 Technically, the AI learns to store data in a compact form, known as latent space, where similar items are near each other. It then mixes points in this space to create new points, which combine features of existing ones. These new points are used to make new images, which we call AI-generated art. You can learn about latent space here.
As for whether AI art counts as stealing, it's a complex and subjective matter. On one hand, these algorithm-based images rely on works produced by humans, to learn patterns and features. In some cases, the output might resemble an existing artwork closely, which raises important questions about the originality of AI-generated art.
On the other hand, AI-generated art can be seen as a transformative work, which takes existing data and creates something new and unique through the AI's interpretation and manipulation. In this view, AI-generated art is not stealing, but rather an innovative and creative application of technology as long as the work doesn't imitate another living artist's style.
That said, what does the law say about this?
Is AI-Generated Art Legal?
The legal landscape surrounding AI-generated art is a rapidly evolving domain, rife with unresolved questions concerning authorship, copyright protection, and commercial exploitation. Nonetheless, there are some general guidelines that can help you navigate the process of creating and monetizing machine-generated art without breaking the law.
In most jurisdictions, using AI art for both personal and commercial purposes is deemed legal, provided that the work does not directly infringe on another individual's creation. Securing copyright protection for AI-assisted art, however, may prove challenging. The creator bears the responsibility of demonstrating that their input in the piece is significant enough to warrant such protection.
It is crucial to recognize that the legal frameworks governing AI-generated art differ across jurisdictions, and current laws and regulations are still striving to keep pace with the rapid advancements in technology. While countries like the United States and the United Kingdom adopt a more lenient approach, other nations such as China impose strict regulations, mandating that all AI-generated media, including images, be explicitly labeled as such.
In jurisdictions where copyright protection for AI-generated work is not granted, the public is free to use your individual generations as they please.
If you're concerned about potential copyright violations involving living artists, which you should be, it makes sense to acquaint yourself with the laws of countries with the highest concentration of artists, as well as those of your own nation. Although precise statistics are not readily available or up-to-date, countries with the largest art markets can serve as a reliable proxy.
Together, the United States, China, and the United Kingdom represent a staggering 80% of the global art market, with a combined value of approximately $52 billion.
| | | | | |
| --- | --- | --- | --- | --- |
| Country | Art Market Size | Percentage | AI Art Regulation | |
| United States | $28 billion | 43% | AI art is legal and copyrightable (if sufficient work beyond prompting can be proven). | |
| China | $13 billion | 20% | AI art is legal but not copyrightable. | |
| United Kingdom | $11.3 billion | 17% | AI art is legal and copyrightable. | |
Market size and regulations of AI art in the United States, China, and United Kingdom
United States
In the United States, AI-generated art is legal, but it is crucial to avoid infringing on a living artist's style or work, as artists continue to enjoy protection under copyright law. While obtaining protection is possible, it won't be a walk in the park.
US courts determine the original authorship of a work based on how it was generated. To qualify for copyright protection, the work must be the "result of an author's own original mental conception, to which [the author] gave visible form." Note that each case will be assessed individually by the copyright office.
The court's approach suggests that it might be more advantageous to utilize AI art generators that grant users greater control over the output (such as Stable Diffusion's ControlNet), as opposed to those that merely allow for control over prompts and a few parameters (like Midjourney). The more unpredictable the outputs, the less likely the US copyright office will deem such work eligible for protection.
On a different note, compilations and structured arrangements of AI images, such as books or comics, can be copyrighted even if the individual images themselves are not. Source
China
In China, specific regulations have been implemented to oversee the use of AI, often referred to as deep synthesis technology within the country. Although China permits the creation and dissemination of AI art, it places a strong emphasis on preventing misleading or harmful content.
Consequently, users must ensure that generated images do not infringe upon the works of existing artists or compromise the Chinese state's broader social and public interests. Copyright protection is not extended to AI-generated images in China. Furthermore, users are mandated to provide personal information before accessing AI platforms. Source
United Kingdom
The United Kingdom embraces a forward-thinking approach to AI regulation, empowering creators to produce, monetize, and secure copyright protection for AI-generated images. The primary distinction lies in the duration of the protection granted: machine-generated works receive protection for up to 50 years from the date of creation, while human-created works are protected for 70 years.
Copyright safeguards for artists remain in effect in the UK, ensuring that AI-generated works cannot closely imitate another creator's distinct style or unique aesthetic without legal consequences. Source
By now, you should realize that copyright laws don't generally prevent the use of AI but are only aimed to protect living artists. As long as you're careful with the outputs you generate, you'll most likely be able to use AI-produced images for your needs.
Commercial Usage
Navigating the legal landscape is one aspect of working with AI-generated art, but effectively monetizing your creations without trouble is an entirely different challenge.
As a general rule, you can use AI-generated art for commercial purposes provided that you comply with relevant laws and regulations concerning copyright, intellectual property, and fair use. This allows you to monetize AI art in various formats, including books, graphic novels, and print-on-demand products.
However, the platform or tool utilized for generating images may also play a role, as some require a paid subscription for commercial use.
| | | |
| --- | --- | --- |
| AI Art Platform | Who owns the generated images? | What do you need for commercial use? |
| Midjourney | You, Midjourney, and other users | At least the Basic Plan ($8/month) |
| Stable Diffusion | You | No requirements |
| Dall-E | You | No requirements |
| NightCafe | You | No requirements |
| Craiyon | You | Free users must credit Craiyon, or buy a paid plan ($5/month) |
| ArtBreeder | You | Yes, but not copyrightable (Creative Commons license) |
| StarryAI | You | No requirements |
AI Art Generators and their Commercial License
Keep in mind that compliance with relevant laws can be more complicated than it appears. Given that many AI art generators, such as Dall-E, SD, and Midjourney, allegedly employ copyrighted images in their training data, you must exercise caution when using your generated art. Even if a platform grants you the rights to your creations, not all generated images can actually be claimed as yours.
To maintain ethical standards, avoid mimicking the art styles of living artists or those who passed away less than 70 years ago, as well as the IPs of well-known brands and companies, including logos, trademarks, and characters. If you insist on monetizing works that border on copyright infringement, at least ensure that the final output is sufficiently "transformative" to qualify for fair use.
If you seek full copyright ownership over your work, such as in the case of a graphic novel, you may use the legal precedent set by Kristina Kashtanova's Zarya of the Dawn to obtain exclusive copyright claims for AI-generated works. Kashtanova was able to register her graphic novel in the US post office, although the individual images (generated via Midjourney) were left out of the copyright.
But there might be a simple solution based on the court's declaration of her case.
To improve your chances of obtaining copyright protection or registration, consider creating some of the objects or assets in your works rather than relying solely on prompting. Advanced tools like ControlNET make this process more manageable, but even creating original assets in Photoshop and using them as image prompts can significantly impact the copyright office's decision.
Remember that merely prompting words or images you don't own will likely not suffice. Utilizing tools that generate unpredictable results may prevent you from being deemed the "mastermind" of the creation, rendering you ineligible for copyright protection. To enhance your claim, engage in more creative work.
Conclusion
It's important to look beyond the surface and challenge the prevailing notion that AI-generated art cannot be copyrighted, as other publications are purporting. Like most things in life, the answer depends on the context. As discussed in this article, there are indeed multiple ways to approach this issue.
A more nuanced understanding requires the consideration of various factors that can influence the legal status of AI-generated art: the level of human involvement in the process, the jurisdiction where the artwork is being produced and consumed, and how transformative the final output is when compared to its source materials.
It's also crucial to recognize the potential for collaboration between AI and traditional artists, as well as the opportunities for new forms of creative expression that AI technologies can facilitate. Seriously guys, stop the fighting. By embracing these possibilities, we can help foster an environment where both AI and traditional artists can coexist, thrive, and push the boundaries of creativity.
Also check out: Become a Top AI Art Seller: 4 Ways to Make Money Selling AI Art
---
Join our newsletter as we build a community of AI and web3 pioneers.
The next 3-5 years is when new industry titans will emerge, and we want you to be one of them.
Benefits include:
Receive updates on the most significant trends
Receive crucial insights that will help you stay ahead in the tech world
The chance to be part of our OG community, which will have exclusive membership perks