Despite its resurgence in 2020-21, the comic book industry has been grappling with various challenges in the last couple of years. Although Marvel and DC films have enjoyed immense success, they haven't been able to boost the sales of printed comic books (not that they need to). Moreover, the value of work produced by comic book artists has seen a decline, with some indie publishers defaulting on payments to freelancers and even filing for bankruptcy.
However, there is a silver lining on the horizon: the emergence of AI in comic book creation.
AI comics have given rise to a new generation of creators with fresh perspectives, modernizing production through the use of AI art generators like Midjourney, Dall-E, and Stable Diffusion. While artificial intelligence has faced opposition from the broader comics community, many enthusiasts and creators are opening up to the idea. AI comics have breathed new life into an industry that was, honestly, becoming stale due to a lack of innovation.
With AI, creators can instantly generate a wide variety of images or artwork by simply describing them through words. These generated images can then be used to create characters, panels, covers, and virtually every visual aspect of a comic book.
I am personally working on my own AI-assisted comic book project, but I don't believe myself to be the most knowledgeable individual on this topic. Thus, I consulted four pioneers of the AI comics movement to share their insights and illustrate the experience. These trailblazers have graciously painted a vivid picture of what it's like to be a comic creator who uses AI in this rapidly evolving field.
First, I asked them what they were currently working on and how they got into comic creation.
Why Use AI in Comic Creation?
Incorporating AI into comic creation can offer a myriad of benefits, as evidenced by the experiences of several innovative artists who have harnessed this technology to produce visually captivating works at a record pace despite little to no budget.
As a non-artist, the reason why I use AI in comics comes down to costs. According to Kindlepreneur, a comic book costs roughly $130-200 per page, which adds up to $4,160-$6400 per issue. And if you decide to handle the entire process on your own, good luck!
Dayna Darko is intrigued by the challenge of harnessing new technology to create art in ways that weren't originally intended. AI allows her to focus on storytelling while overcoming the limitations of time and resources that come with hand-drawing comics. Using Midjourney not only helps her create images in various styles but also generates ideas to enhance her creative process.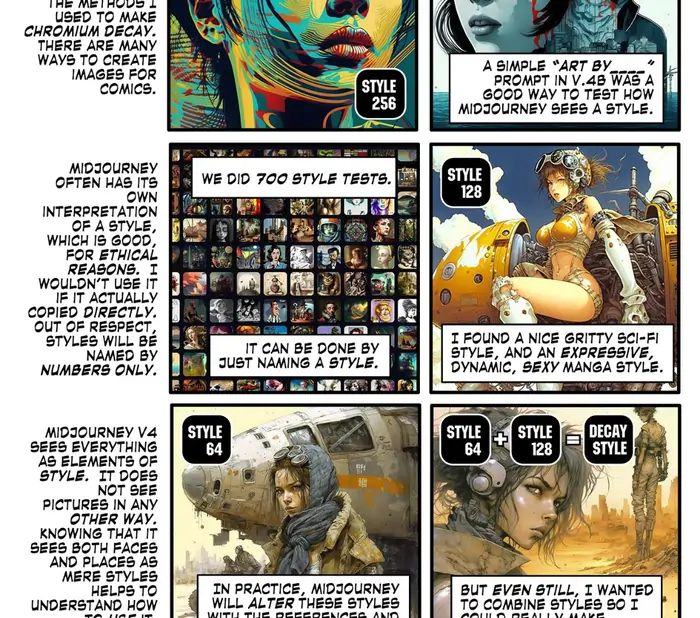 Speed is the key advantage emphasized by Christopher English, who managed to create and print eight comics in just five months all on his own. AI's ability to handle multiple aspects of comic creation simultaneously, such as penciling, inking, and coloring, significantly reduces production time, allowing artists to bring their stories to life faster.
One of the major benefits of AI art generators is their ability to efficiently test and explore creative visions, according to Stephen Tims. He likens the experience to that of a movie director, able to rapidly iterate and refine concepts (but at ultra-low costs). Similarly, Adam Rodriguez views these tools as the ultimate art department. This technology enables him to fulfill his aspirations as a writer and filmmaker, providing unparalleled creative support.
How Do You Create Comics?
The creative process is as varied as the artists themselves. Each creator brings their unique approach and skillset to the table, which we can all learn from.
Rodriguez describes his process as "improvisational chaos," in which he begins with rough ideas from his notes and assesses whether these concepts warrant further development.
Stephen Tims shares that diving into AI with real-world applications quickly reveals the technology's capabilities and limitations. Just like the force in Star Wars, AI has a mind of its own, generating unpredictable results at times. Until the technology advances enough to allow for complete control over generations, creators will need to concede to the outputs these tools can produce.
Christopher knows this very well, as his approach begins with generating an idea and applying learned techniques to create a comic. He acknowledges the limitations of Midjourney and sometimes modifies the storyline to fit those constraints. Both Christopher and Tims have a background in graphic design, which is an invaluable skill in this area.
Contrary to the "AI is the death of artists" narrative, having graphic design skills and proficiency in software like Photoshop will get you ahead in the AI comics scene. In fact, Tims finds photobashing to be an extremely useful technique in his creative process, where various artistic assets are blended, merged, and composited into cohesive works.
Photobashing becomes even more powerful when combined with image prompting or image-to-image generation. By creating composites that represent his desired outcome, he can obtain better results than working with Midjourney alone. Breaking down compositions into various assets sourced from AI and combining them to create envisioned panels is a crucial part of his process.
Note that we are still in the very early stages of artificial intelligence, and the tools are evolving pretty fast.
What Are the Challenges of AI-Assisted Comic Making?
As powerful as AI art tools are, they usher in a whole new battleground for creators. Artists brave enough to conquer the uncharted territory of AI-assisted comic making must overcome formidable obstacles, from unraveling the enigma of AI technology to winning the hearts and minds of the skeptical public.
You need to understand the strengths and weaknesses of AI, as well as figure out how to push the technology to perform tasks it may not be designed for. Dayna recommends a scientific approach, complete with testing and control groups, to fine-tune the generations and achieve desired results.
Working with AI also entails a learning curve, as creators must familiarize themselves with the different tools and their nuances. Mastering this new skill can be time-consuming, especially given the fast-paced evolution of the technology.
Acceptance from the public is another hurdle you need to face. Many artists, including those in the comics industry, see AI as a threat to traditional artistry and may harbor negative perceptions of your work. Overcoming this skepticism and gaining recognition can be a significant challenge for a creator. But if others could do it, anyone can.
Lastly, testing the limits of AI's capabilities can prove both exhilarating and frustrating. Certain elements of visual storytelling remain difficult to execute, such as maintaining consistency across characters, backgrounds, and wardrobe or choreographing action sequences.
The Future of the Comic Industry
With the swift ascent of machine intelligence, its potential impact on the comic industry remains a subject of debate. Some creators view art generators as a tool to enhance their work, while others foresee them shaking the very foundations of the industry.
Dayna believes that AI's role in mainstream comics will be largely unnoticeable, just like any other tool for artists, writers, and editors to improve their work. New voices will enter the playing field, and people with disabilities may find AI's capabilities particularly handy in the creative process. Misinformation and outrage, however, could overshadow its potential benefits in the short term.
Tims sees machine integration as an inevitable shift in the comics scene, akin to the adoption of digital tools like Photoshop. Artists who embrace AI and incorporate it into their workflow may have a competitive edge in the market, while those who resist may find themselves at a disadvantage. The distinction between "Made with AI" and "Made by AI" becomes increasingly relevant as creators strive to retain their unique artistic identities.
Kristina Kashtanova, the trailblazing comic artist who sought to register the copyright for her AI-assisted graphic novel "Zarya Of the Dawn," achieved partial approval from the US Copyright Office. Her case established a crucial precedent, demonstrating that AI-generated works can indeed be registered, provided the artist plays a more significant role in the creative process.
Opening Pandora's box, AI technology is likely to have both positive and negative consequences for the comic industry. While it could empower indie writers and creators to produce more original work at a greater frequency, it may also result in a glut of content that could dilute the market. As the industry navigates this brave new world, the hope remains that the adoption of AI will lead to a more diverse and innovative landscape, ultimately benefiting fans and creators alike.
What Advice Would You Give Aspiring Comic Creators Who Plan to Use AI?
Dayna Darko: Focus first on creating experimental pages to challenge yourself in various aspects of sequential art storytelling, page layout, and lettering – until you can do that, don't get caught up in your epic dream comics saga. If you haven't made comics before, using AI art won't magically grant you the ability to do so. Never become an "expert" – always be a student. Learn vector software, such as Adobe Illustrator, for your lettering and layouts. Assume you will need to edit images with a tool like Photoshop.
Christopher English: First of all, I would say, just go for it. If you have a story in your head, learn to use AI tools and just tell it. I'd recommend learning Midjourney; there are other AI art creation programs out there, but none of them have that extra sauce that Midjourney has. In addition, you'll need Photoshop or a Photoshop-type program. I use Pixelmator Pro. Finally, I arrange my panels and do my lettering with Comic Life 3. Those are the basics that I'd suggest.
Stephen Tims: Learn your basic artistic skill sets first. Learn your basic digital skill sets second, then utilize that knowledge to get the most out of AI. I think the best resource is by far YouTube. There is an unlimited knowledge base there, with more content that will teach these skills than one person could possibly consume. Understand that AI isn't going to replace anyone; you won't become an overnight Michelangelo. If you do not have the skill sets you need, you'll just end up putting junk in and junk out. But don't let that hold you back from learning the skills you need, because the knowledge is more accessible than it ever has been.
Adam Rodriguez: "In dreams begin responsibility," a great poet once said. Take your passion and the story you want to tell and jump right in. Get excited, get frustrated, and enjoy the creative journey. Start small, and then try to create a few pages, and you will feel compelled to go forward. There's really no excuse anymore not to at least try to tell your story and make something that people will want to read.
Author's Final Words
Many creators, including myself, recommend Midjourney for its intuitiveness and beginner-friendliness. However, consider expanding your skill set with AI art generators like Stable Diffusion. Though harder to set up and with a steeper learning curve, it offers more customization and control over outputs – essential for matching comic generation to your storyline. Don't be afraid to try out other tools like Adobe Firefly as well.
Furthermore, avoid relying solely on AI chatbots like ChatGPT for story creation. Retain your artistic identity and remember that AI is just a tool. Overdependence on this technology may lead to a lack of copyright protection, so strike the right balance to get the most out of it.