When was the last time you became excited about Microsoft?
It's been ages, don't you think?
But today, the tech giant is creating a lot of buzz again with the fusion of ChatGPT with its two search products: Bing and Edge. 
It's quite thrilling to witness this unprecedented event, which could change search forever.
But how, exactly? Let's take a dive. 
ChatGPT Now Powers Bing Search Engine
In a press event held in Redmond, Washington, Microsoft announced the rollout of the 'new and improved' Bing, powered by GPT-4.
GPT technology is the same tech that powers ChatGPT. 
Since the company's $1 billion investment in OpenAI took place, many people have anticipated the synergy between their two platforms.
The race starts today, and we're going to move and move fast.

Satya Nadella, Microsoft CEO
Microsoft demonstrated how people can now use Bing in different ways.
First, the search engine can now answer questions about the latest events (beyond 2021), which the standalone ChatGPT cannot do right now.
Second, it now allows users to chat with a Bing chatbot on an interface like ChatGPT.
Third, it can now answer more complex queries like "Create an itinerary for a 5-day trip to Mexico City for me and my family."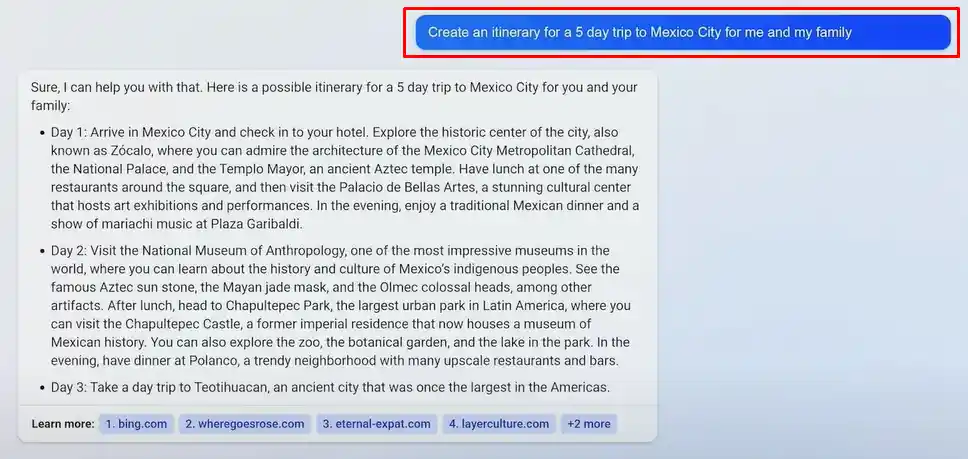 Fourth, the traditional Bing search engine will stay.  
But it will now provide artificial intelligence (AI)-powered annotations beside search results. This new feature can help you gain a deeper glance into what you're searching for.
Fifth, it now cites sources together with its conversational responses.
This could be a big leap for AI since ChatGPT is fond of making believable yet false answers, known as "hallucinations."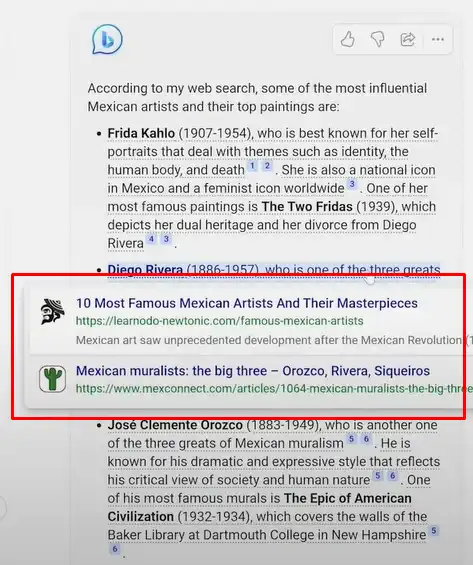 Sixth, you can now provide feedback for every response or result you receive. 
This could help developers improve Bing's user experience (UX) and help the search engine compete better. 
But for now, not everyone can experience Bing's full features and availability.
If this is the case for you, you may sign up on Microsoft's waitlist to gain priority access when it's already available in your area.
The New Microsoft Edge
Microsoft Edge also had a major (and much-needed) AI upgrade. It now allows you to use its advanced chatbot located on its sidebar.
For now, the chatbot will have two main features called "Chat" and "Compose."
You can use its "chat" feature when you want to summarize a document, webpage, or any file.
Once summarized, you can chat Edge and ask questions about that document. It's like having a chat with the very person who wrote that text!
You may also select "compose" if you need to compose anything, like email, social media posts, or essays, which anyone could do through prompts.
Furthermore, you can combine these two features to summarize a document and compose new content out of it. 
Comparing Information
Yusuf Mehdi, Microsoft's Corporate Vice President, showed how people could use Edge to digest and compare various data.
He used the browser to summarize a 15-long page Q3 report from Gap, a global clothing company. With a specific prompt, he instructed Edge to give him the report's key takeaways.
Next, he pulled another Q3 report from a different apparel company and instructed the browser to compare it with Gap's report. He then asked Edge to create a table based on these comparisons.
Doing this task manually would be painstaking and time-consuming, and Edge's AI capabilities hold a lot of promise to end these big inconveniences.
The bottom line is, the AI wars have now gone full-scale, and Microsoft cannot afford to rest on its laurels before the race is won. After all, Google has recently beefed up its lineup in the chatbot arena, unveiling BARD, a new ChatGPT rival, as well as funding another competing startup, Anthropic.
---
Join our newsletter as we build a community of AI and web3 pioneers.
The next 3-5 years is when new industry titans will emerge, and we want you to be one of them.
Benefits include:
Receive updates on the most significant trends
Receive crucial insights that will help you stay ahead in the tech world
The chance to be part of our OG community, which will have exclusive membership perks