Are you looking to unleash your creativity and elevate your visual content? Bid farewell to endless internet searches and say hello to Dall-E 2—the revolutionary AI image generator that can transform your innovative ideas to life in just a blink of an eye. And the best part is it only asks for one easy requirement. 
In order to use Dall-E 2, you will only need to type a simple text description of your desired picture or art and let the AI do the rest. This feature also allows you to combine or add elements to achieve various outputs, making it a versatile tool for everyone regardless of artistic background.
The prompt serves as the user's way of communicating with the AI, which it processes to serve requests. So, it would be best if you were careful attention to the details. And after a while, you'll start seeing the result reveal itself on your screen, like this one: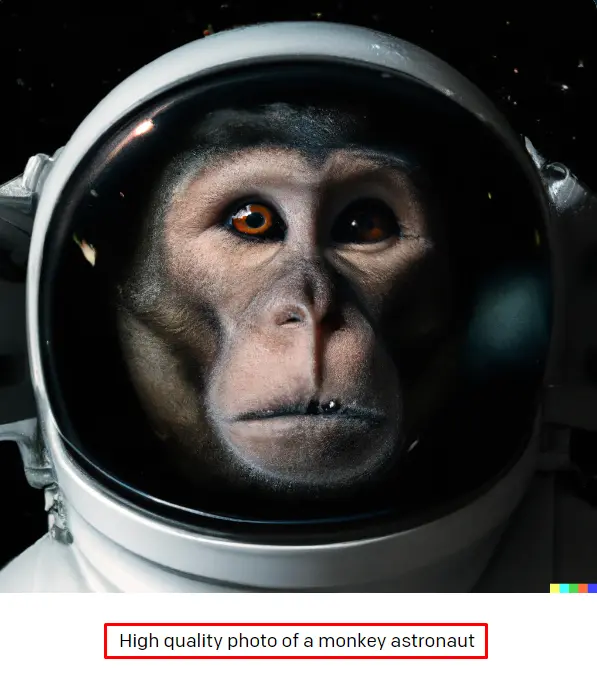 The sample output of Dall-E 2 shows the image of a monkey in a space suit, the exact portrayal of how it combines two elements based on the given prompt. And you're only seeing a glimpse of its capabilities.
So, brace yourselves and get ready to create stunning and fully-realized images and art as you explore the creative world of Dall-E 2.
How to Use Dall-E 2
Dall-E 2 is a powerful tool that can be your go-to solution for generating creative outputs. But it will require a certain level of proficiency for you to use it to its full potential. 
Fortunately, getting started with this AI is a breeze as long as you follow these few simple steps: 
Create an OpenAI Account
Dall-E 2 is a product of OpenAI, the company that built the uber-popular chatbot: ChatGPT. It's also a key player in the AI industry. To access the tool, the first thing you have to do is create an account. Don't worry; it's free and easy.
Go directly to Dall-E 2's official website and click the Try Dall-E button. The platform will take you to the next page, where you must sign up by providing your email address and cellphone number for verification purposes. It's necessary to make AI secure from potential misuse. 
Once done, you can immediately unleash your creativity and explore new possibilities by allowing the tool to do wonders on your prompts.
Type a Detailed Prompt
A prompt is simply a text description of the output you want the AI to produce. But to be honest, it won't always get your instructions correctly. So, to generate a better result, detailed descriptions would certainly help.
Once ready, type the prompt in the empty bar. For starters, you can opt to tap on Surprise me. This way, Dall-E will produce a random text description that can help you familiarize with how to properly create one. 

Now, you're close to seeing your imagination come to life. Let's head to the next step.
Generate the Image/Art
If you're satisfied with your input, hit the Generate button inside the box, where you input a detailed description. It'll only take a couple of seconds before the AI can provide a result based on your prompt, such as this image: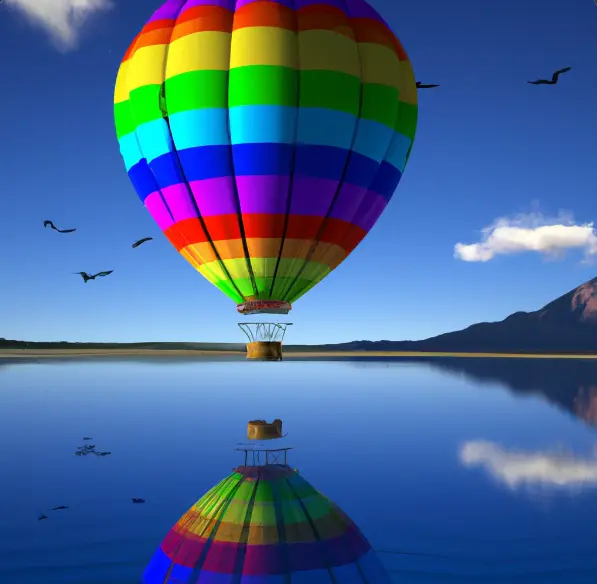 The image above is a testament to the incredible capabilities of Dall-E 2. As you can see, the model generated a stunning and highly realistic scene featuring a rainbow-colored hot air balloon and a serene lake.
What's even more impressive is the sample's level of detail and nuance, from the reflections on the water to the shadows cast by the balloon. Every element of the scene helps make it look like it could be a real photograph.
Furthermore, it can also generate other output beyond photorealism. For instance, you can incorporate a specific style in your prompt. Take a look at Dall-E 2's sample description and its corresponding result:
Prompt: An Andy Warhol style painting of a french bulldog wearing sunglasses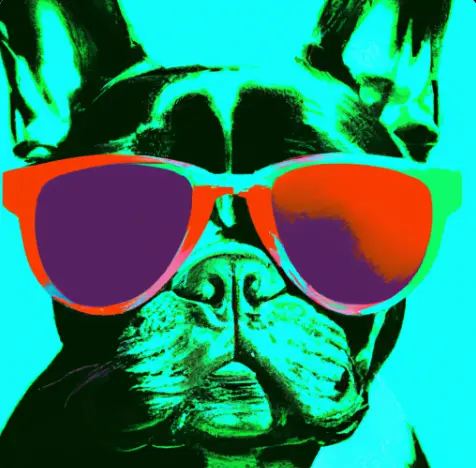 The Andy Warhol style is only one of the many concepts you can include in your prompts. And you'll surely discover the ones suited for you as long as you strive to explore. However, there can be times when the AI's output can be improved. Don't fret. Dall-E 2 has a solution to that problem.
Assess and Apply Necessary Enhancements
AI is sometimes known to be imperfect, which is one of the reasons it only serves as a tool for users rather than a replacement. The same is true for Dall-E 2.
You only need to upload your images on Dall-E 2 to edit them. Find this feature below the empty bar where you input a prompt. 

Use the right editing tool to enhance your pictures as you see fit. Dall-E 2 will also give you variations to choose from different results. 
Once done, you can save your work and show the world what your imagination looks like through an AI-generated image.
Outpainting
Have you come up with an idea and want to give your artwork a new narrative? That's where Dall-E 2's outpainting feature comes in. 
This cutting-edge technology enables you to generate images that push beyond the boundaries of the original input, bringing new dimensions and perspectives to your creations. From extending the scope of your artwork to painting entirely new scenes, DALL-E 2's outpainting feature is a powerful tool for artistic exploration.
To see the transformative magic of outpainting in action, see how the AI reimagined Johannes Vermeer's Girl With A Pearl Earring. 
Using its imaginative brush, the AI painted more colors into the artwork, adding a different perspective that transports you to a new time and place.
Inpainting
Behold the magic of DALL-E 2's inpainting feature! With a simple description, you can seamlessly add or remove elements from an image. This innovative tool goes beyond the basics, automatically incorporating essential effects such as shadows, reflections, and textures to ensure a flawless output.
Take a look at Dall-E 2's sample image below: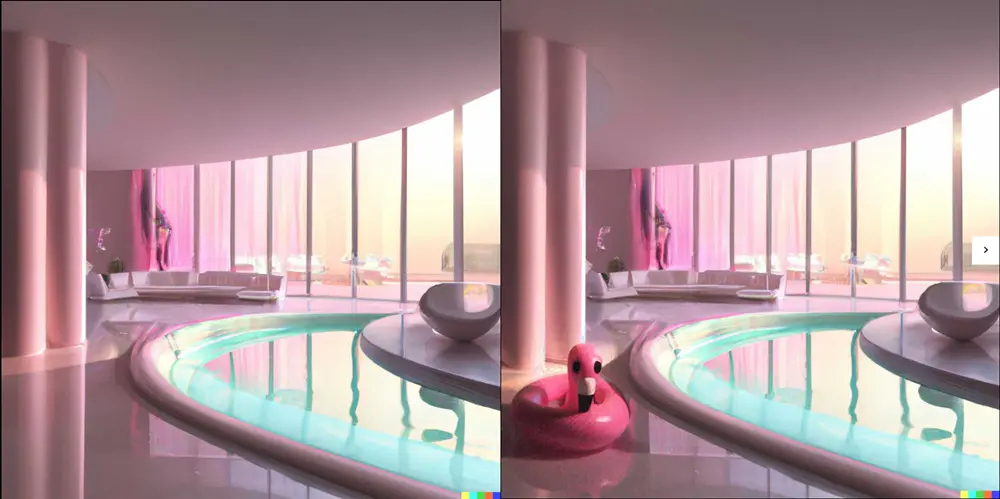 As you can see, the flamingo has been added to the picture. But a good output doesn't only need the subject but also its reflection and the correct shadow placement on the glass-looking floor. 
With this tool, you get to save time from manually editing the output individually without sacrificing quality. But of course, it won't work perfectly all the time. Thus, your assessment is still a must.
Dall-E 2 Pricing
Dall-E 2 is not free and costs $15 for 115 credits, where you consume each for every request made to generate, edit, or reroll an image. However, the platform only applies deductions for completed outputs, ensuring a smooth and seamless experience.
Additionally, Dall-E 2 rewards their early supporters with free credits monthly. You might want to check your account if you signed up before April 6, 2023, and use the points to explore the AI.
Can I Sell Dall-E Images?
You can use Dall-E images for commercial purposes. And it doesn't matter if you generated them through paid or free credits as OpenAI grants all users equal rights, ensuring that you can unravel the full creative potential of the AI tool without legal hurdles.
You can sell the art you created with Dall-E 2, as the platform promises that the generated pieces are original and verifiably unique. So, go ahead and incorporate these AI-generated visuals into your advertising, branding, and product design projects.
If you're wondering, you can check our guide about the four ways to make money selling AI art or perhaps learn how to offer them on print-on-demand platforms. 
However, not all AI art can be used for commercial purposes, as it depends on the services provided by the tool; it's where Dall-E 2 has an advantage over the others. 
So, familiarize yourself with AI art legalities to become properly informed about what you can and can't do.
Dall-E Restrictions
OpenAI's mission is to develop tools that benefit all users, with a strong focus on safety. In line with this goal, DALL-E 2 implements strict measures to prevent the generation of harmful images and prohibits the use of AI-generated images to deceive or mislead audiences.
Harmful content includes hateful visuals, sexual services, illegal activities, influencing political decisions, and anything unethical. 
In addition, misleading information is also a significant concern. It includes outputs that falsely represent the nature of work, such as claiming that a piece of art was created by human hands when it was generated by artificial intelligence. 
Identifying harmful and misleading content is essential in collectively promoting the responsible use of Dall-E.
The Future: Dall-E 3
Exciting news for AI enthusiasts! DALL-E 3, the next generation of OpenAI's art generator model, is on the horizon. However, the release date remains unspecified. Lucky for us, Chad Nelson had the opportunity to experiment with the model and shared his experience.
As shown in his Instagram post, he used a simple prompt "a close-up of a 1970s cosmonaut on the moon." Nelson was amazed by the impressive level of detail and realism the model produced.
Observe closely, and you'll notice intricate details such as the pores on his face, subtle shadows, and creases on his suit, all rendered flawlessly by the new model.
Nelson also uncovered the potential of DALL-E 3 for feature-film animation, producing high-quality images even when the subject is in motion. While the results are impressive, there is still room for improvement, particularly in rendering fingers, as some examples appeared strange.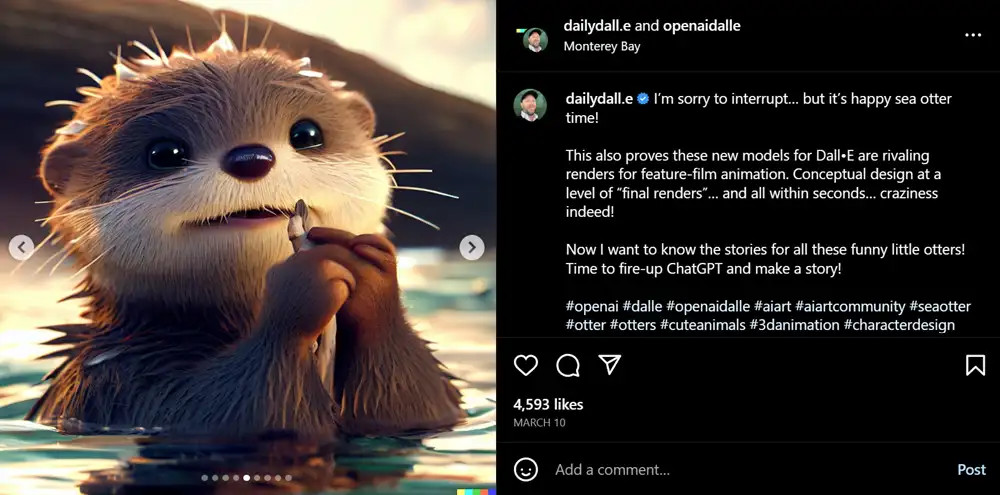 With a keen eye, one can notice the striking similarity between the AI-generated images and those created by Midjourney. However, it remains to be seen as to what edge this tool has over the other. The only recourse is to wait and see how this technology will develop.
The AI-powered image generators are on the rise; we're in for a thrilling ride! It's as if the door to endless creative opportunities has swung wide open, and we're at the forefront of an unprecedented era of artistic exploration. 
Now's the time to unleash the full potential of these tools and carve new paths in the boundless landscape of tech-assisted art. The future of creativity is within reach, and it's up to us to mold it to the best of our ability.
---
Join our newsletter as we build a community of AI and web3 pioneers.
The next 3-5 years is when new industry titans will emerge, and we want you to be one of them.
Benefits include:
Receive updates on the most significant trends
Receive crucial insights that will help you stay ahead in the tech world
The chance to be part of our OG community, which will have exclusive membership perks