We're currently living in a fascinating time when technology and creativity meet, paving the way for the birth of AI art. With this advancement, artists and non-artists can craft almost anything in a blink of an eye; all you have to do is translate your imagination into groups of words commonly referred to as prompts. And the best part? Each piece has the potential to fetch a price beyond what one would expect.
There are four primary ways to generate revenue by selling AI art: stock photography, NFTs, print-on-demand products, and prompt sales. Each of these methods capitalizes on the growing interest in digital art.
Want to see a vivid illustration? Take the most expensive AI art as an example. Edmond de Belamy, a classical-looking portrait with a blurry face, was sold for $432,500 in Christie's live auction. 
Astonishing, isn't it? This staggering sum attests to the perceived value some people have on art, despite being produced partly via a machine. While getting to the top won't be a walk in the park, everyone has equal chances of reaching these levels.
It's better to start now, though, as the competition is growing. 

Selling AI-Generated Images as Stock Photos
Your AI images hold a valuable position within the stock photo industry, allowing you to earn income. It doesn't matter if you're a beginner because we'll help you out through these steps:
Understand Your Market
Stock photos are all over the web. You may have seen them in articles, social media posts, book covers, and advertisements. And this means there's a large market for such products, especially as Internet users grow. But like with any item, not all stock images available have a corresponding buyer. So, what do we do now?
The first step to selling AI-generated images as stock photos begin with preparation, not creation. Conducting thorough research to identify lucrative niches is vital, as it ensures your images captivate potential buyers rather than remain idle and overlooked online. Remember that the goal is to make money.
One of the possible resources to understand buying behavior are platforms for AI-generated stock photos. For instance, Adobe Stock offers you an option to view the recent top sellers and look at the kind of images they made. It's only one of the many tips. So, consider exploring.
Choose an AI Image Generator
There are currently many tools you can choose to generate your image, depending on your preference. You already know Dall E-2, one of the early techs that wowed Internet users with diverse AI images.
But if you're up to seeing more wonders, such as realistic to out-of-this-world concepts, then Midjourney can be a better choice. You can use text prompts to create beautiful art in MJ. Alternatively, you may also combine image prompts to generate more specific results.
Dall-E 2 and Midjourney are only two of the many AI image generators today. If you want a free open-source tool that is potentially more powerful, albeit also more complex to use, I recommend Stable Diffusion.
Create AI Image
Choosing an AI tool is difficult, given the numerous options available. But once done, you can begin generating your images. 
I'll use Midjourney to show you a sample of a stock photo. Let's say your data showed significant demand for background images with splash colors. Translate it into a prompt, and you'll get something like this:
I generated the visual in a few minutes, and we're just scratching the surface here; I'm sure you can make exceedingly better designs with more effort. Just let your imagination take over. 
Don't forget to review the output and spot what you need to enhance, like noise, resolution, size, etc. 
Upload Your AI Image on Stock Photo Platforms
Before uploading your image to a platform, ensure that it accepts the work of AIs. Not all are open to this advancement yet, so always check announcements, FAQ pages, and the like.
We've already mentioned one of the platforms you can visit to upload your AI stock photos—Adobe Stock. Be sure to read its terms and conditions about AI art.
Let's look at the platform's interface.
As you can see, it has grouped the menus for easier navigation. You can also drag and drop your photos at the center and wait for the team to accept your submissions.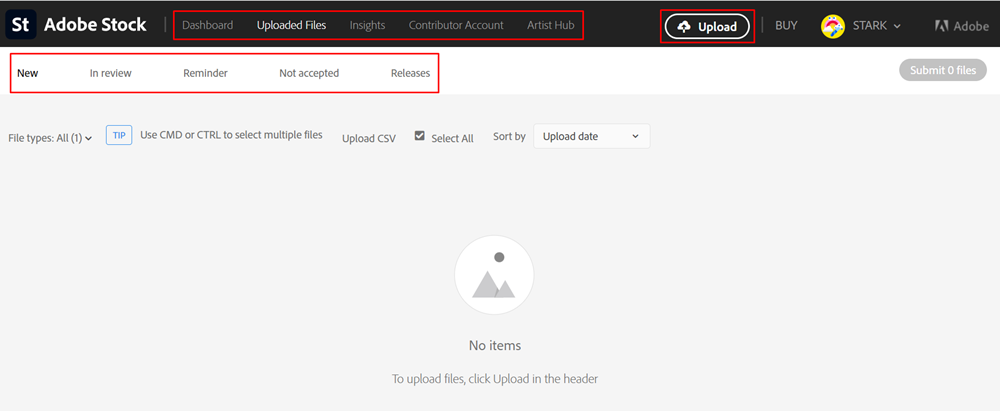 In terms of profit, Adobe Stock will give you 33% of royalties. Depending on your buyer's credit packs or subscriptions, you'll earn an amount per download. It can be a good passive income, especially since you can get up to $26.40 for every download. 
But if Adobe Stock doesn't work for you, your AI stock photos also have a place on DreamsTime. You just have to determine which is best for you.
Selling AI Art as an NFT
Non-fungible tokens (NFTs) have rapidly emerged as a popular and lucrative method for artists to monetize their digital artworks. An NFT is essentially a piece of digital art that is stored on a blockchain, which is an untamperable digital record designed to last forever.
They represent true digital ownership. No surprise that people have spent millions purchasing NFTs.
And now with the advent of AI-generated images, selling NFT art is easier than ever. In this section, I'll show you how to transform your AI art into an NFT so you can earn cryptocurrencies.
Prepare AI Art 
Web3 has a culture unlike any other, focusing on the importance of data ownership in various ways. But it isn't limited to control and security, as it extends to high-quality art. Add machine learning into the mix, and you'll be opening doors to new realms of creativity and innovation, showing the way to a potential profit.
So, what should your AI art look like?
There's no specific style to consider; you can create anything you can imagine. However, be mindful of intellectual property. Don't also forget your brand and concept when generating art pieces because it can help you attract certain collectors.
Take one of the most successful NFT artists, Beeple, as an example. Although he didn't use AI in his works, you can pick some insights from his Everydays collection and use that as a guide to your prompts. 
Install a Digital Wallet
Your digital wallet allows you to transact on the blockchain we talked about earlier, and connect to marketplaces to sell your NFTs, which we'll be doing later. For now, I'll show you first the general installation process.
Metamask isn't the easiest wallet to use, but it's the universal one. You can install it via the official website and create an account to access your assets. Don't worry. It's easy to navigate, with only a few buttons to explore.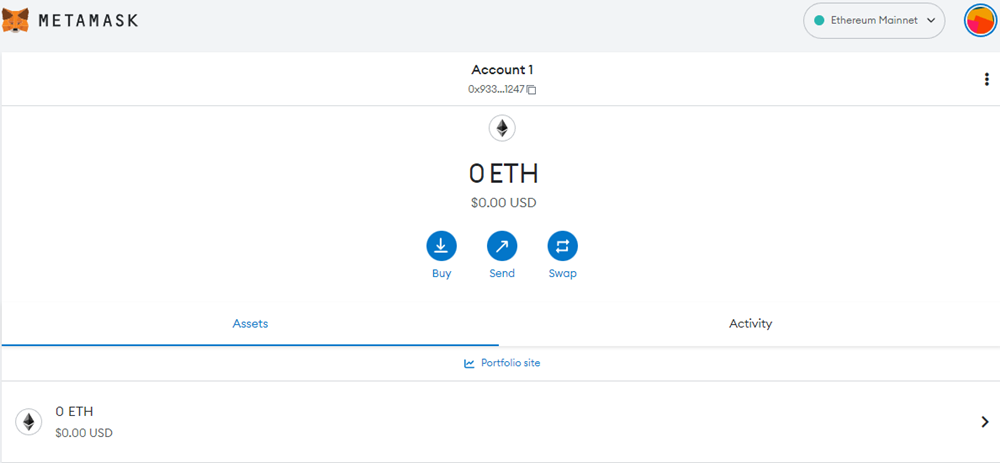 Once done, you're a step away from selling your AI art, which I'll explain in the next section.
If MetaMask is too complex, you may opt for Coinbase Wallet or Trust Wallet instead.
Sell on NFT Marketplaces
You might have reached this step without turning your AI art into an NFT yet, and that's alright. Why? There are platforms that enable you to turn machine-generated images into NFTs and immediately sell them once created.
OpenSea, a diverse NFT marketplace, can be your go-to platform for the said goal. You only need a digital wallet and your AI art, which we already did earlier. If you want to try it, head to your profile and find the create option. All other steps are also given in the instructions; follow them, and you're good to go.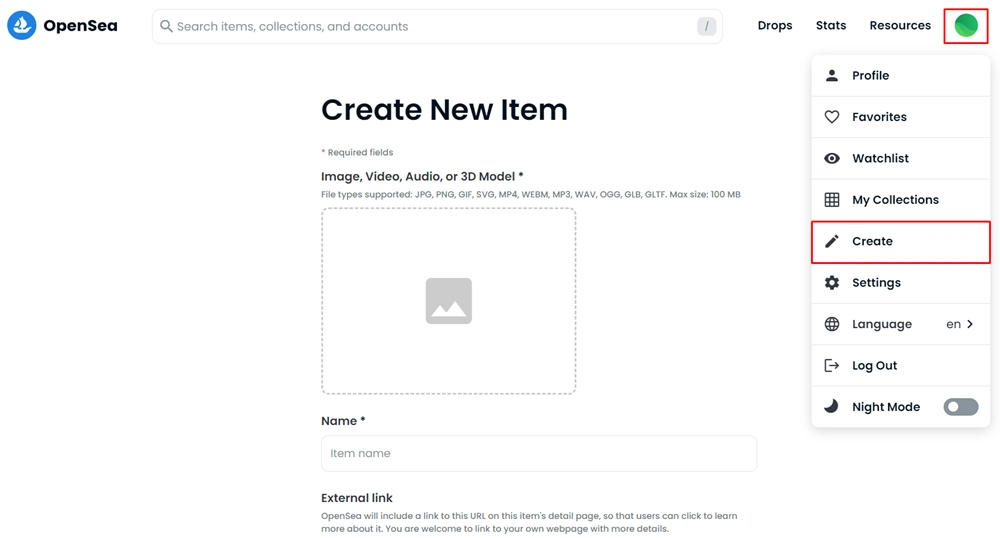 It's now time to sell your newly-created AI art NFT. But unlike with stock photos, setting its price falls on you. In OpenSea, you can opt for a fixed price, allowing you to control how much your asset should cost. 
Alternatively, you can choose to auction your work. Buyers will compete with one another by paying crypto, and the highest bidder will get the AI art NFT. 
Lastly, OpenSea isn't the only marketplace available. Others include Magic Eden, AtomicHub, JPG Store, and more.
Selling Print on Demand Products
Do you want your artwork to be displayed in mugs, stickers, clothes, and other products?
The world of design is rife with opportunities for profit, and print-on-demand products exemplify this perfectly. Admittedly, not everyone possesses the innate ability to create art by hand. Thankfully, it's not a problem anymore, as the true key to success lies in the boundless power of your imagination.
Whether you identify as an artist or not, your mind is a powerful asset for fueling creativity. Use it to your advantage with the help of AI. 
Only then can you secure significant earnings on PoD marketplaces. Here are the steps you can follow:
Access Your Chosen Marketplace
There are many marketplaces where you can sell your design, such as Redbubble, Printful, and Printify.
In this example, let's take a look at Redbubble. The site greets you with a diverse selection of products to use as a basis for your AI design. If you're up for it, create a profile via the sign-up button or log in to an existing account.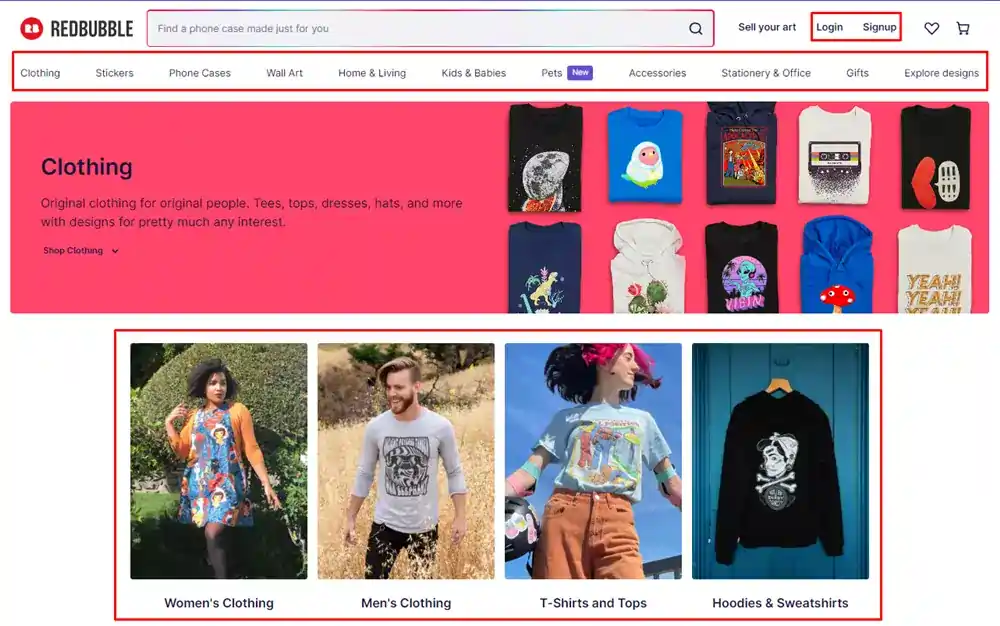 Print-on-demand product websites commonly have similar interfaces; the only difference is their button placements. 
Upload AI Art
Platforms commonly allow third-party producers to print your designs on multiple products. So, consider having an art piece that is fit for different items.
Once you have the design, upload it on the marketplace. But remember that each has a requirement. For instance, platforms will reject your images if they don't meet the correct file size and quality. If you encounter such a case, you may use editing tools to comply.
Determine Price and Sell
It's essential to analyze the pricing options of your preferred marketplace. This way, you'll know how much you can earn. For example, Redbubble has a base price for each item. But you have the option to set a markup.
You can set a high markup for competitive designs and a low one for the basics. However, you can also consider other factors, such as the popularity of your art and more. 
Once done, sell your product and wait for customers to buy them. 
There are also other print-on-demand product platforms where you can list your designs, such as Etsy, etc.
Sell the Prompts
Lastly, you can sell the prompts used to generate your artwork. This will allow others to emulate your style or create variations of your work.
To make money selling prompts for AI art generators, it's essential to find a niche and focus on specific expertise to develop unique prompts that resonate with your target audience. This will help build a personal brand and stand out in a growing market. When formulating a prompt, consider ways to create prompts that generate diverse and distinctive aesthetic outputs. Aim to attract buyers by offering customization options and focusing on unique elements.
Choosing an ideal prompt marketplace is crucial; platforms like PromptBase provide a space for selling and buying prompts for various AI art generators. Popular prompt prices on PromptBase typically range from $1.99 to $6.99. For a full step-by-step guide on selling prompts, click here.
Final Words
Combining AI and art has opened up new possibilities for generating income. With the right tools, you can make unique pieces that stand out, attracting a wider audience and creating new revenue streams.
But remember to work with the available opportunity, as you're the only one with the power to walk your path to becoming a top AI art seller.
Master AI Art Generation with Midjourney
Midjourney's trajectory mirrors Apple's legendary ascent. Mastering how to use it today is crucial to dominating in the future as a creative.
Join the NeoBlush Midjourney newsletter and become an AI juggernaut.