There are over 500 companies building the metaverse today. But the most promising of them all is still unaccounted for.
When we think of the metaverse, Neuralink isn't the first company to come to mind. After all, virtual worlds are not even a priority for the neurotech company right now. But a Neuralink metaverse would blow your mind more than anything Meta or the blockchain industry creates.
This article dives deep into the future of the metaverse.
Neuralink and the Metaverse 
When Dogecoin enthusiast Elon Musk acknowledged that his company, Neuralink, could one day bring individuals into full virtual reality, we can't help but envision a possible future where we can actually hang out in the metaverse without strapping heavy contraptions in our heads. But considering that you have to put a chip in your brain that's connected to the Internet, do you really think it justifies the risks and offers a better alternative than wearing helmet?
Neuralink is a neural interface technology company co-founded by Musk, which develops advanced human brain chip implants in order to create a brain-computer interface (BCI). The Neuralink chip is a coin-sized device that will be implanted by a surgical robot once ready for human trials.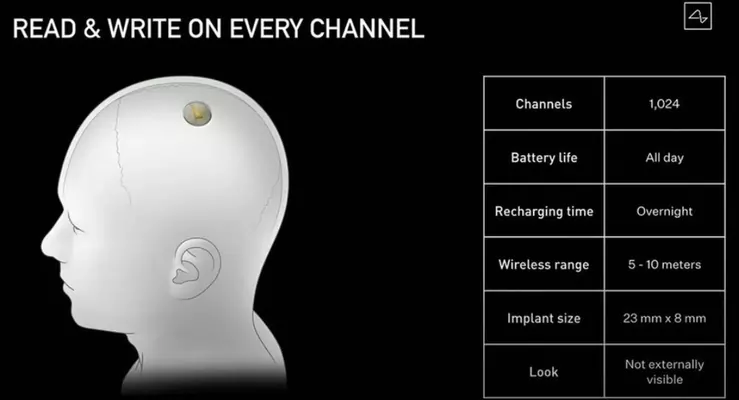 For now, the company is focusing on Neuralinks' medical applications. In Musk's dozens of interviews, he has outlined a list of possible medical conditions that the implant may cure, including epilepsy, morbid obesity, spinal injuries, tetraplegia and quadriplegia, Alzheimer's, and Parkinson's disease. 
Musk hinted at the possibility of a metaverse integration on Neuralink. According to him, this Neuralink metaverse would be more immersive than the present concept since your presence would feel exactly the same as in the real world. Imagine being able to fully immerse in a virtual environment wearing no gadget (except the chip inside your brain).
The traditional metaverse, on the other hand, refers to a digital world that brings people to a 3D immersive universe through virtual and augmented reality headsets, haptic devices (to feel touch), and oftentimes, a PC (since most standalone VR headgear aren't powerful enough yet). The metaverse is currently in its earliest versions, spearheaded by the likes of Decentraland, The Sandbox, Roblox, Fortnite, Otherside, and the most prominent of them all, Meta (Facebook). 
Neuralink and the metaverse are currently in their "prototype" phases, and while they have different goals, for now, it's interesting to look forward to their possible impact on the future. Neuralink has the device and technology at the neural level, while todays proto-metaverse relies on the limited capabilities of today's software and hardware technology. 
On the flip side, as the demand for metaverse continuously expands, using XR (VR, AR, and MR) hardware will likely be the first choice of the majority, instead of an actual chip implant for obvious reasons. Imagine if a hacker decides to infiltrate your brain and plays Never Gonna Give You Up by Rick Astley on repeat 24/7. It will take at least a decade for brain chips to be comfortable enough for the masses to accept.
Furthermore, a Neuralink-type metaverse would require a truly complex computing BCI that may even be further away. But then again, this is Elon we're talking about so it could arrive faster.
Elon Musk's Views on the Metaverse
Elon Musk admits that although he doesn't see a "compelling metaverse situation" right now, he fears that simply deriding it would make him look like an "old codger" dismissing the Internet in the 90s. The only problem he has is the current state of the metaverse, Meta's version to be exact, which requires clunky headgear on your face that doesn't seem healthy. 
Since the Neuralink chip is currently in its development phase without human test results to show for, it can only do so much. But Musk said that a sophisticated version of a Neuralink implant could truly bring its users a more immersive virtual experience by beaming content directly into their brains.
While it sounds way too futuristic, just think how reusable space rockets and mass-produced electric cars were once considered almost impossible feats. Elon Musk's metaverse may not be far behind, given Neuralink technology's many possibilities. 
How Would a Neuralink Metaverse Look Like?
A Neuralink-type of metaverse would be far more immersive since the data will be directly fed to your brain as opposed to a wearable device. This can bring to life a virtual world filled with limitless possibilities, and the best part: it'll feel as real as physical reality.
While the Zuckerberg metaverse could potentially look like The Oasis in Ready Player One, the Elon Musk metaverse would be more akin to Sword Art Online, only better.
What do I mean by that?
In RP1, people use a special type of wireless VR headset that looks like fancy ski goggles that can scan the wearer's face and relay his every facial gesture to the virtual world. Furthermore, the rich ones have the option to buy expensive tactile gloves and full bodysuits that allow them to interact in a 3D world and "feel" virtual objects they touch. This type of metaverse may not be too far away from where we are now.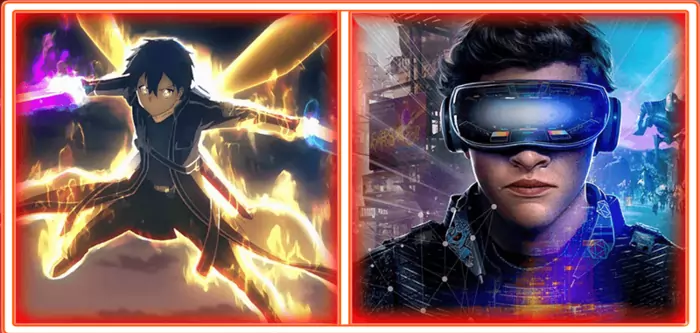 In SAO, players use a special device called a "nervegear", which they put on like a spectacle and lay down, which takes them to a virtual world where they can do literally anything, from fighting monsters to flying, to exploring dungeons, to swimming in deep oceans whiles truly feeling the cold. As you can see on the left side of the above image, Kirito, the main character, is flying with his virtual wings holding his Dark Repulser and Elucidator in full battle stance.
Fans of SAO will be pleasantly surprised to know that Neuralink has the capability of bringing it to life, only it won't even require a spectacle since the chip will be implanted in your brain. You can just sit down and turn it on with a switch, then you're off to far away land. Not only will this remove friction between the metaverse and the physical world, but you won't even feel the implant.
Neuralink requires no haptic devices in order to feel a sense of touch. In fact, the sensations that your brain can emulate far exceed any possible device or bodysuit.
This is the metaverse that is possible with Neuralink. It might be a bit far away than the XR metaverse, but it will probably arrive knowing Musk's phenomenal track record.
---
Join our newsletter as we build a community of AI and web3 pioneers.
The next 3-5 years is when new industry titans will emerge, and we want you to be one of them.
Benefits include:
Receive updates on the most significant trends
Receive crucial insights that will help you stay ahead in the tech world
The chance to be part of our OG community, which will have exclusive membership perks