One of the most publicized funding rounds on crypto took place on April 30, 2022, when Yuga Labs announced its $450M seed round to fund its metaverse project, Otherside. This is apparently a huge undertaking, one that the Bore Ape Yach Club (BAYC) founders don't want to tackle alone. Thankfully, it is supported by some of the biggest players in the industry.
The Otherside is anticipated to offer a rich, immersive virtual world experience like never before, bringing to life many different non-fungible tokens (NFTs) from various projects, even those outside Yuga Labs. Imagine being able to play as 3D renders of your favorite NFT characters, such as CryptoKitties or Azuki, in a videogame, gathering resources, completing quests, and other cool stuff.
What is the Otherside Metaverse?
The Otherside is a gamified metaverse being developed by Yuga Labs (the same guys behind Bored Ape) where users can turn their NFTs into playable characters in an environment that blends MMORPG gaming and cutting-edge web3 virtual world technologies.
The metaverse will utilize M², a web3 network designed to create the next generation infrastructure for virtual worlds. This will enable the support of 10,000+ players simultaneously playing in a single space, interaction using natural voice in a crowd of thousands, and the ability to experience immersive gameplay supported by AI and physics. Furthermore, it can handle more than 500,000,000 operations per second, while typical MMORPGs can merely scale at 10,000 operations per second.
Otherside Trailer
What Can You Find on the Otherside?
Yuga Labs envisions the Otherside as a dynamic virtual world that is narrative-driven, where a player's actions have consequences. The world is part galaxy and part archipelago, with the Biogenic Swamp at the center surrounded by far-reaching islands roiling outwards to the Infinite Expanse.
Throughout the lands, there are rare objects you can find, some of which cannot be crafted by any other means. Some artifacts also hold deep secrets of the Otherside as it expands.
Then we have the Kodas, the primitive creatures that brought us to the Otherside. Not much has been revealed about them, except that one should tread cautiously when they meet one.
Otherside-Ready 3D Models of NFTs
The Otherside is open to all, allowing anyone to create their own 3D characters via an SDK and import them to the metaverse as playable characters. Yuga Labs NFT collections will have the advantage of being the first 3D models to be available at launch. This includes:
Bored Ape Yach Club (BAYC)
Mutated Ape Yacht Club (MAYC)
Bored Ape Kennel Club (BAKC)
CryptoPunks
Meebits will also follow suit.
Create Stuff on The Otherside with an SDK
The Otherside has a software development kit (SDK) that allows creators to design their characters, skins, in-game resources, games, mini-games, and other stuff. The website also shares that creation comes with perks, so if you're interested, click here.
What are Otherdeeds?
Otherdeeds are dynamic NFTs, each functioning as real estate deeds to land on the Otherside that contain a collection of elements, including environment, resources, sediments, treasures (artifacts), or even Kodas. In the NFT world, these elements are referred to as traits or properties.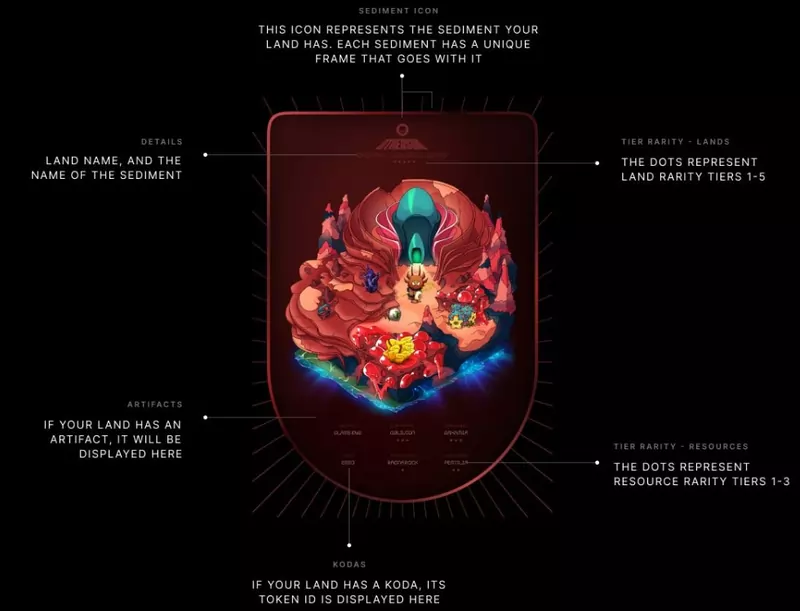 Otherside lands are built upon five sediments:
Biogenic Swap
Chemical Goo
Rainbow Atmos
Cosmic Dream
Infinite Expanse
Moreover, the four resources that make up these lands, which can be harvested and utilized to shape the Otherside, are Anima, Ore, Shard, and Root.
Note that an Otherdeed is designed to evolve according to the decisions you make in the game. Landowners can also participate in demos, prototypes, test builds, and other activities that could help bring this metaverse to life.
If you want to get your hands on one, proceed to the next section.
How to Buy Land in the Otherside Metaverse
Since the Otherside metaverse land sale already took place last April 30, 2022, the only way you can buy Otherdeeds is through secondary marketplaces like OpenSea.
First, you need a web3 wallet such as MetaMask.
Then head over to the Otherdeed for Otherside store on OpenSea, and connect your MetaMask wallet. Make sure that you have enough ETH to buy and pay for gas fees.
Prices today are way above the initial mint price, but that's to be expected from projects made by Yuga Labs. In case you're wondering about the distribution of Otherdeed NFTs, check out the table below.
| | | | |
| --- | --- | --- | --- |
| Recipient | Allocation percentage | Ratio | Land Type/Sediment |
| Bored Ape holders | 10% | 1 BAYC = 1 Otherdeed (total of 10,000) | Biogenic Swamp |
| Mutant Ape holders | 20% | 1 MAYC = 1 Otherdeed (total of 20,000) | Chemical Goo |
| Yuga Labs/Developers | 15% | 15,000 to Yuga and other project developers helping to create Otherside | Rainbow Atmos, Cosmic Dream, Infinite Expanse |
| Other Buyers | 55% | 55,000 purchased using ApeCoin | Rainbow Atmos, Cosmic Dream, Infinite Expanse |
ApeCoin
ApeCoin ($APE) is an ERC-20 (Ethereum-based) token that will be used as a medium of exchange on the Otherside metaverse. This means that any future item and land sales will be purchasable exclusively with $APE.
While $APE is the de facto economy token for the Otherside, it is currently controlled by two separate entities: The Ape Foundation and the Apecoin DAO (decentralized autonomous organization). Furthermore, Apecoin is also purported as a token that will support the future web3 economy as a whole, having other goals even beyond the Otherside project.
What Makes The Otherside Great?
First of all, the project hasn't been launched and we have no way of truly predicting how people would respond to it when it does. However, we can have a good idea of its potential considering the buying frenzy during its land sale. That, and the fact that it is led by Yuga Labs, which has a phenomenal track record of successful launches (BAYC, MAYC, and BAKC collections); not to mention that it will initially consist primarily of BAYC, MAYC, and CryptoPunks holders.
Bored Ape launched in April 2021, making it a little more than a year old (this is relatively long in comparison to most NFT projects). This means that its community has stood the test of time, and has matured to great lengths. In fact, the BAYC/MAYC community is one of the most sought-after groups in the crypto space; being a holder is like being part of the most elite club in town. The problem is that most are priced out, hence, the Otherside presents an opportunity for individuals outside the BAYC circle to be part of its ecosystem.
Also, note that the CryptoPunks community, which is older than 99% of NFT projects, will also be a part of this.
Yuga Labs also has strong backers in this initiative. This includes two of the largest VC firms focused on web3 and metaverse projects, A16Z and Animoca Brands, and a whole lot of other industry titans. See the image below.
Furthermore, if the technology infrastructure of M2 is as good as they say it is, then the Otherside could be a gamechanger in the metaverse industry.
Conclusion
The metaverse is coming and it will be here to stay. It's only a matter of which projects will make it. Right now, Yuga Labs is at the forefront of the web3 industry and is poised to make the first fully immersive metaverse with MMORPG mechanics.
Will it live up to its expectations or will it flop? Nobody knows for sure. The Otherside appears to have a lot of going for it (although no true unfair advantage), but there have been multiple cases of projects too big to fail actually failing.
On a separate note, the Otherside is another addition to the number of decentralized metaverses, which is a counterbalance to the expected centralized metaverse ecosystem that Meta will create. Balance is always a good thing.
---
Join our newsletter as we build a community of AI and web3 pioneers.
The next 3-5 years is when new industry titans will emerge, and we want you to be one of them.
Benefits include:
Receive updates on the most significant trends
Receive crucial insights that will help you stay ahead in the tech world
The chance to be part of our OG community, which will have exclusive membership perks