If you're searching for breathtaking images that will leave a lasting impression, you've likely heard of Dall-E. This AI tool can produce stunning visuals in a couple of seconds. But there's a catch; every photo comes with a pesky watermark.
Fear not! We have a solution tailored specifically to your needs, allowing you to unleash its full potential without any limitations holding you back. How?
The best way to remove the watermark from your Dall-E pictures is through the image inspect element accessible on desktops. On the other hand, you can choose editing applications if you're a smartphone user. 
Ready to begin? This guide will effortlessly lead you through the simple ways without taking too much of your time. Come and stand out with your watermark-free images as you bring your content to the next level.  
How to Erase Watermarks from Your Dall-E Images in Minutes
Dall-E's ability to generate original artwork has been an advantage to users. But alas, each bears a distinct mark appearing on the image's lower-right corner. Though seemingly small, this detail can significantly impact the quality of the content.
Don't worry; here are the two simple methods that can quickly solve your problem: 
Image Inspect Element
One of the tools you can access on a website is the inspect element, allowing you to view or temporarily change its source code. Its main function is to find and debug errors on a page. But we won't dive deeper into that; we only need to remove the signature marks on Dall-E images. 
Let's simplify; you'll only need your mouse to use the inspect element feature. And with a few clicks, you can already achieve a watermark-free picture. Let's use the AI's output as a sample: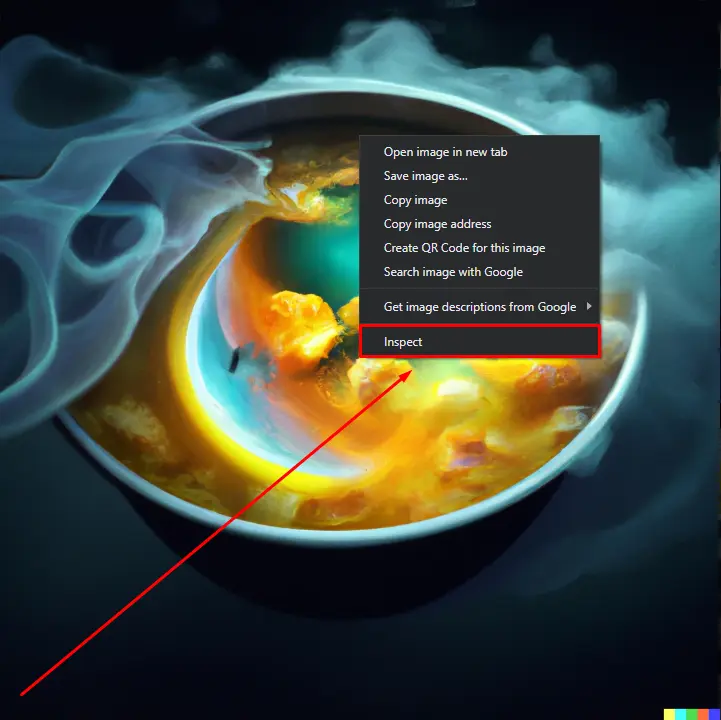 By tapping your mouse's right button, you'll immediately see Inspect. Next is to find the link of the image, which you'll see under the <div class> tag.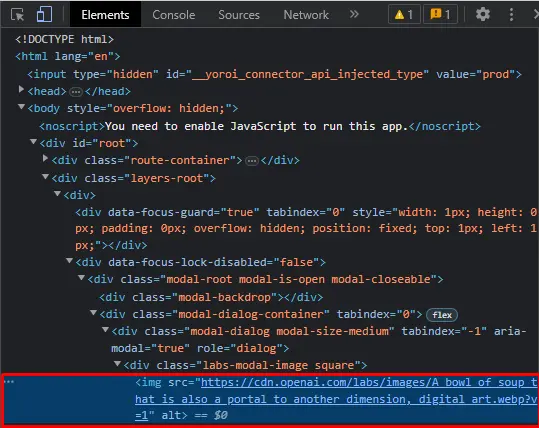 Once again, press right-click and open the link on a new tab. Lo and behold, the next page will reveal your transformed image. Waste no time and save the picture. It's now yours to use with unrestricted creativity. 
But wait; this method is only available to desktop users. Don't fret, as there's another way to free your photos from the AI's signature mark. 
Editing Applications
The beauty of Dall-E's watermark lies in its size, occupying a small portion of the image and easily removable with minimal effort. Don't waste time with complex editing software; a simple tool is already enough to remove its colorful signature.
Don't worry; finding it is a breeze, as the Internet is full of them. Simply select the app that best suits your needs, and you're good to go. 
Observe the original Dall-E image sample and my edited version below:
Voila! The edited version is indistinguishable from the original, and the cherry on top is that I only utilized the color picker and brush tools to edit the watermark.
Of course, your artwork's complexity level will determine the extent of your modifications. Simple color schemes often require minimal tweaking, while intricate designs demand more attention.
Additional tip: If you're not fond of the editing process, consider cropping the image for an easier and more time-efficient solution. 
Is It Legal to Remove the Dall-E Watermark
Yes, you are permitted to remove the Dall-E watermark as per its content policy. Moreover, since you created the images, you have full ownership of them. 
This right allows you to use it for business purposes, like offering the AI art on print-on-demand platforms and other marketplaces. Who knows? You might even become a top seller for machine-generated visuals.
With the endless potential of AI, there's no telling what kind of amazing pieces you can produce. But human intervention is still necessary to ensure that its output aligns with the intended goals, making it a truly transformative and powerful tool.
You might also like:
---
Join our newsletter as we build a community of AI and web3 pioneers.
The next 3-5 years is when new industry titans will emerge, and we want you to be one of them.
Benefits include:
Receive updates on the most significant trends
Receive crucial insights that will help you stay ahead in the tech world
The chance to be part of our OG community, which will have exclusive membership perks