Artificial Intelligence is capable of creating some seriously mind-bending art! You only need to type a prompt, then the AI generator produces a corresponding image. Some people have generated truly magnificent results, so much so that they can sell the words used.
AI-generated art is quite the revolution, with numerous use cases emerging. But perhaps the most fascinating part of it is the possibility of selling prompts to generate income. 
The key to making money selling prompts for AI art generators is to be creative with words. It doesn't necessarily mean lengthy and overly complicated text, as concise but clever wording can generate high-quality and unique outputs for your target buyers.
The process involves providing specific guidelines on color palettes, textures, and subject matter or simply leaving the prompt open-ended and letting the AI take you by surprise.
Sounds exciting? I bet you're ready to explore how you can make money selling prompts. What are we waiting for? Let's begin.

How to Make Money Selling Prompts for AI Art
We prepared a four-step way to sell prompts that you can easily follow below:
Find a Niche
Determining the niche you want to pursue can be important in making money selling prompts for your AI art. Why? The market is already growing competitively, requiring you to be distinctive from the other sellers. 
Remember dropshipping? Anyone could easily make six figures with it on their own a decade ago. But in today's competitive landscape, no dropshipper can go far without finding ways to stand out.
Thankfully, prompt engineering is so new that the barrier to entry is low. While this means everyone can do it, standing out is a lot simpler.
If you have a niche, you only focus on specific expertise that allows you to develop the right prompts for your style. Over time, your audience can immediately know that you've produced that particular AI art, as it's unique to you. It's called branding. 
This process can generate a domino effect, from finding your niche to creating a personal brand. Don't get me wrong; it doesn't mean it works for everyone every time. But it is a powerful strategy for anyone.
Formulate a Prompt
You don't combine a set of words or images just to produce AI art; it might not sell. Instead, you have to think of ways your prompts could generate output that can attract many users and influence them to get a high rating on the marketplace.
These factors are essential; you will want your prompts posted on a platform with credibility and buyers. Consider these two ways to meet the said goal:
Generate Diverse AI Art
A prompt that can offer varieties is attractive for buyers, as it's practically worth the money. They should be able to edit some words, allowing them to customize.
For example, I'm formulating prompts revolving around product photography. My text combinations should involve a photorealistic image of [insert beverage] plus other elements like background color and lighting.
Your AI generator will produce something like this:
The resulting image is fit for clients in the beverage industry. They can be anyone from any business, including wine, carbonated drinks, coffee, etc.
Distinctive Aesthetics
Now that you already have a niche in mind, it would be easier to develop a prompt. But always remember that you have to be unique. So, always consider what others might not have done yet.
Let's say I want to focus on producing AI images revolving around nature. So, my prompt would include words like mountain ranges surrounded by a crystal-clear lake. But others probably have done this style a lot of times.
Therefore, I must add elements that will make my design unique. My prompt would combine landscape art of mountain ranges in pixelated style and seaborn color.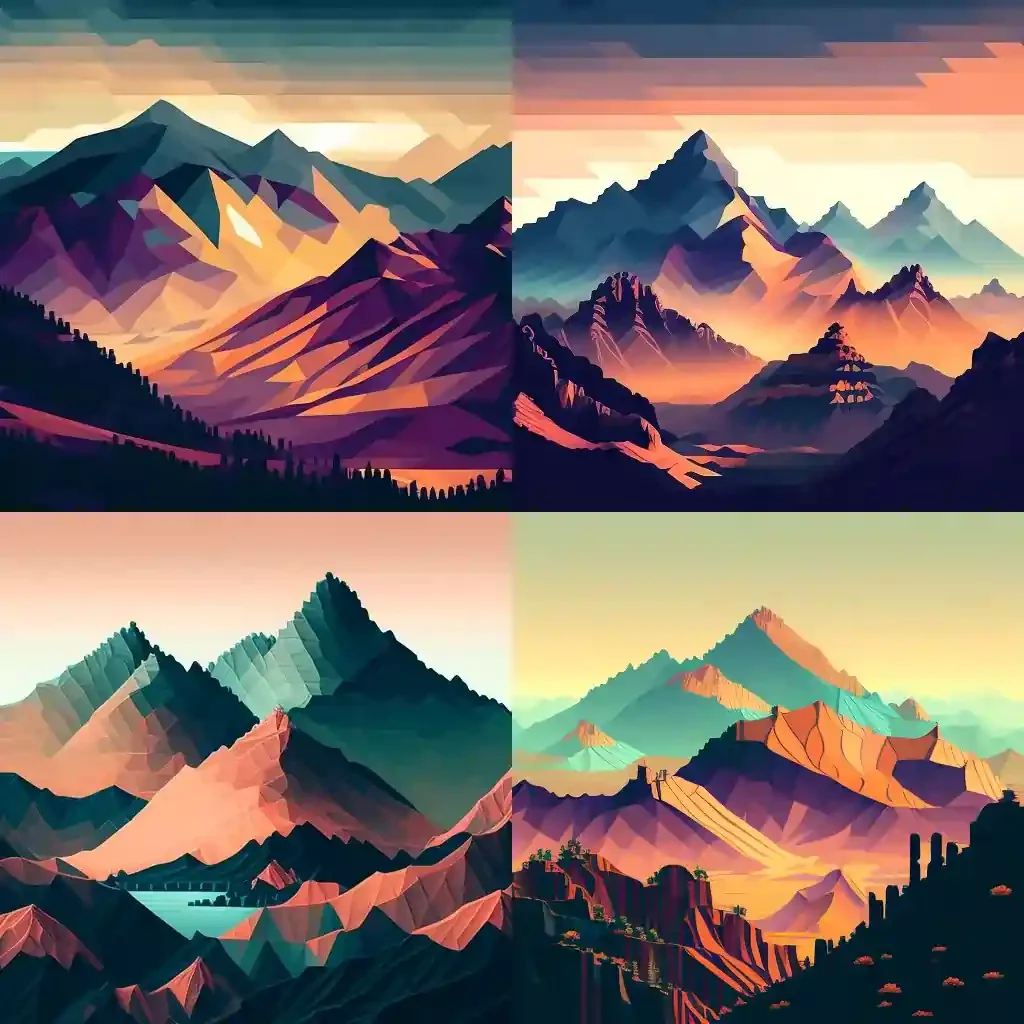 The result came from Midjourney. But you can always use other AI art generators, such as Dall-E 2, Stable Diffusion, Art Breeder, NightCafe AI, and more; the list is endless.
As you can also see, my prompt turned into an amazingly different AI image. With the combination of landscape art, pixelated style, and seaborn color, I've created a brand that could potentially outstand other sellers. 
Choose an Ideal Prompt Marketplace
Different marketplaces are available for your prompts, like PromptBase and Prompts Ideas. These platforms are currently two of the most popular prompt marketplaces for enthusiasts using Dall-E, Midjourney, Stable Diffusion, and ChatGPT.
Visiting these two platforms show a diverse set of images buyers get to see when purchasing a prompt. But since we want to sell, you'll only need to go to its selling section.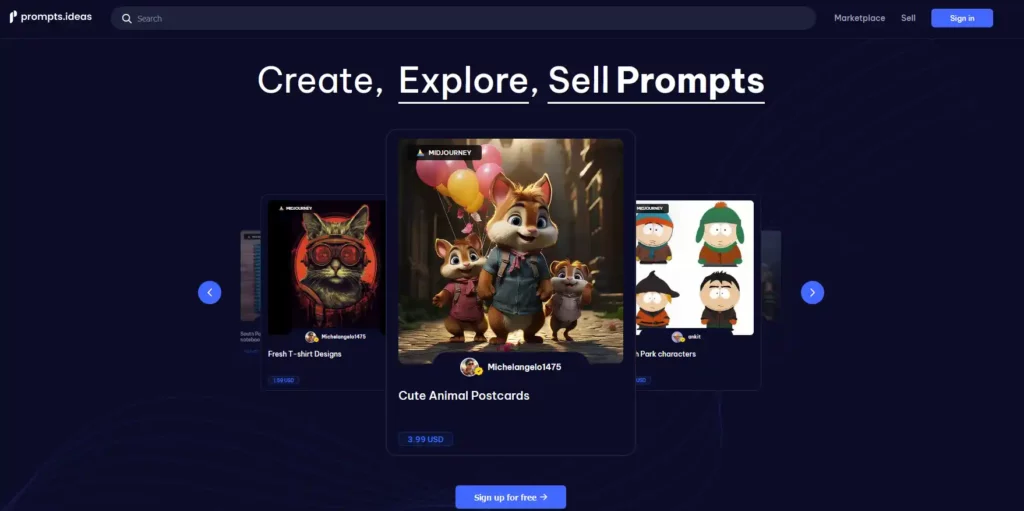 Like other marketplaces, the general selling process involves uploading your AI images and filling up the necessary details asked, such as the prompt you'll be listing. 
Note that some platforms will review your listing. But you'll immediately see it on your dashboard once approved.
Additionally, you can also try other prompt marketplaces, like SuperPrompts.
Set the Right Price
Setting the right price for your prompt is crucial in attracting buyers. I'm not saying you should offer it at a low cost, but it should match the AI art quality it can produce. But that's not all.
Expensive prompts are also those that others can't reproduce quickly and are unique. You can also charge higher if you gain more buyers for your prompts. There are a lot of factors to consider, but quality, originality, and sales are the most common metrics.
For example, the price of popular prompts on PromptBase commonly ranges from $1.99 to $6.99. And you can earn 80% of every revenue you make. Of course, you can receive more depending on your strategy.
Keep Improving
Prompt engineering is a learned skill (don't let haters tell you otherwise). And as such, it needs to be honed and cultivated over time. Besides, AI art generators are constantly evolving, so your prompts will likely change as new models and versions emerge. You can't afford to grow stale.
Always strive to discover new trends and unique combinations that challenge your current style or workflow. Don't limit yourself to the familiar or predictable, instead, continually experiment with different inputs. This will not only push the boundaries of what's possible, but also make you stand out in the AI art space.
Final Words
AI-generated art is a dynamic and exciting world that is constantly evolving with technological advancements. If you want to stay ahead of the curve and maintain a competitive edge, keeping a finger on the pulse of the latest trends and breakthroughs is essential. By being informed and developing your skills, you can ensure that your prompts are always relevant and valuable to your target audience.
As you continue to hone your craft, you'll find that your ability to inspire creativity in AI-generated art will grow and expand. This, in turn, will help you establish a loyal customer base and create a sustainable revenue stream in the long run.
But selling prompts is only one of many ways to make money with AI art. Click the link for more.
Master AI Art Generation with Midjourney
Midjourney's trajectory mirrors Apple's legendary ascent. Mastering how to use it today is crucial to dominating in the future as a creative.
Join the NeoBlush Midjourney newsletter and become an AI juggernaut.