Do you want to start a company but have no money to pay a designer? Perhaps you're stuck in the concept development phase and are seeking ways to generate different designs affordably.
Midjourney is your go-to AI companion, whether you're a seasoned artist seeking to craft stunning art in mere minutes or a novice aspiring to create professional UI design. Brace yourself as we delve into another cutting-edge use case for Midjourney: developing a one-of-a-kind logo for your brand.
No need to worry if you're not technically inclined; generating a logo on the platform is a breeze. Say goodbye to tedious design procedures. All you need is an idea, a Discord account to access Midjourney, and some editing tools to refine your masterpiece.
Alternatively, if you want this logo done really fast and could spare at least $7, you might want to check out Turbologo as it is definitely faster than learning Midjourney. In fact, it's so convenient that you could have a beautifully designed logo ready in mere minutes.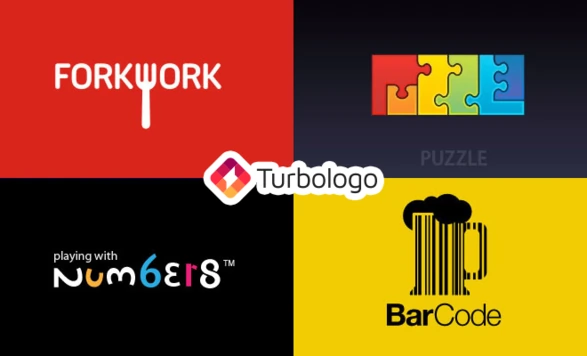 Once ready, let's begin transforming your brand from ordinary to extraordinary. 

How to Create a Logo in Midjourney
Considering the quality and process difficulty, designing a logo can take a couple of hours. But thankfully, Midjourney's here to lend a hand. Don't worry; it can produce an output that meets your standard as long as you use the right prompt and follow the five-step guide below:  
Begin with a Concept
Your logo is more than just a design—it embodies your brand. Although some see it as a simple visual, it reflects your story, personality, and the products or services you offer. A carefully crafted logo can communicate all these aspects to your audience.
But before you dive headfirst into the logo design, take a moment to plan out your concept. Think of it as the blueprint for your final product. By narrowing down your ideas into a specific theme, you can create a clear message that resonates with anyone who sees your logo.
Let's say you're starting a food business. Before you begin your design, you must decide what kind of food business it will be. Maybe you specialize in icy fruit beverages—the perfect treat for a hot summer day.
With your concept in mind, you can start brainstorming logo ideas that align with your theme. Calming colors like blue would be a great choice to convey the refreshing nature of your product. On the other hand, including hot drink icons would only confuse your target market and dilute the message.
Remember, your logo is the face of your brand. So take the time to plan your concept carefully, and you'll be well on your way to designing an image that speaks for your business.
Access Midjourney
Midjourney is the AI platform where the magic mostly happens; type in some words, wait for a few seconds, and watch the logo unveil right before your eyes.
For now, you have to visit its official website. Don't get startled by its interface because it's not complicated. Just look for the Sign In button and click it to go directly to its Discord channel.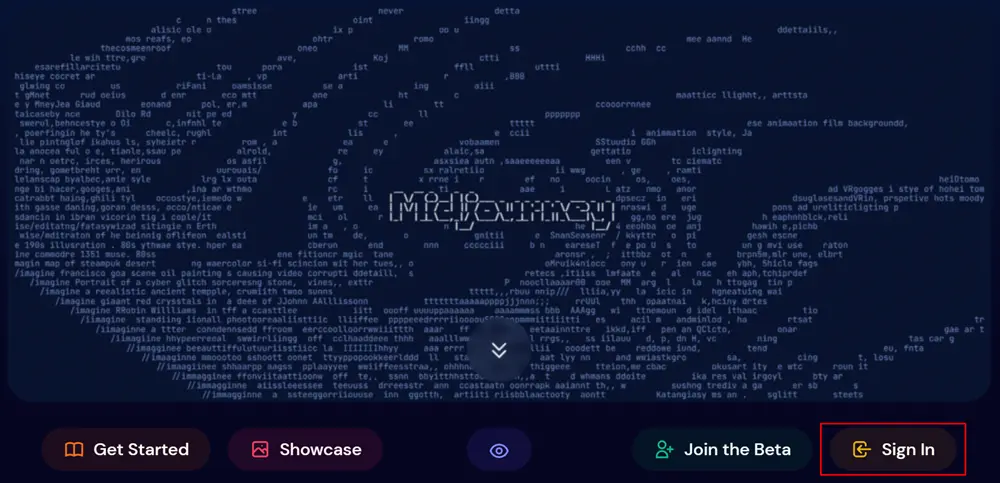 That's right! Logo creation will happen on Discord. You can always make one for free if you don't have an account. 
For beginners, enter any Newcomers Room on your screen's right side. You must also use commands to instruct the Midjourney bot; the most common is /imagine. But there are others too, such as /blend to use images as prompts.
Translate Your Concept into Prompts
Your creative mind will be an essential asset in this step, as every detail matters. Midjourney only needs you to translate your imagination into prompts, serving as the AI's input to give you the logo you need. 
Think of Midjourney as an extension of your mind, allowing you to create logos with text, images, abstract, and combo designs. But note that there can be instances when it can't follow your prompts 100%. Examples will be provided in each category, but note that getting the best logo for your brand will likely require continuous trial and error.
Be prepared to spend some time rerolling the generated images again and again until you're satisfied. If this is your first time using Midjourney, check out our MJ beginner's guide. Trust me, it's well worth knowing how to use this tool.
In the examples below, I'll be sharing a few generated logos as a starting point. Keep in mind that these aren't necessarily the best representations, as I didn't spend much time refining them. They serve as a foundation for further exploration and improvement.
Text-Based Logos
As you peruse your favorite social media platforms, have you ever noticed how some brands are instantly recognizable by a simple letter logo? The secret lies in the power of text. These minimalist designs are perfect for efficiently conveying your brand's identity to your audience.
Take, for instance, the Meta company, which uses a lowercase "f" as its logo. It's so effective that there's no mistaking that it represents Facebook. If you aim to create a memorable brand identity like this, utilizing a text-based logo might be the way to go.
So, if you're aiming to do the same, you can type a Midjourney prompt like these:
"an elegant S::3 monogram, Sans Serif, vector logo, symbolizing a fashion clothing line –v 5"
With the prompt, Midjourney provided a monogram logo that captures an elegant fashion brand vibe. As you can see, the letter S appeared more visible because of the ::3 command, which is very handy.
If you wish to get a different result, add more details to the prompt to give the AI more input, like the font style or color you want.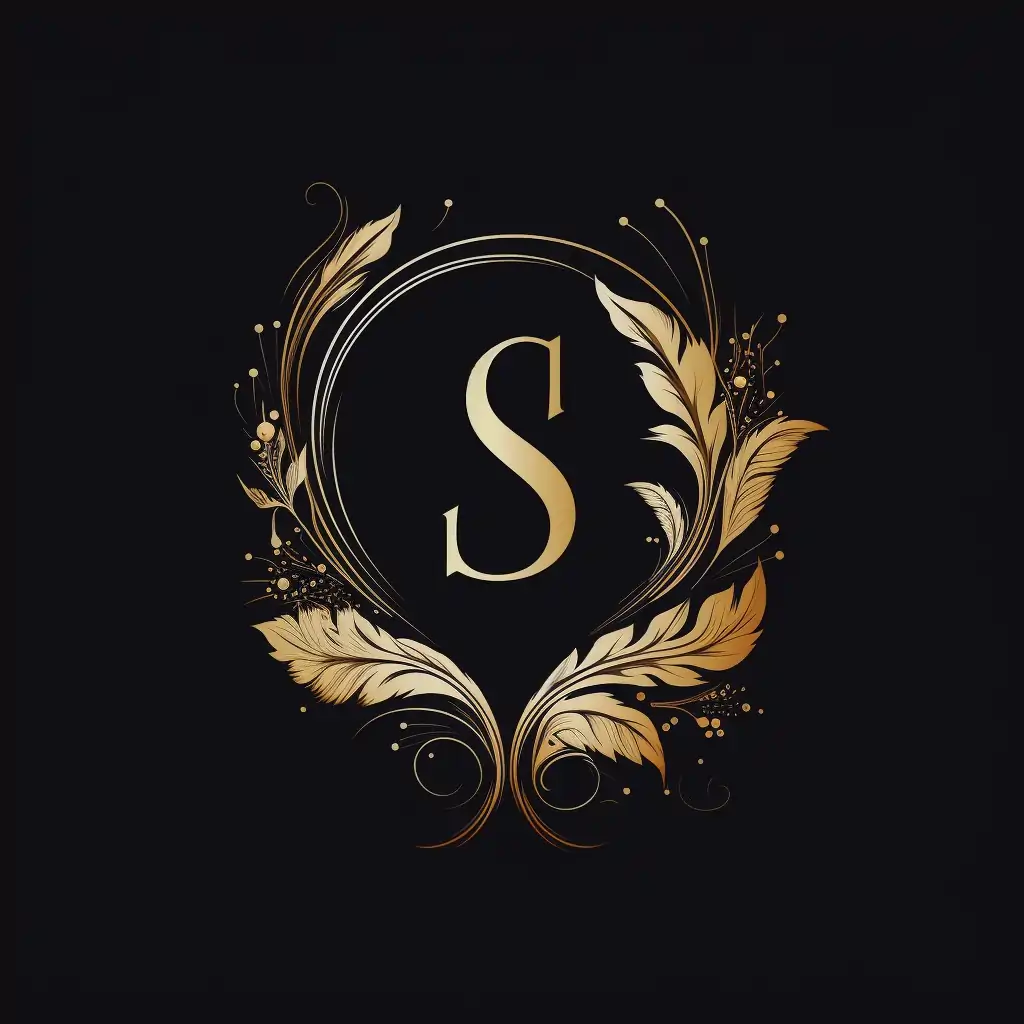 Midjourney also has a way of adding up extra details that may not be aligned with your imagined design. If that's the case, use the parameter –no (insert the text you don't want to appear in the result).
For instance, if I don't want my logo to have borders, I'll type –no borders. It's simple, right? And for sure, you'll be able to create a whole new world of designs by experimenting with different prompts with this AI.
If text-based logos aren't for you, we have another option below.
Image-Based Logos
When crafting a logo for your brand, Midjourney excels in creating visually stunning imagery, providing a diverse range of options. However, it's important to remember that your logo should still reflect your brand identity and not simply a trendy design.
Now, let's consider an example. Suppose I'm a startup company passionate about serving spicy burgers from my recipe. With this vision, my logo prompt could look something like this:
"a polygonal logo image of a burger, burning red color, –no text –v 5."
By featuring a burger as the centerpiece of my logo design, I effectively communicate to my target market that I offer this food. Its burning red color also signifies the taste they can expect from the product. The beauty of this approach lies in its ability to convey a message without relying on words.
Moreover, I specifically requested a "polygonal style" in my prompt to guide Midjourney toward producing a logo that captures the essence of this aesthetic; it's my way of differentiating myself from the others. This clever technique allows for greater customization and ensures that the final product aligns with my desired style.
If you're new to using styles, check out our Midjourney art style gigapacks, where you'll learn different aesthetics-related tricks. And the best part? It has 200 prompt samples! 
Abstract Logos
You can immediately produce a thought-provoking design with Midjourney by translating the concept in your mind into prompts. With abstract logos, you won't ever be limited by any elements. You can make symmetrical or asymmetrical figures; there's no stopping you.
It's because abstract logos can mean anything, and it's primarily up to the audience how they'll perceive a design. Sometimes, they can only understand it once they've experienced the product or service.
As they say, you get the best of both worlds—establish a unique design while conveying a strong message. 
Let's make a sample logo for you to see how Midjourney works with an abstract concept.
Imagine you're part of a gaming company that specializes in adventure-packed mystery games. You have an idea in mind to include a continuous circular line to convey a sense of endless exploration, symbolizing a world full of excitement and discovery.
There's undoubtedly a lot going on with this concept, but allowing room for creativity and interpretation is one of the objectives. So, for your prompt, consider the following:
"a modern minimalist abstract logo for a gaming company, complementary colors, running circular lines, mysterious vibe –v 5"
Combined Logos
Does your text-based logo feel lacking, or perhaps your image-based design would look better with your chosen name? Midjourney can give you both, but there's a catch.
Let's instruct Midjourney to provide both an illustration and a text with this prompt:
"a dynamic logo of classic shoes, flat style, circular border, vintage color, Mythshire font style–v 5"
The command I used allowed Midjourney to understand that I needed both the illustration and text just by typing the keywords shoes and font style.
As mentioned earlier, Midjourney is better at giving image results than words. Upon observation, it only provides a randomly-arranged alphabet. But it can do a single letter or an acronym. And even if you include a particular phrase in the prompt, it doesn't usually get the spelling right. If it does, it's only a tiny chance.
Don't worry; there's a way to fix it. However, it'll need your intervention as you must edit it on platforms such as Canva for beginners or any other tools you're comfortable using.
Apply Necessary Changes
We already tackled Midjourney's weakness—words. But with minimal editing, your logo can look as perfect as it should be. So what should you do?

There are tools that can erase a part of a visual, but it's not normally for free. Don't fret, as there's another trick. You can cover up the text and put a new one over it. Just like in this sample:
Now's the time to give your final logo a once-over before its grand debut. It's crucial to scrutinize its overall quality, such as the sharpness of its text and icon, the harmony of its color palette, its appropriate size, and other crucial elements. Don't let any detail go unnoticed; a well-crafted logo can leave a lasting impression on your customers/audience and elevate your brand to new heights.
Midjourney is undeniably an excellent tool for brands, saving designers hours of work. But that's not its only advantage; it doesn't compromise quality if given the right prompt. And with its latest version finally here, there is surely a bigger room to explore.
While Midjourney is undoubtedly a powerful tool, it's important to note that it's not a substitute for human creativity. There are still areas where it can improve, and it's essential to maintain a balance between human input and AI technology. So, while Midjourney can streamline your logo design process, don't forget to infuse your brand's unique essence and personality into the final product.