Sudoswap is a non-fungible token (NFT) marketplace and automated market maker (AMM), allowing collectors to trade NFTs with better liquidity and create liquidity pools for their digital assets. People use Sudoswap for two primary reasons: as a way to liquidate their NFTs instantly or as a place to launch NFT liquidity pools to earn passive income.
A liquidity pool is a smart contract that equips traders with the ability to swap between digital asset pairs instantly, in this case: an NFT and $ETH. 
What is an AMM? 
An automated market maker (AMM) is an algorithm-based protocol used by decentralized exchanges (DEXs) for pricing digital assets. Traditional exchanges relied on an electronic list called an 'order book' for pricing various assets, including bonds, stocks, and even cryptocurrencies. An AMM eliminates the order books' complicated process by replacing them with smart contracts that automate the process of pricing assets.
If you apply this financial concept to NFTs, you get an NFT AMM like Sudoswap, which blends the two.
Advantages of Using Sudoswap
Instant Liquidity for Buyers and Sellers
Earn Passive Income by Being a Liquidity Provider
No Royalty-Fees
Instant Liquidity for Buyers and Sellers
Sudoswap's AMM-powered instant trading feature is a huge advantage over traditional NFT marketplaces like OpenSea and Rarible, where traders have to endure waiting for someone to agree on their listed item's prices before a transaction completes. As a consequence, this 'waiting game' severely limits the liquidity of NFTs.
When assets heavily depend on this mutual price agreement, NFT marketplaces can't always fulfill a user's desired outcome. Sudoswap aims to solve this problem through liquidity pools, which can potentially increase an NFT's chances of being sold at floor value. 
Earn Passive Income by Being a Liquidity Provider
If you create your own liquidity pool, you can earn from the fees generated from the NFT/ETH trades in the same way liquidity miners make money by providing liquidity for token pairs. The catch is that the same fundamental drawback also applies; being an LP on Sudoswap is prone to impermanent loss.
No Royalty-Fees
Sudoswap does not pay royalties to collection creators, a growing and controversial practice by an increasing number of NFT marketplaces. With royalties out of the way, liquidity providers (LPs) and the platform's other participants can bank higher returns from their trades. 
The Drawback: Algorithmically-Generated Price
When selling an NFT in Sudoswap, you won't be able to set the price you want like in traditional marketplaces. Although it sells instantly, the price depends on a system called 'bonding curve', an algorithm that determines an asset's price based on its supply. As a reminder, this price may (or may not) be favorable to you. 
Fortunately, the platform also supports listing, which allows you to set prices on your NFTs like in other marketplaces. However, this option won't deliver immediate sales as you need someone to agree on your price before a trade can happen. 
How Does Sudoswap Work?
Sudoswap allows you to create three types of liquidity pools to enhance your NFTs' liquidity. You can start by clicking the 'Your Pools' button on the website's upper right screen. Let's explore each of these pools. 
1st Liquidity Pool: Buy NFTs with Tokens 
To create this pool, you'll have to deposit ETH tokens. You can earn NFTs from this liquidity pool as traders exchange (swap) their digital assets for the ETH you deposited. 
2nd Liquidity Pool: Sell NFTs for Tokens 
To create this pool, you'll have to deposit NFTs. You can earn ETH tokens from this liquidity pool as participants exchange their ETH for the NFTs you deposited (this is the opposite of the first pool). 
3rd Liquidity Pool: Do Both and Earn Trading Fees 
To create this one, you'll have to deposit both ETH and NFTs. You can earn trading fees as traders buy and sell NFTs through your liquidity pool.
How to Create a Liquidity Pool on Sudoswap
Creating a liquidity pool provides a way to earn passive income through fees. Here's how to do it:
Create a New Pool 
To start creating your own liquidity pool, hover your cursor at the top right of your screen and click 'Your Pools' button.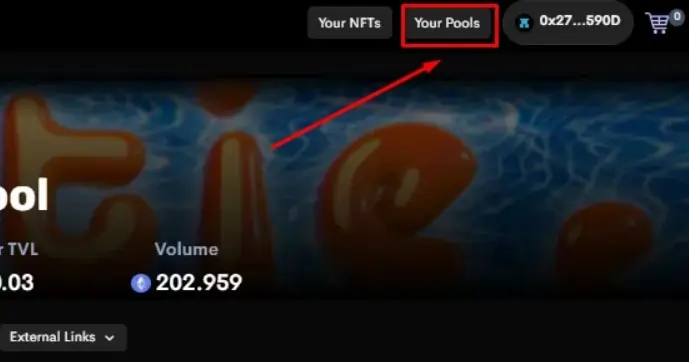 Next, click the 'Create New Pool' button. 
Choose from Three Types of Pools 
Select the pool type you prefer. In this case, we want to earn as much passive income as possible, hence, we picked the last option: Deposit both NFTs and ETH.
Next, you will be asked to choose the NFT and token. In my case, I'll choose ETH and the ENS NFT.
Configure Pool Parameters
This is the part where it might get tricky but bear with it. It will all make sense eventually.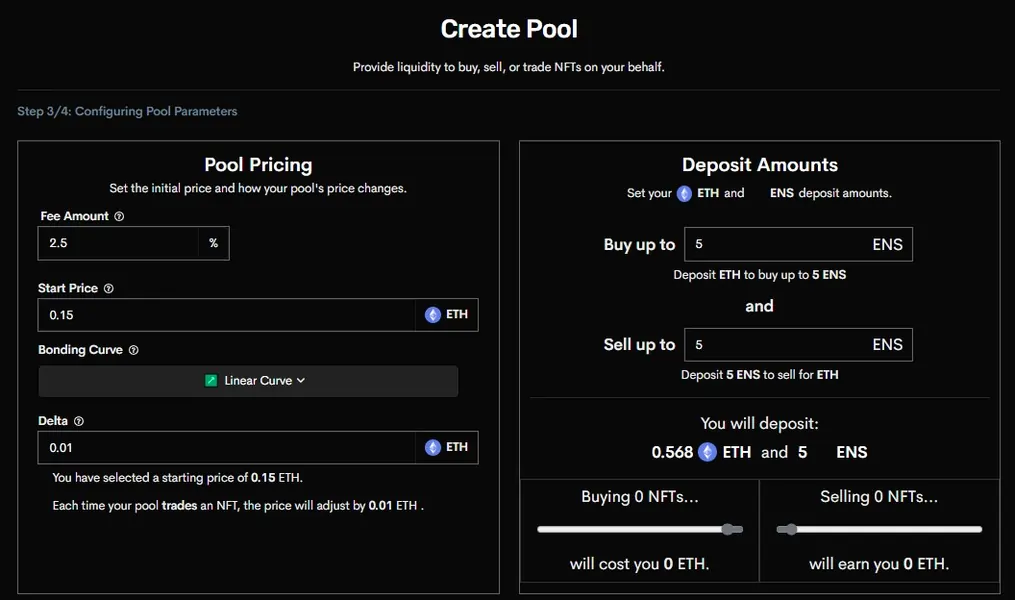 Fee amount — percentage you'll earn from fees
Start Price — starting price when users buy NFTs from your pool
Delta — the range of change on the price of your pool
Fill out the entire parameters. Once you have finalized everything, click on the Next Step button at the bottom.
Approve Transaction
Next you will be asked to approve your transaction by clicking on the Approve button. Then, your wallet will prompt you to confirm. And you're done!
F
Note: In case your newly created liquidity pool does not appear on the screen, don't panic. It just means that Sudoswap has not yet indexed your new pool. You may return to the website at a later time to check your pool's latest progress.
How to Buy NFTs on Sudoswap
Buying an NFT on Sudoswap requires an Ethereum-supported wallet such as MetaMask. Then follow the step-by-step guide below:
Connect Your Wallet 
Connect your wallet to the Sudoswap website by clicking on the top-right button on the page.
Select a Collection 
Go to the 'Collections' bar and enter your desired collection.

Next, select the NFT you want to purchase and click the 'Sudo Swap' button located at the lower-right of the screen. For this article, we chose the 'Floaties Pool' collection and purchased 'Floatie #2569'.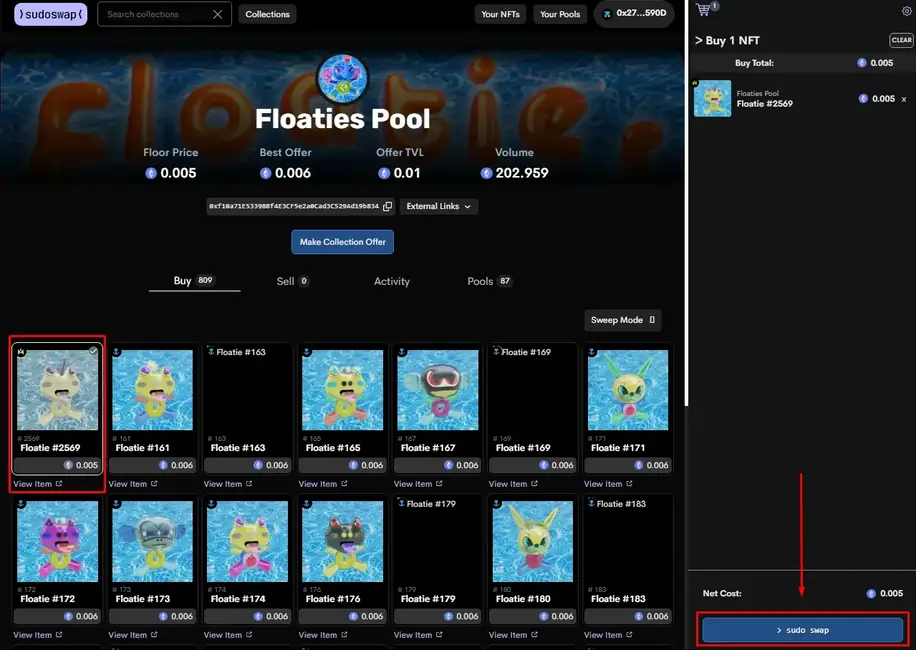 Confirm Your Transaction 
Next, confirm the transaction on your wallet and click 'Close'. 
How to Sell NFTs
If you want to sell an NFT on Sudoswap, the same requirements apply. You'll need to connect your wallet, which contains the NFT you wish to liquidate.
Selling VS Listing
When you sell, the NFT is instantly sold into a bonding curve for the best price possible, enabling you to receive the proceeds of the sale immediately. But when you list, you can set the price of the NFT but have to wait until someone buys it from you. In this section, we'll cover selling.
Visit Your Collection's Page 
Once inside, click the 'Sell' button. 
Select an NFT 
Click the NFT you want to sell and select the 'Sudo Swap' button.   
Confirm Transactions on Wallet
Confirm the 1st and 2nd transactions in your wallet. 
Note: Do not forget to wait and approve your wallet's 2nd transaction.
---
Join our newsletter as we build a community of AI and web3 pioneers.
The next 3-5 years is when new industry titans will emerge, and we want you to be one of them.
Benefits include:
Receive updates on the most significant trends
Receive crucial insights that will help you stay ahead in the tech world
The chance to be part of our OG community, which will have exclusive membership perks