When it comes to the mass hysteria surrounding 'apes' in crypto, all roads lead back to the Bored Ape Yacht Club (BAYC), now an elite community that consists of some of the industry's most prominent investors, project runners, and public figures, as well as various celebrities in Holywood, sports, music, etc.
This explains why many are willing to spend hundreds of thousands of dollars to get their hands on a Bored Ape. They want to be 'in' the club to take advantage of the access or be part of the story. Some are even willing to shell out millions for the rares. Still, these figures are nothing short of insane when compared with traditional club memberships, leading many people to question the validity of its valuations.
That said, the market always decides what's fair, not our individual opinions. The best thing we could do is arm ourselves with knowledge in order to make sound decisions about whether to invest or not. Even if you have no plans to buy a very expensive non-fungible token (NFT) like BAYC, you can still tremendously benefit from knowing its story, especially why it rose to the top.
What is Bored Ape Yacht Club (BAYC)?
Bored Ape Yacht Club is a collection of 10,000 dispassionate-looking apes launched as NFTs on the Ethereum blockchain, enabling holders to enjoy exclusive perks. Each Bored Ape is unique and serves as a membership card to the BAYC, which provides members-only access to present and future benefits.
Let's explore some of them.
NFT Details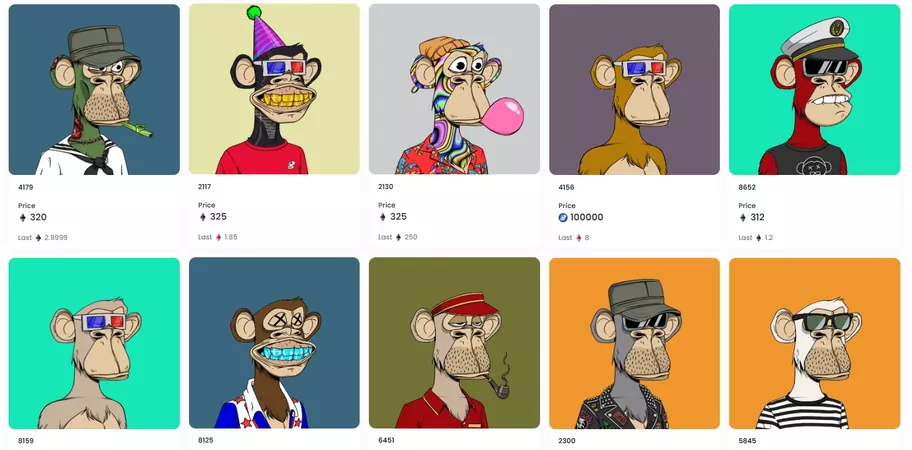 The NFTs are stored as ERC-721 tokens on the Ethereum blockchain while the images are hosted on IPFS. Each Bored Ape boasts a unique combination of traits that are algorithmically generated. There are over 170 possible traits in the collection; some rarer than others.
Access
All holders will have access to the official BAYC Discord, including the holder's chat, where you can vibe with fellow apes. As hard as it is to believe, many people pay top dollar for this perk alone (your network is your net worth, yada yada).
There is also a community-only digital drawing board called The Bathroom where wallets that contain at least one Bored Ape can paint a pixel every 15 minutes.
IP Rights
Holders of Bored Apes have ownership and commercial usage rights to their NFTs, allowing them to use the ape as a profile picture for social and various platforms, create a business or brand around their apes, and build independent revenue streams using their ape's intellectual property (IP).
For instance, a member who calls himself Jenkins has created a spinoff story as the Head Valet of BAYC with his ape as the mascot. His creations were so well received by the community that he was able to sign a deal with Creative Artists Agency (CAA), a talent agency that represents Justin Bieber, Beyonce, The Rock, and other bigshot celebrities.
Events
The BAYC community is the top dog in the NFT space. You'd bet that they are quite the visible bunch when it comes to NFT or crypto conferences both online and offline. They also hold their own annual members- and invite-only event called Ape Fest, which gathers the community in one location to celebrate.
Merch
Tons of NFT projects do merch drops now, but BAYC has been doing it since before it was hip. Plus, the club has its own store for anyone who wants to buy more.
The BAYC Ecosystem
Bored Apes are the main NFTs, but there are many different components of its web3 ecosystem, including new generation collections, a metaverse, an ERC-20 token, and some acquired IPs. Let's explore them.
Mutant Ape Yacht Club (MAYC)
The MAYC collection consists of 20,000 (twice the size of BAYC) mutated versions of bored apes, hence, the name. This came about after holders were airdropped with a proportional amount of Mutant Serums depending on the number of apes they held, which they used to create the mutant apes without affecting their original BAYC ape. The other 10,000 Mutant Apes were minted in a public sale.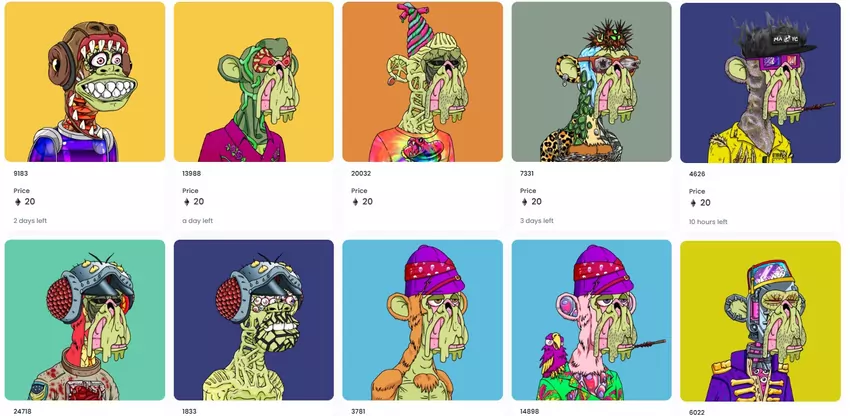 MAYC offers an affordable entry into the BAYC ecosystem at a lower tier of membership, accruing exclusive benefits and utilities but to a lesser extent than Bored Apes.
Bored Ape Kennel Club (BAKC)
The BAKC is a collection of fewer than 10,000 dogs that serve as companions to Bored Apes. Initially, every BAYC holder was allowed to adopt one club dog for every ape they held, while the unclaimed canines would be 'released into the swamp' (removed from circulation).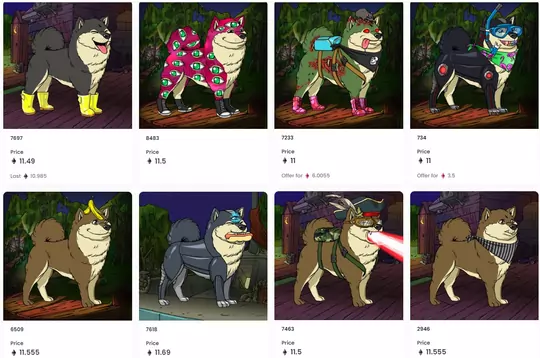 Unlike MAYC, holding a BAKC NFT alone won't give you access to the yacht club nor receive most of its membership perks. However, holding a Bored Ape with a BAKC companion may provide additional benefits than just the apes.
Otherside
The Otherside (click to know more) is a forthcoming gaming metaverse being developed by the same guys behind Bored Apes in cooperation with other major players in the web3 space. It is touted as an MMORPG game where you can play as your Bored Ape or other supported NFT, including from the MAYC, Crypto Punks, World of Women, and other collections.
ApeCoin
ApeCoin (click to learn more) is the ecosystem token of Bored Ape Yacht Club, designed to be used as a medium of exchange for its metaverse, marketplace, merch store, future drops, and a whole lot more. Beyond that, ApeCoin also appears to have a broader goal of becoming the main token for the future web3 economy.
Crypto Punks and The Meebits Acquisition
The founders of Bored Apes made a deal with Larva Labs, the founders of Crypto Punks, one of the oldest and most iconic collections in the industry, and The Meebits, which consist of 20,000 3D box-headed characters that are metaverse-ready, to acquire the IP rights of both projects.

After the acquisition, holders of these NFTs have enjoyed IP and commercial usage rights similar to the BAYC setup, which wasn't offered by the previous owners. This also means both collections will be part of the Otherside metaverse.
Why is a Bored Ape So Expensive?
This is a difficult question to answer, but based on our analysis, the insane valuations of Bored Apes come from two aspects: utility and status.
When an individual buys an ape so they can network with other high-value members of the BAYC community, they are buying based on utility. The same is true for those buying for the IP rights and other perks. When it comes down to it, the community, the IP, and the assets held by the team are what make BAYC valuable.
In a perfect world, people would value NFTs for their utilities, but the reality is quite different.
Thanks to the involvement of celebrities, BAYC has also turned into a status symbol, like a Rolex or sports car, being flexed both online and offline to showcase success, wealth, or whatever these people think they are. Essentially, the more expensive they get, the more people want them.
You might know some of the holders: Eminem, Justin Bieber, Kevin Hart, Paris Hilton, Jimmy Fallon, Tom Brady, Snoop Dogg, Neymar, Shaquille O'Neal, and a whole lot more.
Some would argue that NFTs are superior to traditional status symbols considering that they can be seen by millions when used as profile pictures on social platforms. Twitter has already enabled NFT profile pictures, which allows users to verifiably use their Ethereum NFTs as their profile photo, but with verifiable evidence.
And of course, we also have to factor in a certain percentage of users who only buy NFTs in order to sell them at a higher price one day.
How to Buy Bored Ape NFTs?
You can buy Bored Apes, Mutant Apes, or Bored Ape Kennels on NFT marketplaces, most notably OpenSea. Simply head over to their page respective OpenSea page. Some NFTs are listed for a fixed price while others are being auctioned.
Note that you will need a crypto wallet that supports Ethereum in order to buy NFTs. We highly recommend that you use MetaMask.
Which Bored Ape to Buy?
Choosing the right Bored Ape highly depends on your reason for buying and budget.
If you are buying from a utility standpoint, then I suggest you get the cheapest one available (floor price). It doesn't matter if your Bored Ape is ranked 1 or 10,000, the benefits will be the same.
If you're aiming to flip, then I suggest you learn to spot undervalued rares. Tools like NFTExp and Rarity.tools are good places to start. You may also buy them when markets are down or when there is FUD or bad news that may cause others to sell theirs at a lower price.
If you're buying them for status and have a lot of money, then you can choose from the rarest and most expensive.
Who Created Bored Ape Yacht Club?
The Bored Ape Yacht Club collection was created by Yuga Labs, a team of four previously pseudonymous founders who went by the names Gordon Goner, Gargamel, Emperor Tomato Ketchup, and No Sass. In February 2022, a Buzzfeed report revealed their real identities to the world against their will.
The news didn't hurt the project, but Buzzfeed was heavily criticized by members and supporters of BAYC.
When was BAYC Released?
Bored Ape Yacht Club was launched by Yuga Labs on April 23, 2021, via a live pre-sale, marking a historic moment in NFTs. Unlike most hyped collections today, it took 12 hours for all apes to sell out at a price of 0.08 ETH ($190 at the time).
Conclusion
Bored Ape Yacht Club may not be the first NFT project, but it is the largest one today and for who knows how long. In a year's time, it has come a long way starting from a mint price of less than $200 to a floor value of around $430K at its peak in April 2022. That's at least a 2,150x if you sold at the top even if you got the least rare!
We can't say we're surprised that it has spawned countless copycats and derivative NFT projects. Many want to recreate even a fraction of that growth. Sadly, none came close. In fact, the only collections that managed to hold a candle to BAYC in terms of market cap are Moonbirds, Azuki, Clone X, and a few others. There is a lesson here.
Furthermore, with the forthcoming launch of Otherside metaverse, as well as the prominent players backing the Bored Ape ecosystem, we can say with some degree of confidence that things are looking good for the project.
---
Join our newsletter as we build a community of AI and web3 pioneers.
The next 3-5 years is when new industry titans will emerge, and we want you to be one of them.
Benefits include:
Receive updates on the most significant trends
Receive crucial insights that will help you stay ahead in the tech world
The chance to be part of our OG community, which will have exclusive membership perks