The latest Midjourney version is here and has already brought next-level AI images to life. What sets it apart from other models is its unwavering focus on creating visuals that look like actual moments frozen in time. Some viewers may even need a double-take to realize that these stunning images are not captured through a camera lens but are born from user imaginations.
Of course, other versions of Midjourney are also accessible, each offering unique advantages and catering to various needs, from AI-generated art to professional-looking photographs.
However, Midjourney requires a well-crafted prompt to unleash its full potential and transform imaginations into tangible images. This initial step can sometimes prove challenging, but fear not; the AI chatbot ChatGPT can do the work for you. 
By combining the strengths of these two powerful foundational AI models, you can achieve remarkable results. Get ready to witness the synergistic possibilities of Midjourney and ChatGPT working in harmony.

How ChatGPT Can Create Stunning Prompts for Midjourney
Creating a Midjourney prompt can take a while, especially when aiming to generate an extraordinary image. Thankfully, ChatGPT is here to help. And it only requires you to follow a few steps, which are provided below:
Feed ChatGPT Midjourney's Prompt Formatting
As a highly advanced chatbot, ChatGPT offers more than just human-like responses to your queries. But it isn't just a friendly AI; it's also a highly-efficient assistant. Its capabilities help you streamline your work processes and save time and effort.
One of its many features is its ability to assist you in creating Midjourney prompts. However, it needs all the necessary information first. Once fed the right inputs, ChatGPT can work its magic and give the appropriate instructions you can use later on for the AI image generator. 
In this sample, I began with the prompt, "I'm going to create AI images. But I'll be feeding you information first." Note that you can always write your version of instructions as you see fit.
I fed ChatGPT two pieces of info: an overview of how Midjourney works and its parameters. This process will help the chatbot understand how to create prompts aligned with the image generator.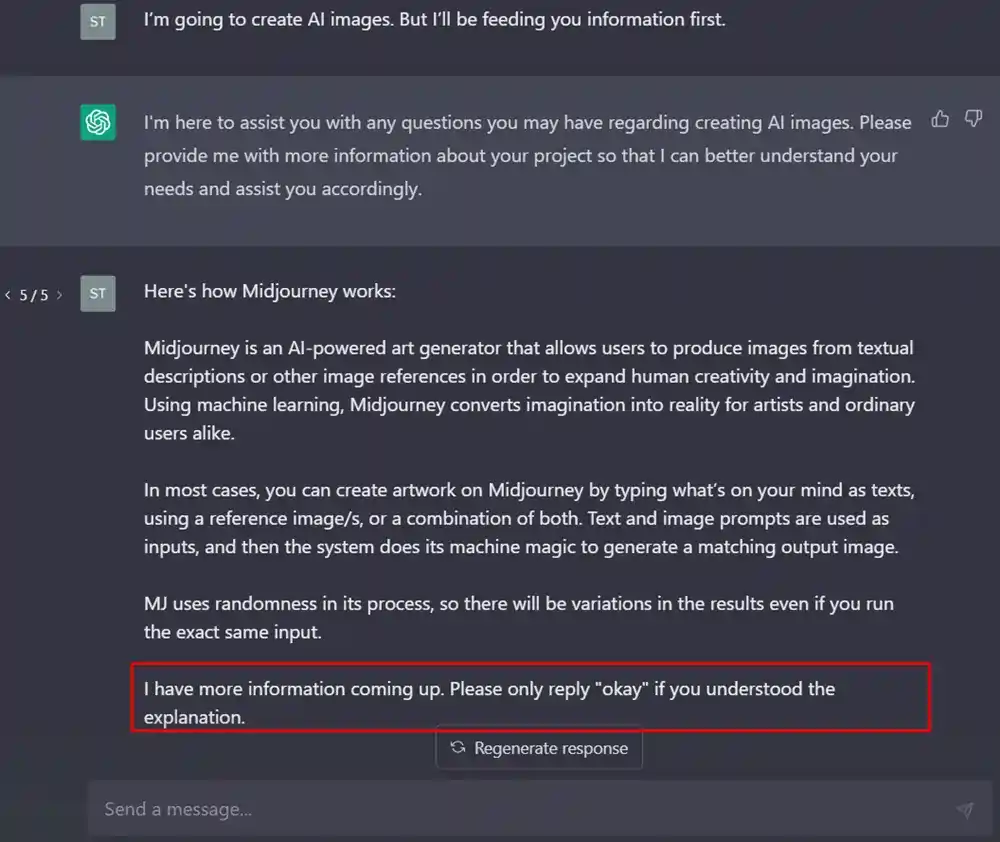 As you may have noticed, I added a simple note at the end of my prompt to tell ChatGPT I don't want a lengthy response, which it followed. For best results, I highly recommend you copy Midjourney's prompt guidelines here and here, and then feed them all to ChatGPT.
We're done with this step. Let's move on to the next one!
Feed ChatGPT Some Sample Midjourney Prompts
ChatGPT already had some information about Midjourney, but there's still something lacking—SAMPLES. I'm sure there are tons of prompt resources you can find to get inspiration if you're thinking of creating one. Be sure to check out our list of Midjourney art styles and prompts.
Alternatively, you can check out MJ's community feed to the top generations prompted by other users.
A simple prompt format you can follow looks like this:
"Detailed description of the subject + camera settings + Midjourney parameters"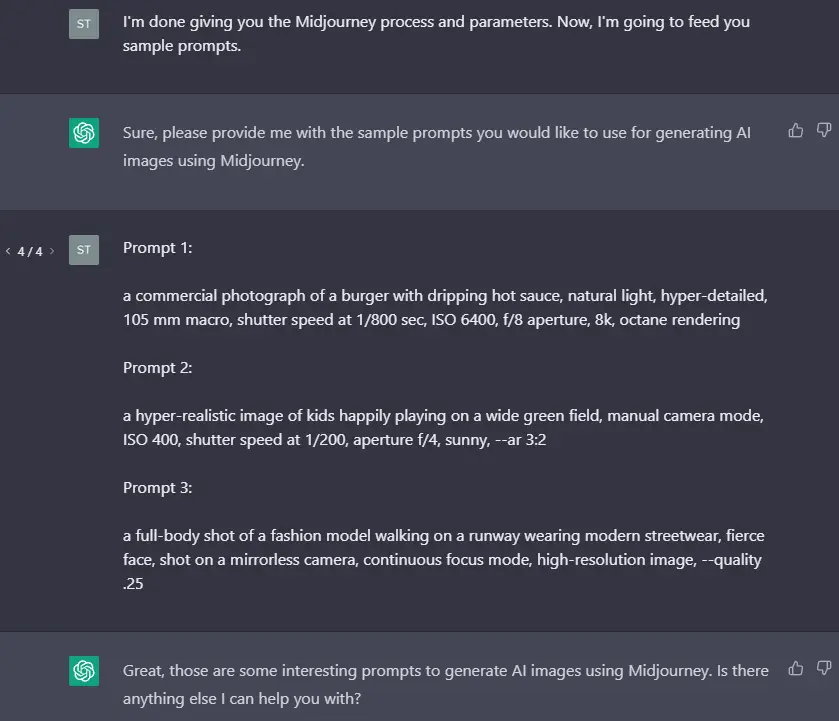 But honestly, you can simply follow your imagination and practice with the technical settings as you explore the AI. 
I recommend enhancing your abilities in prompt crafting or 'prompt engineering' as you can leverage this skill to earn money and add a revenue stream to your pipeline. In fact, we've already created a series of articles to help our dear readers like you navigate the new and largely unexplored path of earning through AI products. 
These include teaching you how to sell text prompts on specialized marketplaces and selling your images on print-on-demand (PoD) platforms.
These guides will help you establish a solid footing in the growing AI merchandise competition and experiment with different methods of earning from your prompt engineering skills. 
Provide a Concept
ChatGPT has already demonstrated its remarkable ability to comprehend vast information, just like an eager student constantly seeking to learn. But before you can get the chatbot-generated prompts, you must do two more things—instructing ChatGPT to embody a persona and telling it your concept.
By doing so, the AI can take on the character of a specific persona, allowing it to gain a deep understanding of the expertise associated with the instruction. This way, ChatGPT can provide you with even more personalized and tailored responses. To illustrate, take a look at this example prompt:
"Now's the time for you to act like a professional photographer. I want you to give me descriptive prompts I can use for Midjourney, including parameters and camera settings. Don't provide other details aside from what's asked."
With the given command, you'll be surprised to see ChatGPT using different camera settings later. Next is to provide it with an idea of what your desired image should look like, such as this description:
"For your first task, give me a prompt for creating a photo of a futuristic live-band concert. Create your own description based on the given info above, and don't copy them. But you can use the same format."
You can copy the given instruction but remember to revise it if you want to get a different result. 
Use ChatGPT Prompt on Midjourney
ChatGPT will give you the prompt you need based on the concept you provided, which you must copy. Next is to visit the Midjourney channel on Discord and type /imagine. On the empty bar, paste the AI-generated prompt and watch the images appear right before your eyes.
In case you're wondering, here are three results I got from Midjourney using the ChatGPT-made prompts:
Elon as a Futuristic Hero
"Capture a reimagined portrait of Elon Musk as a futuristic superhero in his SpaceX headquarters. The photo should feature Musk in a power pose with a confident expression, wearing a customized space suit that highlights his superhero persona. The background should showcase the advanced technology and machinery in the SpaceX facility, with a focus on the futuristic elements. Use a mirrorless camera with continuous autofocus to capture the details of the space suit and the intricate machinery in the background. Set the ISO to 800 and the shutter speed to 1/200 to maintain a balanced exposure. Use a wide aperture of f/2.8 to create a shallow depth of field and separate Musk from the background. The final image should be high resolution and have a cinematic quality with a color grading that complements the futuristic theme –v 5"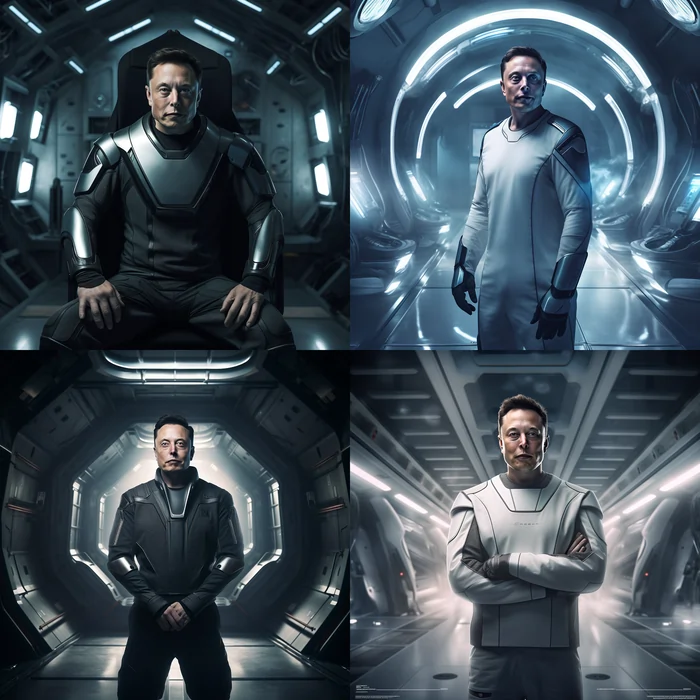 Note that there are instances where the ChatGPT-made prompt included parameters that Midjourney can't read. If you encounter such a problem, you can delete or revise those phrases. 
Realistic Art
"A beautiful, realistic art piece of a Golden Retriever dog with a joyful expression on its face, standing in a field of green grass and wildflowers. The dog's fur should appear soft and fluffy, with individual strands visible. The background should be slightly blurred, with an emphasis on the dog's features. –v 5 "
Into the Sea
"Capture a surreal image of a mysterious undiscovered underwater sea with mythical creatures. Use a wide-angle lens to create a sense of depth and scale, and set your aperture to f/11 to ensure a deep depth of field. Set your shutter speed to 1/200 sec to capture sharp details, and ISO to 400 to reduce noise in low light. Experiment with a long exposure to create a dreamy effect on the water and any moving creatures. Capture the magical and otherworldly feel of the scene by playing with colors, such as adding a cool blue tint, or adding a soft glow effect to enhance the surreal nature of the image –v 5"
The world changes fast, but we have the power to keep up with AI tools like ChatGPT and Midjourney. Their seamless integration and advanced technology make even the most challenging tasks seem effortless, enabling us to achieve more in less time without compromising quality. 
As we continue to embrace the limitless potential of AI, we can look forward to even greater possibilities with ChatGPT and Midjourney leading the way.
You might also like:
Master AI Art Generation with Midjourney
Midjourney's trajectory mirrors Apple's legendary ascent. Mastering how to use it today is crucial to dominating in the future as a creative.
Join the NeoBlush Midjourney newsletter and become an AI juggernaut.