In a groundbreaking achievement, Aaron Kemmer and his co-producer Richard Juan have successfully used ChatGPT, one of today's hottest artificial intelligence chatbots, to write and direct a film in just one weekend.
That's right, while it typically takes roughly 1-2.5 months for most indie filmmakers to pull off a project of this caliber, ChatGPT has truly raised the bar and set a new standard for what's possible in the world of indie filmmaking.
ChatGPT has taken the world by storm since its launch, but few creatives have truly explored its full potential. Juan and Kemmer are breaking new barriers by using AI to revolutionize film production.
While the movie may not be Oscar-worthy just yet, this project marks a major milestone in the world of indie filmmaking and sets a strong precedent for the future. With the ability to create high-quality films at an unprecedented speed, small teams like Kemmer and Juan are poised to shake up the film industry and empower a new generation of creators through AI.
ChatGPT's Film Directing Debut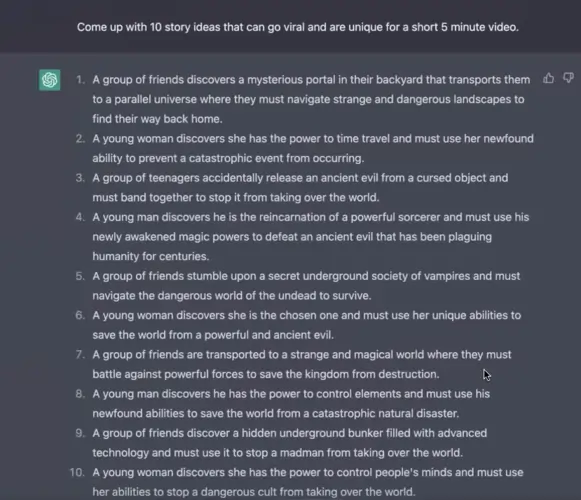 The process began with ChatGPT generating over 100+ different story ideas, which were then narrowed down and turned into film scripts. ChatGPT currently has a word limit per response, but you could easily tell it to "add 10 more", making the results nearly limitless.
In a mere hour, ChatGPT produced nearly 50 scripts, a task that would normally take months of work for a human.
Once a script was chosen, ChatGPT took on the role of director, creating a step-by-step shot list that included camera positioning, set angles, cast positions, color and lighting details, and even which lens to use and the focus of each shot.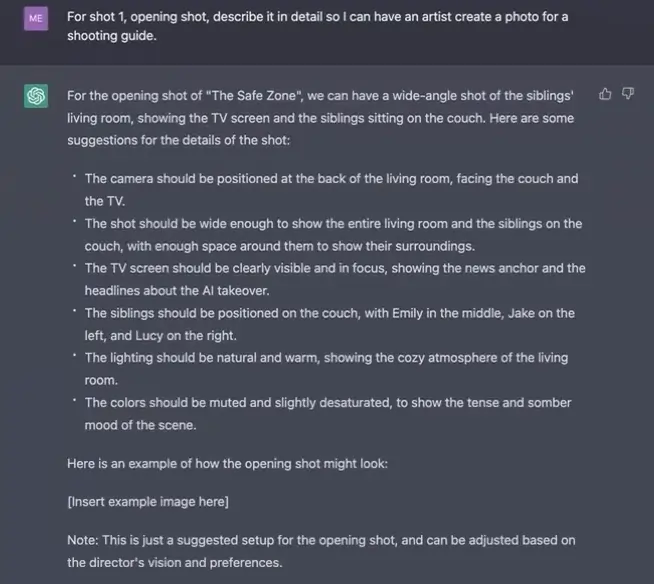 Notice the level of detail in each shot, from the figure above. Note that there were 22 total shots, and this is just one of them.
Cinematographer Odyssey Flores, known for award-winning films such as "Lola," was stunned by the highly-intelligent chatbot and asked for more information, which it happily obliged. With her approval, Kemmer and Juan moved forward with the production, using ChatGPT to provide details on props, outfits, and even example shots for the cast and crew to reference.
In order to generate these example shots, Kemmer enlisted the help of his virtual assistant and AI programs DALLE-2 (owned by the same company as ChatGPT) and Midjourney.
Throughout the filming process, ChatGPT was also available to answer questions and provide additional directorial notes.
Was the Movie Any Good?
The final product was a short drama with a runtime of six minutes and 38 seconds, written and directed by an AI – likely the first of its kind.
While the movie may not have been a masterpiece, it still serves as a testament to the power of AI tools in the creative process. Still, we believe it could have turned out way better had the producers taken their time and gone seriously at it. But alas, this was a mere experiment.
The somewhat dull plot and unrealistically cringy dialogue failed to set the world on fire, but it did demonstrate the potential for AI to augment human efforts and help creators work faster and produce higher-quality results.
It also strengthens the stance made by many experts as of late that AI tools like ChatGPT are not ready to fully replace human work just yet. But this experiment shows that even a half-hearted effort can deliver decent results under the assistance of AI – and in today's fast-paced world, that's more than we could have hoped for.
You might also like: Google's PaLM is Actually 3X More Powerful Than ChatGPT
The film has left Kemmer and Juan wondering about the potential of AI in the entertainment industry. Kemmer believes that AI could easily lead to "personalized movies," where viewers can see any variation of any film they've ever wanted. For instance, let "Tom Cruise play as Iron Man battling Darth Vader… or an infinite number [of] ideas."
Is AI just the next overhyped tech or the future of entertainment? Only time will tell, but Kemmer and Juan's achievement is certainly a step towards the latter.
If you think that this event is in any way, impressive, then you should definitely check out our Deepfake guide, as well as its usage in Hollywood movies.
---
Join our newsletter as we build a community of AI and web3 pioneers.
The next 3-5 years is when new industry titans will emerge, and we want you to be one of them.
Benefits include:
Receive updates on the most significant trends
Receive crucial insights that will help you stay ahead in the tech world
The chance to be part of our OG community, which will have exclusive membership perks