The debate on using AI-powered art is like a burning fire that continues to grow among the divided community. Some argue that using AI to create art doesn't share the same level of skill, creativity, and human touch as traditional methods. In contrast, others see it as a new frontier that can push the boundaries of what is possible and create something unique.
One of the issues that sparked the debate was when Jason M. Allen, the founder of Incarnate Games, won first place at the Colorado State Fair with his piece entitled "Space Opera Theater," created using the AI tool Midjourney. This event caused a rift in the community, with some praising the work as a masterpiece while others scoffed at calling it art.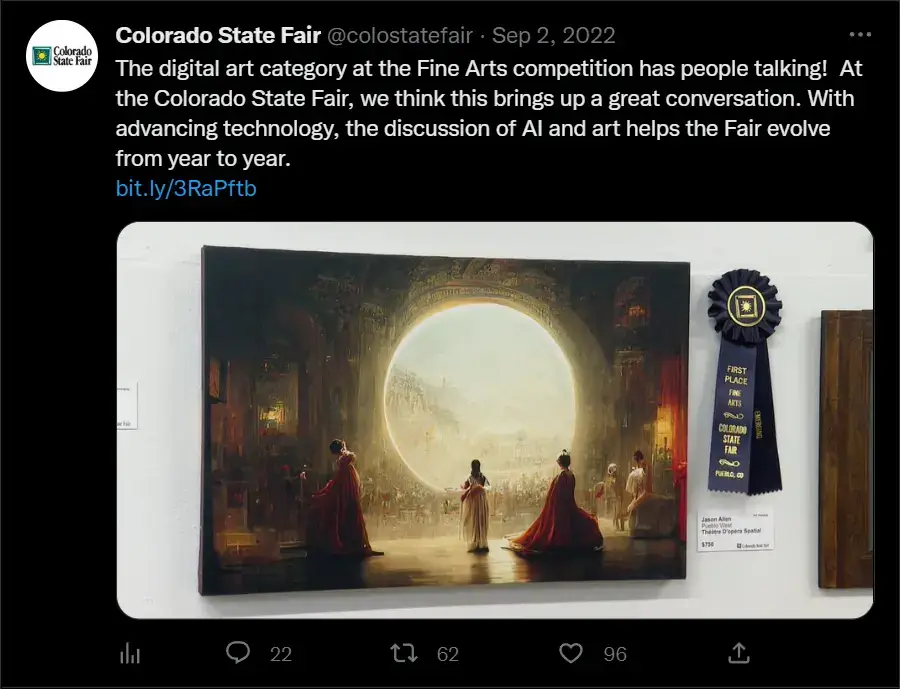 But perhaps there is a middle ground, a way to incorporate AI into the art-making process without losing the human touch. Imagine an artist who paints digitally and uses AI to enhance their craft, adding new layers of depth and complexity to their work. 
It's similar to Jenni Pasanen, a self-employed artist, who recently shared her journey of finding a whole new world of art when she embraced AI. In this instance, she was able to use the powerful tool to unleash more of her creative side, enabling her to achieve what's beyond her usual imagination in new and exciting ways. 
Art's New Horizons: Discovering the Unseen
Pasanen's life is a reflection of our stories, intricately woven with the art thread. From a young age, her mind and hands were in perfect harmony, leading her on a journey to explore the vast expanse of artistic mediums. 
She delved into the depths of her creativity, pushing the boundaries of art with each new medium. Her passion became even more evident in her diverse portfolio, spanning from traditional painting to cutting-edge 3D creations, all in pursuit of her true self as an artist.
Pasanen's artistic journey has been exploration and experimentation, with her hands eagerly grasping at every tool within reach. However, one stood out above the rest amidst the sea of mediums—digital painting. 
The allure of creating with pixels and code proved too irresistible for her to ignore, and she dove headfirst into the digital canvas. But even after years spent mastering her craft, she found that there was always something new to uncover, a new layer of depth to explore.
Her wanderlust for the creative arts grew stronger as her heart yearned for new horizons. Luckily, she came upon crypto. Soon enough, she was walking onto a new path: non-fungible tokens (NFTs). With a burning passion and unquenchable curiosity, she dove deep into the world of NFTs, researching and learning all she could. And before she knew it, she was fully enamored, her heart and mind thoroughly captivated by this new-found love.
At the same time, she discovered AI art, which opened up endless possibilities. This moment hit her right at heart, finally finding her true identity with this new art form.
Since then, AI has become part of her masterpieces. She even claimed that it was the missing piece in her life, making her finally complete after long years of finding her calling as an artist. During this time, all her passions have been intertwined: art, technology, and discovering new things.
Additionally, Pasanen knew the limitations that embrace humans, hindering them from reaching their full potential. But she decided to overcome all odds by combining the power of her art and AI. The tool became her helping hand from that moment, unleashing creations she never thought were possible.
Art in the New Era
Pasanen is a dedicated artist, pouring a part of herself into every piece she creates. But for her, the journey is just as important as the destination. With this in mind, she always tried new things and paid attention to every process as if it was her first time. That's how she crafts art in this new era.
She begins by using tools such as Artbreeder and Photoshop. Artbreeder allows her to generate pre-existing images and shapes, combining them all to create something unexpected.
Once the AI-generated images are ready, she adds unique shapes until a form pops out. It can be anything from goddesses to humans to animals; her imagination is the only limit.

Next is Photoshop's enhancement, combining photographs into her digital painting and layering them like a delicate yet beautiful cake. She repeats this process until satisfied, and that's the only time she'll move forward to finishing the pieces, giving them additional details that add a touch of magic to her work.
Pasanen is always on the lookout for new AIs to mix with her pieces and never stops exploring new possibilities, from 3D animation to photography. But she emphasizes that it's not just about technology; it's also about keeping an open and curious mind, embracing new experiences, and taking risks.
She quit her day job and became a full-time artist due to her hard work and dedication. All those sleepless nights and rollercoaster adventures enabled her to get where she is today. But like others, her chapter of opening doors to new realms of creativity doesn't end here. 
You might also like:
---
Join our newsletter as we build a community of AI and web3 pioneers.
The next 3-5 years is when new industry titans will emerge, and we want you to be one of them.
Benefits include:
Receive updates on the most significant trends
Receive crucial insights that will help you stay ahead in the tech world
The chance to be part of our OG community, which will have exclusive membership perks