Long crypto addresses have long been a problem among crypto users as they were designed to be read by machines, not humans. Thanks to naming solutions, it's now possible to create custom addresses using blockchain handles, making sending and receiving assets easier. Not to mention you get to satisfy the urge to 'personalize' your wallet name, which could be your online identity as well.
While this feature started on Ethereum with the ENS, the Cardano blockchain has its own version called ADA Handle. And we will show you how you can get one.
What is an ADA Handle?
ADA Handle is a naming solution on the Cardano blockchain, enabling users to mint names as non-fungible tokens (NFTs). Its main function is to simplify lengthy wallet addresses into human-readable usernames, making fund transfers easier. 
Each $handle maps to the unspent transaction output (UTXO) within a wallet address. A UTXO is a series of related transactions; even if Cardano wallets generate new public addresses each time owners utilize them, there'll be no problem, as $handles are linked to the data (not the address).
Currently, the ADA Handle concept revolves around solutions that aim to improve user experience across Cardano, one of which is facilitating the creation of blockchain-based identities through $handles. But there's more to it, and we'll explain each one at a time in the next sections.
subHandles
RootHandles are handy for individuals who want to transfer and receive funds across the Cardano blockchain. But what if you belong to a group, corporation, organization, and the like? Wouldn't it be easier to have interconnected Handles?
ADA Handle got you covered with its upcoming feature called subHandles, which are individually unique but related Handles. It allows you to issue multiple subHandles from your rootHandles, making address tracking and organizing wallets easier.
There are two types of subHandles: NFT and virtual. 
The NFT subHandle works similarly to a rootHandle where holders take full ownership and rights over it. For example, let's say Evan (our founder) owns $metaroids and decided to issue starksalary@metaroids as a subHandle for me to use. Although Evan is the original creator, he'd lose his ownership and rights to the subHandle once he transfers them to me. 
Virtual subHandles are the exact opposite, as they allow the issuers to retain full ownership and rights to the subHandle. They'll also have the power to retrieve and reassign addresses. 
For instance, let's assume Evan issued stark@metaroids as a virtual subHandle, which I can use for our projects. However, if I leave the company, our founder can reassign a new holder for the address as he has complete control over it.
NFT and virtual subHandles can also coexist. Therefore, it's up to the rootHandle owners to decide which subHandles they'll mint as NFT or virtual. After all, there are no limitations. 
Stable Pricing Model
Every ADA Handle has a rarity level, which depends on the number of characters they have:
basic (8 to 15),
common (4 to 7),
rare (3),
ultra rare (2), and
legendary (1).
Each corresponds to a price; the shorter the names, the more expensive they are. 
However, the minting prices of these Handle NFTs are never static but algorithmically stabilized. They change regularly depending on the current market condition as a way to protect the project and community from volatility. This new solution is called the Stable Pricing Model.
The Stable Pricing model is an algorithm that adjusts the NFT minting price based on the ADA/USD peg. It also provides a way for the community to predict costs easily based on patterns: Handles are more likely to have a price increase when the USD value of ADA is lower than the peg and vice versa.
Additionally, the algorithm helps maintain the minting prices of the most bought NFT tiers (basic and common) at their most affordable rates during volatile periods by offsetting cost differences to the higher-ranked groups (rare and ultra-rare).
This way, the team can protect its largest user base during difficult times. But this isn't likely a concern since stable pricing considers floor and ceiling prices into the equation to ensure fairness at all times. 
Note that the legendary tier can't absorb price differences, as it's only available on auctions.
Why Create an ADA Handle?
ADA Handle provides users with numerous benefits despite being new to the industry, and we can possibly see more reasons to create them as its developers continue to build. Currently, it offers the following:
Simplified Address
While veteran crypto enthusiasts don't mind alphanumeric addresses, the vast majority of users either find them daunting or difficult to work with. This is especially true for the Cardano ecosystem, where some wallets generate new public addresses for every usage. Let's look at this sample address:
addr1qxx00r962ku8dl7wekn67kxxxjpcyfyul4dtgkkwzu3nqs5dsnkrcr6p03zvxn2k4vh5scr0hf9nc072lwr4fgs4k43qjswugd
It's hard to read, right? Now, we never have to check every character to review wallet addresses, thanks to ADA Handle. To send or receive payments easily, you can simply type a custom username, such as $stark. 
Unique Identity
You can't find two or more identical $handles, as they're NFTs, which are assets that are impossible to replicate. This standard ensures that your username is unique to you. Furthermore, claimed ADA handles become unavailable on the portal, preventing other users from owning them.
Own Your Data
Most platform users, especially social media, are known to have usernames. Unfortunately, you cannot own social media handles nor can you transfer them from one platform to another.
Some platforms even have rules prohibiting the buying and selling of handles. And if you get banned, your account is lost forever.
This is where ADA Handle shines, as it enables you to mint $handles that you can own 100%. You can then use them in any supported apps, transfer them from one wallet to another, and do limitless possibilities.
Ethereum Name Service (ENS) vs. ADA Handle
The Ethereum Name Service is arguably one of the most-recognized naming services on the market, offering domain names recorded in the registry using smart contracts. You'll see it in the format: yourname.eth (e.g., stark.eth). Looks familiar, right?
It's because ENS works like the Domain Name System (DNS) but only within the scope of the blockchain. DNS allows you to type names (metaroids.com) instead of IP addresses to reach websites; it's the same with ENS, plus some extra features. 
You can utilize these .eth domains as a wallet replacement, deploy decentralized websites, and as a universal identity across web3. However, they have expiration dates, which you need to renew if you want to continue using them.
On the other hand, ADA Handles are native NFTs on the Cardano blockchain that don't use smart contracts for locating addresses. Therefore, as the team claims, there'll be no problem in routing even if it encounters bugs.
Additionally, NFT Handles are similar to social media usernames, which function as your unique identity. However, it's not yet capable of connecting to decentralized websites (unlike ENS).  
Buying $handles doesn't also have to feel like you're renting them, as you only have to make a one-time payment. Once you own them, you can use them as you like anytime.
How to Buy an ADA Handle?
Buying an ADA Handle doesn't have to be complicated, and you won't need in-depth technical knowledge to own one. In fact, the process only involves three steps:
Connect Your Cardano Wallet
The first step to buying a $handle is linking your wallet to the official ADA Handle website. Click Connect Wallet and choose any of the available options. If you don't have a wallet yet, don't worry because we have guides on how to set up: Eternl, Nami, and Yoroi.
I'll be using Yoroi in this example.

Note that you'll need at least 15 ADA on your wallet to successfully connect. Don't also forget to tick the boxes of Terms of Use and Minting Process after reviewing them. 
Mint a Handle
Once connected, you'll immediately see Mint a Handle replacing the Connect Wallet button earlier. Click on it to proceed.
The website will direct you to the next page, where you can buy a $handle. However, users only get roughly an hour to make a purchase. So be mindful of the time in your screen's upper right corner.
Type a username you want to buy on the empty bar and look at its availability. On the right side of the page, you'll see a preview of your NFT, along with its rarity level and corresponding price.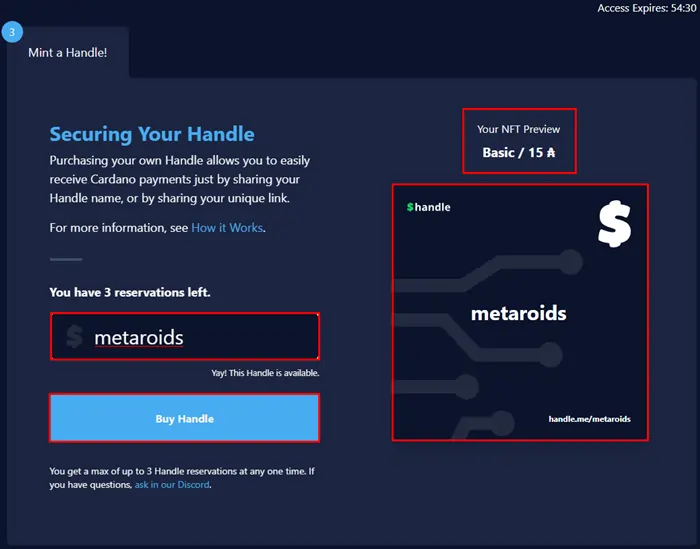 If your chosen NFT is available, tap on Buy Handle and move to the next step.
Confirm Payment
Your wallet will pop up on your screen, showing your total bill. As you can see, you'll pay more than the NFT price because of the transaction fee. Hence, always consider putting an extra ADA amount in your wallet to fully cover the cost.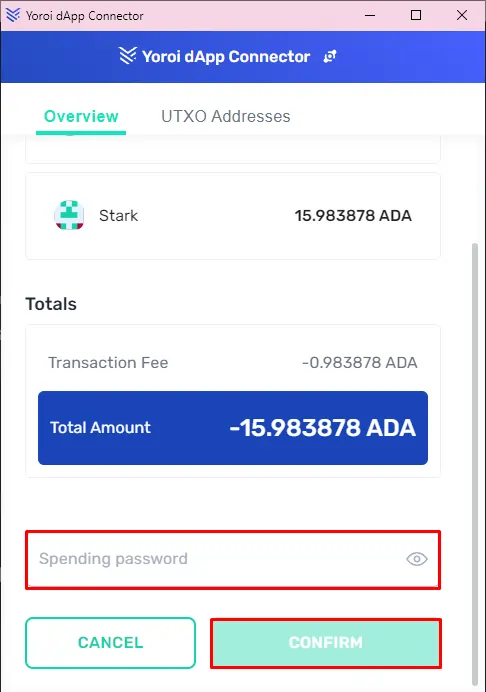 Lastly, type your spending password to sign the transaction and hit Confirm. It may take a while to mint your NFTs, but you can always check updates under the Handle Status tab on the website.
The Road Ahead
The ADA Handle team has been continuously building since 2021 and has progressed significantly within a year. It may have started from the most basic naming solution, but its growth only expands from there.
In Q2 of 2022, the team focused on polishing features, such as completing its SPO portal for Cardano staking. They also prioritized privacy and verification, ensuring community safety as they use the product.
In Q3 and Q4, ADA Handle's major implementations revolve around identity and interoperability. It's where we witnessed the possibility of Cardano and Ergo working together through their partnership.
Lastly, as the year slowly ends, the team plans to uncover more things they're planning to build. Its soon-to-be governance token will allow the project to achieve more extensive growth with its community.
If you found this article helpful, you might also be interested in our full guide on blockchain naming services, which talks about the concept more broadly. We are in the very early days of what could be a new Internet. If you're not excited, you probably don't fully understand it yet.
---
Join our newsletter as we build a community of AI and web3 pioneers.
The next 3-5 years is when new industry titans will emerge, and we want you to be one of them.
Benefits include:
Receive updates on the most significant trends
Receive crucial insights that will help you stay ahead in the tech world
The chance to be part of our OG community, which will have exclusive membership perks