Nami is one of the top wallets used for the Cardano ecosystem. It's not the perfect wallet in every way, but it shines in a few aspects. Most notably, it is one of the best wallets for users who are heavily into the Cardano CNFT scene, stylized as #CNFTs.
It was created by the same people who built the first Cardano NFT project, too. So if you're an NFT enthusiast, it might be worth your while to give it a go. You can also stake directly in the app, among other features.
This guide cover mostly everything there is to know about Nami, from the moment you download it right down to connecting to various dapps, and everything else in between.
What is Nami Wallet?
Nami is a non-custodial wallet that allows users to access Cardano-based decentralized applications (dApps), transfer and receive crypto assets and NFTs, and stake ADA directly.
The Nami wallet focuses on user experience, creating a simple and easy-to-use interface for everyone. It may appear too plain at first glance, but the project has powerful features that enable account holders to interact with web3 websites and applications across the Cardano network.  
Two developers used their expertise to build and continuously develop the Nami wallet: Alessandro and Pascal of Berry Pool. They also happen to be the founders of Cardano's first NFT project: Spacebudz.
Alessandro and Pascal created Nami with a simple design and complete functionality applicable to most types of users. But while it has advantages in some aspects, it is also inferior in others. Let's explore each attribute of Nami.
Advantages of Nami
| | |
| --- | --- |
| Compatible with NFT Marketplaces | You can connect to NFT platforms on Cardano through it. |
| Secure | While Nami may have been built by independent developers, it is about the only Cardano wallet that implements a 24-word seed phrase when the average is 12-15. |
| Easy to Use | Nami is by far the most beginner-friendly wallet for Cardano. Its interface looks simpler than Yoroi and Daedalus. |
| Native NFT Viewing | You can view NFTs directly in the wallet app. Most Cardano wallets don't have this feature. |
Advantages of Nami
Drawbacks of Nami
| | |
| --- | --- |
| Lack of Privacy | While most Cardano wallets offer the ability to generate new addresses for every new deposit, Nami Wallet appears to override this feature. |
| No Fiat on-ramps | You cannot purchase assets directly on the wallet app with a credit/debit card. |
| Compatibility Issues | Nami is designed differently from most Cardano wallets, which makes it prone to incompatibility issues. This shouldn't be a problem as long as you don't use a Nami account on another wallet. |
Drawbacks of Nami
How to Use Nami Wallet
Nami provides users with an efficient way to connect to the Cardano blockchain, interact with dapps, and transact with various types of assets across its network. But first, you need to download the app and create a wallet. Our guide will help in every step:
Download Nami
You can download Nami on the official website and add it as an extension on any supported browser like Chrome, Brave, and Edge. 
Do not forget to install Nami before creating an account.
Create a Nami Wallet
Who would have thought that creating a Nami wallet could be as easy as counting to three? Here's our three-step method for setting up your wallet:
Run Nami
Every wallet hides under your browser extension's drop-down menu unless pinned; it is the same with Nami. Check it out and tap on it to initialize the setup.
Wait for a few seconds until Nami greets you with two options: New Wallet or Import. Since we're making a new account, click on New Wallet.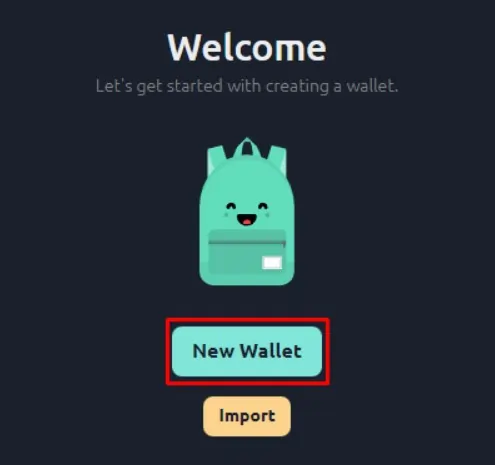 Secure Your Seed Phrase
Nami will generate your seed phrase, a set of random words that can access your account under any circumstances as long as you remember the combination; no one should know those words except you.
Your seed phrase works like a key to a locked chest; if a stranger knows it, they can easily steal your assets. Therefore, it would be best to memorize them. Alternatively, you can write the phrase down or save words on a secure device.
Click on the Next button to proceed. Nami will ask you to fill up the missing words in your seed phrase for verification purposes; complete it to move on to the next step.
Set Up Your Account
Set up your account by filling up the empty bars with your name and password. Click on the Create button to finish.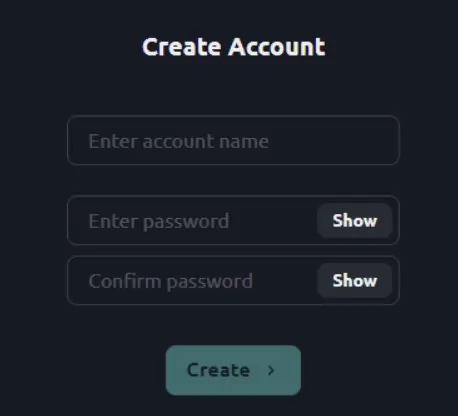 Excellent! You now have an account to manage your Cardano digital assets.
How to Receive Assets
After your wallet setup is complete, you can now receive funds. For that, you need to find your wallet address. To do that, click the wallet extension, then click Receive.
A QR code of your wallet address will pop up. You could also click on it so the text wallet address is automatically copied to your clipboard. 
You can send this address to your friends or people who need to pay you so they can send some funds. If you want to fund your initial deposit yourself, the next section should cover it.
How to Add Funds to Nami Wallet
You can fund your Nami wallet by transferring Cardano assets from an exchange such as Binance, Coinbase, Huobi, Kucoin, etc. Let's use Binance as an example.
The first step is to copy your Nami address and go to your Binance account. Paste it on the empty address bar under the Withdraw Crypto tab. Input all the required details such as coin, network, and amount. Consider also the transaction fee as most exchanges have them.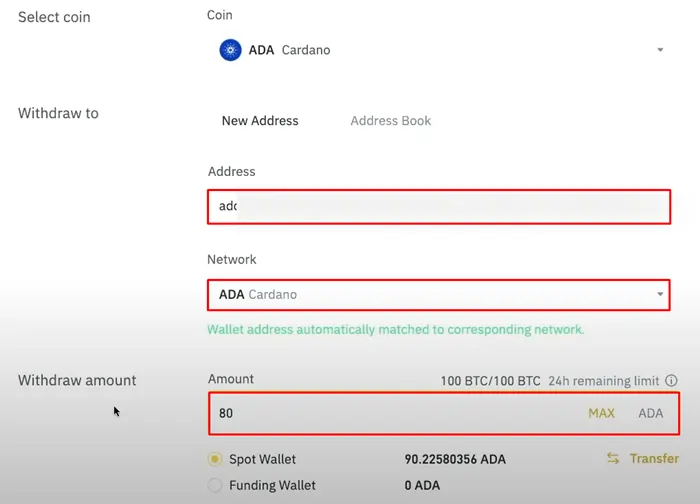 Click on the Withdraw button to transfer funds to your Nami account. There you have it! You can now use your Cardano tokens in any way you want.
How to Transfer Assets to Another Account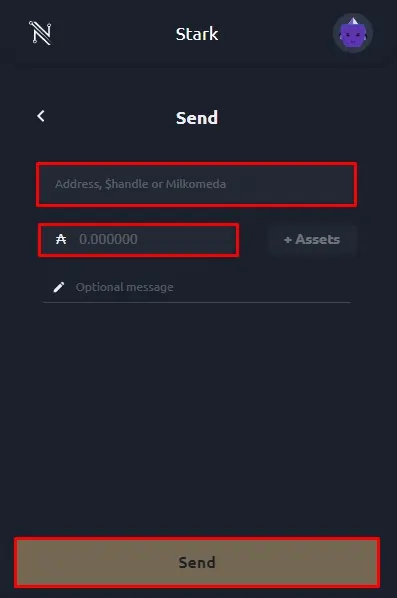 Sending assets from your Nami wallet to another account only requires simple steps to complete. 
Open your wallet, and click the Send button. As you can see below, you need to input the necessary details: public address and amount.
Note that you can use an ADA handle or Milkomeda instead of an address too. If you want to add instructions or a short letter, Nami has an optional message feature, as well.
Click on Send once enabled. Check your Transaction History to know its status. Note that sending assets has a corresponding fee. Therefore, you should have enough funds to complete the process.
Continue to the next section to know how you can connect the wallet to various dapps.
How to Connect Nami to Dapps
You can use Nami Wallet to connect to nearly every dapp on the Cardano blockchain, ranging from DeFi protocols to NFT platforms or marketplaces. Let's try to connect to JPG Store to exemplify the process. It's so simple even your grandmother could do it.
Simply head over to the website of your chosen dapp, in our case — jpg.store. Then, click Connect Wallet on the top-right section, then choose Nami. Your wallet app will prompt you to confirm access. Simply click Access and then voila! You're in.

Most dapps, even across blockchains beyond Cardano, universally place their log-in button at the top-right of the page similar to JPG Store. You shouldn't have any problems figuring this out.
What Cryptocurrencies Does Nami Wallet Support?
Nami wallet supports ADA and all tokens that run on the Cardano blockchain.
For the full list, check here.
How to Stake ADA on Nami Wallet
One of the primary use cases of ADA is to support the network through, staking. However, unlike Daedalus and Yoroi, Nami recommends delegating your ADA in its pool. 
If you wish to continue, open your Nami wallet and click Delegate. You can choose how many ADAs you'll be staking, and note that there are two fees involved. Type your password and tap Confirm to proceed.
Nami limits the staking pool to Berry to focus on its growth. In return, you get 5% staking rewards every year. The project also allows you to unstake your ADA anytime.
How to Restore Nami Wallet
Losing your wallet can be frightening, to say the least. But thanks to Nami's restore feature, you don't have to break a sweat as you can easily recover your funds through your seed phrase. First, you need to download and install Nami again on another device.
This is covered in the previous section so we'll skip it. Once you've installed the Nami browser extension wallet, run it. Then choose Import.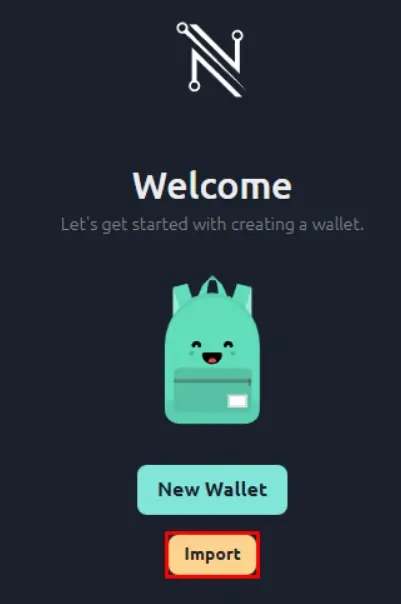 Select the the appropriate seed phrase number. Type all the words and click the Next button. Lastly, you have to set up a new account name and password.
Congratulations! You successfully restored your Nami wallet.
Is Nami Wallet Secure?
Nami is a secure wallet since it is maintained by remarkable developers — Alessandro Kondrad and Pascal Lapointe. Moreover, it is one of the few Cardano wallets with a 24-word seed phrase (most are 12-word), which makes it relatively secure in that aspect. However, security nuts would probably prefer wallets created by Cardano (and its engineering arm) itself, such as Yoroi and Daedalus.
But to be fair, the security of funds generally comes down to the user. If you follow security best practices, then you should have nothing to worry about. This includes using a hardware wallet on top of Nami, and avoiding clicking on unsolicited links and attachments from strangers (as they could be malware).
How to Connect Nami to a Hardware Wallet
Nami supports both Trezor and Ledger wallets, allowing users to augment the security of their funds. Whichever device you are using, follow the guide below:
Set up Nami Wallet
First, you need to download and install Nami Wallet on your computer browser. We covered that in detail in previous sections, so check that out first then come back here.
Download the Cardano (ADA) app on Hardware Device
Next, it's time to download the latest version of the Cardano app, which can be found on both Ledger and Trezor devices.
Connect Hardware Wallet to Computer
Then, plug in your Ledger or Trezor to the computer that has your Nami wallet.
Connect Nami to Your Hardware Wallet
Now that both wallets are set up, it's time to interlink them. Open your Nami wallet app and click on your account profile, and then click Connect Hardware Wallet.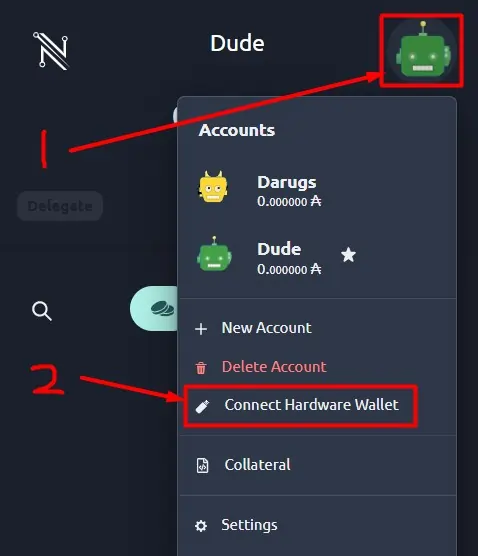 After that, a new window should pop up, allowing you to choose either Ledger or Trezor. Pick whatever device you're using.
Finalize the Setup
At this point, the next steps are pretty easy. Simply finalize everything and your Nami wallet becomes substantially more secure than ever before.
Nami Frequently Asked Questions
Is Nami Wallet Legit?
Yes, Nami is a legitimate wallet created by 'legitimate developers'.
Is Nami Wallet on Mobile?
No, Nami only supports desktop browsers.
---
Join our newsletter as we build a community of AI and web3 pioneers.
The next 3-5 years is when new industry titans will emerge, and we want you to be one of them.
Benefits include:
Receive updates on the most significant trends
Receive crucial insights that will help you stay ahead in the tech world
The chance to be part of our OG community, which will have exclusive membership perks