Eternl Wallet, arguably one of the most popular third-party crypto wallets in the Cardano space, is built by the same developers of stake pools TITANstaking and AHLNET.
While its interface might appear overwhelming at first, many users find its 'extra' features helpful. If this is your first time using a Cardano wallet, we need to warn you that its interface looks like this:
But truth be told, most users would get the hang of it pretty quickly, plus they get to enjoy the many functionalities, including a global address book for all accounts, the ability to create Franken addresses, and a lot more. If you want a more user-friendly Cardano wallet app, Nami Wallet might be your best bet. Yoroi is also another option.
What we like about the developer team is its strong innovative spirit, constantly rolling out new features, updates, and bug fixes.
This article serves as an ultimate guide to using Eternl wallet, from the account creation to the first deposit, to using it on dapps, to staking, and everything in between.
What is Eternl Wallet?
Eternl is a Cardano web-based light wallet that enables users to send and receive cryptocurrencies, store NFTs, stake ADA, and many more. Moreover, it allows the creation of multiple accounts using only one recovery phrase. 
Formerly known as CCVaultio, Eternl's new name comes with a more focused mission: to be a major Cardano wallet by providing 'enhanced' experiences to all its users. 
Its user interface (UI), however, isn't the simplest compared to other Cardano wallets, but the application is jam-packed with information and features that may be useful, especially for advanced users.
Lastly, the team designed the wallet to support other networks (e.g., pre-production testnet, guild network, etc.), allowing newcomers and experienced users to explore. It is also compatible with other Cardano wallets, such as Nami, Yoroi, and more.
Advantages of Eternl
| | |
| --- | --- |
| Native NFT Viewing | You can view NFTs directly in the wallet app. Most Cardano wallets don't have this feature. |
| Compatible with NFT Marketplaces | You can connect to NFT platforms on Cardano through it. |
| Feature-rich | Eternl has the most functionalities among Cardano light wallets. You probably won't be using many of them though,. |
Advantages of Eternl
Disadvantages of Eternl
| | |
| --- | --- |
| Less Appealing UI | One could say it arguably has the worst interface among Cardano wallets. Thankfully, V2 is rolling out soon with a better UI. |
| Closed Source | The codebase for the wallet app is private. Most users prefer open source. |
Disadvantages of Eternl
How to Use Eternl 
Eternl wallet may appear daunting for first-time users, but you can surely familiarize yourself with its interface in no time thanks to our comprehensive guide below. The first thing you need is to download the app, which is available on both mobile and browser.
For simplicity's sake, this guide will only tackle the creation of the desktop (browser) wallet since most Cardano transactions happen on these devices anyway, at least for the time being.
Install Eternl
You can access Eternl through its webpage – eternl.io or download it as an extension on Chrome, Edge, Brave, or Opera. Alternatively, you can download it on your smartphone (Android or iOS) to trade wherever you are.  
Create an Eternl Wallet
Creating your first digital wallet is easy with Eternl. You only have to do a series of steps that anyone (even non-techies) can follow.
Learn how to set up and use the wallet by following these steps:
Connect to Eternl

Set Up an Account

Secure Your Recovery Phrase
Verify Your Recovery Phrase
Connect to Eternl's Webpage
Your newly-installed wallet will be hiding under your browser extension's submenu; click it to load. Please wait for a few seconds until it directs you to a new tab.
The Eternl app page lets you open an existing account or create a new wallet. Since you don't have it yet, tap Add Wallet at the left corner of the page. 

Set Up an Account
The application welcomes you with four options: create wallet, restore wallet, pair, or import. Choose Create Wallet. Next is to fill in the necessary details to make your account: wallet name and password.

Eternl suggests creating a long password for your account for your own security. Be sure to follow and click Save to proceed. Note that the "spending password" is useful for preventing friends and family from using your account without your approval by requiring a password before sending.  
It's also worth noting that the wallet app can hold a maximum of 24 accounts for your different needs, and it'll ask how many of them you want to create. You can always add more after wallet creation. 
Secure Your Recovery Phrase
The next step involves securing your recovery phrase, a combination of 24 words that you can use to access your wallet and every asset stored in it. This is crucial in the unlikely event that your device encounters unfortunate circumstances (lost, broken, stolen, or stops working).
Ensure that no one's watching your screen as you memorize, write, or save your recovery phrase, as they can use it to spend your funds. Click the Continue button to proceed.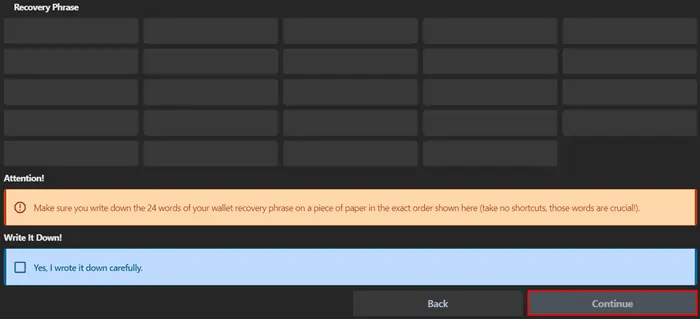 Verify Your Recovery Phrase
Verifying your seed phrase is the last step to creating your Eternl wallet. You have to type all the words in order. Don't forget to check your spelling and press Continue to finish.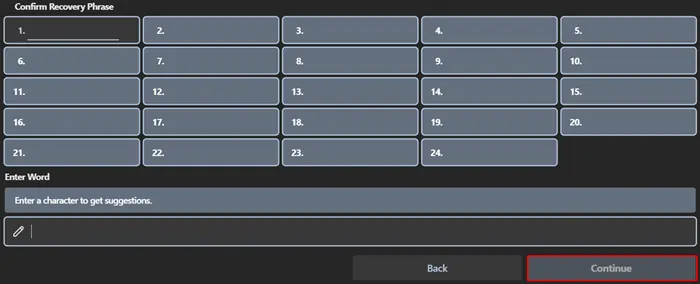 At last! You now have a functional wallet to explore the Cardano blockchain. The next stop is to deposit some ADA in it so you can transact.
How to Add Funds to Eternl
You cannot use Eternl without ADA, therefore, it needs to be the first asset you add to your wallet. There are two methods to add ADA to your account:
Buying ADA directly in-wallet via Guardarian
Buying ADA from Exchanges 
The first option is a lot faster since you don't need to create an exchange account and can purchase with a credit/debit card. However, if you already have an exchange account that supports ADA trading pairs, you're better off buying there as the fees will be substantially lower.
Buying ADA directly in-wallet via Guardarian
You can acquire funds directly from your Eternl wallet. Find the Buy ADA button on the right corner of your app. Clicking it will bring you to the Guardarian platform.

You can customize the ADA amount you want to buy in the available currencies. Note that there are no extra fees because all rates are already in the transaction summary. Hit Buy to finish the process.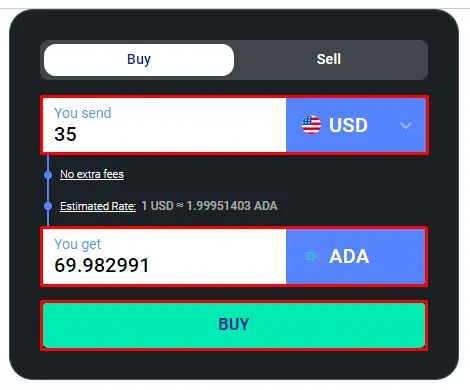 The platform will transfer your ADA into your account. Check your wallet to confirm. 
Buying ADA from Exchanges 
Buying ADA from an exchange requires your Eternl wallet address, which you can find under the Receive tab of your account. Click on it to copy.
Go to your preferred exchange and buy some ADA. Then withdraw them to your newly-created wallet. Use the wallet address you copied to receive your purchased funds.
The transaction processing time may vary from one platform to another. Always check your Eternl account to confirm the process status.
How to Send Crypto to Another Wallet
You might be wondering how to send ADA or Cardano-based tokens via Eternl wallet. To do that, you first need to know your recipient's public addresses.  
Access your wallet app and head to the Send menu. Paste the recipient's address in the empty bar or scan a QR code. You can also add a transaction message along with the ADA you'll be transferring. Click the Next button.
Note that you can also send funds to yourself by transferring them to one of your accounts. Hit Send to Account to automatically paste your public address in the Receive Address bar. Click the Next button.
The next page displays your transaction summary, which you can review to avoid committing errors. Once done, type your spending password to complete the process.
Congrats! You've successfully transferred an asset from one wallet to another wallet.
How to Connect Eternl to Cardano Dapps
Eternl wallet allows you to connect to tons of Cardano dapps across the ecosystem, ranging from DEXs to NFT marketplaces, to lending platforms, and a whole lot more.
You can start your dapp exploration by clicking the DApp Browser button on the lower left corner of your wallet app.

Find a supported application you wish to access and click it. Press Connect as DApp Account.

Head to the dapp and search for the "log in" option or its equivalent. You can usually find this in the top-right or top-left of a dapp's webpage. For this example, we will be connecting Eternl to the JPG Store, a leading NFT marketplace. But this works for any Cardano application. 
In this example, the first step is to visit the dapp webpage jpg.store.

Click on Connect Wallet and choose Eternl. Your wallet will be prompted, click it to confirm and wait until the process is complete. And that's how you connect to a Cardano dapp with a wallet.
You can now take this time to explore, buy NFT assets, and more. Try it out!
Speaking of NFTs, there is a whole new world of art and community innovation going on in this space. If you're unaware, be sure to check out our Ultimate NFT Guide.
What Cryptocurrencies Does Eternl Wallet Support?
Eternl wallet currently supports ADA and Cardano-based tokens and NFTs.
How to Stake ADA on Eternl
Eternl wallet facilitates Cardano staking in arguably the easiest way possible (compared to other wallets). Staking ADA allows you to generate passive income while contributing to the security of the network. There are currently more than 3,000 staking pools you can choose from, each with different rewards and offers.
To begin, open your wallet app and head to the Staking tab to select from the available staking pools. You can also search for a specific name, ticker, or other details, which would appear on your screen instantly.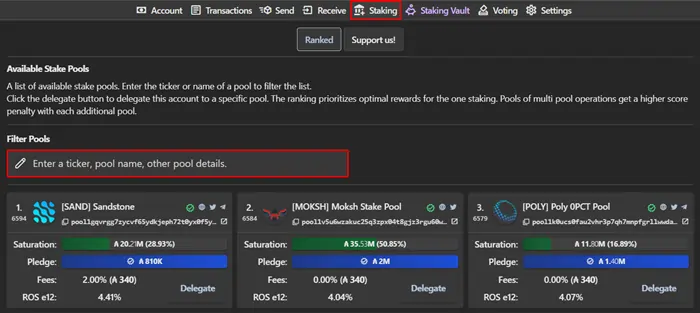 After carefully choosing, hit the Delegate button and sign it by typing your password. Note that each staking pool charges fees differently. We also recommend checking out their websites or social media accounts to get a broader view of their incentives. 
Besides the staking rewards, staking pools usually offer their stakers other bonuses to encourage them to stake. DYOR on this or simply choose one with a high ROI.
How to Recover a Wallet with Eternl
Losing a crypto wallet can be alarming, especially if you held a lot of assets within. But as long as you still have your recovery phrase, you can restore it on any computer device or hardware wallet. In fact, we highly recommend running the wallet app on a separate device if your previous one was stolen or hacked.
In order to safely restore your wallet on Eternl, you need to connect to its web application.
On the homepage, you'll see the Restore wallet option. Click it to proceed.

Restoring Eternl Wallet
Next, you need to choose 24 words as it's the recovery phrase length of Eternl. If you are restoring another wallet with a 15-word recovery phrase, you may choose that option. If you're restoring a Nami Wallet on Eternl, you can enable 'Single Address Mode' too.
Once done, hit the Next button. Type your seed phrase in order and click Continue. 
The final step is to set up your account. Input your wallet name, and create a new and stronger password. Once done, tap Save.

Finally, you've successfully recovered your Eternl wallet. You can also do similar steps in recovering other Cardano wallets on this app.
Is Eternl Wallet Safe?
The developers of Eternl wallet have years of experience building Cardano-based projects, specifically staking pools, which led them to gain credibility in the community. Additionally, it uses a 24-word recovery phrase, which is much harder to steal than the typical 15-word seed phrase used in other wallets.
However, owners still need to take responsibility to keep it secure, keeping in mind that no digital wallet (or any type of account with funds) is entirely safe. You need to follow proper security best practices such as avoiding clicking on links or attachments from people you don't know, whether that's through email, chat, or any social interaction.
Better yet, get yourself a hardware wallet; your security will substantially be improved.
If you already have a hardware wallet, click on the link below.
---
Join our newsletter as we build a community of AI and web3 pioneers.
The next 3-5 years is when new industry titans will emerge, and we want you to be one of them.
Benefits include:
Receive updates on the most significant trends
Receive crucial insights that will help you stay ahead in the tech world
The chance to be part of our OG community, which will have exclusive membership perks