We chose to cover Cets on Creck because of two reasons.
First, it stands as one of the few NFT projects that remains unapologetic about what it is. Second, it has some of the most loyal community members across Solana. And the art is truly exceptional too, despite being one of the 'older' collections.
And Peblo is a marketing genius.
What is Cets on Creck (CoC)? 
Cets on Creck (CoC) is a web3 brand built at the crux of community, culture, and freedom that epitomizes the candor of the urban streets. It welcomes anyone willing to unleash their hidden persona, allowing them to express who they truly are without even the slightest hint of being unapologetic.
The project has been clear on the persona it aims to convey, from the cheeky expressions of its Cet avatars right down to the inner city vibes of its community. The 'on creck' part of its name was derived from 'on crack', which is an urban slang for "to be crazy". Evidently, the Cets, which is a term that refers to either CoC holders or CoC NFTs, are meant to be: crazy, wild, and free.
The CoC team explicitly states that it doesn't "encourage, endorse, or support the use of any illegal substances." In other words, the Cets aren't literally on cocaine, nor do they recommend it.
The project is open to collaborations, which is in line with its goal of forming synergic and valuable relationships with brands that don't give f#ck about societal norms. But it also states that it will not concede to corporate companies that could dilute its brand by censoring some of its components. The brand wants to be as real as can be, and would only seek other entities that are in line with its ideology.
Cets on Creck has its own NFT collection that allows members to become a part of "the crew" as the project slowly reveals the perks to the community, one activation at a time.
Cets on Creck Lore
The story of Cets on Creck takes place in the year 2030 or at least on a future date. Regardless of the time, the most important thing for the crew is the legalization of doping. Everyone found peace, but that is not what the cool cets wanted. They wanted trouble and so they: engaged in cetfights, posted their own mugshots, call the cets with no reason, and everything else their trouble-making asses could think of.
Cets on Creck made a pack in no time, and each of them got their own streetwear. They travel from street to street, showing off their fashion sense to everyone. The more you stare at their JPEGS, the more likely you'll end up becoming a member of their pack too.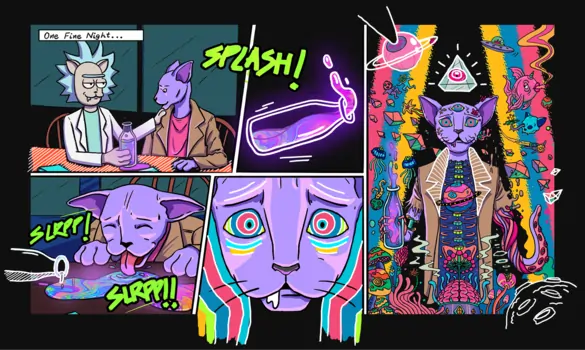 But the most mysterious or perhaps most alluring part of CoC is the concept of enlightenment, which has been talked about since its inception. It started with one fine night when one of the cets drank rainbow milk at a cafe. With just one lick, he transformed into an out-of-this-world being and became enlightened. 
Since then, Cets on Creck has taken over the world. They are bound to a new adventure this time, and everything is within the control of their claws. 
Note that the 'enlightenment' being talked about is actually a real on-chain game being played by the CoC community.
Who is Peblo?
Peblo is the leader of the pack, the top cet of the creckhouse, the CEO of 313 Labs and founder of Cets on Creck. To be honest, you shouldn't take him seriously. He said it himself. "I need a little controversy," which led many to believe that he was actually Eminem at one point.
But we don't truly know who he is. In fact, nobody does. From the very beginning of CoC, he messaged his community:
I am Peblo. You are Peblo. We are Peblo.

Peblo69
By our interpretation, this means that there is a Peblo in each and every one of the Cet holders, which is quite sweet coming from a skinny gangster Cet.
There have been countless speculations as to his real identity, the most prominent of which links him to Pablo Rochat, a creative director who has worked with the likes of Adult Swim, Apple, and Nike. His stint with Rick and Morty, in particular, has led some of the community to believe that the CoC collection might be featured on the TV series at some point. After all, a lot of the Cets art features Rick from the animated series, which is an NFT copyright violation if there was no prior agreement between CoC and Adult Swim.
Regardless of whether Pablo Rochat is his real identity or not, Peblo is a marketing genius who has managed to create one of Solana's longstanding blue-chip NFT projects.
Perhaps the most significant detail about Peblo is the fact that he is Indian, after revealing this in a Twitter Spaces AMA. Still, this might be just another one of his 'stunts'. You know Peblo, always looking for controversy.
Cets on Creck NFT Collection
Cets on Creck's genesis NFT collection consists of 6,696 cats sporting trendy streetwear carrying their street attitude and going wild all over the Solana blockchain. The collection has a total of nine sets of traits: background, clothing, eye, hands, headgear, mouth, name, skin, and upgrade.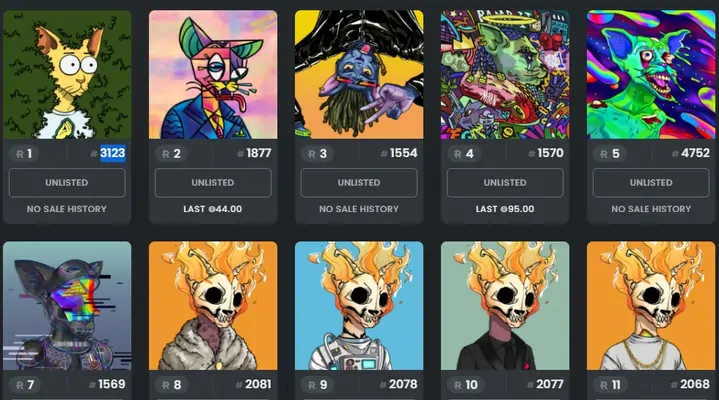 The rarest NFTs in the collection are those that only have one attribute count like Cet #3123 with its name called Ambushy as its only trait. But any Cet with the Burning Skull trait can fetch prices that are orders of magnitude higher than the floor price.
On the other hand, the most common one of them is Cet #6764 with five attribute counts. It has an Aqua background, The Usual skin, Cool Af mouth, Idgaf eye, and Piercing 1 headgear. Note that rarity is an illusion. It exists in the eyes of the beholder, unless clearly defined.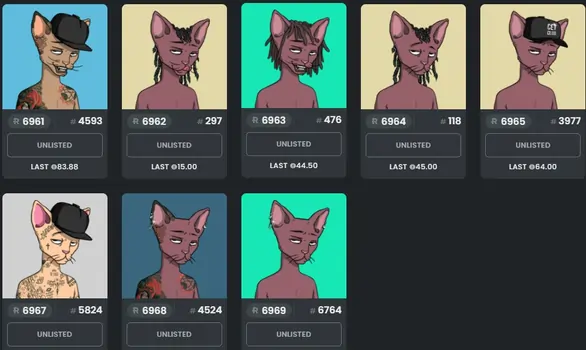 Even Cet #6764 might have many willing buyers because it is also 'naked', which many NFT aficionados are into.
$CRECK Token
$Creck is the economy token of Cets on Creck, which enables the community to:
participate in the cets on-chain game,
buy cets merch,
participate in Creckhouse raffles,
take part in future activations.
CoC clarifies that $CRECK is not tied to any real-world value and isn't meant to have Ponzi tokenomics, which is also the reason why it does not provide liquidity for the token. You simply use it for its intended use case instead of selling it.
Steking (Staking)
Steking Cets allows holders to passively earn $CRECK. We don't know how much is being distributed, but it will likely change over time. If you want to stek your Cet, head over to the steking portal and connect your wallet.
Melk and Glaba
Melk and Glaba are accessory NFTs airdropped to Cets on Creck holders and are currently trading on marketplaces. We know that they definitely have a purpose, we just don't know the full extent yet. In the CoC lore, the Cets truly love their melk, but we don't know much about this Glaba thing. It appears to be some kind of spell of some sort.
Melk was airdropped first, and holders were given two choices: Drink it or save it for later.
Those who drank it enjoyed a 1.25x multiplier on their staking rewards. Those who waited now have the choice to drink the Melk or mix it with the new airdrop: Glaba. Apparently, mixing Glaba and Melk results in a new substance called e-KLEM.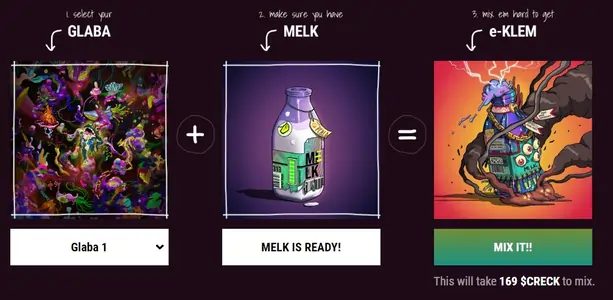 In case you want to do that, head over to the Melk portal and connect your Phantom or Solflare wallet. Note that it costs a certain amount of $CRECK to mix the two substances (169 $CRECK last time we checked).
If you let your Cet drink an e-Klem, it will evolve into a Cet with Glaba trait (check the tweet) below.
Note that this isn't the same as the Enlightenment being portrayed in the lore. But who knows, Peblo seems to hint that it might have something to do with it.
Bleck Market
The Bleck Market is a marketplace that allows users to participate in raffles and auctions hosted by the team.
The raffle section displays the number of allowed entries, winners, and their duration. If you are lucky, you can win whitelist spots of upcoming NFT mints.
Although there were already a few raffle events that happened, the Bleck Market is not yet completely finished. CoC also hints that the auction will also be available soon.
313 Labs: The Web3 Company Behind CoC
313 Labs is a web3 company that builds brands by serving as a place for creativity to foster talents so they can flourish, and provide other opportunities to all. It recognizes the gaps between web2 and web3 and has found a solution in breaking old norms.
313 Labs envisions CoC as its ultimate weapon in establishing the most savage, wildest, and most creative community until it becomes the real symbol of web3. And it aims to strengthen the relationship between brands and consumers like no project has ever done before.
If you like to join the Creckhouse, you can buy a Cet no Magic Eden.
While you're at it, you might as well join our community. We have big plans for the future of web3 and the metaverse.
---
Join our newsletter as we build a community of AI and web3 pioneers.
The next 3-5 years is when new industry titans will emerge, and we want you to be one of them.
Benefits include:
Receive updates on the most significant trends
Receive crucial insights that will help you stay ahead in the tech world
The chance to be part of our OG community, which will have exclusive membership perks