Job interviews can be a nerve-wracking experience, turning even the most confident individuals into bundles of jitters and second-guessing. In the cutthroat world of recruitment, where every answer can make or break your chances, it is important to take all the help you can get. Forget about lucky socks or crystals, meet ChatGPT! 
ChatGPT is an invaluable tool that can significantly increase your chances of passing a job interview. Acing an interview requires tons of research and ChatGPT can provide users with expert guidance, personalized interview tips, and a simulated interview experience.
It can help applicants refine their answers, tackle challenging questions with confidence, and even provide insights into the company and industry-specific knowledge. Stay put and keep reading as we would talk about ways ChatGPT can transform you into a bold candidate and leave hiring managers marveling at your skills. 
How to Use ChatGPT for Your Next Job Interview 
Before stepping into the interview room, adequate preparation is essential. ChatGPT can become your trusted ally by equipping you with the necessary tools you need to pass your interview with flying colors. Here are the best ways ChatGPT can be your interview sidekick. 
Use ChatGPT to Breakdown Job Descriptions
Understanding the job description is not just important in the initial stage of submitting your application. It sets the foundation for tailoring your responses and showcasing your suitability for the role. 
With ChatGPT, you can unravel different layers of the job description to analyze the job requirements and decipher the key skills sought by the employer. ChatGPT can then assist you align your experiences and accomplishments with the specific needs of the role. 
ChatGPT Can Help You With Company Research
It's no secret that impressing the interviewer with your knowledge of the company can make a world of difference in your job interview. With its vast knowledge and up-to-date information, ChatGPT can be a resource for conducting comprehensive company research. 
Whether you're applying to a large corporation or a startup, ChatGPT can help you uncover the essential details that will give you a competitive edge.
By engaging in a conversation with ChatGPT, you can ask specific questions about the company's history, products or services, and recent news or developments.  
Depending on the role you're vying for, ChatGPT can also assist you in identifying the company's key competitors, market trends, and potential challenges it may be facing. This knowledge will not only showcase your preparedness during the interview but also enable you to ask insightful questions and demonstrate your strategic thinking.
Reminder: Immediately cross-check everything ChatGPT says about the company you're looking for. Chances are, it may include some (or a lot) of made-up 'facts' due to its hallucination problem. You don't want to share embarrassingly wrong info in your interview, don't you?
ChatGPT Can Create Mock Interview Questions You Can Practice With
Practice makes perfect, they say, and when it comes to job interviews, truer words were never spoken. With its ability to generate mock interview questions, ChatGPT ensures that you're well-prepared to handle the toughest queries that come your way while sitting across from the interviewer. 
It can simulate different interview scenarios, tailor questions to the specific job role or industry you're targeting. By practicing with ChatGPT, you can refine your answers, work on your delivery, and gain more confidence in your responses.
ChatGPT Can Create Personalized Questions You Can Ask The Interviewer
Towards the end of an interview, the tables turn, and it's your chance to impress the interviewer with thoughtful and insightful questions. But sometimes, the right questions can be elusive. 
Based on your industry, ChatGPT can generate a list of intelligent and engaging questions that reflect your genuine interest in the organization. By leveraging ChatGPT's expertise, you can demonstrate your curiosity and desire to understand the company's future prospects. 
Top Interview Questions to Ask on ChatGPT 
To make informed decisions, interviewers rely on well-crafted questions that shine a light on a candidate's background and abilities. Understanding the significance of these interview questions is key to preparing impactful responses that showcase your capabilities. 
So, let's ask ChatGPT some of the top interview questions interviewers commonly ask, along with potential follow-up questions, and let ChatGPT provide possible answers that can impress your interviewer. 
For this simulation, we would be preparing for an interview for the job role of "marketing manager" in a tech company. Note that we would be asking ChatGPT general common interview questions that can fit any role. Results are for educational purposes only. Metaroids.com (this website) would not be held responsible for interview outcomes using results from this conversation with ChatGPT. 
See also: 5 Game-Changing Prompts Resources for ChatGPT
Hi ChatGPT, I am applying for the role of [Insert role] in a [Insert company]. I want you to provide the best answer to the interview question [insert specific interview question]. Here are my skills and relevant experience [insert skills and relevant experience] This is the job description [insert job description].
Tell Me About Yourself
The typical icebreaker, a question that might seem so simple to answer, but in fact can be complicated when you're put on the spot. Generally, this question serves as an opportunity for you to provide a concise yet compelling overview of your professional journey. 
Interviewers want to gauge your ability to communicate your background, experiences, and qualifications concisely. Let's ask ChatGPT.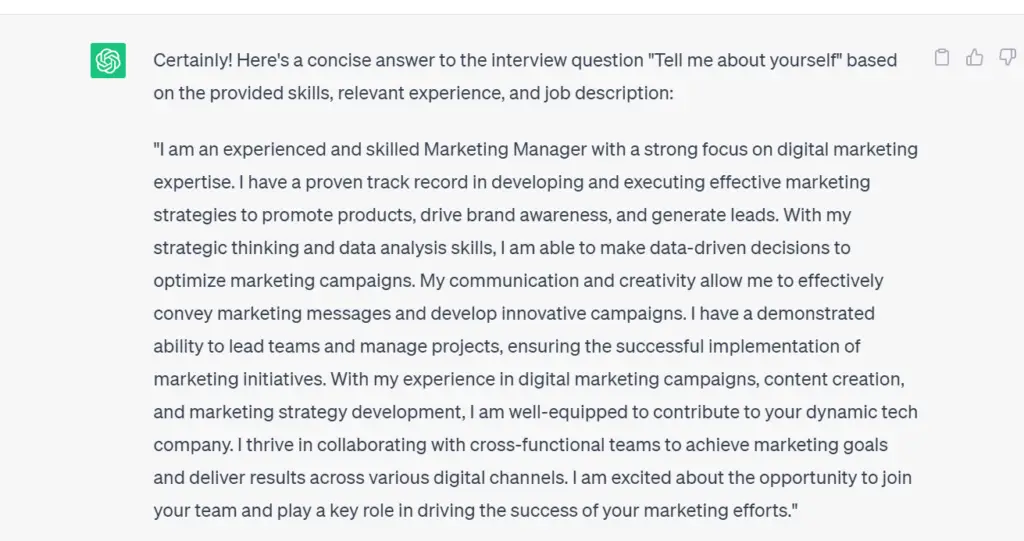 Personalize this answer and add any additional details or accomplishments that highlight your unique qualifications and experiences. 
Possible follow-up questions for this category could include:
How would you describe your leadership style?
Can you elaborate on a significant achievement from your previous role?
You can follow the same format above to get recommended answers from ChatGPT. 
What Are Your Strengths and Weaknesses
By probing into your strengths and weaknesses, interviewers seek to assess your self-awareness and how well you align with the requirements of the role.
It's important to highlight your strengths that directly relate to the position while demonstrating a proactive approach to self-improvement. Here's the answer ChatGPT recommends: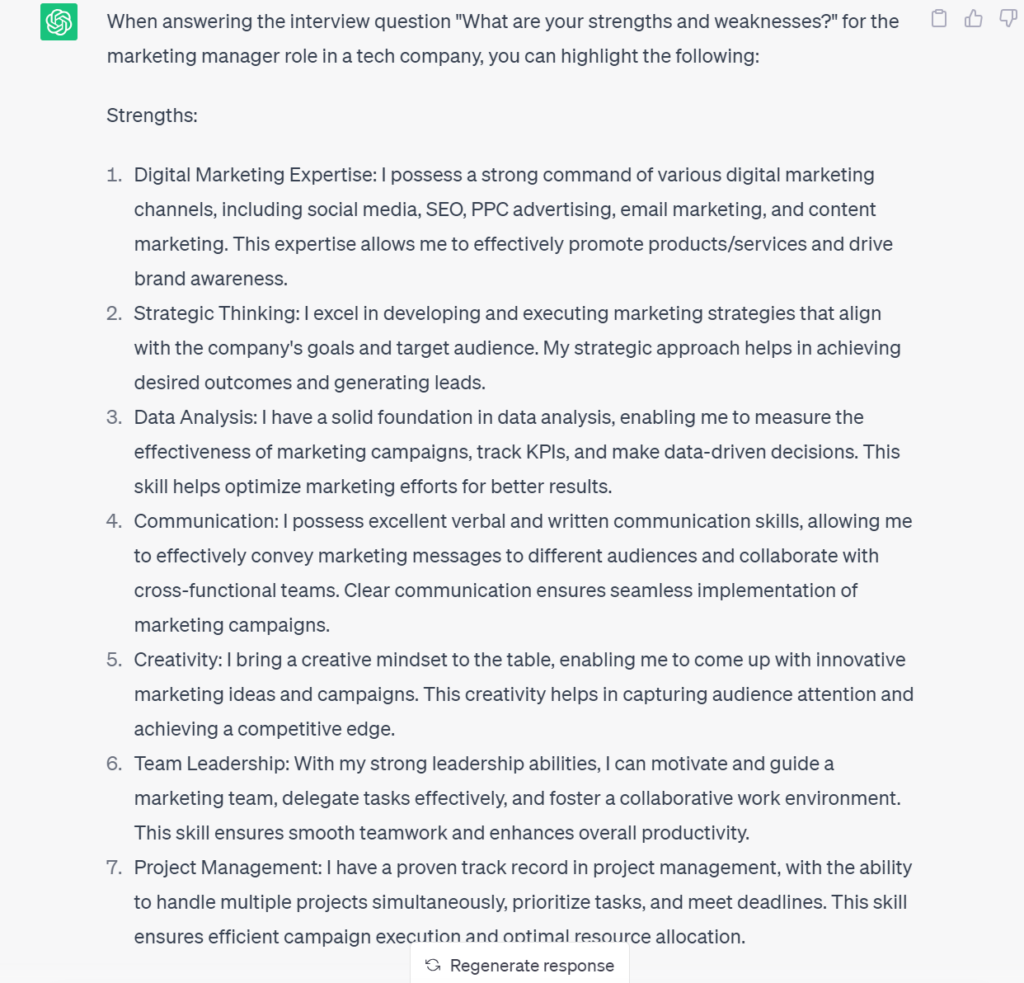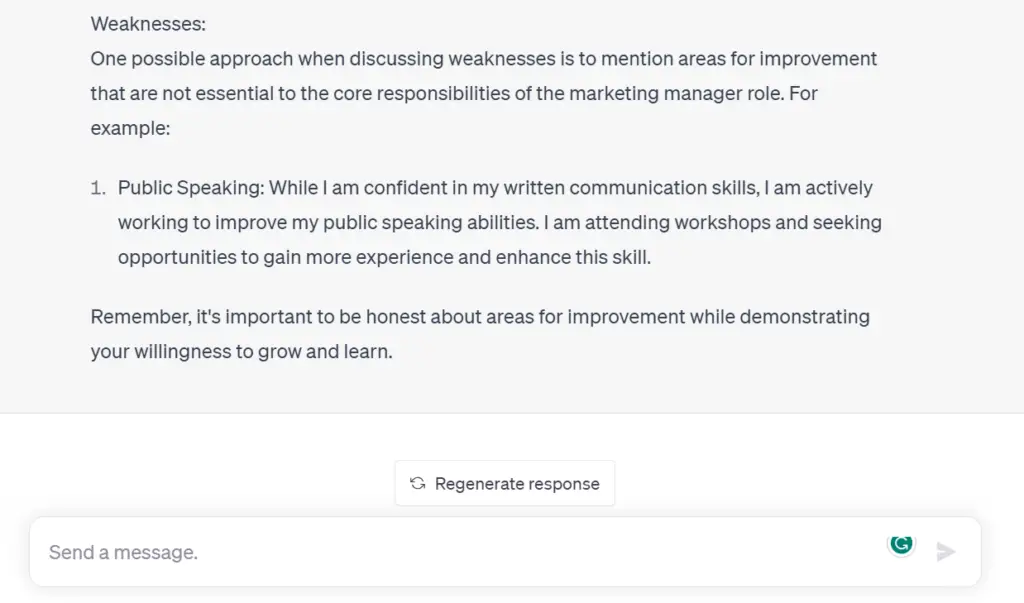 Potential follow-up question in this category might include:
Can you provide an example of how you've utilized one of your strengths to overcome a challenge?
Why Are You Interested In This Position? 
This question explores your motivation and alignment with the company's values and objectives. Interviewers want to determine if you have a genuine interest in the role and if you have taken the time to research the organization. Here's ChatGPT's recommended reply.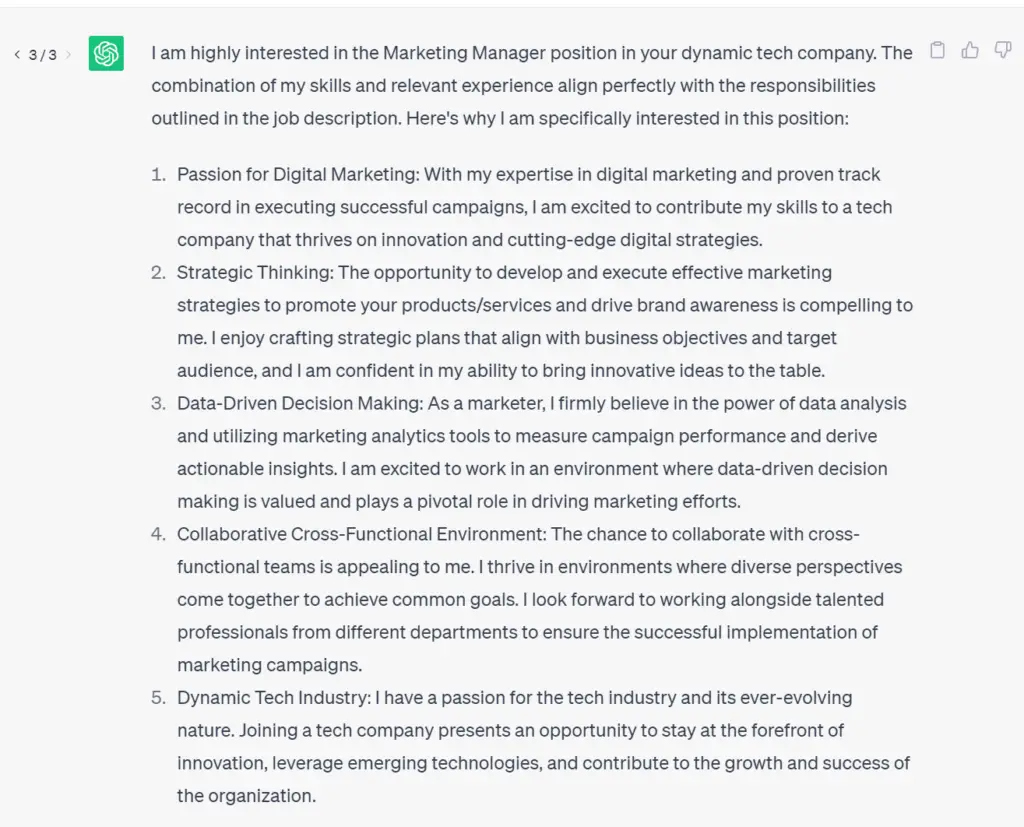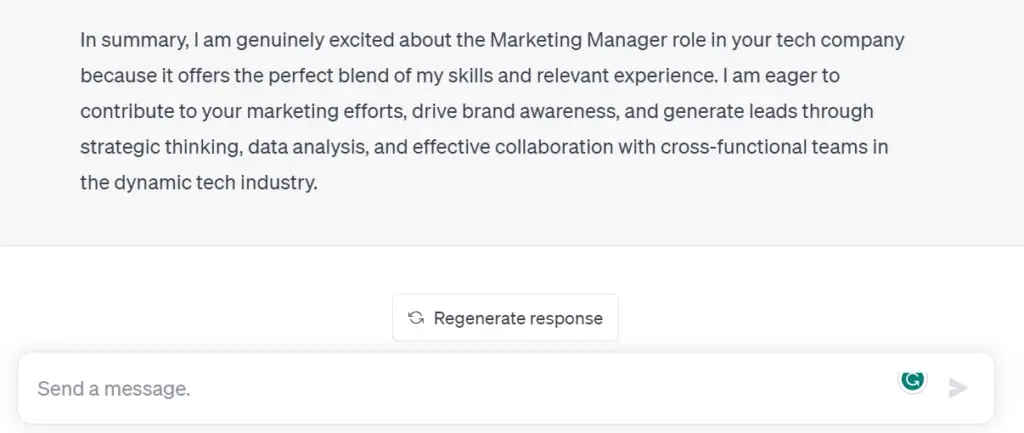 Possible follow-up questions could be:
What aspects of our company culture resonate with you the most?
How do you see yourself contributing to our team and achieving our goals?
How Do You Handle Difficult Situations or Conflicts? 
Employers highly appreciate candidates who possess the remarkable ability to navigate and overcome demanding circumstances while still sustaining efficient and harmonious working relationships.
During the interview process, interviewers are particularly focused on evaluating your problem-solving acumen, emotional intelligence, and aptitude for effective communication, especially when faced with stressful situations.
Below is a reply as recommended by ChatGPT.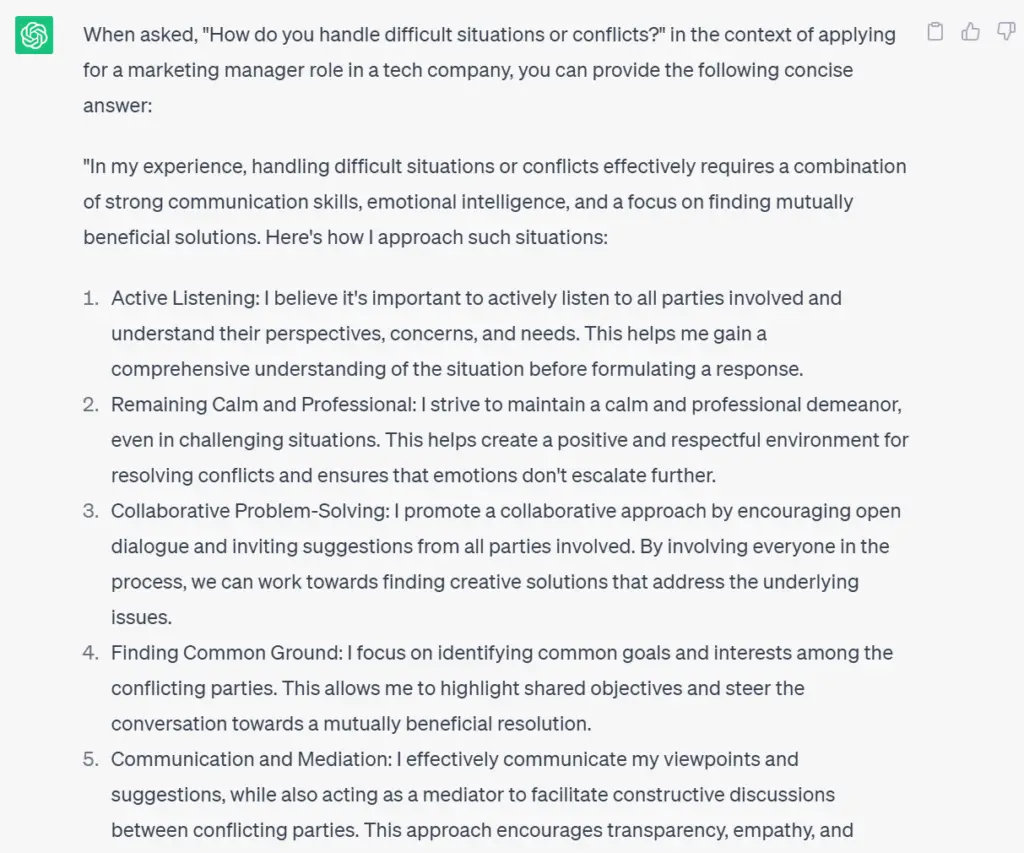 Potential follow-up questions in this category might include:
Can you provide an example of a conflict you've encountered and how you successfully resolved it?
How do you ensure open lines of communication in high-pressure situations?
Where Do You See Yourself in Five Years? 
This question serves as an assessment of several important aspects, including your ambition, career aspirations, and your capacity to align your goals with the trajectory of the company. 
It also allow interviewers to gain insights into your level of commitment and dedication, as well as to gauge whether you possess a long-term vision.
Here's what ChatGPT has to say: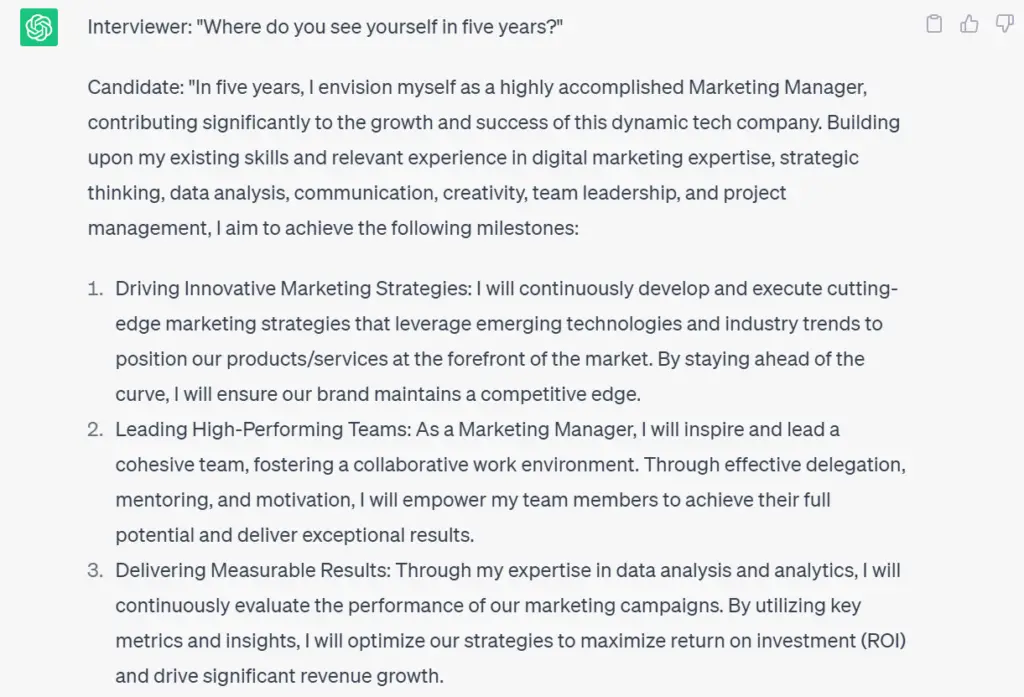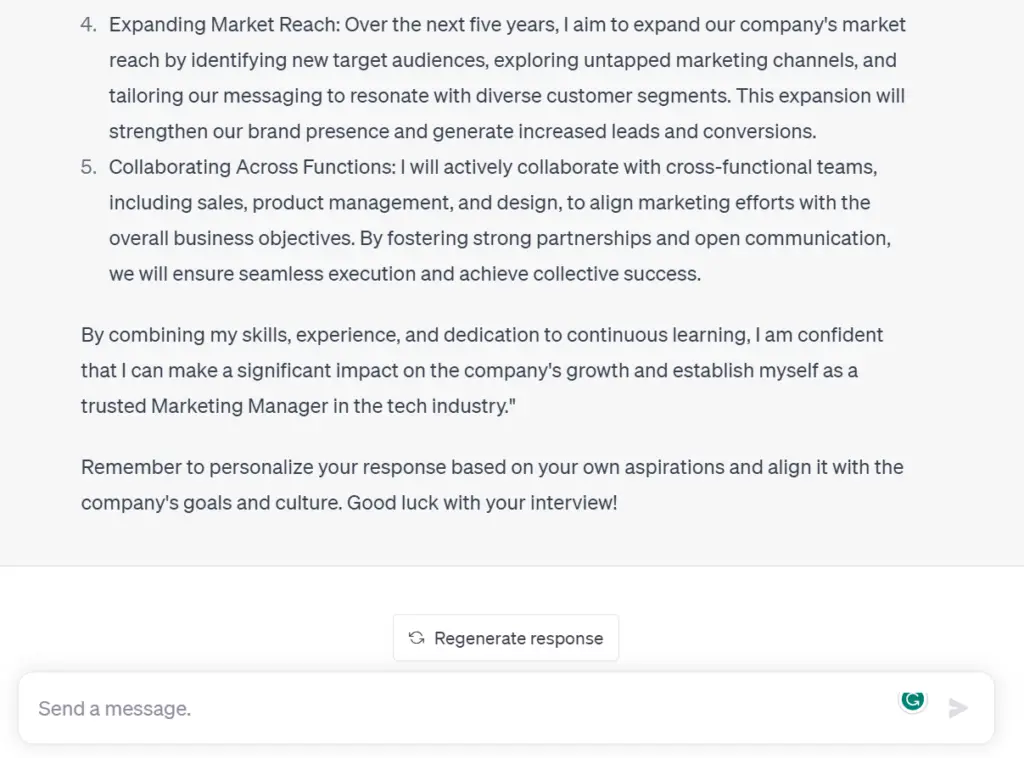 Possible follow-up questions could be:
How do you plan to develop yourself professionally to achieve your long-term goals?
Can you elaborate on how this position fits into your career trajectory?
Remember that you have the flexibility to regenerate a response or simply ask ChatGPT to continue writing further. Feel free to explore different angles, dive deeper into specific queries, or request additional information to enhance the quality of the results.
Is Using ChatGPT to Prepare for an Interview a Good Idea? 
Using ChatGPT to prepare for an interview can be a good idea especially when combined with other preparation methods. 
HR personnel generally don't mind if candidates use ChatGPT for job interview preparation, as it can serve as a helpful resource. However, general sentiments from online discussion groups maintain that honesty and authenticity should be prioritized during interviews. 
While ChatGPT can provide valuable assistance, it is always better to be upfront about your abilities and knowledge. If you encounter a question during an interview that you're unable to answer, it's better to admit it rather than use a vague answer from ChatGPT. 
HR professionals appreciate candidates who are self-aware and transparent about their strengths and limitations. 
Instead of trying to deceive or rely solely on ChatGPT, you can redirect the conversation to other areas of your expertise or interests that showcase your abilities and potential contributions to the company. Use ChatGPT as a supplement to your own knowledge and skills, rather than to mask any gaps in your understanding.
How to Use AI Voice Tools with ChatGPT for a Realistic Mock-Up Interview 
Apart from ChatGPT, you now also have access to other powerful tools like AI voice generators that can assist you in your interview preparation. By combining these two powerful tech, they could create a realistic mock-up interview experience to sharpen your skills.
You can start by selecting an AI voice tool that aligns with your needs and preferences. There are various options available in the market, each with its unique features and capabilities. Now comes the fun part, developing a set of interview questions to ask yourself. Use ChatGPT to generate the type of questions that are commonly asked in your field or specific to the role you're applying for. Consider behavioral, situational, and technical questions to cover a wide range of topics. 
Don't forget to include both common and challenging questions to test your abilities. The AI voice tool can act as your interviewer, and after each question, evaluate your responses objectively. Repeat the mock interview process multiple times. As you progress, make adjustments to your answers, experiment with different approaches, and refine your communication style.
What Are The Drawbacks of Using ChatGPT For Interview Preparation? 
It is important to consider the potential drawbacks of relying solely on ChatGPT for interview prep. Plainly speaking, ChatGPT sometimes lacks the human touch and personal nuances that you would encounter in an actual interview. 
Real-life interviewers can provide you with unplanned feedback, engage in a lively conversation, and even interpret non-verbal cues that say more than words ever could. It takes more than just fancy algorithms to evaluate whether you're a perfect fit for the role.
So, before you dive into the ChatGPT rabbit hole, remember that it's just a tool, a virtual assistant if you will. You can't charm your way into a job with ChatGPT's perfectly crafted answers alone. You still need that je ne sais quoi that only you can bring to the table.
Oh, and speaking of tables, over-reliance can be risky. Research the company independently, because Googling "latest news about XYZ Corp" isn't exactly a task for ChatGPT alone. Practice with your buddies and your mentors.
Conduct mock interviews with real individuals who won't respond with robotic answers. That way, you'll be prepared for all the curveballs that the interview gods might throw at you.
Also read:
Using ChatGPT-Generated Content on The Web: Best Practices
ChatGPT Plus Review: Is It Worth $20/month?
---
Join our newsletter as we build a community of AI and web3 pioneers.
The next 3-5 years is when new industry titans will emerge, and we want you to be one of them.
Benefits include:
Receive updates on the most significant trends
Receive crucial insights that will help you stay ahead in the tech world
The chance to be part of our OG community, which will have exclusive membership perks