If you're reading this article, it's likely because you have a sense that the global economy is undergoing a major overhaul right at this moment. And your intuition is often a good indicator – when it tells you something, you pay attention.
A breakthrough in artificial intelligence (AI) technology transpired not too long ago, yet I already see a lot of panic in the creative sector. And some of them are justified since the machine can indeed do a lot of artistic tasks, sometimes better than a human. By 2035, half of the job market will allegedly disappear.
Shocking?
Mark my words:
In the future, only creatives who can work well with ChatGPT and other AI will be in high demand, as they will be able to bring the most value to companies.
It doesn't matter if you're an artist, singer, writer, or commentator, you are unlikely to make it without this new tool (with very few exceptions). Thankfully, this article only has two purposes:
Illustrate how and why ChatGPT and others like it are going to steal your creative job.
Show you how to stay ahead and thrive.
In case you haven't heard, ChatGPT is a highly advanced AI chatbot that has been trained with a gazillion human texts taken from the Internet. Now, it can generate responses on a broad range of topics with marvelous accuracy. And it could do all sorts of creative work, such as creating content, helping with ideas, drafting descriptions, and just about anything.
I have so much empathy for other creatives like me, which is why I spent days writing this guide (even with the help of ChatGPT). Hopefully, it helps you.
ChatGPT's Impact on Employment: Who's at Risk?
With all the creative tasks we've discovered ChatGPT to be proficient at, there is now a floating misconception that the LLM tool will effectively replace creative jobs, such as content creators, artists, singers, marketers, filmmakers, etc.
But this is only half-true.
While it's likely that artistic professionals who refuse to learn ChatGPT may eventually be rendered obsolete, it's the non-creative positions that are at the highest risk of being replaced. We're talking about tasks that can be fully or largely automated by ChatGPT, such as customer service, translation, data entry, and many others. Even creative assistants who normally draft emails and process data are less likely to be needed in the future.
According to the World Economic Forum's "The Future of Jobs Report 2020," AI is expected to replace 85 million jobs worldwide by 2025. And computer scientist and CEO of Sinovation Ventures, Kai-Fu Lee, predicts that 50% of all jobs will be automated by AI within 15 years. That's a lot of disruption, and it's coming fast.
But before you panic, let me assure you: artistic minds will still be very much in demand! (Keyword here is mind).
ChatGPT and other large language model platforms can handle certain aspects of the work, not the entire creative process. Furthermore, they are not capable of replicating the unique perspective and finesse of a human creative, or achieving a desired level of nuance that can resonate with a tailored audience. Because that's what creatives do; they connect with people.
And that is something AI will struggle with for a long time.
For instance, when you ask ChatGPT to generate jokes, you may be disappointed to find that most of them don't hit. This is because ChatGPT lacks the nuanced understanding of what makes something funny and relatable to people, which is a crucial aspect of the creative process.
So what can we deduce from this?
Well, since AI makes our jobs so much easier, we know that it's not going away.
But if creatives start learning how to use and work with AI models today, they can increase their job security in the future. To succeed in the post-ChatGPT era, it is important to establish a mutually beneficial relationship with AI, much like bees to flowers.
How Creatives Can Thrive in the Era of ChatGPT
To succeed in this new era, it's essential to not only learn how to use this cutting-edge AI tool but also to continually expand your knowledge and skills in order to make the most of it. Moreover, finding ways to stand out in the crowded creative landscape will be key to flourishing in this new age.
Master the Use of ChatGPT and Other AI
Mastering the use of ChatGPT and others like it should be a top priority. As an artist, it is your job to infuse a human touch into every task or project that is completed with the assistance of AI. This includes understanding the specific preferences of your audience and fine-tuning the outputs to ensure it resonates with them on a deeper level.
ChatGPT can hardly do that so it falls on you. But you also need to be proficient at using the tool. Learn to complement the strengths and weaknesses of ChatGPT with your own unique skills and abilities by practicing today. But you have to put in the work, which means "trial and error".
Prioritize Expertise Over Skill Mastery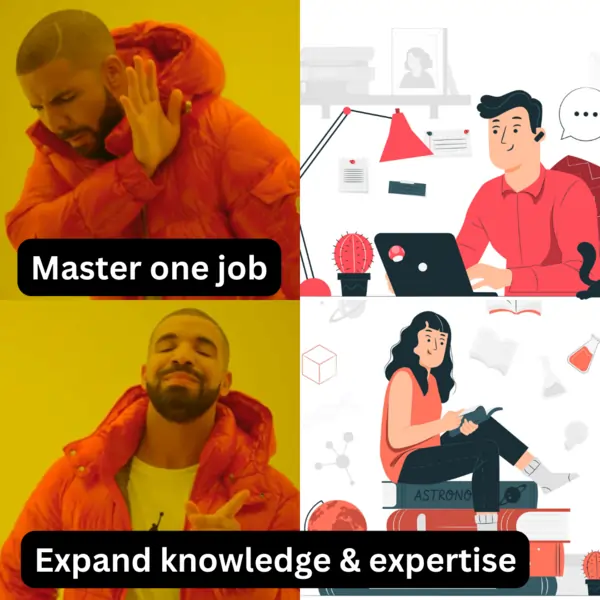 Expertise refers to specialized knowledge of a particular subject or field. In contrast, skill specialization involves acquiring and refining the skills and techniques required to excel in a specific task.
Over time, LLM software will likely become proficient in a wide range of tasks, including those you are currently doing as well as those you have not yet learned. Therefore, having a keen eye for detail and a strong and rich understanding of your subject matter will be more valuable than mastering a single craft.
This isn't to say that you shouldn't strive to learn a new skill. You can't afford not to. But it may be more beneficial to have a diverse set of skills in order to be well-rounded enough to tackle complex problems in the future. The days of overspecialization are over but always strive for continuous learning.
Since its release, more and more people have been using ChatGPT as an alternative to Google Search, and this trend is likely to continue into the future. In a world where accessing information becomes easier than ever, it will be crucial to have a solid foundation of knowledge in your domain.
ChatGPT's answers are not always factually accurate and it is prone to hallucination at times. Therefore, it is important for users to have a thorough understanding of their field in order to accurately assess the accuracy of ChatGPT's responses and easily verify and cross-reference them.
Brand Yourself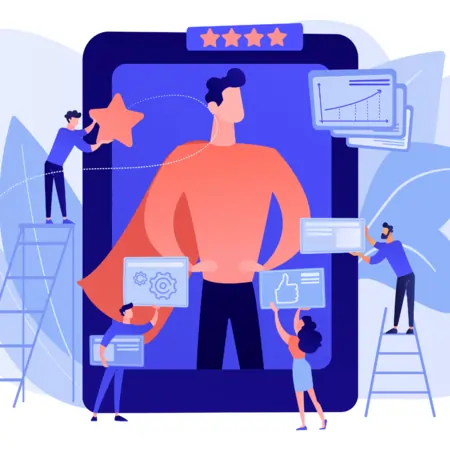 The aim of this article is to explore ways to cultivate forms of intelligence that AI systems cannot automate or perform more effectively. However, it is always wise to cover all bases and be prepared for any eventuality. In light of the rapid pace of disruption we are experiencing, it may be more critical than ever for individuals to consider establishing a personal brand as a way to stand out.
The NFT scene has progressed significantly in 2021 due to a series of events in the broader web3 industry that eliminated many money-hungry players. Now that most of the overinflated hype has dissipated, the industry is poised to unlock its true potential in the near future.
You may be wondering why this is even relevant.
NFTs essentially enable creators, brands, and other public figures to develop deeper, more direct connections with their fans, audience, or customers. In a world where much of human intelligence is being replaced by AI, NFTs provide a way for individuals and businesses to stand out and differentiate themselves. It's another one of those technologies that might take a while to fully wrap your head around but will prove invaluable in the long run.
OpenAI founder Sam Altman has said on numerous occasions that the cost of intelligence (and energy) is trending towards near-zero. Obviously, there are different types of intelligence and AI will likely fall short of some of them. But ultimately, most aspects of human intelligence will be used to train machine models.
One of the most exciting opportunities in branding in the digital age is the ability to maintain privacy. If you prefer to keep your personal life private, you can opt to create a digital identity or online persona. This is a common practice in the web3 scene. See our Pfp NFTs guide to learn more.
Examples of How Creatives Can Use ChatGPT
Let's explore the different types of creatives and how they could make use of ChatGPT today.
Content Creators
Includes: bloggers, YouTubers, podcasters, journalists, news writers, etc.
As a content creator, ChatGPT is an invaluable tool for generating new ideas and providing inspiration. Whether you're creating blog posts, videos, podcasts, or other types of content, the AI can help you come up with catchy and attention-grabbing titles to boost your content game.
You can even use it to write or enhance certain sections of your content, but be careful not to rely too heavily on copy-pasting, as it can lead to generic and unoriginal content. Two of my favorite ChatGPT tricks are crafting responses in a specific tone and converting notes into polished content: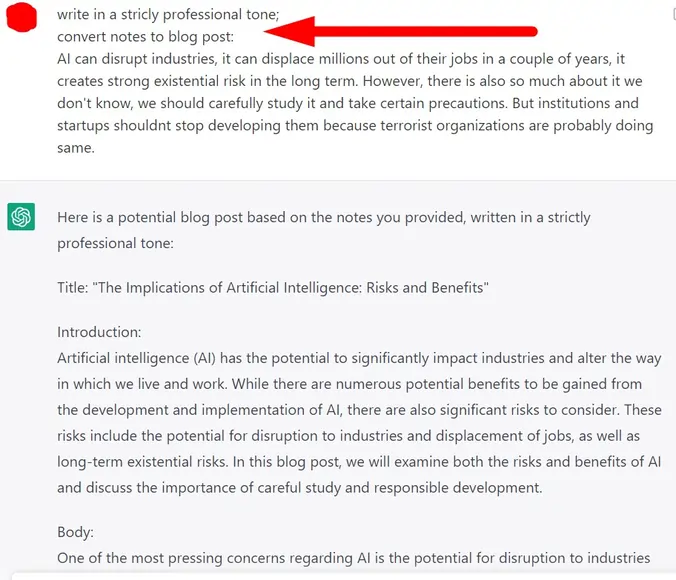 It actually generated a decent 400-word copy on the requested subject. While it may not be up to the standard of content that I spend hours crafting myself, it shaves off a significant amount of the work – approximately 50-80%. Now, all I have to do is add my personal touch and change a few sections and wording to match my true message. This makes a huge difference in my workflow and allows me to produce high-quality content in a significantly shorter time.
If you're not a wordsmith or if English isn't your first language, ChatGPT is even more helpful. Instead of getting bogged down by grammar and syntax, you can simply input your ideas and it will output a polished, ready-to-read version that has been enhanced for clarity (and some flair if you ask).
And you can apply these techniques to any medium of content.
To get the best results, it's vital to view ChatGPT as an assistant rather than a full replacement for your own creative process. Use ChatGPT to supplement ideas and streamline workflow, but remember to bring your own unique perspective and voice.
Writers
Includes: fiction and non-fiction authors, video game lore developers, scriptwriters, movie makers, poets, screenwriters, comedians, etc.
Like content creators, writers of all specializations can use ChatGPT to generate ideas and kick-start their creative flow. With the ability to tailor its brainstorming capacity to your specific needs, you can say "goodbye" to writer's block – something that even Google Search struggles to help with.
The AI's ability to understand and analyze context enables it to effectively address the specific goals and needs of writers, and potentially even generate more original and creative ideas. For instance, let's say you want to create a side character for a video game: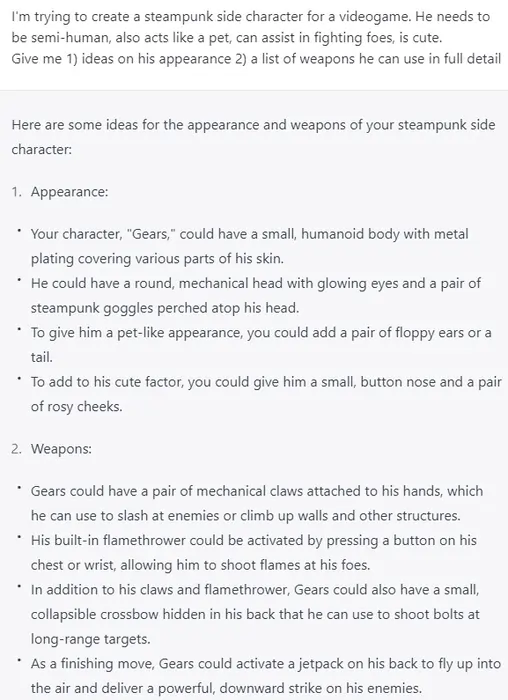 You can apply the same techniques for brainstorming all sorts of characters, world settings, backstories, magic systems, you name it! Furthermore, this is only the start. You can actually ask it to flesh out your ideas further.
The key is to strike a perfect balance between ChatGPT's generated responses and your own original ideas. The more original and unconventional ideas you have, the better the results. Although, we've also heard of a YouTuber who created the first fully AI-written and -directed film, but so far, it was too bland (at least for my taste).
For comedy assistance, I gotta say it's really bad. Comedian-commentator Reese Waters panicked after seeing ChatGPT's capabilities, but truth be told, its humor is lame. I attempted to use creative prompts to generate jokes, which, unfortunately, had limited success. There are currently too many restrictions on what is considered "appropriate" content, resulting in the output being too clean, lacking the edge or absurdity that can make a joke truly funny.
I predict that ChatGPT will eventually allow fine-tuning of its parameters to allow for content that may be "unsuitable for all audiences," if you catch my drift. Its other versions like GPT-3 already have an API for this.
ChatGPT is okay when it comes to poetry though. It was able to generate some decent outputs, but again, you have to be creative in your prompts. The clearer and more detailed your inputs are, the better the results become.
Artists
Includes: digital artists, painters, musicians, lyricists, sculptors, photographers, etc.
Whether you're a singer polishing the lyrics of your upcoming single or a digital artist seeking inspiration for a new piece, ChatGPT can assist you. It can provide inspiration for themes, subjects, and styles for you to explore. Furthermore, it can offer valuable support and insights no matter what stage you are in the process.
For AI artists, you can use it to generate prompts for your artwork. In fact, someone was able to use ChatGPT to generate prompts for fashion trends of 2023, which gave way to stunning, unconventional, and futuristic depictions when used on a text-to-image AI tool.
Again, the current limitation is its strict guidelines on appropriate content. It doesn't even provide lyrics inspiration for pot usage. It's hard to work with rap music. But this is very likely to change. For now, you can settle for the "clean" parts of your art.
I asked it to give tips to improve the lyrics of the song I Like You by Post Malone ft. Doja Cat, and frankly, I don't know if this good advice or not. You be the judge: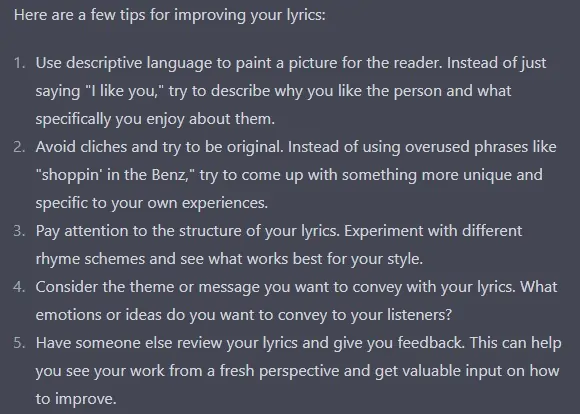 Marketers
Includes: Digital, social media, and other types of marketers, graphic designers, etc.
Marketers often have to create a wide range of content, including social media posts, emails, landing pages, and more. ChatGPT can be a powerful tool to supercharge this process by generating high-quality, original copy and even offering keyword suggestions. This can massively cut the cost of businesses that seek to reach and engage with customers online.
As a marketer in this day and age, you can't afford to not have "ChatGPT expert" written on your CV.
In addition to helping with content creation, ChatGPT can also assist with SEO optimization. By identifying relevant search queries, ChatGPT can help marketers ensure that online content is visible to potential customers.
As mentioned earlier, there is also a version of ChatGPT called GPT-3 that offers an API for creating chatbots, which marketers can fine-tune to fit their niche or business. These bots can shave off a lot of manpower by taking care of your customer service needs, allowing you to focus more on critical tasks.
As an example, I asked it to generate viral campaigns for a fashion company that sells sustainable clothing, and here's what it came up with:
1. Launch a social media challenge where customers are encouraged to share pictures of themselves wearing your sustainable clothing in unique or creative ways.
2. Partner with a popular influencer to create a limited edition sustainable clothing line and promote it through their social media channels.
3. Create a "before and after" campaign showing the impact of choosing sustainable clothing on the environment.
Only the Best Will Survive
Although the integration of AI into our society could bring about a modern utopia, it is important to acknowledge that this transition will not be without its share of pains. As ChatGPT's capabilities become more widely recognized, we can expect a boost in productivity within the creative sector. This, in turn, will compel companies to seek ways to streamline their operations and resort to layoffs in order to remain competitive.
They have no choice. It's a harsh winner-takes-all world that we live in.
But those who are able to form a symbiotic relationship with ChatGPT and other AI will have the advantage since they'll be the type of creatives that can bring the most value to companies. So let us embrace the future and the possibilities it holds, while also acknowledging the challenges that lie ahead.
I hope this article helped you in some way. If you want to seek ways to thrive in the future, that is everything I'm trying to figure out. Please join me.
If you want to know the different things you can do with ChatGPT, check out our Ways to Use ChatGPT to Make Life Easier.
---
Join our newsletter as we build a community of AI and web3 pioneers.
The next 3-5 years is when new industry titans will emerge, and we want you to be one of them.
Benefits include:
Receive updates on the most significant trends
Receive crucial insights that will help you stay ahead in the tech world
The chance to be part of our OG community, which will have exclusive membership perks