Can you really experience the metaverse without having to purchase those shiny and ultra-expensive VR headsets? The answer would be a short, sweet Yes.
Portals, Solana's first major open builder metaverse project, aims to democratize the metaverse by lowering the entry barrier and allowing anyone to access its immersive world through a web browser. It's a literal 'portal' to a new experience, teeming with potential, with a rising user base and brands jumping inside its city.
If this sounds interesting, come and let's explore this promising virtual world.
What is Portals Metaverse? 
Portals is a browser-based metaverse where virtual users, non-fungible token (NFT) collectors, and gamers can create their own digital spaces and socialize in an interactive city called 'Downtown.' The digital space is based on the Solana blockchain. 
The platform's biggest draw is its space creation, which allows players to utilize user-friendly drag-and-drop tools to build their ideal homes (or an entire district!). Not just homes actually, but also offices, storefronts, and any establishment that can make their metaverse life more convenient, profitable, and exciting. 
In fact, you can try Portal's fun building features at its single-player demo space, where you can customize a digital space by rearranging furniture and adding interactive elements. 
Moreover, the platform makes it easy for everyone to socialize as players only need to send their Portal URL link to let their friends hang out in their spaces. 
These URLs also come with voice, chat, and proximity audio features, making it convenient for players to instantly launch gatherings such as town hall modes or screen sharing. 
Furthermore, it removes a lot of friction for blockchain natives as they won't be required to download an application or purchase expensive equipment just to experience an immersive environment. In fact, it works with browsers such as Google Chrome and Microsoft Edge, which almost everyone with a PC or laptop already has! 
One of the clear signs of Portal's big potential is the presence of big web3 firms, such as Binance.US, FTX.US, and Audius (music-streaming service), inside its platform.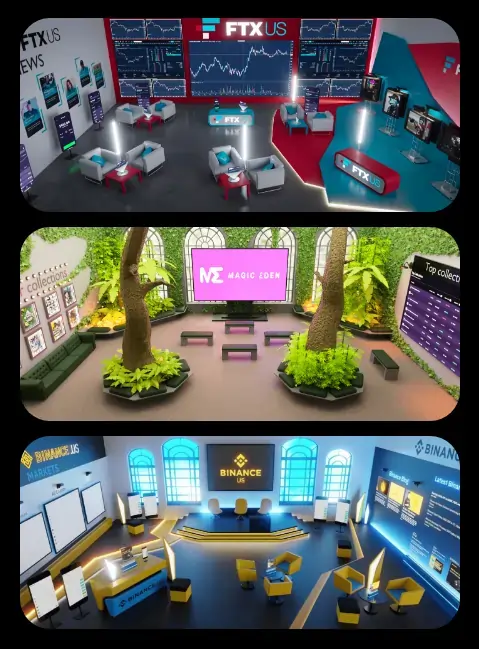 And each of their virtual headquarters offers customized experiences for players, making Downtown a more lively place to live in. Just imagine if more brands would enter the platform! The more experiences there are, the faster its user base grows, which has the potential to unleash massive network effects that could rival even Decentraland (or Meta).
But before getting inside Portal's Downtown, you'll be required to purchase one of various NFT access cards called: Ivory, Onyx, Vision, and Citizen cards. We'll have a deep dive into these exciting cards later in the article. 
3 Ways to Build Structures in Portals 
Spaces 
Spaces allow you to customize your interior space using the drag-and-drop tools provided by the Portals editor. 
You shouldn't be worried about the building process as it is designed to be convenient and easy to understand. In fact, it doesn't require any developer background or any hardcore design expertise from its users. It's just you, Portals' simple tools, and your limitless imagination. 
As mentioned before, you can instantly invite your friends to check out your Space right after building it just by sending them a URL link. You can also switch between day or night mode, insert interactivity to any digital items, and embed HTML5/webpages for full-blown customization. 
District 
The District feature allows you to create an entire district in the Downtown city based on your preferences and imagination using Portals' convenient builder tools. 
It equips you with the ability to customize both the interior and exterior parts of buildings, including their colors, lights, and even logos. You can only create a District if you purchase one of Portal's real estate cards called Ivory, Onyx, or Vision from Magic Eden, or OpenSea marketplaces. 
Look at the floor's awesome details! 
Players can also visit their chosen Districts through 'Portal Grand Terminal Map' or through Space's URL link. To test the waters, Portals created an experimental district called 'Preview District Zero,' formed by Solana, Magic Eden, Binance.US, FTX.US, OpenSea, and Audius. 
District was launched last October 2022 and is currently on Beta access. Portals even launched a contest for Real Estate NFT holders to create the most creative District they could establish using their available tools. You can check out their amazing Districts by searching #PortalsDistrict on Twitter. 
Experiences and Mini-Worlds 
Experiences and Mini-worlds are Portal's ultimate customization features, allowing citizens to create full 3D models and exceed what Spaces and Districts can achieve in digital building. 
To tap this 'god-level' customization, players would need to purchase any of the platform's Real Estate NFT cards. But despite its impressive features, there is one catch though: It will require heavy design and development resources when users create digital structures. 
In other words, Portals browser editor cannot be used for creating mini-worlds because of the feature's heavy technical requirements.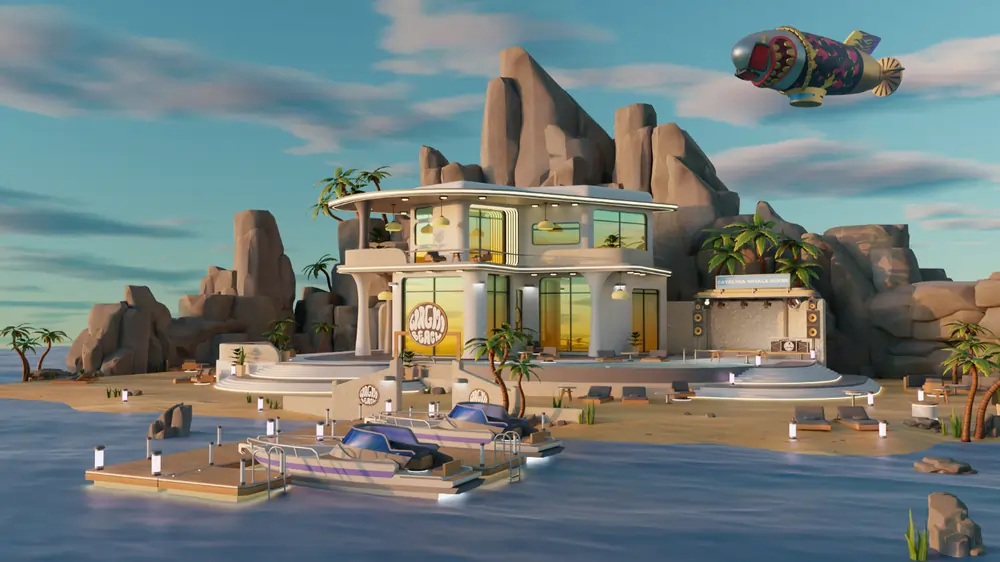 This tool is currently in the planning stage and is not yet available for users, but you can check out Portal's experimental mini world for WAGMI Beach, a web3 entertainment studio that founded two prominent SOL projects: Catalina Whales and Bubblegoose Ballers. 
What are Portals NFT?
Ivory, Onyx, and Vision Cards 
Portals NFTs are access cards that allow you to buy valuable plots of land in Downtown and tap the metaverse's full benefits. These cards are called Ivory, Onyx, and Vision with Ivory offering the smallest land plot while Vision provides the largest ones. 
Some of the top benefits you can gain from these cards include renting out your space, integrating HTML and games on your properties, inviting large groups to start an event, and more. .
These access cards are now available at Magic Eden or OpenSea. 
Citizen Cards 
Citizen cards allow you to have a small personal space in Downtown even without owning land or purchasing Real Estate NFT cards. 
This card comes in three types: Genesis (The OG cards), Standard, and Partner (built for partner brands). 
The first half of the Genesis cards (5,000) and Standard cards (which can potentially increase in supply) are now available at secondary marketplaces. The second half of the Genesis cards (the last 5,000) and the Partner cards will soon be announced. 
In case you already own one of Portal's Real Estate virtual cards, then you'll get these citizen cards for free. But if not, you'll have to purchase them on Magic Eden or OpenSea. 
Pod 
The Pod will be your personal space at Portal's Downtown, which you can acquire by having a Citizen Card. 
This space allows you to experience Downtown even without owning a pricey land plot in the metaverse. But do expect that you'll have limited experience compared to Real Estate NFT owners.
In your Pod, you can invite up to three friends, kickstart a voice chat, rearrange your room, and display your favorite web3 digital assets for added personalization.
Portals Founders 
          Key Members 
    Roles 
      Work Experiences 
Adam Gomez 
Co-Founder 
Game Applications 
Marketing 
Worked for Microsoft, Marvel, Disney, Riot Games, and Blizzard 
Wakawakajaq (waka-waka-jaq)
Discord username 
Co-Founder 
10+ years of experience ithe augmented/virtual (AR/VR) industry. 
Worked for Microsoft, Disney, Riot Games, and Blizzard. 
Chlchlchl 
Discord username 
Communications, Partnerships, and Community Manager
15+ years of experience in partnership and community building 
Portals Execs
Portals Backers 
When Portals sold its NFT Spaces last November 2021, it didn't take long before big investors took notice of its big potential. Recognizing Portal as a 'portal' for new opportunities, Greylock initiated a $5 million seed funding round for the platform last February 2022. 

It was also participated by prominent venture capital firms, including Solana Ventures, Alameda Research, and Multicoin Capital. In fact, even Twitch co-founder Justin Kan also jumped in. 
---
Join our newsletter as we build a community of AI and web3 pioneers.
The next 3-5 years is when new industry titans will emerge, and we want you to be one of them.
Benefits include:
Receive updates on the most significant trends
Receive crucial insights that will help you stay ahead in the tech world
The chance to be part of our OG community, which will have exclusive membership perks