WAGMI Beach is building a web3 Disney for adults, and the Catalina Whales are their Mickey Mouse.
The non-fungible token (NFT) space brought glory to the underdogs, from degenerates to punks, from apes to small animals, stoners to 'okay' people; the list goes on. People typically root for the little guy, and there is a lot of science behind why we favor David over Goliath.
But what about those who have already 'made it' in life? Those who have done their dues and are already reaping the fruits of their labors? Don't they deserve a brand and community to vibe and identify with?
The underserved market segment of whales and would-be whales is where Catalina Whale Mixer laid the foundation for its franchise.
In the crypto space, 'whales' refer to individuals that hold large amounts of assets; i.e. Jack is a Solana whale as he holds $1M worth of SOL. But that need not be the case as Catalinas see themselves as whales in business, life, or culture, extending beyond financial aspects.
To be a Catalina Whale is to go big, to expand further than what you've already achieved. And indeed, its goal of carving out a niche for itself in the entertainment industry is nothing short of grand, to say the least.
What is Catalina Whale Mixer? 
Catalina Whale Mixer (CWM) is a Solana-based global entertainment franchise created for whales and aspiring whales, represented by an NFT collection of 5,555 hand-drawn 2D whales. CWM intends to develop a fictional universe through TV animated shows, music, and IRL events, offering fully-loaded utilities like event access, exclusive mints and drops, and a whole lot more.
The project, which is currently one of the most talked-about NFTs in the Solana-verse, is the genesis collection of WAGMI Beach, a web3 tech and entertainment studio. 
The whale collection is equipped with a total of 165 traits, including background, body, clothing, mouth, hair hole, and glasses, which have created rich visuals for each individual Whale.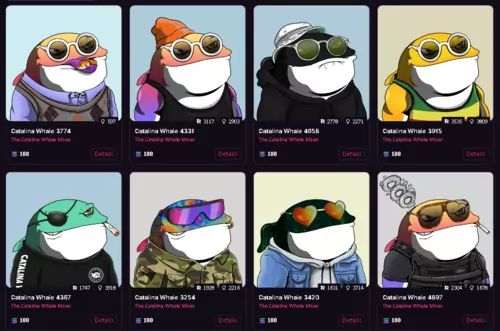 Catalina whales are simple by design, sporting fun, colorful and cartoony aesthetics.
Besides honoring the "Whales" in business, life, and culture, CWM also aims to involve the community in the creative process. Instead of being on the passive and content-consuming side, the community will have a more active role in CWM's creation of homegrown intellectual properties (IPs). With the community as one of the major foundations of its creations, CWM hopes to create a universe rich in visuals, narratives, chapters, and characters. 
Let's dive into the different components of its ecosystem.
The Annual Mixer 

The CW Mixer is a major conference-beachside bash where whale holders gather in one place, particularly in or near water. The first mixer will launch in Q4 2022 (subject to change) while the event's location remains tentative as the team is still narrowing down on the best place to celebrate its much-awaited conference.
The iconic Santa Catalina Island is already on the team's shortlist, but nothing is set in stone yet. 
Whale Television 
Whale Television is a planned 30-minute animated adult comedy series starring Catalina Whales themselves. As one of the unique offerings of the collection, the team is currently collaborating with the globe's finest animators, production studios, and TV writers to create a top-caliber animated show.
As the team states: think South Park meets Silicon Valley for the NFT & crypto generation.
The polar ice caps have melted, the Earth's surface is covered with water and humans are nearly extinct. The elites fled the Earth in space shuttles and now live on Mars in Elon's colony. The few left behind live on boats as warring tribes of pirates in a new Dark Age. However, under the Earth's water-y surface there is a new Golden Age being experienced by anthropomorphic whales, who now dominate the planet.

Catalina Whale TV synopsis
Community Auditions 
As stated earlier, the cast of the series will be the whale NFTs, giving holders the chance to have their NFTs star in an exciting TV role, which could possibly propel it to celebrity Whale status.
As the Catalina Whale lore expands, the team will launch series-specific new drops over time, which will also be added as characters to the series, acting as a bridge for every new season. 
What are Diamond Fins?
Diamond Fins is a special group of loyal holders holding Whales not listed on any NFT marketplaces for more than 30 days. It currently has two versions of its portal, with V1 already live and V2 undergoing a few more streamlining before it officially rolls out. Every holder in the Diamond Fin can attain three levels of status depending on the number of their unlisted Whales and duration of holding: CWM's official tier of Diamond Fins is as follows: 
| | | | |
| --- | --- | --- | --- |
| Tier  | Status  | Number of Unlisted Whales  | Holding Duration |
| Tier 1 | Diamond Fins | 1-4 | 30+ days  |
| Tier 2 | Pod Captain | 5-9 | 30+ days  |
| Tier 3 | Pod Father  | 10+ | 30+ days  |
Whale's Writers Room 
Writers Room offers 'Diamond Fin' holders the chance to bring out their storytelling skills and share their rich experiences to help make the CWM world more vibrant.
Whale Records 
Whale Records is an initiative that aims to turn the Catalina Whales into international music superstars. Yes, you're NFTs will have music videos too.
Lucky whale holders will have a chance to be part of the platform's music "supergroup," which will soon make extensive music records and tours worldwide, just like all-star groups in real life! The team and community of holders will have prominent roles to play in the success of Catalina Whale's upcoming splash into the vast ocean of the music industry. 
The WAGMI Beach team will work closely with the holders of the chosen Whales to form incredible and disruptive ideas for the music group. The community, for its part, will also work with the team to create natively-produced music for the Whales. 
Remarkably, the team has over 15 years of experience in the music industry, from signing and producing hits, launching record labels, managing artists, and many more.
IP Rights
Holders will be given intellectual property (IP) rights to their whale NFTs, which will allow them to build stuff off the backs of the Catalina Whales franchise. This means that you can create a brand, identify, business, content, sub-community, or whatever you can think of around your Whale.
Note that the team will also have the same rights to all NFTs in the collection, as a select few Whales will be featured in the upcoming animated series.
Merchandise 
Holders belonging to the Diamond Fins group can claim free premium merchandise, depending on their tier. 
| | | |
| --- | --- | --- |
| Tier  | Status  | Freebies  |
| Tier 1  | Diamond Fins | Select 1 free t-shirt  |
| Tier 2 | Pod Captain  | Select one free t-shirt and one hoodie  |
| Tier 3 | Pod Father  | Select three t-shirts, two hoodies, and one hat  |

POW Points 
Holders who belong to the Diamond Fins can boost their status by garnering "POW" points. The number of points they can gain will depend on their activeness in community activities and staked Whales. The more POW points holders earn, the bigger rewards they can expect, including Private Whale Dinner invites, Whale TV and Records auditions eligibility, surprise physical freebies, and more.
Who Created Catalina Whale Mixer?
The Catalina Whale Mixer was created and launched by WAGMI Beach, a web3 technology and entertainment studio that aims to establish original IP on the Solana blockchain, as its genesis collection.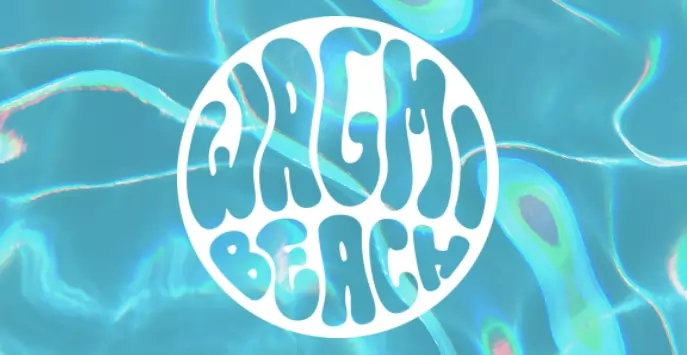 The team consists of Michael George, Carlo Fox, Benjamin Willis, Joshua Andriano, Arshard Wala, and Alec Lykken.
George, Fox, Willis, and Andriano were also founders of Wave7, a web3 investment group that has funded 25+ projects including Metaplex, Saber, DefiLand, Chingari, etc. Considering how successful Metaplex and Saber are, it's safe to assume that these people are whales.
Before that, most of the team was heavily involved in music. George actually worked with Martin Garrix since day one and has signed his hit single 'Animals' to Republic Records.
The same people are also responsible for Bubblegoose Ballers, its second drop.
What Makes Catalina Whale Mixer Special? 
There are three significant reasons why CWM is a valuable investment for holders:
The Team
The WAGMI Beach team has a decade and a half of experience in the music industry, a sector that the project is closely pursuing, which makes it well-positioned to lead the community in getting into the big leagues in the entertainment industry. Moreover, music and showbiz are closely tied, which would likely ease its foray into television with its planned animated series.
The team is also non-anonymous, unlike many NFT project founders. This alone gives them an edge in earning the trust of the community.
Powerful Branding
CWM serves a community that seeks to identify themselves as Whales (not in a literal sense). Note that Whales come from all walks off life. What they do have in common is influence.
They can cause asset prices to rise or fall depending on their positions, persuade society through soft power, and above all, take control over their lives.
Most projects romanticize the underdogs while few represent individuals that have or are aspiring to have higher status. I don't know if WAGMI Beach actually saw this gap in the market and acted accordingly, or if they were just whales IRL that decided to create a community they could vibe with. Either case is equally impressive.
These guys may just have been bigshots who created a project and community for bigshots and aspiring bigshots.
Utilities
The Catalina Whale Mixer project has a long list of utilities, as laid out in this article, and a whole lot more in the future. This is the only project where the team is developing an animated TV series, a recording studio, multiple new drops coming, IP licensing rights, merchandise, and more
How to Buy Catalina Whale NFTs
You can buy whales on NFT marketplaces that sell them. You will need a web3 wallet like Phantom (click for our guide) to store them, as well as some SOL to pay for the NFT plus fees.
If you're new, you may also check our Magic Eden guide.
Conclusion
Penetrating the television and music industry is a feat no NFT project has claimed, but WAGMI Beach is already in final talks with the right talent and partners. But this alone isn't enough for success. We will have to see how well its shows and music will perform in time.
Beyond showbiz, CWM sells the lifestyle of working hard, achieving success, going to beach parties, and living life to the fullest. Whether its NFTs are worth the value they bring is all up to you, anon.
---
Join our newsletter as we build a community of AI and web3 pioneers.
The next 3-5 years is when new industry titans will emerge, and we want you to be one of them.
Benefits include:
Receive updates on the most significant trends
Receive crucial insights that will help you stay ahead in the tech world
The chance to be part of our OG community, which will have exclusive membership perks