What happens when a legendary producer joins forces with a bluechip web3 studio?
Bubblegoose Ballers happens!
And they come to inspire everyone to fly high, live their lives to the fullest, and express themselves freely.
By penetrating the entertainment industry, the project aims to supply the world with ground-breaking cartoons and fun non-fungible tokens (NFTs) through the team's wealth of experience, years of production knowledge, and industry resources.
What is Bubblegoose Ballers?
Bubblegoose Ballers is an NFT collection of 10,000 cartoon geese that represent a community of dream chasers, AKA 'ballers', ushering in a new paradigm for the television industry through its upcoming adult animated series and more.
Bubblegoose is a collaborative project between prominent TV producer Carl Jones and WAGMI Beach (the same company that created Catalina Whale Mixer).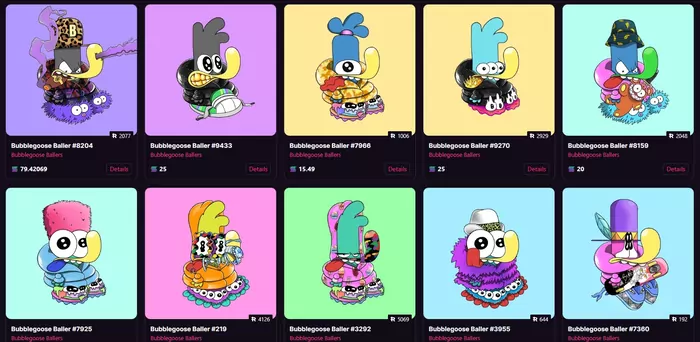 The project intends to attract a community of 'ballers,' which according to Google, means: a successful person, typically one who has a lavish or self-indulgent lifestyle. But it turns out that being a Bubblegoose Baller is bigger than just being a baller, as stated by Mr. Jones:
To be a Bubblegoose Baller is to be someone that takes risk, bets on themselves and overcomes odds. A dream chaser, who knows how to make something out of nothing. Someone who's ambitious and courageous to a fault.

Carl Jones
It operates a gated Discord group, where only holders of the NFT can access most of the channels, which is where the community hangs around, besides on Twitter.
Its mission is to develop an innovative multimedia company that involves its community of holders to the creative process in producing animated shows.
Upcoming TV Series
Carl Jones and his production team are working on a new adult animated TV series starring the Bubblegoose Ballers. This means that some of the holders could have their NFTs star on the show, elevating their geese to fame.
Moreover, the community will actually partake in the creative process, as implied in the Community Writers Room in the roadmap.
The crew is currently finishing the production bible, developing the script, and searching the best animators to bring the show to life.
FUBU / Bubblegoose Merchandise
Since before mint, FUBU has been thrown around as a potential partner for the collection. Although no announcement from FUBU's side has been made yet, Carl Jones talked about it in a podcast and the Bubblegoose Twitter made it official.
Then deuce deuce in your bubblegoose… We bout to let all our Baller's rock out with their flock out, when we launch the official Bubblegoose merch with FUBU. FUBU!!!! "For us by us" is now also "for u by u!" Picture yourself rocking a real Bubblegoose BUBBLEGOOSE!

Carl Jones
Vinyl Toy Collection
Bubblegoose Ballers also plans to debut a vinyl toy collection, but not the type kids usually play with. They might be closer to figurines than actual toys.
When you get back to the nest you can kick back and stare at your OFFICIAL BUBBLEGOOSE BALLER VINYL TOY COLLECTION. SHEEEEEESH!!! And these goose gang toys ain't nothin' to play with!

Carl Jones
Who is Carl Jones?
Carl Jones is a renowned producer, writer, and actor, known for producing the critically-acclaimed adult TV animated series, The Boondocks, as well as other successful titles like Black Dynamite, Freaknik The Musical, Legends of Chamberlain Heights, and many more.
He shares how the Bubblegoose coat was a symbol of success in the neighborhood he grew up in, as all the ballers had them. So he started drawing this funny-looking goose in a bubblegoose coat that kept balling out of control. And the rest is history.
About WAGMI Beach
WAGMI Beach is a web3 technology and entertainment studio that aims to establish original IP on the Solana blockchain. Its genesis collection, Catalina Whale Mixer, became a major success and is currently one of the top NFT projects on Solana. Bubblegoose is its second collection, made in collaboration with Jones.
Jones and WAGMI Beach are both veterans in the Entertainment industry, although the former has focused on the television sector while the latter on the music business.
What Makes Bubblegoose Ballers Great?
Bubblegoose Ballers is an early-stage project, but it has a lot going for it thanks to its competent teams and the high likelihood of a TV series coming to fruition.
The project consists of two teams that have phenomenal track records in their respective ventures.
Carl Jones has nearly two decades of experience producing TV shows, most of which have seen commercial successes, with The Boondocks being his critically-acclaimed title. Moreover, the Bubblegoose collection has a special place in Jones' heart, as it goes back all the way to his childhood back when he was inspired by the ballers of his area.
As for WAGMI Beach, it has proven itself to be competent in the NFT-verse through the launch of the successful Catalina Whale collection, which has managed to retain a high valuation despite the market decline, cementing its stance as one of Solana's bluechips.
And of course, many community members are excited about the upcoming TV show.
Bubblegoose isn't the first NFT project that attempted to create an animated series. Many have tried and failed, unfortunately. But the unfair advantage this project has is Carl Jones. The guy is a professional and veteran producer, and has worthwhile connections in show business, which makes all the difference.
How to Buy Bubblegoose Ballers NFTs
You can buy a Bubblegoose on any of the available marketplaces that sell them. You will need a web3 wallet like Phantom (click for our guide) to store them, as well as some SOL to pay for the NFT plus fees.
If you're new, you may also check out our Magic Eden guide.
---
Join our newsletter as we build a community of AI and web3 pioneers.
The next 3-5 years is when new industry titans will emerge, and we want you to be one of them.
Benefits include:
Receive updates on the most significant trends
Receive crucial insights that will help you stay ahead in the tech world
The chance to be part of our OG community, which will have exclusive membership perks