Degen Coin Flip is a project hailing from Solana that aims to be a force for fairness and transparency in the crypto gambling world. Warning: some say it is quite addictive.
Crypto investing has been, on more than one occasion, compared with casino gambling due to the speculative nature of these assets. And there may be some truth to that as blockchain has essentially helped boost the iGaming industry with crypto bets seeing a 100% growth over the past year, according to Softswiss data. It appears that many crypto hodlers have a taste for betting.
And with the rise of Solana, one of the major driving forces in the blockchain sphere with its nearly-zero fees and high transaction capacity, crypto gambling has been made more accessible than ever before.
What is Degen Coin Flip? 
Degen Coin Flip (DCF) is a Solana blockchain smart contract that allows holders to play the "Double or Nothing" gamble, which involves doubling one's winnings or wiping out a growing debt. And instead of fiat money, what players have to bet are their Solana tokens (SOL). The platform gives players 50/50 odds of winning and charges 3.5% on every coin flip. 
DCF is also a collection of 555 non-fungible tokens (NFTs), and holders earn from the fees charged from the game transactions. It was launched last December 8, 2022, at a mint price of .33 SOL and reached $1 million worth of flips in just two days. Today, DCF has already achieved other notable feats, including having over $90M in volume, an OG collection worth 850x its minting price, and rewarding holders with 133x of their investments. 
Furthermore, as players hit bigger net gains, their rankings can get higher on the DCF leaderboard's Top 32 biggest earners. Players can also check important statistics on the webpage's "Stats" button on the upper right screen. These stats include winning and losing streaks, fees generated by DCF for the day, and daily flip results of the 'heads' and 'tails.' They can even watch other players and their flipping sessions in real-time on the website's 'Live Session Board.' 
How to Play Degen Coin Flip
Step 1.) Connect Your Wallet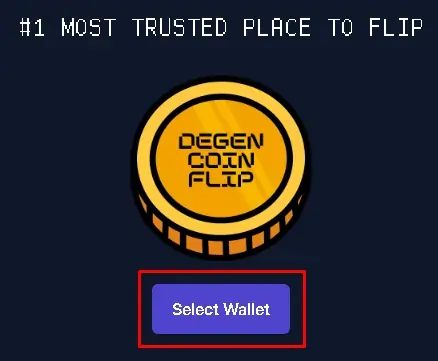 Head on to Degen Coin Flip and connect your wallet. You can use Phantom, Solflare, Sollet, or Slope wallets. For this example, we're going to use the Phantom wallet.
Step 2.) Click "Double or Nothing" (To Check SOL Balance)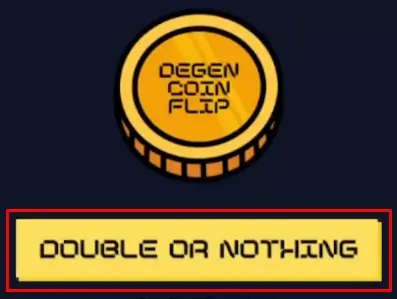 Note: The initial clicking of this button won't affect your flipping decision. 
Step 3.) Choose Between 'Heads' or 'Tails.'
After that, choose from one of the six SOL amounts you would like to bet, then click the "Double or Nothing" button. 
Step 4.) Click "Approve" in Your Wallet.
Note: Every coin flip requires approval from the wallet. 
Step 5.) Wait for the Result 
If you lose, click "Double or Nothing" to try again. 
If you win, click "Claim Reward." Bet again if you want to continue.
How to Win in Degen Coin Flip? 
The "win" that players should aim for is to leave the game with their savings intact and without spending excessive SOL tokens. When players focus on the "other" win, which is aiming for a series of wins and bigger rewards, they may end up spending more, which might take a big chunk off their savings, or worse, get them drained.
Furthermore, they must view this game as a pastime, which offers a quick thrill and suspense instead of a get-rich-quick platform. So flip moderately ladies and gents!
Is Degen Coin Flip Legit? 
DCF is seen as a legitimate gaming platform considering that it has made more than five million flips to date and is powered by smart contracts. Moreover, it allows anyone to review its house and fee wallets, exhibiting full transparency. To offer stronger security to its players, DCF has also launched its bug bounty program, where it distributes prizes to users who can report potentially destructive bugs on the platform. 
Participants may check this link to determine if a particular bug can seriously affect the security of a platform. Besides monetary rewards, bug hunters will also be in DCF's Hall of Fame if their report has resulted in a specific change in the smart contract's security structure. 
But one crucial reminder is that not everyone who finds a bug can receive a reward. Here are the specific requirements that bug hunters need to meet: 
Must be the first one to report the bug. 
The bug must have a legitimate security risk for the DCF 
Must not publicly post the bug/vulnerability before reporting it. 
Must not hunt for a bug at the expense of other users' privacy.
Only Bet What You Can Afford To Lose 
As you can see, the game's mechanics is quite addicting, with one player intending to double earnings and another seeking to cancel a bloating debt. While there's nothing illegal with this game, serious hurdles may arise if players gamble excessive SOL due to uncontrolled impulses. DCF reminds players to only bet SOL they can afford to lose. 
Furthermore, it clearly warns players that the game may cause a "flipping problem," or in other words, an unhealthy inclination toward DCF. Gamers may show obsessive signs, including excessive flipping, irritability, and restlessness, among many other things.  
How does "Double or Nothing" Work?
"Double or Nothing" is a well-known gambling game where a bet can either be doubled or canceled, depending on a coin flip's outcome. The loser has the right to ask for a "double or nothing" agreement while the winner can accept or refuse it. 
Here's an example: 
Player A won $10 from Player B. 
Through "Double or Nothing" (next round), Player A has the chance to double it while Player B can cancel it and pay nothing, which offers both risk and opportunity to them. 
Let's say the loser (Player B) offered "Double or Nothing," which Player A accepted. 
The next round can have two outcomes: 
If Player A wins, the $10 winning doubles into $20. 
If Player B wins, the game cancels the $10 winning. 
This game will continue as long as players seek to double their winnings or cancel their growing debt. It can only end when one player refuses to accept another round. 
What is Degen Fat Cats?  
Degen Fat Cats (DFC) is Degen Coin Flip's newest NFT collection of 20,000 cats, containing the fractionalized DCF coins. Since Flip only has 555 coins, fractionalizing them into a new collection is the only way to meet the rising demand for DCF. 

The team launched DFC last July 19, 2022, at a mint price of 9.99 SOL. Collectors can only mint 3,885 cats, as the remaining ones go to the OG holders of Degen Coin Flip. Moreover, Degen Fat Cats will soon evolve as a gaming platform that can support crypto games, which holds a lot of promise since DCF had a strong start with its coin flipping venture.
---
Join our newsletter as we build a community of AI and web3 pioneers.
The next 3-5 years is when new industry titans will emerge, and we want you to be one of them.
Benefits include:
Receive updates on the most significant trends
Receive crucial insights that will help you stay ahead in the tech world
The chance to be part of our OG community, which will have exclusive membership perks