Pudgy Penguins began its journey in the NFT world with a frowning face, having the project swim in the muddy water of controversies. However, it was a turn of fate when its new owner and loyal community member, Luca Schnetzler, acquired it for 750 ETH and turned things around, creating a strong comeback story for the brand.
Recently, the project turned a lot of heads yet again when one of it's rarest NFTs was sold for a mind-blowing 400 ETH (roughly $640K of September 2022).
Pudgy Penguins have risen from the ground with the community on its back, and it is currently on a cool mission of becoming a global brand with the flightless birds as its mascot.    
What is Pudgy Penguins?
Pudgy Penguins is an Ethereum-based collection of 8,888 hand-drawn charming penguins that aim to spread good vibes across the metaverse. Every PFP emanates charm, with five possible attributes combined: background, body, face, head, and skin.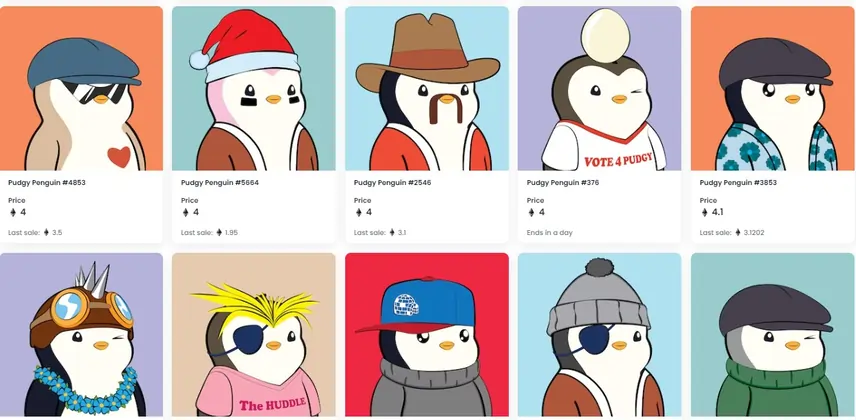 Pudgy Penguins live in the icy parts of the web3 space as they love to chill as a community. Their aesthetics were designed to spread cool vibes, as well as warm your heart. In fact, it was the whole point of the project.
The primary purpose of Pudgy Penguins is to bring joy to everyone experiencing modern-day challenges, ensuring that the brand can provide a significant impact through its own ways: establishing its position with a focus on inclusivity, art, and other opportunities. And it plans to carry on winning for the good of web3.
Although the penguin's hand-drawn designs are made simple, its mission is deeply rooted in positivity. Through the supportive Pengu Nation, the project strives to enact its vision by huddling together with big smiles on their faces. 
Lil Pudgys
Lil Pudgys is a collection of 22,222 randomly-generated penguin NFTs that stand as allies of Pudgy Penguins to battle the evil bears of negativity. As their name implies, they are small chicks that look like kiddie versions of the Pudgy Penguins. They have nine different attributes with all of them having unique fashion senses.
The project team launched the Lil Pudgys as a second-tier collection, which means that its owners can enjoy similar perks to the first-generation collection, but not on the same level. Additionally, they look cute, but take the warning seriously: do not get fooled by their adorable looks as they are strong enough to combat negativity.
Lastly, Lil Pudgys were distributed in two ways: 13,334 in a public sale while 8,888 are freely claimable for all Pudgy Penguin holders. Although the public sale was already finished, owners can claim get their Lil Pudgys on the official website.   
The Marketplace (The Place to Buy Pengu NFTs)
The marketplace displays every Pudgy Penguins, Lil Pudgys, and Pudgy Rods NFTs with their corresponding attributes, rarity rank, and prices. The Pengu Nation can also check the number of available digital assets, their current floor price, and volume. 
Note that buyers can also find the NFTs on secondary marketplaces such as OpenSea and LooksRare. You just need a web3 wallet that supports Ethereum such as MetaMask, as well as some ETH.
Merch Shop
The NFT collection connects to the real world through its own merch shop, where the community can avail of branded custom items, prints, and more over time. 
IP Rights 
Pudgy Penguins has clearly defined its IP rights, which help ensure that the community is on the same page with the project team in terms of the rights to the NFT artworks. The developers aim to acknowledge their creators by protecting their works while providing new owners the freedom to utilize their NFTs for all creative purposes they can muster.
Creators give the current NFT owners a limited non-exclusive license, allowing them to copy, access, and use their digital penguins. However, they do not have the power to grant a sublicense. 
Additionally, the creator allows holders to use their Pudgy Penguins and arts for commercial purposes. For example, they can sell physical and digital goods. However, they are limited to earning a gross revenue no greater than $500,000 or any of its equivalent in currencies.
To know more about the copyright terms of Pudgy Penguins, you can directly go here. To learn more about how copyrights of NFTs work, see our NFT Intellectual Property guide.
Pudgy Toys (Toy Lineup)
Pudgy Penguins formed a partnership with PMI Toys, a brand with decades of experience in the toys market. The collaboration provides holders with major licensing opportunities in the real world by bringing their NFTs to life as toys.
The Pudgy Toys are not only meant for holders to exercise their IP rights and generate new revenue streams but also to light up the faces of the children and kids at heart. 
penguPins
The penguPins are soulbound tokens that serve as a holder's unique identity within the Pengu community that tracks their efforts in pushing the brand forward. These tokens essentially facilitate the quantification of impacts made by individual members of Pudgy Penguins, so they are better rewarded for their efforts.
So far, 16 penguPins have been airdropped to every holder who is licensing their Penguins for the Pudgy Toys lineup.
Who is the Team Behind Pudgy Penguins?
The Pudgy Penguins team comprises builders, thinkers, operators, and creators of the Igloo Company, who collectively share their expertise to make the project a recognizable web3 brand. It is headed by Luca Netz, with five other members. Together, they are on their way to bringing a happy space in the metaverse as they strive for greater success.  
---
Join our newsletter as we build a community of AI and web3 pioneers.
The next 3-5 years is when new industry titans will emerge, and we want you to be one of them.
Benefits include:
Receive updates on the most significant trends
Receive crucial insights that will help you stay ahead in the tech world
The chance to be part of our OG community, which will have exclusive membership perks