Solanart was once the leading NFT market on Solana. Unfortunately, it lost the majority of its market shares as Magic Eden emerged. However, it is also starting to gain back what it lost by serving non-fungible token (NFT) traders a dish too appetizing to refuse: custom fees.
As of press time, Solanart is currently competing with Yawww for the 2nd spot among SOL marketplaces.
Discover the ways to buy and sell NFTs on Solanart through this beginner's guide.
What is Solanart?
Solanart is an NFT marketplace that enables users to easily buy and sell NFTs directly on-chain with user-set fees. Solanart also allows creators to launch their projects through its Launchpad.
The design of Solanart is simple, making it applicable even to non-techie users. The traded NFTs come with their corresponding websites and social media pages, which everyone can freely access to do their own research. 
Users can purchase NFT assets with SOL in the marketplace using many different wallets as the marketplace has flexible options. 
Connecting to Solanart
Solanart works similarly to other decentralized marketplaces wherein the primary requirement is a digital wallet. Although the platform is open for the public to explore, connecting to it can give you a full user experience. 
Solanart currently supports the most popular Solana wallets: Phantom and Solflare, as well as many third-party wallets. You can click the link to access our tutorial if you don't have any yet.
Once ready, visit the Solanart marketplace to connect your wallet. Click the Connect Wallet button, and choose from the given options. I'll use Phantom in this example, but the same process applies to others.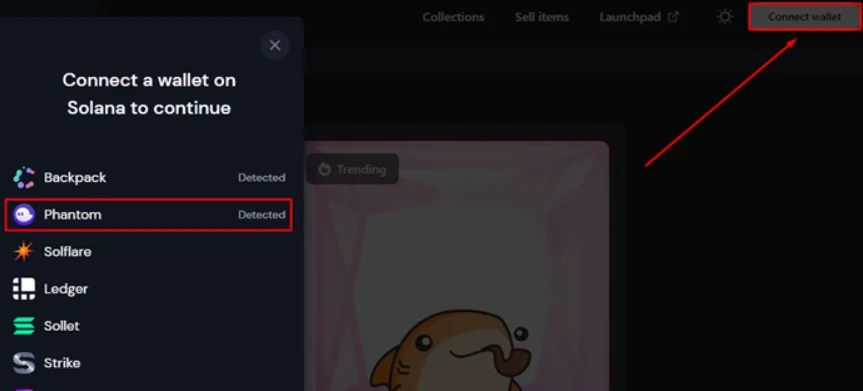 Your chosen wallet will appear on your screen. Kindly input your password and approve the request to proceed.
A connected wallet will show your public address, replacing the Connect Wallet button earlier.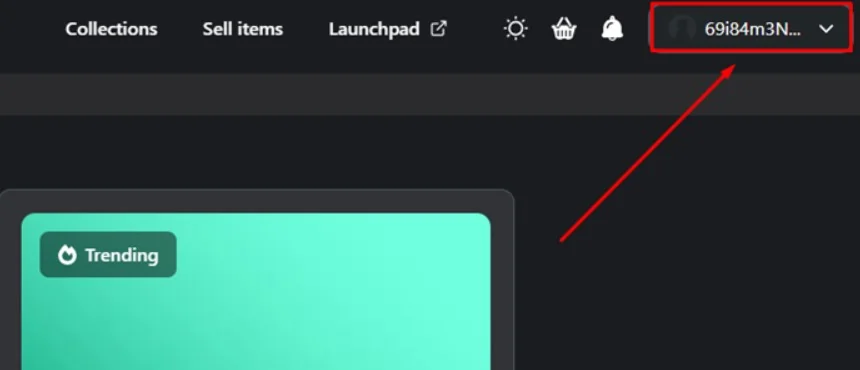 You can now explore Solanart and navigate the different collections living within the blockchain.
Collections
Every marketplace is home to NFT collections, a group of digital assets with similar art styles, genres, or concepts. Each of them has varying units but typically ranges from 5,000 to 10,000. 
Solanart holds diverse NFT collections, which greet you upon viewing the homepage. You can navigate more of them by clicking either Explore Collections or Collections.  
You can scroll down the page for as long as you'd like to see different digital collectibles or type the name of a specific NFT on the empty search bar. If you're looking to explore projects based on particular classifications (e.g, trending, most recent, lowest floor price, etc.), you can always customize the marketplace parameters.
Custom Fees and Royalties
Solanart aims to give the best marketplace experience by allowing two remarkable offerings: custom marketplace fees and royalties.   
At the time of writing, listing an NFT on Solanart comes with custom fees and royalties. This enables sellers to decide the amount they want to pay the creators and the marketplace for every trade; one could even set them to zero.
The newly-implemented custom fees and royalty features allow users to adjust charges freely when listing NFTs, allowing them to apply what they think is fair. 
Hot right now: The Zero-Royalty Debate
Launchpad
The Solanart Launchpad is a platform for emerging projects to gain support on their presale, minting, raising funds, etc. It also provides a way for creators to get more exposure as they introduce their projects to the existing users of the marketplace.
If you're a developer looking for a platform to launch an NFT collection, Solanart offers a 21-step application. You'll find all the details here. 
How to Buy NFTs on Solanart?
You can purchase NFTs on Solanart by connecting a web3 wallet that supports Solana and paying with SOL.
Ready to own an NFT? Check our step-by-step guide below:
Log in to Solanart
Visit the Solanart website and connect your wallet. Choose any of your preferred options, then proceed to the next step. For this example, we will be using Phantom. However, any of the listed wallets will work the same way.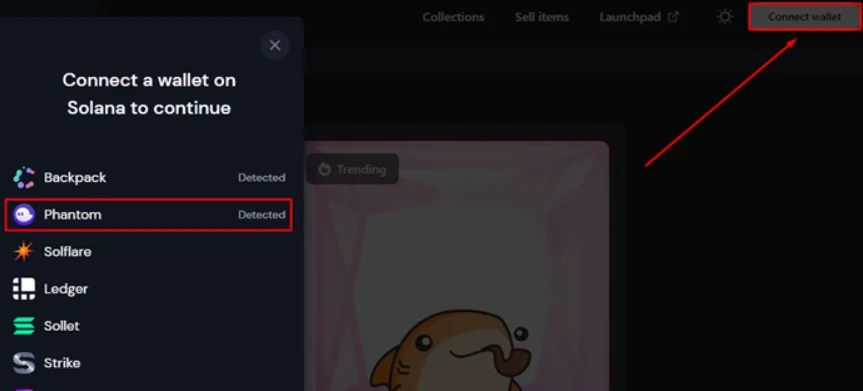 Buy the NFT
Head to the Collections tab and click the project you'd like to own. For example, The Stoned Frogs collection has captivated me in many ways; I'll buy it. Tapping the NFTs will automatically add it to My Cart.
As you can see, the page will display the unit price for each NFT and their total amount. Click Proceed to Checkout after reviewing your cart.
Confirm Purchase
Wait for a while until your wallet pops up on the screen. It will look something like this:
Sign the transaction to finish.
Your newly-bought digital assets will immediately go to your wallet. Check on it to confirm. 
Success! You can now use your NFTs in multiple ways, including making them your profile picture (PFP) across the metaverse. 
Additional Tip: Solanart allows buyers to place offers, enabling them to lower the listed NFT price as long as the seller agrees.
How to Sell NFTs on Solanart?
Solanart doesn't only provide buyers with diverse NFTs to purchase but also a chance for sellers to list their digital assets and earn profits. However, listing an NFT doesn't guarantee that it will be sold, therefore, it's worth knowing its fair value beforehand.
This is how you can list your NFTs for sale on Solanart:
Link your Wallet
Buying and selling NFTs have nearly similar steps. The first thing to do is link your wallet to the platform. Choose any of the available options to move to the next step.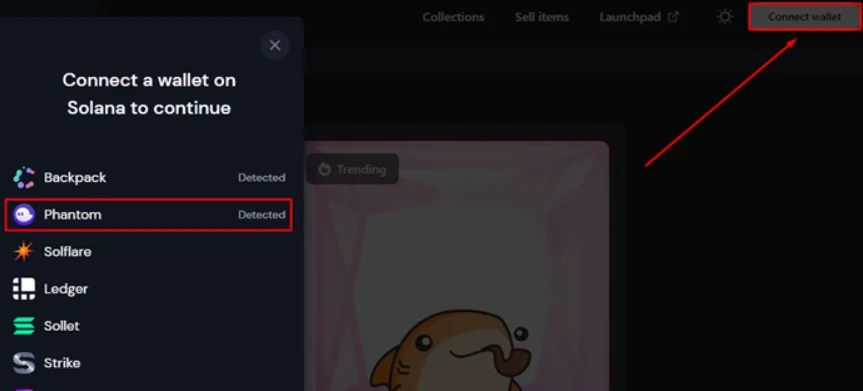 Go to the "Owned NFTs" Page
Once linked, you can view your digital assets on your profile. Click Owned NFTs and wait for a few seconds until the marketplace brings you to your profile page. 
Choose the NFT You Wish to Sell
You will be directed to a page that detects all the NFTs held in your wallet. Like this:
You can choose any of the NFTs shown and list them for sale. If an NFT you hold isn't detected, that means the marketplace currently doesn't support it (unverified). In this example, I will sell my Bubblegoose Baller (that funky-looking goose on the right).
You need to click on the NFT you want to list. Then click "List Item".
Setting the Marketplace Fees and Creator Royalties
At this stage, you are left with two choices: either go with the default fees set by the marketplace and the creator of the NFT collection or customize them as you see fit. And yes, you can literally set all fees to 0, allowing you to earn 100% of the sale minus the Solana network fee (below $0.1)
Also see: Should NFTs Have Zero Royalties?
If you want to customize the fees, tick the checkmark before "Click to edit fees".
Let's say I want to list my Bubblegoose for 6 SOL and set all fees to 0, this is how much I would save:
After setting the price and the fees, you can click "List". As you can see, I could save as much as 0.42 SOL from fees in that 6-SOL listing.
Your wallet should be prompted to confirm the listing. Click on Approve. Now, you'll just have to wait for your listed NFT to find a new owner.
---
Join our newsletter as we build a community of AI and web3 pioneers.
The next 3-5 years is when new industry titans will emerge, and we want you to be one of them.
Benefits include:
Receive updates on the most significant trends
Receive crucial insights that will help you stay ahead in the tech world
The chance to be part of our OG community, which will have exclusive membership perks