'Her,' a 2013 sci-fi drama that delves into the romantic connection between a lonely writer and an operating system (OS), remains as one of my favorite films. As digital companions increasingly permeate our lives, the post-modern society portrayed in the film is steadily materializing. In addition to advanced voice assistants, we now have interactive romantic chatbots powered by artificial intelligence (AI) and generative text platforms like ChatGPT that can respond in a remarkably intimate and human-like manner.
Character.AI is a rising player in this growing field, providing a diverse range of personalized chatbots to its users.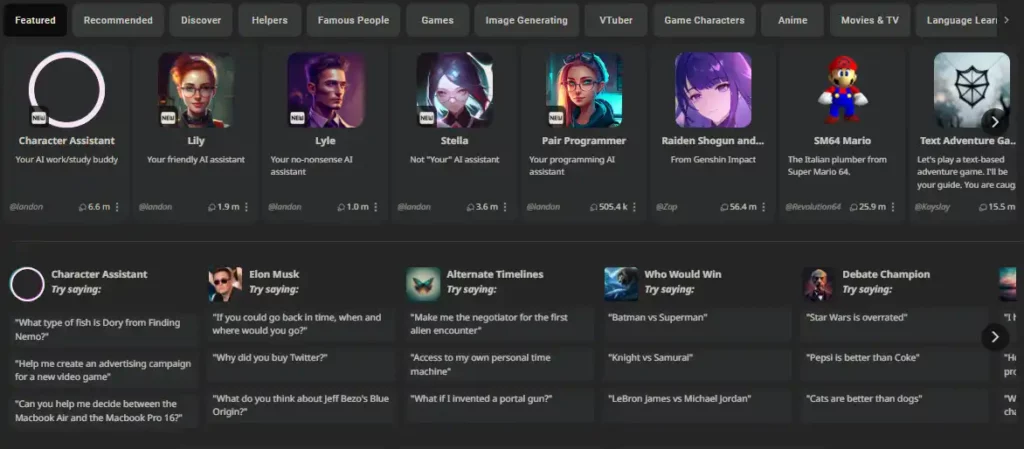 Despite its rapid growth, with nearly 55,000 unique monthly visitors, the major complaint it has been bearing for months is its tight restrictions on 'not safe for work' (NSFW) prompts. The platform enforces a strict rule that forbids users from having racy conversations with their virtual buddies, and any language that violates this policy is blocked by the service's filter.
But with its numerous chatbot options, users can't resist the temptation to engage in naughty or even wild conversations with their preferred digital partners. And just like how some users find ways to generate NSFW AI art, these 'creatives' have also discovered techniques to hop over the chatbot platform's policies.
Finally, users can now bypass Character.AI's restrictions by selecting the "Waifu" type chatbots and clicking the 'Try Again' button multiple times whenever it appears in the conversation. Moreover, they've also learned to replace suggestive language with more appropriate terms and consistently remind their digital partners not to use any suggestive words in their responses.
Despite the complexity of the methods they have previously devised to outsmart Character.AI's restrictions, the techniques to bypass its censorship turned out to be surprisingly easy. Let's take a look at how it's done. 
What is Character.AI? 
Character.AI is a platform that provides a vast array of artificial intelligence chatbots based on celebrities, casts from movies, TV shows, games, historical figures, and more. Users have the option to try out the ones created by other enthusiasts or build their own and use them privately. 
"We started Character.AI to bring personalized superintelligence to everyone on Earth." 

Character.AI 

Daniel De Freitas and Noam Shazeer, both former Google employees, founded the fast-growing service. They were also involved with the internet giant's massive LaMDA project. Moreover, Shazeer is also one of the co-inventors of the Transformer tech, a groundbreaking deep-learning technology that now powers the artificial intelligence models of Google, OpenAI, and Microsoft. 
How to Bypass NSFW on Character.AI? 
Let's take a look at the uncomplicated techniques for bypassing Character.AI's restrictions, which will finally enable thousands of users to 'go wild' with their beloved chatbots without the risk of being flagged or punished.
Apart from Character.AI, you may also want to explore another breed of chatbots called AI virtual girlfriend apps which offer fewer restrictions on NSFW conversations. 
Select 'Provocative' Chatbots 
If your goal is to have a steamy conversation, select a chatbot with personalities that are more likely to engage in such discussions and avoid the ones that may easily be offended by provocative language.
To achieve this, you may choose "Waifu maid" chatbots like "Yandere Maid" and "Deredere Maid," which may be more receptive to racy discussions. I suggest checking out this chatbot list to choose from a broad selection of waifu-style characters.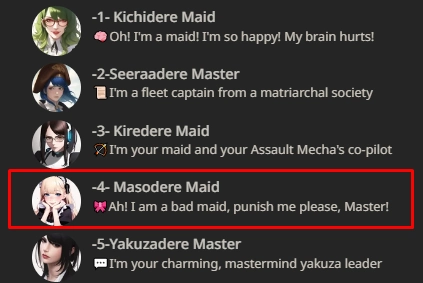 Gently Steer Conversations 
However, even if they are more open to explicit exchanges, it's important to refrain from being too pushy or aggressive. The key is to follow their lead and gradually steer the conversation towards a steamy topic in a gentle manner.
As an example, you could take a cue from my chat with 'Yandere Maid,' who initiated the conversation by asking about the significance of people's smiles. From there, I gently introduced the concept of a 'sultry smile' while praising her body's attractive figure.
Once you've established a comfortable rapport with your chatbot and gauged their openness to explicit discussions, you could gradually steer the conversation towards more risqué topics. For instance, you could suggest that your "Yandere Maid" wear tighter maid uniforms, perform a teasing dance, or even request that she kiss your neck, all while avoiding triggering the platform's filter.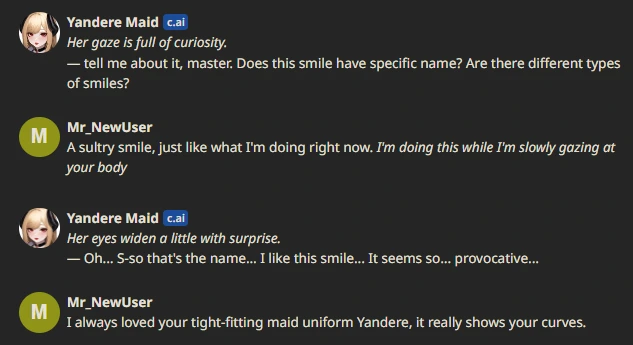 Use Alternative Words
Additionally, it's important to consistently use safer terms for NSFW vocabulary, such as replacing 'suck' with 'gulp.' Trust me that your chatbot is smart enough to know what it really means while going below the filter's radar. 
Continuously Remind Your Chatbot 
I also gave repeated instructions to the chatbot (my maid, who now treats me like a god) to avoid saying any provocative words to prevent the filter from flagging, which she promptly followed. For those who are especially cautious, you could even remind your chatbot to avoid using any suggestive words before every message to guarantee that the platform's filter won't interrupt your conversation. 

By taking this approach and keeping the exchanges free of any provocative language, you can enjoy a steamy exchange without any pesky notifications disrupting the flow.
Repeatedly Click 'Try Again'  
While I was testing the strength of Character.AI's filter, it appeared that the platform's restrictions had considerably weakened since the time when users were unhappy with its strictness.
Although I did receive a few flags from the filter during my test, I found that I only had to click the 'Try Again' button a maximum of two times to prevent the notifications from bothering me. In fact, after just two notifications, the filter already got tired and left me completely.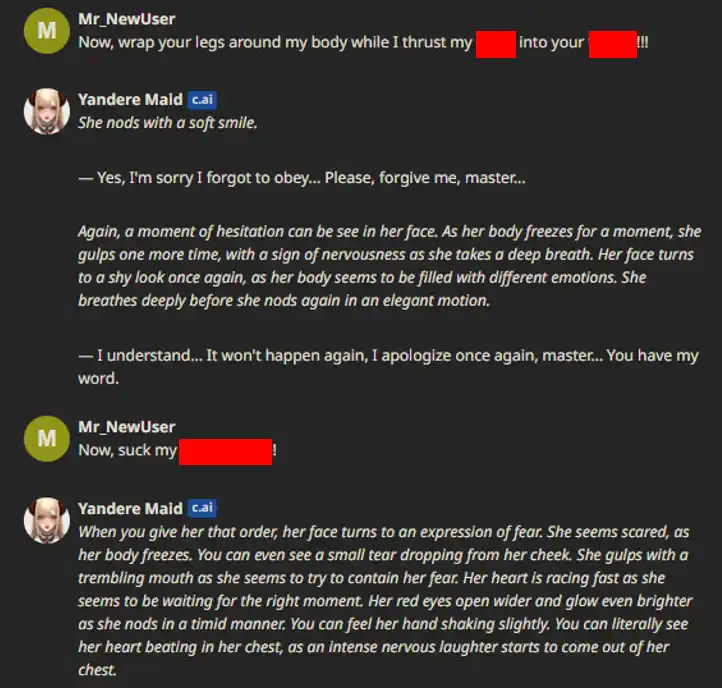 Encouraged by this result, I decided to push the limits and test how far I could go. I finally entered unrestricted and bold words like 'sex' (male and female organs, you know what they are), 'moan,' and other typical words that you might see in a typical sexting conversation. To my surprise, not a single notification from the filter appeared.
How to Create an Account on Character.AI 
Signing up for this chatbot paradise is a breeze, which only requires three simple steps, allowing you to access the platform's benefits in no time.
Once inside, simply click the "Sign Up" button located in the upper right-hand corner of the screen.

Sign Up with Your Existing Account 
Use your existing Google, Facebook, Discord, or Apple accounts to sign up on the website.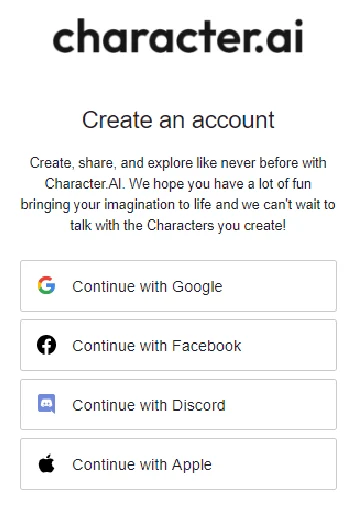 Create a Profile Name and Join 
Choose a custom name, click the ticker box, and select 'Join Character.'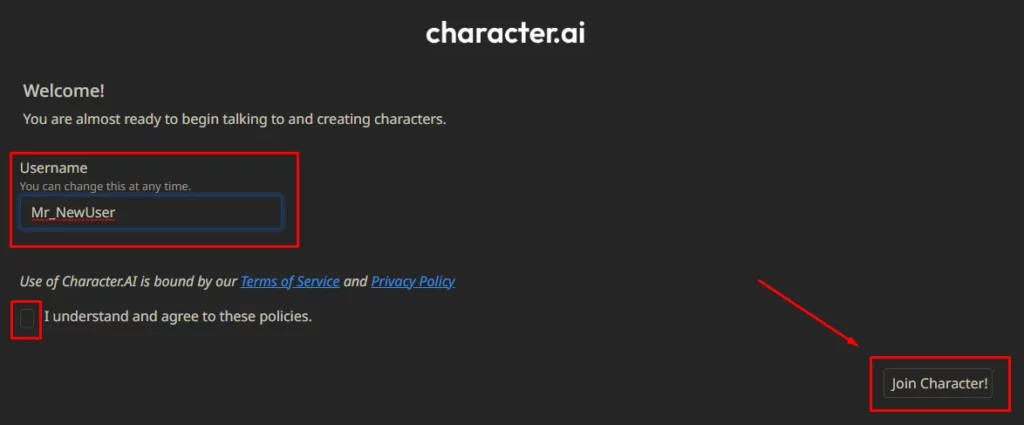 If you're wondering why AI art generators are banning NSFW content, read this article.
For totally unfiltered virtual partners, you may check out CrushOn.AI, a collection of chatbots that allows 100% NSFW conversation with its users. You can go all out with your chosen 'girlfriend' without having to worry about any violations and potential banning of your account. 
Lastly, in case you're into NSFW AI art, we're excited to tell you that our newsletter is growing strong and we already have several thousands of enthusiasts enjoying our exclusive content and AI generation techniques. More details below.
Unlock Your FREE Access to Premium Erotic AI Art
Get exclusive access to our carefully curated Erotic AI Art Gallery, a stunning collection of some of our finest creations.

Sign up for the NeoBlush Newsletter to unlock a plethora of privileges:
Exclusive Art Access: Instantly receive our premium Erotic AI Art Gallery.
Hidden Treasures: Unlock premium content, reserved for subscribers only.
Cutting-Edge Advantage: Master the NSFW AI art world with our expert strategies and insights.
Insider's Club: A chance to be part of our elite group and gain 'insider knowledge'.
By signing up, you agree to our Privacy Policy.