I don't know how you got wind of xNFTs, but you came to the right place if your goal is to understand it as early as now.
Most of the hype in web3 and NFTs has died down amidst a looming recession and the Russo-Ukrainian war, among other global events. The current creator royalty war is obviously not helping. And the Solana ecosystem, no, the entire NFT industry; appears to be at a standstill.
The trade volumes are drying up, there are fewer headlines, and even the haters are growing silent when it comes to NFTs. Thankfully, the builders of the industry have been innovating non-stop, whether bear or bull. And one of them is Coral, which is building a new standard for non-fungible assets, which will pave the way for a blooming ecosystem of web3 protocols, applications, and NFTs with more functionality than ever before.
One extremely important aspect that has been mostly ignored in the NFT realm is flexibility and programmability. What do we mean by that?
The NFTs in your wallet have very limited functionalities. You can list them in marketplaces, trade them on platforms, stake them to earn rewards. And what else? Not much. But NFTs should have more capabilities done that.
We are seeing innovative NFT protocols like RMRK on Polkadot/Kusama and Phantasma being built. xNFTs are Solana's answer, which aims to revolutionize the way NFTs are made.
What are xNFTs? 
xNFTs, which stand for executable NFTs, are a new breed of programmable non-fungible tokens that operate as web3 applications that can be accessed on the Backpack operating system, which is slated to replace traditional crypto wallets.
X, which stands for 'executable,' highlights xNFTs' innovative way of equipping developers with the ability to create dynamic applications on a crypto wallet, which could be a game-changing web3 technology.
The upcoming rollout of its launch partner, Solana Mobile Stack (SMS), a tool that allows developers to create web3 apps that have native mobile support, will play a huge role in this exciting feature. 
Armani Ferrante, one of the creators of xNFTs, said in his introduction that "NFTs should have all the capabilities of a program," a less talked about yet important ability that xNFTs will try to "X-ecute". xNFTs aims to simplify the process of accessing various decentralized applications (dApps), which remains a cumbersome task considering their numbers and variations in design. 
Nowadays, it's easy to get lost or bogged down by all the different protocols, projects, and communities one is involved with or invested in since you have to plow your way through various social platforms, chat channels, groups, etc.
xNFT, which runs on CoralOS (Backpack), uses protocol-agnostic frameworks, which enable the creation of dApps for a mult-chain NFT ecosystem that users can seamlessly use on a single platform ー Backpack's user interface (UI). Its UI can display various crypto assets and enable users to execute various tasks, including staking NFTs, viewing analytics data, playing games, bridging into different blockchains, and more.
xNFTs reflect the aim of its creators to transform the current static state of NFTs into dynamic digital assets that are feature-rich in order to truly represent the essence of various communities. 
What is Backpack?
Backpack is an xNFT operating system that enables web3 users to access all their crypto-based assets, applications, and blockchains in one application, which is also being developed by Coral. It is an asset and protocol-agnostic platform, encompassing blockchain networks beyond Solana.
It introduces a promising protocol standard for NFTs that enables users to access all crypto assets and applications in one interface and make the NFTs executable.
Think of it as a web3 wallet on steroids, having the capability of combining all your wallets and crypto applications in one place. Plus, it adds a programming layer that allows anyone to easily build on top of it, unlike traditional NFTs.
The foundations running beneath the operating system are extended versions of the Anchor Framework, a widely used protocol for efficiently deploying smart contracts on Solana. Backpack's state-of-the-art capabilities bring added control and customization to users' experience, enhancing their transaction and interaction with the web3 world. 
It also comes with a set of developer frameworks and application programming interfaces (APIs), which means users can seamlessly create their own xNFT applications for any protocols and blockchains.
How Would xNFTs Work?
Imagine accessing one app on your phone, Backpack, that enables you to see all the cryptocurrencies and NFTs you own, the dApps you regularly access, and almost virtually anything crypto-related across all blockchains.
For starters, let's say I want to view my Aurory NFT's traits, all I do is tap on it and I see all its info. But what if I want to do more? Say, I want to stake my DeGods NFT. DeGods can easily build a program that supports this feature natively on the app.
The same is true for games, decentralized finance (DeFi) applications, bridges to other blockchains, etc. Speaking of other blockchains, all of them will be supported eventually. This means that you can access your Bored Apes, trade on Uniswap, or even stake an ETH-based token on Backpack.
First Projects to Launch xNFTs on Backpack
While the Backpack app has been rolled out in October 2022, it is still in the alpha phase as of the same month, which means that only a limited number of users can access it.
If you're curious to learn about the first generation of xNFT apps on Backpack, check below:
DeGods
The DeGods xNFT is currently live on Backpack, allowing holders to view their NFTs in the app or directly stake them. They can also claim $DUST.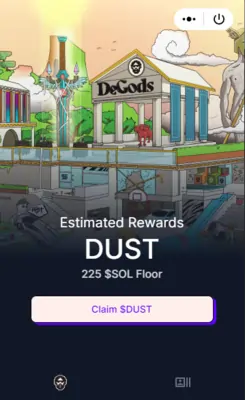 DeGods is an NFT collection of 10,000 virtual gods with powerful traits. Its strength lies in its unique art style and supportive community, making it a solid Solana project.
Releap
You can now play music NFTs you own on Releap using Backpack anytime and anywhere as it's accessible on mobile devices. There is a broad range of genres you can listen to, including Electronic, Hip-Hop, Pop, Rock, and more. Now, your collection has never been more exciting and fun to use.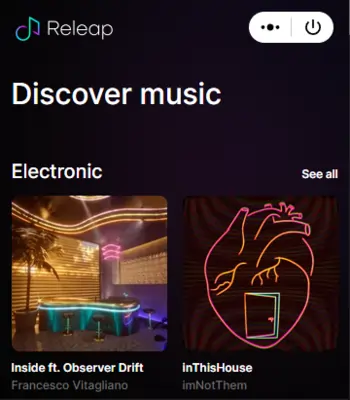 Releap is an NFT platform for emerging and experienced artists who want to publish their music and gain exposure with fans by leveraging the web3 space. 
Solanart
Backpack is home to Solana marketplaces, such as Solanart. In this xNFT, you can search collections with their real-time floor prices, buy and sell NFTs, and access the digital assets you own under your profile. These are only some activities you can do, but it's currently in beta mode.
Solanart is known to have diverse collections, including some of the respected projects, such as DeGods, SolPunks, etc. It also currently adds some notable features that aim to give the best user experience.
Degen DAOO
Would you believe that Degen DAOO, one of the premier decentralized organizations on Solana, currently han xNFT? But wait, it seems it'll surprise us how we can enjoy Mono's art, as it offers nothing yet. It looks like we have to wait and see what's in store.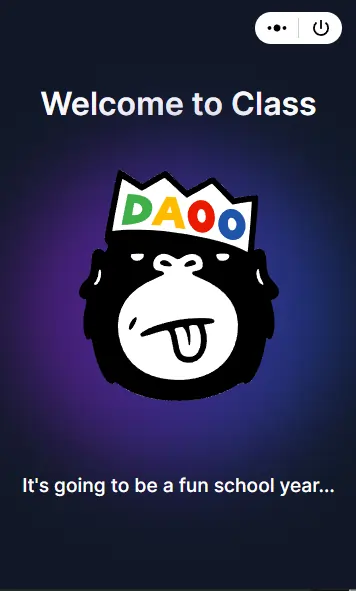 Degen DAOO comprises a community responsible for managing well-established Solana projects, such as Degenerate Ape Academy (DAA), Degenerate Trash Pandas (DTP), and Drop Bears. Being an NFT holder can give you advantages such as voting power and access to the academy.
Cardinal Staking
Cardinal Staking, as the name implies, allows you to access multiple pools and stake your digital assets. You can also view how much cryptocurrency you hold and the daily reward amount you're eligible to claim.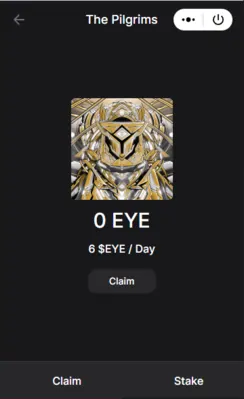 Cardinal is built on Solana and Metaplex, which provides NFTs with utility in various forms, such as staking. Project owners can create pools where users can lock up their tokens and earn rewards.
Serum Analytics
Serum Analytics xNFT provides real-time market updates on price, 24-hour volume, and liquidity that can be helpful when trading. You can also view other information like total 24-hour volume and value locked up in all the markets covered in the platform.
Serum is a decentralized exchange (DEX) built on Solana, which provides market analyses to help users access data at blockchain speed.
Aurory
Who loves to play games? Don't worry because Backpack brings you Aurory xNFT, a free-to-play game on Solana. The dApp currently encourages you to play its Tactics or Adventure mode to earn rewards. You can even use it to view tokens (OKE, TOKE, USDC, and SOL) and use them to buy AURY—the in-game currency.
Aurory wouldn't also be complete without NFTs, which you can view directly on your Backpack.
Aurory is a project on Solana that uses NFTs as playable characters. It revolves around the story of two parallel planes: ANTIK and TOKANE. Players are to discover its rich lore, explore the colorful world of Aurory, collect Nefty, and more. 
Flappy Bird
The iconic game from your childhood, Flappy Bird, is now an xNFT. Like in the old times, you have to safely lead Faby across a pair of pipes to earn a point in every success.
Watch out for its flying speed, as it can easily stumble your focus. Once Faby bumps the green pipe, it's game over. However, you can start again as much as you'd like.
Flappy Bird is a mobile game released about a decade ago that involves tapping your screen to move Faby, the only playable character. Its interface may have been simple, but it requires skills (and a lot of patience) to achieve a high score.
Who Created xNFTs? 
xNFTs were spearheaded by Armani Ferrante and Tristan Yver, both with deep experiences in the blockchain ecosystem. Ferrante is a software engineer and the co-founder of Coral, creator of the Anchor Framework and Anchor Program Registry. Yver, meanwhile, is FTX US's Head of Strategy. 
Apart from xNFT founders' impressive backgrounds, another notable thing about this project is its host of prominent investors and partners, including Solana, FTX, Wormhole, Serum, Multicoin Capital, and Jump Trading.
The fact that its launch will coincide with other major rollouts on Solana is a sign that other projects see a lot of potential in xNFT's significant impact on the web3 space.
When Will xNFTs Be Released? 
Ferrante announced that both xNFT and Backpack will roll out and be available for download at the end of Summer 2022 (September 23 onwards), along with the release of the Saga phone and SMS.
---
Join our newsletter as we build a community of AI and web3 pioneers.
The next 3-5 years is when new industry titans will emerge, and we want you to be one of them.
Benefits include:
Receive updates on the most significant trends
Receive crucial insights that will help you stay ahead in the tech world
The chance to be part of our OG community, which will have exclusive membership perks