Aptos is a new chain yet it is now teeming with NFT projects. Unfortunately, a lot of them are rug pulls. Not Aptomingos though.
Aptomingos appears to be a very community-centric collection and has established itself as an "OG". In fact, it launched as a "free mint" collection on the 22nd of October, 2022. But only time will tell if it truly deserves to be called a pioneering Aptos NFT.
What is Aptomingos?
Aptomingos is an NFT collection of 1,212 pixelated flamingos that live on the Aptos blockchain. Each Aptomingo contains unique combination of traits (body, eyes, fire, item, mask, net, suit, mouth, special, headwear, and background) that serve as a basis for rarity rankings.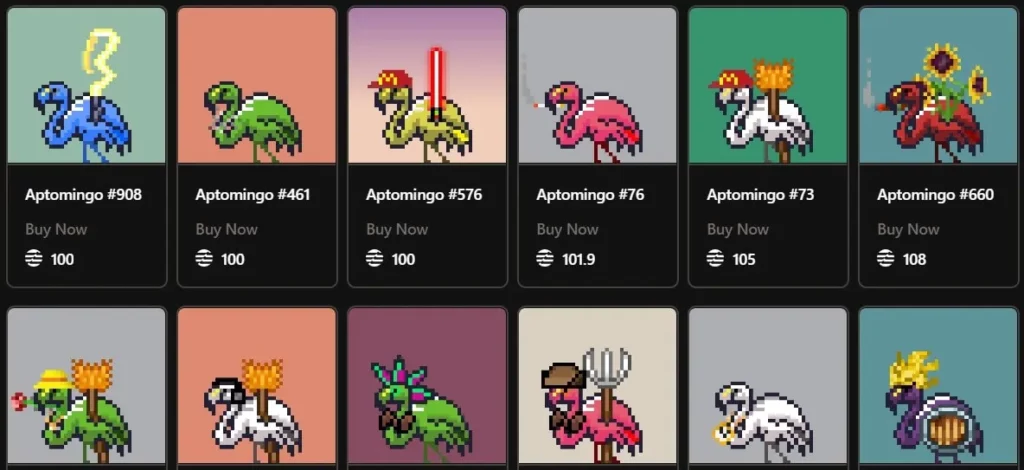 The design of Aptomingos is unique; you won't see them only as colorful flamingos but in diverse concepts, such as Joker, Yu-Gi-Oh, Pepe meme, and a whole lot more. However, its style is only one thing to look at, and there can be another aspect worth noting: its goal.
Aptomingos is a project committed to building a community that shares an interest in discovering and learning more about Aptos. In this way, they can reach milestones together. 
What Makes Aptomingos Special?
Aptomingos has truly set itself to be uniquely different from other NFT projects even before its official launch, starting with zero-cost mint and $APT airdrop to all whitelisted wallets to cover gas fees; the whole process was literally FREE.
But there are other aspects that Aptomingos aims to build long-term:
Quality alpha
Education
Redefined utility
Quality Alpha
Aptomingos holders get access to Order of the Flamingo, a gated section on its official Discord channel where the team provides alpha calls limited to three focuses: Aptos, Sol, and Eth.
In these sections, the Aptomingos community can use third-party tools and gain additional insights from experienced traders for an improved trading experience. Here's a tweet from Aptomingos about an alpha call example:
As the project claims, all alpha calls are detailed and undergo careful research as it aims to deliver quality over quantity.
Education
Knowledge is power wherever you go, even in NFTs. However, Aptomingos noticed that the terms Not Financial Advice (NFA) and Do Your Own Research (DYOR) are more common in the space than proper educational resources, which is not helpful for those seeking answers.
Aptomingos aims to change this by imparting learnings and experiences for all its holders. Although the community doesn't necessarily have to copy the shared strategies, they can use them as a guide to becoming better investors and traders.
Some things covered here are funding, taking profits, the basics of identifying sketchy NFT projects, and more.
Redefined Utility
Most NFT projects present utilities but not Aptomingos. Don't expect tokens, staking, or the usual "utilities" aside from exclusive community access (e.g., alpha, education, etc.). 
Aptomingos believes that NFT projects die because of unsustainable tokenomics, which it wants to avoid. However, it has something up its sleeve to continue providing value to the community; the hint is it'll happen in phase 2 (more on this later).  
The Aptomingos Code
Respect fellow holders.
Value quality over quantity.
Not elitist.
Don't care about the floor price.
No artificial pumps.
Holders have a say in the project's direction.
The community are NOT a bunch of yes-men.
Respect and applaud genuine success.
Stay fluid and flexible.
Once an Aptomingo, always an Aptomingo.
Who is The Team Behind Aptomingos?
B.FLY Labs is the creator of Aptomingos, which is a three-man team co-founded by: Fischer, the project head; Casper, the group's brain; and Flippy, the manager.
Fischer, Casper, and Flippy are traders who have years of experience in both crypto and NFT spaces. They built Aptomingos carrying their knowledge, and from this project, the team aims to establish a community that learns about the Aptos ecosystem together with them.
What's Next for Aptomingos
Aptomingos is only the first step to the team's bigger plan: building the B.FLY ecosystem. What's the B.FLY ecosystem? Nobody knows except for one Twitter user who figured out B.FLY Labs' code.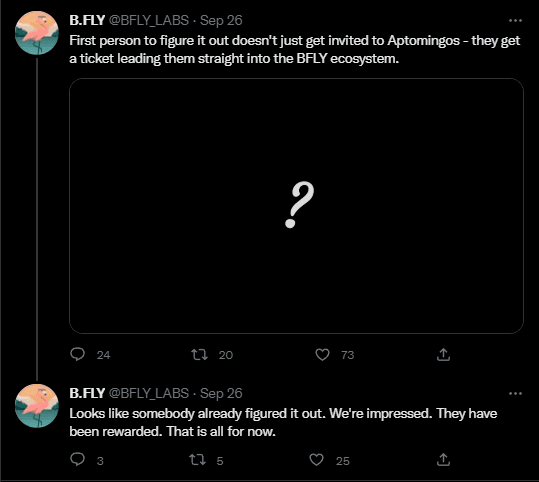 Now, we're only left with a hint: we're approaching phase 2. The image below gives us a sneak peek of what's next for the project. You can see summarized details from Aptomingos on the left side, while everything appears blurred on the other part.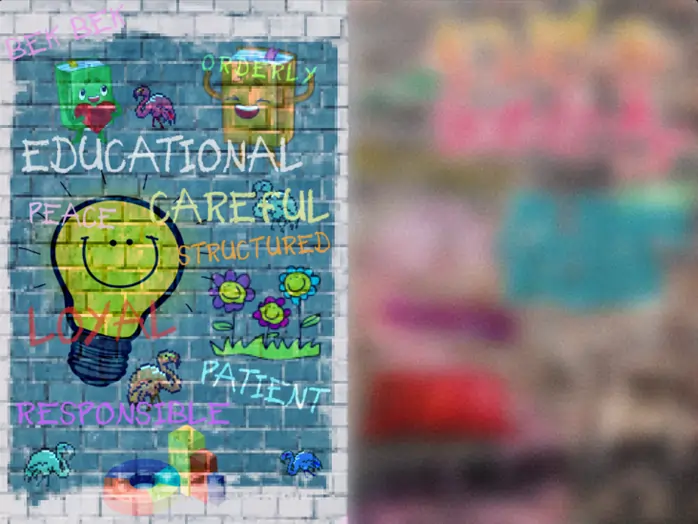 The only thing clear here is that the Aptomingos NFTs will play an important role in unlocking the next phase. It's something the community will look forward to as there will be rewards for the loyal holders.
---
Join our newsletter as we build a community of AI and web3 pioneers.
The next 3-5 years is when new industry titans will emerge, and we want you to be one of them.
Benefits include:
Receive updates on the most significant trends
Receive crucial insights that will help you stay ahead in the tech world
The chance to be part of our OG community, which will have exclusive membership perks