Trippin' Ape Tribe is not a cult. It's a tribe.
At least, that's what its fictitious leader, Chorles, wants the world to believe.
The project strategically blends cheeky story-telling with clever branding and marketing tactics to generate hype and attract one of the largest communities in the Solana non-fungible token (NFT) space. In fact, it has broken multiple sales recordsright after launch, becoming the top-selling Solana NFT on OpenSea by SOL volume.
This article aims to shed light on Trippin' Ape Tribe, as those who are not familiar with the project might get confused browsing through its website and Twitter page as the resources are very cryptic and lore-heavy, intentionally leaving out many details to spark creative thinking and build hype.
But what is TAT really and what does the project hope to achieve?
What is Trippin' Ape Tribe?
Trippin' Ape Tribe (TAT) is a PFP project on Solana that consists of 10,000 trippy-looking apes backed by a strong and ownable brand, rich lore, and community, as the team promises long-term utility for its assets.
The project employs cheeky storytelling to position its branding, marketing, and community outreach campaigns based on its lore.
As the brand grows, holders will be able to benefit through its shared intellectual property (IP), allowing them to generate independent revenue streams. However, the team hasn't disclosed the full details regarding this.
Holders will also be able to access exclusive community channels on its Discord and other future platforms.
Going back to the lore, you might be wondering, what's the story?
It all started out as a psychedelic experiment (in the story!).
Trippin' Ape Lore Summary
The apes were once ordinary, swinging trees and eating bananas, until one day, a music festival was held on their island.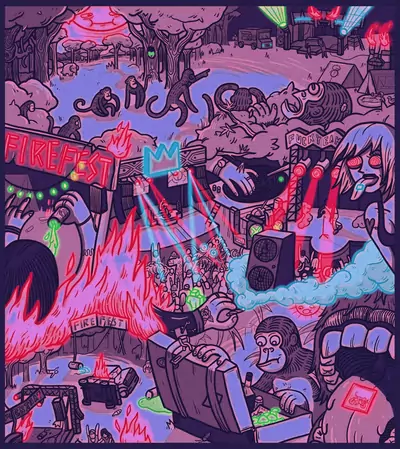 The apes observed from a distance as the humans were entranced and hypnotized by the sonic beats of the Fire Festival 2. But when the food and water supply ran out, everything devolved into utter chaos, until they finally left the island.
The apes scavenged the wasteland they left behind but found nothing of interest.
It was Chorles, one of the ape alphas, who found a mysterious piece of luggage filled with psychedelic substances. After disappearing for months after the event, Chorles came back to the tribe seeking volunteers for his so-called Clinical Trials.
Chorles administered the mysterious substances to his volunteers and told them they were on a journey to expand their consciousness. This is how the Trippin' Apes became self-aware.
Of course, this is just the beginning as the lore will be fully developed slowly over time and may correspond with real events.
For instance, Chorles added an entry to his journal, where he allegedly saw a vision of a vast concrete jungle and massive metallic beasts, and that the tribe will be there. The entry also left other clues, which somehow the community was able to decipher to mean that TAT will be attending the NFT NYC event.
Who is Chorles?
Chorles is the founder and supreme alpha of the Trippin' Ape Tribe, but it appears that he might simply be a character created by Valhalla Labs, not a real individual. According to the lore, he found the substances that allowed him to conduct experiments that led to the enlightenment of his tribe.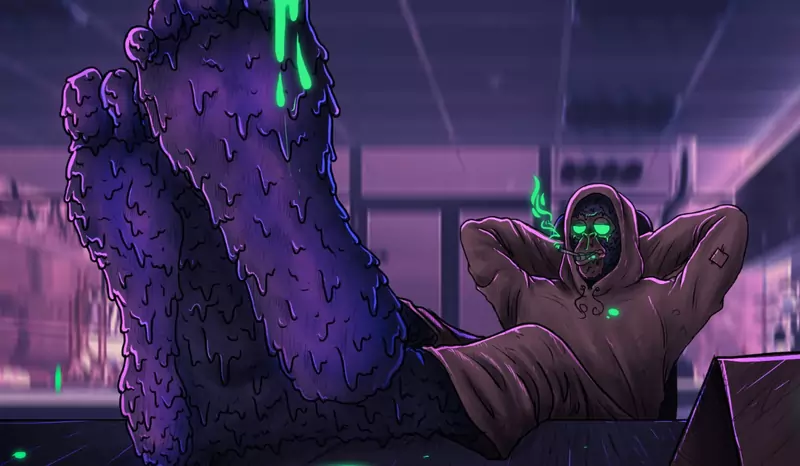 His first loyal followers are called Chorles' Disciples, who are actually the team behind the project IRL. The disciples always tell the community of apes to trust the process, ascend as one, and spread the mission.
Chorles' Sacraments
Chorles' Sacraments is a collection of items with sacred properties, each playing a unique and significant role in every ape's journey to enlightenment. According to the lore, some of the Sacraments will be gifted to the most devoted members while others need to be earned.
A few days after launch, the project had distributed the first Sacrament, Spores, to holders who didn't list their Trippin' Apes on marketplaces, rewarding the most loyal members in the process.
Is Trippin' Ape a Cult?
You might notice that the team casually throws around the word 'cult' often, while hilariously acting in denial of being one. If ever their goal is to use reverse psychology to garner a cult-like following, it seems to be working.
TAT Principles
The Trippin' Ape principles, as displayed on the website, represent the values that the team and community intend to uphold.
Community
The project states that it aims to build the most tight-knight and empowered community on Solana by carefully engineering everything it does to build hype, drive engagement, and provide opportunities for holders to connect deeply. It believes in the strength of numbers.
Identity
TAT has branded itself as a community of free-thinking degens, which it believes will inspire genuine creative inspirations and new strategic partnerships with like-minded brands and collaborators.
Innovation
The project aims to innovate and provide next-level utilities to keep the tribe guessing and the Solana ecosystem moving forward.
What Makes Trippin' Ape Great?
So far, the team has proven its competence in generating hype through story-telling and guerilla marketing. You can tell that they strategically plan every move they make, as evidenced by the creativity of their announcements.
For instance, here's a screenshot of an announcement made one day after launching successfully: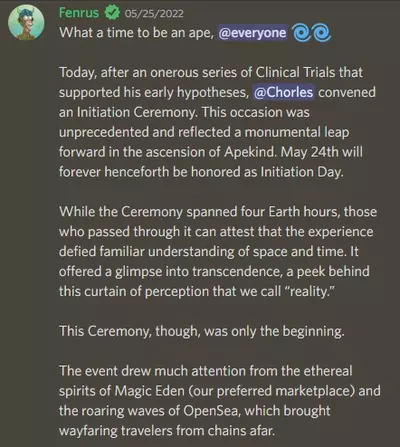 Instead of announcing something generic, it has romanticized the event, creating a narrative that is true in real life but also enriches its lore. Notice how Fenrus relays the story, how he refers to the minting as The Initiation Ceremony, how he glamorizes Magic Eden and OpenSea, etc.
And this is just one example. The team's messages usually require holders to read between the lines, as they amplify them with artworks, videos, GIFs, and memes to make them more fun and exciting. This provides an entertaining way to connect with its community while keeping them engaged.
The idea is to keep people thinking about the project. Guessing what we'll do next. We believe that's a lot more exciting than laying everything out. It also gives us the freedom and opportunity to deliver in a cheeky, on-brand way.

Lysergic, Co-Founder
The team's founder, Lysergic, is also very active in video and audio discussions, frequently hosting talks on Discord and Twitter Spaces, as well as attending interviews for the likes of Benzinga. This is crucial in building the team's thought leadership profile, which could be instrumental in attracting the best partners, collaborators, and brands.
Another big plus is that many members of the team also come from the community of DeGods, one of the most respected projects on Solana.
Who is Behind Trippin Ape Tribe? The TAT Team
Trippin' Ape Tribe is an NFT project created by Valhalla Labs, who are developers in the web3 space.
Lysergic, Co-Founder: Not only is he the captain of the party, but this electronic music festival owner has also mastered the art of branding and team-building. And let's just say he's no stranger to the world of NFTs (or psychedelics).
Danny Devitoken, Co-Founder: With a diverse range of experience and a love for trial and error, Danny is the ultimate full-time degen and problem-solver.
Fig, Artist: With a cult following in the festival scene, Fig is bringing his psychedelic visions to life through NFTs.
King Kulbik, Community Manager: Not only is he the man of the Tribe, but he's also a front-end developer by day and a vibe generator by night.
Top10brisketrecipes, Developer: This tokenomics savant has a knack for ritual game theory and has even run consumer software businesses at a FAANG company. When it comes to NFTs, his motto is simple: "I see Ape, I Ape."
Mr. Hankey, Developer: With years of programming experience under his belt and a love for everything from websites to IoT, Mr. Hankey has become a full-time NFT and shitcoin degen.
How to Buy a Trippin' Ape Tribe NFT
Remember, TAT is an NFT project on Solana. Therefore, you need SOL and a web3 wallet to be able to buy.
Ensure You Phantom Wallet
If you don't have Phantom yet, follow the instructions here to set it up.
Go to Magic Eden or OpenSea
You can buy a Trippin' Ape on the project's Magic Eden or OpenSea pages. You can choose from the listed NFTs available.
Buy a Trippin' Ape
Once you've chosen an NFT, simply click on it. Make sure your Phantom is connected; if not, click on Connect Wallet, then buy it.
Conclusion
Trippin' Ape Tribe is one of the most hyped mints on the Solana blockchain, but it's still new and has a lot to prove to its community.
Will it stand the test of time and become a blue-chip project? Or will it get lost in the oblivion amid a sea of NFT projects popping up every day? We'll see.
---
Join our newsletter as we build a community of AI and web3 pioneers.
The next 3-5 years is when new industry titans will emerge, and we want you to be one of them.
Benefits include:
Receive updates on the most significant trends
Receive crucial insights that will help you stay ahead in the tech world
The chance to be part of our OG community, which will have exclusive membership perks