There is no best Solana wallet, per se, but for most users, the best type of wallet should be secure, user-friendly, and functional for all manner of transactions across the network. The closes thing to perfection right now is a Ledger hardware wallet combined with a software wallet like Phantom.
But there is a catch.
Hardware wallets are far more secure than software ones, but their functionalities are also not as flexible. You'll find that the security bonus comes at the cost of having extra steps required to do certain tasks software wallets can do seamlessly. More importantly, cold wallets aren't exactly cheap.
However, the vast majority of web3 users get by just fine without having to spend on a hardware wallet, which is totally okay as long as you're aware that you have less protection. Software wallets come with their own level of encryption and security features, too. The downside is that since they are connected to the Internet, the odds of getting your funds stolen are slightly higher.
In this guide, we'll cover the different types of Solana-supporting wallets that are suitable for various types of users and activities.
TLDR;
Phantom — best overall software wallet; suitable for NFT and DeFi people; popular.
Ledger+Phantom — best overall wallet.
Solflare — best wallet for those that are security-conscious but can't afford Ledger; popular.
Ledger Nano S/X — best for security but with limited functionality
Torus — best for non-techie beginners; suitable for security-conscious users.
Glow — best for users seeking advanced features.
Math Wallet — best for multi-chain users.
Backpack — a new innovative type of wallet; best for advanced users.
Best Solana Wallets Ranking
Phantom 
Phantom is arguably the most popular crypto wallet in the Solana ecosystem because of its user-friendly interface, robust security, and integration with the most popular protocols on the network. One could say it is the best overall wallet for active users in the NFT and DeFi arena and the most universal amongst Solana wallets.
Describing all the advanced features Phantom has would take an article of its own and more. But essentially, it appears to provide an elegant balance of user-friendliness, flexibility, and functionality.
Its recent link to an ecosystem-wide hack that compromised over 8,000 wallets in August 2022 compelled some of its native users to look for alternative options, despite Phantom denying that their servers were compromised.
The wallet, which currently has the most users on SOL, also has a built-in decentralized exchange (DEX) that allows owners to swap their tokens easily. Crypto enthusiasts may also claim in-game tokens from play-to-earn (P2E) games and access other types of apps. With a valuation of $1.2B in its Series B funding, Phantom is backed by some of the biggest players on Solana, including a16z, Solana Ventures, Jump Crypto, etc.
Owners can easily stake SOL through the wallet's ready list of validators, allowing them to select conveniently. When it comes to security, Phantom also supports Ledger hardware wallets and biometric authentication to bring additional protection for crypto and NFT holders.
Download Phantom at Chrome, AppStore, Google Play, Edge, Firefox, or Brave. 
Solflare 
Solflare holds the bragging rights for being the first-ever wallet in Solana and opened an opportunity for SOL natives to solely access their private keys without intermediaries involved. 
While it paved the way for accessing Solana dApps, NFT marketplaces, DEXs, web3 lending services, etc., it also lost most of its competitive edge to Phantom as the latter became widely popular quickly. But due to the August 2022 hack that included a few Phantom wallets, Solflare got a lot of praise for its robust security, which might have prevented its compromise.
Hence, Solflare is now the software wallet of choice for the more security-conscious bunch, as well as the second-most popular on SOL.
Solfalre also features SOL staking, native NFT display, Ledger wallet compatibility, and 24/7 live chat support. For added security, it activates a 'Transaction Simulation' that helps holders view the assets that will leave in their wallets even before signing a transaction. Moreover, it reduces the risk of phishing by warning users before they interact with potentially malicious websites. 
Download Solflare on: Chrome, AppStore, or Google Play.
Torus 
Torus is an open-source and non-custodial wallet that supports 'OAuth social logins' instead of seed phrases to provide users with unique protection for their wallets. Furthermore, it is compatible with both Solana and Ethereum Virtual Machine (EVM) blockchains. 
Torus is the most user-friendly wallet to set up, which makes it the most suitable Solana wallet for beginners. Moreover, it also has the most stringent security features among hot wallets.
Torus' social login is a unique way to access wallets, where it 'splits' a digital key between a device, an existing login, and an input. But the most exciting aspect is the fact that users can simply log in to the wallet through their Google, Reddit, and other social accounts.
Obviously, this makes it quite beginner-friendly since it is passwordless, doesn't require memorizing seed phrases, and is quite secure. The mechanism aims to reduce the risk of key loss and protect users' wallets from various forms of scams involving wallet keys.
Glow 
Glow is a rising Solana-based non-custodial wallet offering zero fee swapping, NFT explorer, SOL staking, dApp interactions, and burning of spam tokens. It has also collaborated with Jupiter Exchange to provide users with a built-in token swapper for added convenience.  
While Glow is one of the hottest new wallets on Solana, it also has a lot to prove considering its nascence. But it is currently explored by users who love advanced new features to try out, as Glow has many of them. If you're into NFTs, you might at least give it a try to see if you love what they've got.
Some of its features include an NFT filter, autosuggestion of frequent recipients, and a rich activity feed. It also has robust protection from malicious attacks. 
Download Glow on Chrome, App Store, Google Play, Firefox, Edge, or Brave. 
Math Wallet 
Math Wallet is a universal crypto wallet that supports 100+ blockchains, including Bitcoin, Ethereum, Solana, Tezos, and NEAR. Moreover, it is compatible with mobile, desktop, and hardware wallets such as Ledger and Wookong Bio, making it a flexible web3 wallet to have.
If you are a multi-chain user or are the type of person who wants one wallet app to handle all transactions, then Math Wallet is likely the most suitable one for you.
Math also has its own token called, you guessed it,' MATH Token,' which inherits the wallet's utilities, including MathSwap, MathHub, MathPay, MathID, and more.
Apart from being a multichain wallet, here are Math's other major services and what each feature offers: 
| | |
| --- | --- |
| Service  | What it Offers? |
| Math DAppstore  | Offers access to 5,000+ dApps  |
| MathVault  | Centralized and decentralized finance platform and staking aggregator  |
| MathChain  | Substrate-based Layer 2 blockchain |
| MATH Token  | A native token to redeem Math wallet-related products.  |
| Math Giveaway  | Allows users to initiate their own Twitter Giveaway easily |
| MathGas  | A multichain gas tracker application  |
Backpack 
Backpack is not technically a wallet but is designed to replace wallets. It is a blockchain-agnostic open and programmable system powered by xNFTs, a new concept that aims to bring users' entire crypto activities in one place. 
Let that sink in: Users can soon manage all their NFTs, dApps, and transactions from different blockchains in one place. Indeed, this is a much-needed solution in the web3 space and can be a potential breakthrough. 
This promising project came from Coral, the same entity that created Anchor, which has become a successful development framework in Solana. 
If you want to be part of Backpack's Beta and claim your wallet username, you may download its extension, go into its 'Waiting Room', and participate in the project's fun and challenging guessing game with thousands of enthusiasts worldwide. 
Most Secure Solana Wallets 
Ledger hardware wallets are the safest type of wallets for Solana users thanks to their hardware nature, allowing them to physically disconnect from the online world, and protecting users from cyber theft. 
Moreover, even if owners connect their wallets to the internet through desktop PCs or smartphones, their private keys remain safe through Ledger's Secure Element chip. This specialized chip, which passports and credit cards also use, provides the highest level of security for microchips. 
While there are other popular cold wallet brands like Trezor and Safepal, they currently don't support SOL and Solana-based tokens. In addition, they only provide limited functionality, preventing users from purchasing NFTs from marketplaces. 
Ledger Nano S Plus 
Ledger Nano S Plus is a hardware wallet that can manage more than 5,500 digital assets, including NFTs and cryptocurrencies. It is the younger sibling of the globally successful 'Nano S,' which arguably catapulted the popularity of cold wallets. 
The Nano S Plus has a bigger memory than its predecessor, allowing it to download 100 apps simultaneously. And as a bonus, it also has a larger screen, giving users better navigation. It is compatible with a 64-bit desktop computer with Linux, Windows 8+, or macOS 10.8+ operating systems. It also works on Android 7+ devices. 
Nano S Plus cannot download apps independently, and users will need to connect them to a computer or a smartphone to execute this step. For security, it uses a certified secure chip (CC EAL5+) to bring a robust layer of protection to holders' digital assets. 
Moreover, users can pair their Nano S Plus with 'Ledger Live', Ledger's native application that allows owners to manage their crypto assets in an alternative and secure space. 
It goes hand-in-hand with the hardware wallet as each action would require two-step authentication, executed through the cold wallet's buttons. The app, by the way, isn't compatible with Chromebooks. 
Ledger Nano X 
Ledger Nano X and Nano S Plus' features are mostly the same, but what makes Nano X different is its Bluetooth connection. While this tech is obviously not new, it allows users to manage the crypto assets stored in their cold wallets through their smartphones. 
Moreover, this wireless connection has end-to-end encryption to prevent any cyber compromise when users activate this link. Another fact that users need to know is that this Bluetooth connection won't expose their private keys as these passwords are designed not to leave in the wallet's security chips. 
But users can always turn off Nano X's Bluetooth and instead use its USB-C cable if they want to. Furthermore, like Nano S Plus, this variant also cannot download apps on its own and would need to connect to external devices to do so. 
Owners can also pair their Nano X with Ledger Live to enhance the wallet's capacity and utility for better digital assets management. 
Nano X is compatible with a 64-bit desktop computer with Linux, Windows 8.1+, or macOS 10.14+. 
Note: Nano S Plus' macOS requirement is 10.8 or above, which is a bit different from Nano X.
Connecting Phantom to Ledger: The Ultimate Solana Wallet
Did you know that you can actually connect a software wallet like Phantom to a Ledger hardware device? This would arm you with best-in-class wallet security coupled with the versatile functions of Phantom.
The reason we'd want to connect Ledger to a hot wallet is that cold wallets simply don't allow the same level of usability; you won't be able to do as many activities, as mentioned earlier.
Thankfully, you can link your Ledger S Plus or Ledger X with a browser-based wallet. Besides Phantom, these hardware wallets are also compatible with Solflare, Glow, and other software wallets. 
But in this guide, we'll showcase how to connect your Ledger device to your Phantom wallet, assuming you already purchased the device and created an account. If you haven't created a wallet yet, watch this video first:
Install Ledger Live on Your Computer
First, you need to download the Ledger Live application on your computer. Download the app here. You may be able to complete this process on your phone, but we highly recommend you use a Desktop or laptop in order to have the same results as our demo.
Connect Ledger Wallet to Your Computer
Using your Ledger's USB-C cable, connect it to your computer. Don't forget to unlock it first. The Bluetooth connection method for the Nano X models works too.
On your computer, open the Ledger Live app and select the 'My Ledger' tab. Link your Ledger device. In case there is a prompt to allow My Ledger access on your device, approve it. 
Install SOL App on Your Ledger 
Once done, navigate and choose the Solana app in the search field under the "Manager" tab.
Click the 'Install' button to install the SOL app in your Ledger hardware wallet. (In our case, it's already installed).
Note: You can monitor the progress of the app installation from your Ledger device. 
Open Your Phantom Wallet
Open your Phantom wallet and access its settings by selecting the button on your screen's upper-left corner.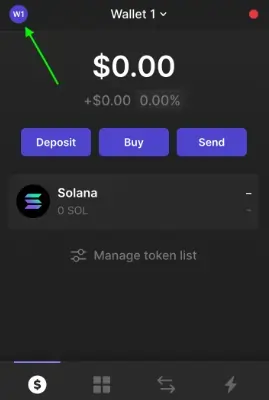 Select the highlighted wallet that you'll see on your next screen, usually named Wallet 1 by default.
Adding Ledger to Phantom
On the following interface, click the 'Add/Connect Wallet' and then select the Connect Hardware Wallet' buttons.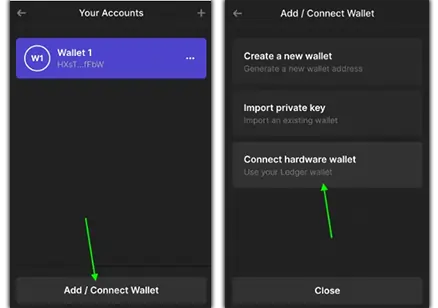 Once done, Phantom will start detecting your Ledger and ask you to continue and choose your derivation path and the wallet account you're importing. 
Now, select the derivation path that you want Phantom to choose. 
In case you've previously used the Ledger Live desktop app, do not be confused if you see a different derivation path in the menu. Simply click the dropdown menu, and select the second choice to see the previous address you used.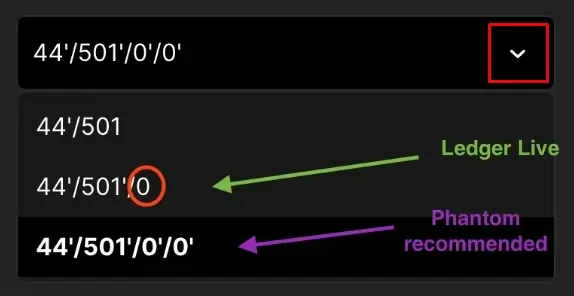 Once done, you can now manage your SOL funds and transact with the Solana dApps of your choice through your Ledger cold wallet. 
Note: You'll only need to choose the third option (Phantom recommended) if you lost your Ledger or if the device stopped working. By clicking this derivation path, you'll be allowed to access your Ledger (even without your cold wallet) by entering your Ledger's 24-word access code into Phantom.
How to Connect Ledger + Phantom to Magic Eden
Notes before connecting your Ledger device to Magic Eden:
Update to the latest version of the Ledger Live. 
Be sure that your Ledger device uses the newest firmware version. Ledger Live will notify you about this information. 
Update to the latest version of the Solana app. 
Enable 'Blind Signing' in your SOL app. 
Let us now connect your Ledger to Magic Eden 
Open your preferred browser, unlock your Phantom wallet and click the 'Hamburger' icon.
Once done, select 'Add/Connect Wallet' and click 'Connect Hardware Wallet'. 
Click 'Continue'.
Select your wallet address and click 'Done'.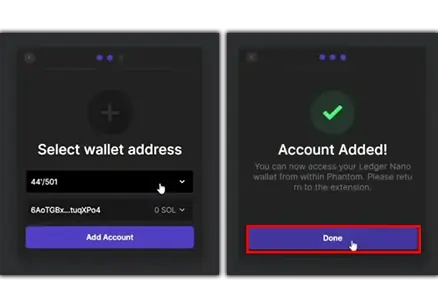 Before proceeding, be sure to go into your Ledger device's settings and activate 'Blind Signing'. Note: Bypassing this step will prevent you from purchasing NFTs from Magic Eden. 

Head on to Magic Eden's homepage, click 'Connect Wallet', and select Phantom wallet.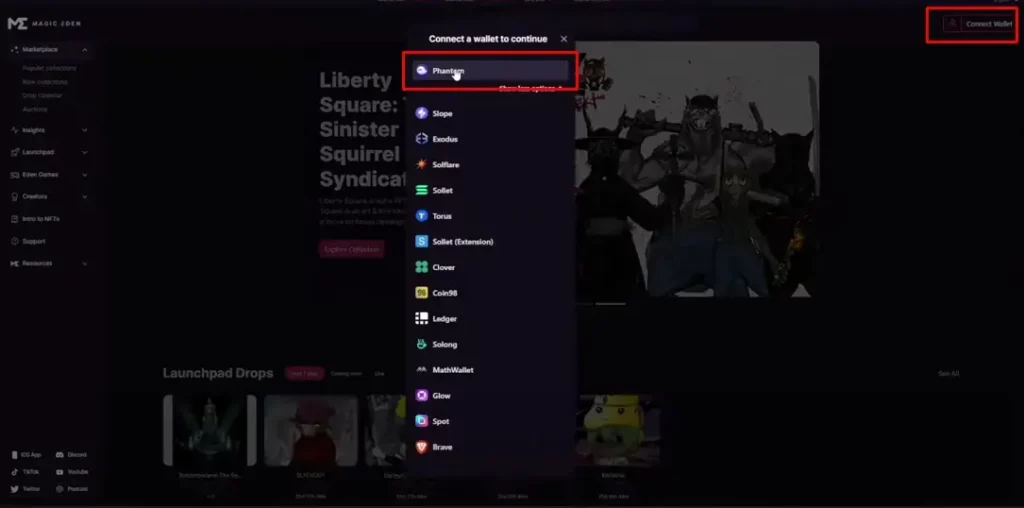 At this point, let us bring up one minor issue that seems to be happening only on the  Chrome browser. Right after clicking the Phantom wallet button, Chrome might bring you to this Phantom homepage, which prompts you to download a Phantom wallet even if you already have it.
Of course, you don't have to go through this process again. What you need to do is simply refresh the page and click the Connect button again. 
Voila! Your Solana Ledger is now connected to Magic Eden.
Blind Signing: What is it and How to Avoid its Risks? 
So, is it already time to wrap up? Not yet. Before we end, we would like to dig into one concept that might seem unfamiliar (and uncomfortable) to you, which is 'Blind Signing' 
This step involves approving or signing a blockchain-based smart contract without even reading its details such as terms and conditions. The reason behind this process is the smart contract codes' increasing complexity, making it challenging to convert and explain what they do in human language. 
While blind signing may sound risky, we're actually doing this for a very long time, right before the crypto boom. Do you still remember how you're skipping those long contract agreements from online-based services, and hastily clicking the 'Agree' button.? Well, that was a blind signing even before the term came into existence. 
But with the rise of blockchain tech, this type of contract signing may prove to be riskier, as valuable digital assets are now involved, and they're at risk of being wiped out by scammers. 
Hackers can even now transmit a false display on victims' screens to fool them into signing an alternative contract, and unknowingly approve an agreement that can wipe out their assets. 
To prevent these types of frauds, users can utilize hardware (cold) wallets such as Ledger, to mitigate cyber-related manipulations which hackers can conveniently do online. Since cold wallets can unplug online, they reduce hackers' abilities to infiltrate users' blockchain-based transactions, especially blind signing. 
While these devices aren't a be-all, end-all solutions against these activities, they can mitigate the possible risks that blockchain natives may encounter from their transactions. Another way holders can protect themselves is to simply disable their blind signing feature once they're done approving a specific transaction.
---
Join our newsletter as we build a community of AI and web3 pioneers.
The next 3-5 years is when new industry titans will emerge, and we want you to be one of them.
Benefits include:
Receive updates on the most significant trends
Receive crucial insights that will help you stay ahead in the tech world
The chance to be part of our OG community, which will have exclusive membership perks