Degen Sweepers, one of Solana's most controversial non-fungible token (NFT) collections, was met with 'sweeping' criticisms from many collectors as it failed to sell out during the minting event on July 25 (8:00 PM CET) with a mint price of 5.1 SOL. . 
As of press time, only 1,883 out of 10,000 Degen Sweeper NFTs were sold, leaving over 8K unminted while secondary sales are ongoing.
On the other hand, it has also received praise from the collectors who have successfully minted and proudly displayed their NFTs. As a result, it became the 4th biggest Solana collection (by trading volume) for the past 24 hours as of July 25, according to SolsWatch.
Growing Criticisms Over Degen Sweepers
Degen Sweepers is a 10,000 NFT collection of degenerate characters that want to "sweep floors", which means to buy all NFTs of a particular floor price. The collection was created and developed by Urkann (founder), who is well known in Solana as one of the greatest floor sweepers. He is also known to have swept DeGods at astronomical levels.
Unfortunately, the once respected influencer has fallen from grace due to criticisms made mostly by other influencers about overpricing his mint and not giving enough information to justify it.
Other team members include Brian Hammers (marketing and branding), Resist (artist), and FarmerD (project manager).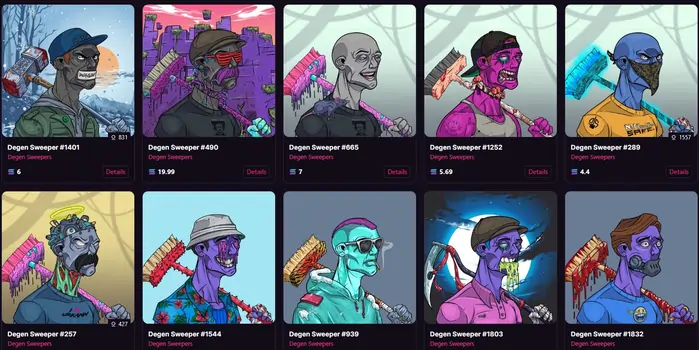 As the minting event kickstarted, the trickling responses from the community grew into an overflow of postings, both on Degen Sweeper's Twitter and Discord accounts. While other collectors have been quick to show off their freshly minted NFTs, others were disappointed (and disgruntled) with their failure to mint their characters, despite being included in the Sweeper List (SL), the collection's version of whitelist. 
Other influencers like Anglio, TheS◎Lstice, Alexander42, etc. continue to take jabs at Urkann and the project on Twitter for a variety of reasons, mostly for not selling out.
Secondary sales volume on Magic Eden is struggling to get past even 4K SOL. As if the situation couldn't get any direr, Degen Sweepers are now selling 20% below the mint price.
Urkann Remains Firm with the Project's 'Success' 
Despite the snowballing criticisms over the project, Urkann remained firm that everything "was going smoothly" and "going good" and passed the blame to Solana, saying that the network had "rugged" the project. 
Salv, a cloud engineer and web app developer not related to the project, defended the fiasco and explained that the sudden huge load in the Solana network had caused the incident. In other words,  the community should not blame the team for the unwanted hiccups during the minting event. 
Unfortunately, the collectors experiencing these technical issues were not having it and have thrown hate and accusations at the project founder. In a separate tweet, Salv has also mentioned that it took more than 20 times just to mint the NFT. 
Degen Sweepers' Art is Great, But Can It Save the Project?
While Degen Sweepers has drawn flak over the recent technical issues and Urkann's new notoriety, the collection also received praise for its high-quality art, all thanks to the team's artist, Resistt. The digital artist received compliments from collectors, calling him epic, their favorite, and fan.
The collectors' praises over Degen Sweepers' art, however, still couldn't save the collection as it hasn't sold out even hours after public mint.
---
Join our newsletter as we build a community of AI and web3 pioneers.
The next 3-5 years is when new industry titans will emerge, and we want you to be one of them.
Benefits include:
Receive updates on the most significant trends
Receive crucial insights that will help you stay ahead in the tech world
The chance to be part of our OG community, which will have exclusive membership perks