One of the most anticipated NFT drops in Solana, Duppies, appears to have changed its branding to y00ts. Surprisingly, this seemed like a last-minute change considering that the announcement took place just now, on the 30th of June, which could be a hint for another delay.
However, FrankDeGods pointed out on Twitter Spaces that the name Duppies was never set in stone in the first place.
What are Duppies and y00ts?
Duppies is a forthcoming NFT project currently being developed by the same team that brought DeGods, which is arguably the number 1 NFT project on Solana, being the highest in terms of market cap ($108.47M), more than 3x that of the second highest collection, Okay Bears.
The massive hype around the Duppies, now called y00ts, is known by the majority of active NFT enthusiasts in the Solana ecosystem.
Nobody besides the creators and artists has seen the artworks. No leaks have been made ever.
But the general consensus is that it is so much better than existing collections on Solana based on the supreme art displayed by DeadGods and the hints dropped by FrankDeGods and the artist team. One of the artists, PENCOOLZ, shared that one of their quality control metrics is to ensure that the art can make you orgasm; metaphorically, that is. And that it will be one of the "best f#cking collection to grace any blockchain."
In fact, it is collaboratively developed by five different artists:
Note that the last three are also the designers of the DeadGods artworks.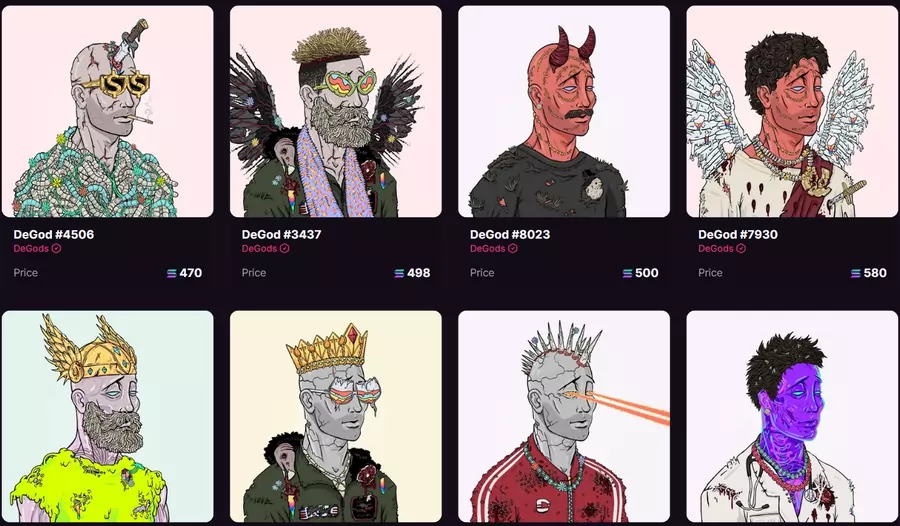 Could the ReBrand Be a Reason to Delay Mint?
Duppies took some heat in the month of July due to launch delays. The last announcement indicates that the mint was slated for the end of July or the beginning of August. But considering the rebrand, it's uncertain whether the team can manage to launch in a timely manner.
While this could cause some frustrations from eager participants, FrankDeGods, the leader of the development team, had advised holders to be patient as great things take time to build. But recently in a Twitter Space, he shares that the exact date for DeGods will be announced sometime this week, hinting that it will come "sooner than people think."
How Did the Community React?
The sudden shift in direction has left some NFT enthusiasts confused. Alexander42, Solana's infamous shitposter, shares that he is "shaking" right now after the realization. There are a few who are voicing out their frustrations, but the majority of the community are bullish on the rebrand or at least appears to support it.
This is a developing story as the y00ts team has promised to share a thread as to what drove them to change Duppies.
---
Join our newsletter as we build a community of AI and web3 pioneers.
The next 3-5 years is when new industry titans will emerge, and we want you to be one of them.
Benefits include:
Receive updates on the most significant trends
Receive crucial insights that will help you stay ahead in the tech world
The chance to be part of our OG community, which will have exclusive membership perks