What goes into your mind when you think of the metaverse? A new world full of wonder? An escape from reality?
When we think of the idea of staying in our rooms with some VR headgear glued to our faces all day, it doesn't sound quite healthy. That kind of life doesn't correspond with our human biology. And it's a poor way to live, no matter how immersive and fun virtual worlds can be.
This is one of the motivations for developing a metaverse that doesn't escape physical reality, but seamlessly merges with it. The metaverse could augment our physical spaces, as well as magnify our experiences of community, creativity, and connection to the world.
The Neonz non-fungible token (NFT) collection is the genesis project of the Sutuverse, which features cyberpunk avatars made of light. It can exist both digitally and in the physical world, closing the gap between the two realities.
What is NEONZ? 
Neonz is a stunning collection of 10,000 animated retro-futurist neon characters running on the Tezos blockchain as NFTs.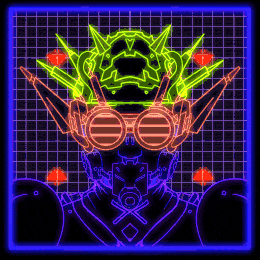 Neonz is the genesis collection of the Sutuverse, with many AR features constantly being rolled out, such as the Neonz Signz and Neonz Facez, which bring all 10,000 Neonz avatars to life in the real world as face filters through the Eyejack app and the purchase of AR tokens. 
Neonz have detailed aesthetics and animations almost as if they weren't hand-drawn or algorithmically generated.
The project, which boasts a psychedelic animation, is the brainchild of world-renowned and award-winning digital artist Sutu, known for his works on interactive virtual reality (VR) and augmented reality (AR), as well as designing high-budget virtual experiences used for movies like Ready Player One and Dr. Strange. 
Each Neonz serves as a membership card to the Sutuverse, Sutu's version of the metaverse filled with rich phy-gital experiences, including WebGL gaming.
First we talk about Sutu's company and app, Eyejack, which predates even Neonz and the Sutuverse concept. Then, we go over the different features and use cases of the Neonz NFTs, including what you can do with them today.
EyeJack 
EyeJack is an art and technology company that focuses on producing AR and web3 tools, creations, and experiences to bring artists closer to the new realms of art. The company, which is owned by Sutu, currently has three main offerings: Generative Traitz, EyeJack Events, and EyeJack Creator.
While Eyejack has its own business structure separate from Neonz, most of the NFT collection's features can only be deployed through this app. And considering that both projects have the same creator, we can expect further integrations between Neonz and Eyejack as the Sutuverse develops.
Generative Traitz
Generative Traitz is a generative art software made to help artists seamlessly create hundreds or thousands of immersive artworks through their individual trait graphics. Plus, it allows artists to review their creations in real-time to enhance output. 
EyeJack Event
EyeJack Event, meanwhile, is the event arm of the company, which rolls out various events, including conferences, festivals, and functions that aim to bring artists closer to the AV and VR worlds. These events also offer artists access to the latest technologies they can use for their creations. 
EyeJack Creator
EyeJack Creator is a tool that helps digital artists easily transform their artwork files into augmented reality artworks! By using this desktop computer tool and the EyeJack AR application, they don't have to create AR creations from scratch, as they can easily use their existing artworks. 
Neonz Facez 
All 10,000 Neonz avatars have AR models already live! But you need to own the specific NFT in order to use it.
Neon Facez is a feature of the EyeJack app that allows users to turn their Neonz characters into 3D AR face filters, or "digital helmets". Think Snapchat but more retro-futuristic.
In order to activate this feature, you will need to own a Neonz NFT, which can be bought on the Objkt NFT marketplace. Furthermore, you'll also need to purchase a small amount of AR utility tokens here.
Neonz even held a Twitter contest that invited users to post their videos wearing these amazing virtual 3D helmets, which have seen active participation from the community. Winners of the competition received a "Summer of Neonz" starter pack, a collection of 10 unique full-body NEONZ accessories, which holders can use for the collection's upcoming videogame. 
Neonz Signz 
Neon Signz is another feature of the EyeJack AR app that enables holders to display their Neonz characters like glowing neon signs in the real world. This can done by simply by pointing their cameras at their chosen places.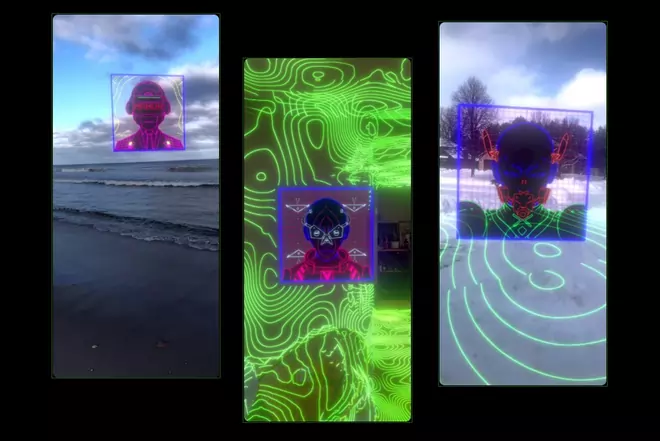 In order to activate this feature, you will need to own a Neonz NFT, as well as a LightFieldz utility token. Both can be purchased on NFT marketplaces that support Tezos. See the official setup page for step-by-step instructions in activating this feature.
Who is Sutu? 
Sutu, whose real name is Stuart Campbell, is a Gold Ledger and Webby Award-winning Australian digital artist and director whose art and business ventures have revolved around new digital experiences, from VR films to interactive web comics, virtual concerts to AR stories.
The Los Angeles-based multidisciplinary artist has worked for some of the biggest companies in the world, including Disney, Marvel, and Google. Some of the most high-profile projects he created experiences for include Doctor Strange and Ready Player One.
Check out his portfolio.
He was invited last April 2022 to the TED Main Stage, where he outlined his own vision of the metaverse and how it could change the way people interact with the digital world.
Sutu's Vision for the Metaverse 
Sutu believes that the metaverse should encourage people to interact with their physical environment instead of having them wear clunky headgear and getting locked in their rooms all day. In the sci-fi movie Ready Player One, people sought the Oasis metaverse to escape from reality, which is quite dystopian.
Taking a different approach, Sutu envisions a better future that seamlessly blends physical and digital realities powered by VR, AR, and Mixed Reality technologies.
The Sutuverse aims to create the right balance between reality and the digital world, unlocking more creativity from both physical and digital natives.
What is Sutuverse? 
Sutuverse is Sutu's version of a metaverse, a 3D world that encompasses both the physical reality we live in and the digital experiences created by him and other future artists. It is a digital space where Sutu's current and future projects can converge and give holders a more immersive and persistent world.
Let's explore other elements that are currently being developed for the Sutuverse.
Circuit Breaker (A NEONZ Game) 
Circuit Breaker is a WebGL game built for the Sutuverse, which would turn Neonz avatars into playable characters. Players can unlock a series of prizes and new gameplays as they advance in the game. 
Circuit Breaker is slated for a full release in July 13, 2022. Check out the demo in the Tweet below.
Choose Your Players (CYP) Avatars 
Choose Your Player (CYP) is another NFT collection that consists of digital avatars with full bodies. While nothing is set in stone, Sutu states that he likes the idea of the CYP being the villains of the Sutuverse.

CYP was introduced in Sutu's first-ever solo exhibition in the US and was launched shortly after the successful rollout of the Neonz NFT collection. Interestingly, Sutu was already conceptualizing CYP even before Neonz's launch, giving this exhibition a sizable head start, which is also one of the main reasons for its success. 
The CYP exhibition rolled out at SuperChief Gallery, the world's 1st in-real-life (IRL) NFT Gallery, which welcomed guests with 50 LED screens filled with various neon avatars, a purple and pink bathed place, and walls decorated with real neon signs, giving everyone a rich and visually-satisfying experience. 
What Makes Neonz Special? 
The Neonz NFT collection piggybacks on the prestige of Sutu and his works, but also boasts some of the most ground-breaking AR experiences ever witnessed in the crypto space.
Stunning AR Features 
Neonz boasts some of the most mesmerizing artworks and aesthetics in the industry, as proven by the successful IRL and digital events launched in the last few months, including CYP and Neonz in the Wild. In fact, no other project is known to have created at least 10,000 face filters out of its NFTs.
The rich colors and animations of Neonz Facez and Signz were a big hit to the collectors and one of the best utilities an NFT collection has ever released. Furthermore, this is only the beginning as Sutu has hinted larger plans for his Sutuverse.
Anchored by Sutu's Popularity
Sutu is one of the most well-known and respected figures in the digital art world, mainly because of his high-quality creations used in entertainment, education, and social impact initiatives. Apart from working with global companies, he has also created a series of successful VR documentaries and award-winning interactive comics, further cementing his name as a high-caliber digital artist.
His clout on the global digital art scene can help position Neonz and the Sutuverse in the evolving landscape of web3 and the metaverse, especially when it comes to partnerships. This poses an unfair advantage over artists that only came to prominence after NFTs became a thing.
Conclusion
Neonz doesn't share the same level of hype as bluechip NFT projects like Bored Ape Yacht Club and DeGods, but it has carved a niche of its own thanks to its unique and cutting-edge digital experiences. It does help that Sutu happens to be a very high-profile artist.
As the main collection of the Sutuverse, we can expect more features to be added to Neonz in the future, enabling holders to unlock content in AR, VR, and the web.
---
Join our newsletter as we build a community of AI and web3 pioneers.
The next 3-5 years is when new industry titans will emerge, and we want you to be one of them.
Benefits include:
Receive updates on the most significant trends
Receive crucial insights that will help you stay ahead in the tech world
The chance to be part of our OG community, which will have exclusive membership perks