The Solana space has seen countless different animal pfps, from apes, to bears, to bulls, to cats, you name it. But there haven't been a lot of vampire-themed collections, as hard as it is to believe. SoDead took advantage of that, and so far, it has paid off.
Interestingly, SoDead started out as a degen mint at a price of 0.069 SOL. And the team admits that it went through some hard times before getting the attention it now commands. And true enough, if you look at the NFT's floor price chart, it appears that the project didn't really do well until September 24-25, when it had its first ultra surge.
If anything, this indicates that the team has the ability to go from zero to hero despite the obstacles.
Let's dive in deeper to learn more about the NFT collection. If you're new to NFTs, you might want to check out our full non-fungible token guide first.
What is SoDead? 
SoDead is an NFT collection of 4200 algorithmically-generated vampires living on the Solana blockchain and beyond. Arsen Aharonyan (pseudonym), the founder and chief executive officer (CEO) of the project, launched it last August 2, 2022.
While the first-generation collection is stored on Solana, the project aims to create a blockchain-agnostic ecosystem, so it may land on other protocols at some point in the future.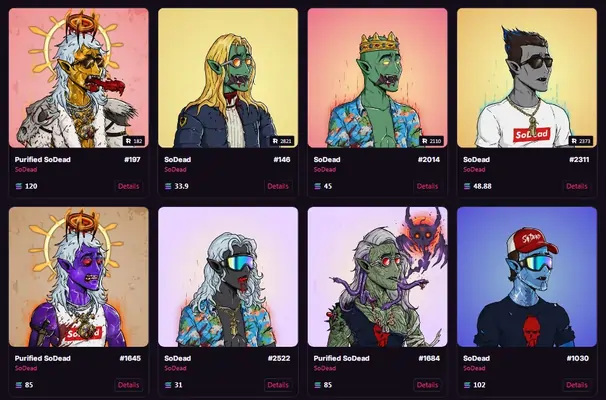 The 'SoDead' vampires come in three types: 'originals,' 'purified,' and 'tribes,' which also have varying benefits and prices. 
While this blood-loving cult loves to suck, it's far from being a sucker as it boasts a rising brand, promising utility, and active community. Furthermore, the project also offers alpha tools, gamified activities, and passive income opportunities to keep holders equipped and entertained while holding their precious vampires. 
Despite having the edge of immortality, these vampires, or rather, the doxxed team behind it, only took a fraction of "eternity", so to speak, to establish a value-centric project that justly rewards holders.
Moreover, on its website, SoDead clearly states that it's not just another regular collection in the space, nor was it created just to be flipped. It aims for something big, bloody, and bold. 
And what could this be? 
To offer the best art, community, and utilities on Solana, giving hundreds of projects a strong competition and a (possible) run for their money.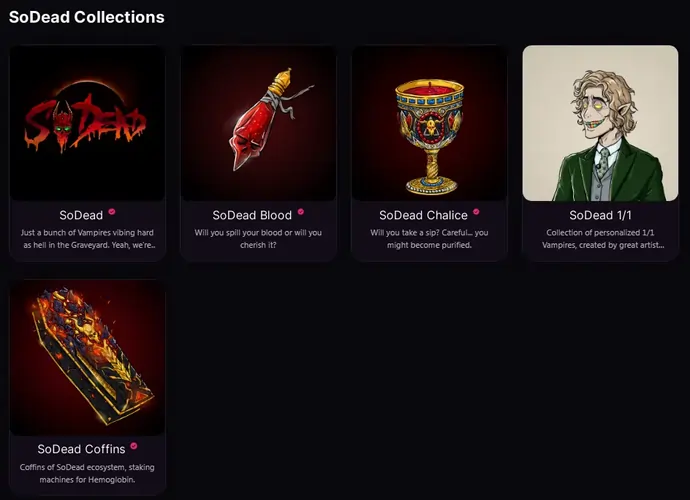 If all these things sound interesting, you may head to Magic Eden (ME) or Elixir to buy, sell, or trade these eye-candy vampires. On ME, you may also purchase its other cool complementary collections called SoDead' 1/1s', 'Blood,' 'Chalice,' and 'Coffins.' 
Also see: A Guide to Buying NFTs on Magic Eden
And in case you're asking, yes, SoDead has its own native token called 'Hemoglobin' ($HEM), which is already in the works, and will soon be rolled out. 
Moreover, the team plans to launch it on Solana first, and then scale on Ethereum and other major chains if everything goes well. To know more about $HEM, check out the team's insightful discussion on Twitter Spaces. 
The project is still in its infancy, but it will soon provide complete details about its current and future plans through its website and official whitepaper. 
SoDead Accomplishments and Future Plans 
Who says two months is such a short time to accomplish something great in the NFT space?
Not the team behind SoDead. Within this brief timeframe, they have managed to hit a sales volume of 32,500 SOL, which reflects the attention it has generated in the community. 
Furthermore, it has also integrated key financial aspects into the project, such as play-to-earn (P2E) elements, deflationary features, and $HEM stake-to-earn. 
It will also include yield farming and staking as well as SoDead's very own exchange called 'HEMex,' which would allow holders to participate in liquidity pools. 
Another way holders can earn from their vampires is through revenue sharing. Each faction, called 'Lycans,' 'Bats,' and 'Gangrels,' will be competing against each other to be the first to raise 200 SOL from their 20 SOL seed capital. The winning team will then split its earnings among its members. 
Through these features, SoDead intends for holders to have plenty of ways to recoup their investments and eventually earn revenue from their NFTs. 
Collectors can also upgrade their characters through 'tribe purification,' in which they need to burn their OG vampires together with one 'Chalice' and one' Blood.' As mentioned before, you can purchase the last two assets on SoDead's separate collections. 
This purification only occurs once a month, and what's cool here is that it intends to coincide with a real-life full moon every month. Talk about taking its theme too seriously! 
As for the complementary collections, they are not just mere add-ons or accessories to your prized vampires, as they are necessary to earn and advance in the ecosystem continuously. 
Moreover, without these critical assets, you cannot tap the full potential of your NFT, and reap the monetary benefits of an evolving vampire. As an example, you would need to purchase a 'Coffin' (not a real one, of course) before you can stake your SoDead vampire and earn passive income. 
This 'spend more to gain more' design is integrated all over SoDead's ecosystem, which means that you really have to invest on other assets other than your vampire. 
Furthermore, you can also play as a SoDead vampire on Solana's premier NFT-based PvP fighting game, BitBrawl.
What Makes SoDead Unique? 
The SoDead team has been clear on how it can help collectors generate income from their vampires, and the project's eye-candy aesthetics is just the blood-flavored icing on the cake. 
Moreover, its doxxed team adds a layer of confidence and trust to the project, which is a much-needed advantage at a time when NFT enthusiasts are already distrustful of new founders due to the countless rug pulls that plague the space. 
Furthermore, its agnostic nature means that natives from other blockchains may soon experience the benefits of SoDead, which would further spread and strengthen its brand. 
But of course, with all the things we've mentioned about the collection, we must still warn you that this is a fairly new project; barely three months old, to be exact. We all know that anything can happen in this volatile space, and being cautious with our investing decisions could always protect us from potential perils. 
---
Join our newsletter as we build a community of AI and web3 pioneers.
The next 3-5 years is when new industry titans will emerge, and we want you to be one of them.
Benefits include:
Receive updates on the most significant trends
Receive crucial insights that will help you stay ahead in the tech world
The chance to be part of our OG community, which will have exclusive membership perks