Imagine playing Super Smash Bros but with your NFTs. That loosely sums up BitBrawl's gameplay.
Many blockchain games that have come out from 2021 to 2022 never amounted to anything. We've seen in-game tokens crash to extremely low levels that it becomes nearly impossible for players to make a decent income. But we also know that the GameFi industry is still early and that the best is probably yet to come.
True "degens" know that the world of non-fungible token (NFT) games are a mixed bag of treasures and junk, and it's their task to plow their way through these piles to spot valuable projects. Whether or not BitBrawl is one of such projects is not yet proven. But it has one of the most promising concepts out there in the sense that it is uniting multiple NFT projects under one fighting arena.
Will we see multiple projects use their NFTs to battle it out Super Smash Bros style? Or will it be ignored? Let's dive deeper into this.
What is BitBrawl?
BitBrawl is a player vs. player (PVP) game backed by a collection of 10,000 NFT characters called "brawlers," which runs on the Solana blockchain. It is a skill-based play-to-earn (P2E) game that pits players with fellow gamers in various matches and tournaments. 
Moreover, BitBrawl also offers NFT skins from other projects like DeGods and Stoned Ape Crew, allowing their brawlers to play as different characters.
The game hasn't been released yet, but the tentative date is the summer of 2022. Moreover, this would also be the best year for BitBrawl as it could finally launch its 2022 Championship tournament. 
Game Modes
Players should apply strategic moves (instead of mindless attacks) to win every battle. Furthermore, it also has three game modes called "Casual," "Ranked," and "Tournament," which offer various levels of difficulties, depending on the players' risk appetite. 
In "Casual Mode," players can engage in 1v1, 2v2, and 3v3 battles using skins from other NFT projects partnered with BitBrawl. This mode is perfect for those who merely want to test the game without the pressure of competition.
Meanwhile, "Ranked Mode" allows players to earn more $BRWL (the game's governance token) and climb up the ranks to increase their standing. The "Tournament Mode" offers bigger rewards and is made for more skilled BitBrawl players who can compete in weekly and monthly tournaments against seasoned gamers. 
Moreover, all BitBrawl game modes have 1v1, 2v2, and 3v3 battles, giving room for all players with different preferences in playing a P2E game. BitBrawl has also partnered with more than 40 NFT projects, allowing players plenty of skin choices to use in the game. 
Desktop and Mobile
BitBrawl was initially conceived to be a Desktop browser-based game, where players can pit in different arenas as winners get rewarded with tokens that have real-world value ($BRWL). All you'll need is a BitBrawl NFT, and you can head over to the website and load the game once it's released. But it doesn't end there.
The gaming platform plans to add more cross-chain projects, having already kickstarted the development of its BitBrawl Mobile, which was supposedly scheduled for development at the end of 2022. However, the team decided to hire 9 more developers to fast-track building it so it could be released right after the Desktop game.
The change in plans, if we have to speculate, might have something to do with the scheduled launch of the Solana smartphone, Solana Mobile Stack (SMS), and what many are expecting to be a breakthrough not only in the SOL ecosystem but in the NFT world in general: a new all-encompassing standard for NFTs called xNFTs.
BitBrawl even asked the founder of Solana, Anatoly Aeyakovenko, who is heavily involved in the aforementioned launches, to have its game pre-installed on the Saga smartphone. And Toly appears to be open to the idea.
Play Using NFT Skins of Other Collections
As mentioned before, players can use skins from Bitbrawl's 40 NFT partner projects, including DeGods, Thugbirdz, SolGods, Pesky Penguins, and more. Note that the partner projects also include Ethereum-based collections, making this a cross-chain brawl game.
Note: Players can use other projects' skins by holding one of their NFTs.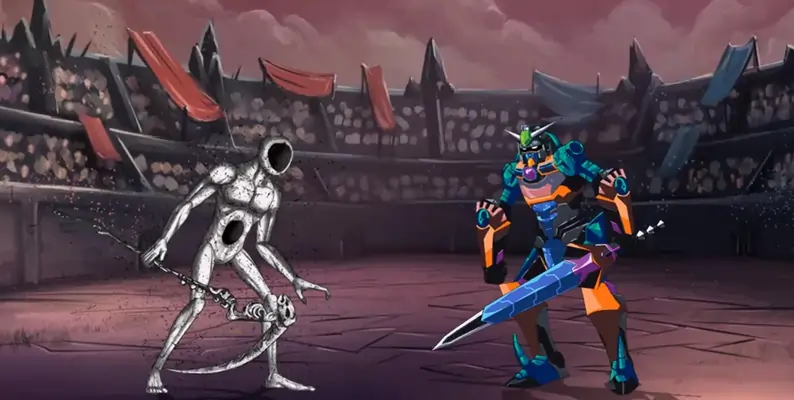 Each project has two pieces of special skin meant only for two winners. But they have also created default skins to let non-winners use their characters on the BitBrawl game.
Through this, future buyers from these NFT projects can play BitBrawl with their default skin as their gateway! One important reminder: Players should also use the same wallet they're using in logging into the BitBrawl game when storing NFTs from partner projects. 
Lore
In its lore, brawlers live in four major regions:
The Dynasty
The Underground
Nedunia
Ghule Islands
Note that players and collectors can now purchase BitBrawl on Magic Eden or list their Brawlers there.
BRAWL Token  ($BRWL)
$BRWL is BitBrawl's governance token, which, aside from vote participation, can also be used as a currency to be spent on the marketplace, tournaments, and ranked matches. They can also use it to purchase new brawler NFTs. 
Every time a player wins in battle, the system will automatically send their $BRWL to their wallets. From there, they can easily swap their tokens for other cryptocurrencies on a decentralized exchange (DEX).
BRAWL Shard 
$bSHARD is BitBrawl's main in-game currency, which gamers can acquire by competing with fellow players. They can use it on P2E transactions, trading, and in the in-game market. It is also ideal for Casual Mode players, as these tokens won't disappear even if they lose in this game. The team will also enhance the utility of $bSHARD by using it on their future mints, such as Pets. 
BitBrawl has partnered with web3 development company Communi3 to use its platform for organizing gamified quests that allow holders to win rewards that can be used to purchase $bSHARD by simply doing simple tasks like tweeting, following certain Twitter accounts, etc.
Staking 
The staking feature allows BitBrawl holders to earn passive income from their NFTs even without heavy involvement in gaming by renting out their characters to other players for a specific amount of time. 
Here are the passive earnings that each BitBrawl generates every day: 
| | |
| --- | --- |
| Rarity | $bShard Earnings Per Day  |
| Common Brawler  | 100 tokens  |
| Epic Brawler  | 150 tokens  |
| Mythic Brawler  | 200 tokens  |
| Legendary Brawler  | 300 tokens |
All brawlers possess equal power, and their only difference is the token amount they produce each day, which keeps their value intact. Holders can earn more, not only through the number of tokens that brawlers produce but also on the rising value of each $bShard. 
The sales transactions within the platform help increase the token's value, and as more collectors purchase or resell brawlers, the better for $bShard. This design protects holders from the inherent volatility of NFT assets.
BitBrawl Pets
BitBrawl Pets are companion NFTs to the Brawlers, similar to how Azuki has Beanz as companions. The pets currently have no utility announced.
Backed by Venture Capital
BitBrawl's game is being developed by the renowned gaming studio, iLOGOS, the same creator of Shadow Fight 2 who has worked with the likes of Disney, Ubisoft, Supercell, EA, Warner Bros., and many more.
While it has raised roughly $1.7-$1.8 million during the mint of December 2021, it also raised a boatload of funds from notable venture capital firms including Big Brain Holdings, Alameda Research, Shima Capital, and more.
---
Join our newsletter as we build a community of AI and web3 pioneers.
The next 3-5 years is when new industry titans will emerge, and we want you to be one of them.
Benefits include:
Receive updates on the most significant trends
Receive crucial insights that will help you stay ahead in the tech world
The chance to be part of our OG community, which will have exclusive membership perks