Step into STEPN, the grand-daddy of all move-to-earn (M2E) apps.
What we want to talk about right now is how exactly STEPN became the leading runner in the growing (and sometimes dwindling) M2E industry. Despite having more than a dozen competitors sneaking at its heels (or rather, at its sneakers), it remains a crowd favorite for crypto fitness apps. 
But the question is, why?
We'll tell you as early as now that it has nothing to do with becoming rich or anything shady like that. Other news blogs may have spun Stepn as a miracle fitness app that excretes magic internet money, but they are merely glamorizing it without taking into consideration all the different aspects involved and how it affects users in the long run.
Our goal for this guide is to properly educate you on everything you need to know about Stepn so you are better informed to make a decision, whatever that may be. We will cover all the different aspects, including the sustainability of the M2E protocol, whether it is a Ponzi scheme or not, what makes it stand out, and a whole lot more.
Let's take a deep breath, do some stretches, and explore the many tracks that made STEPN today's most popular M2E app, and then you decide if it's worth your time or not.
What is STEPN?
STEPN is a move-to-earn application powered by the fast, secure, and scalable Solana blockchain that encourages people to exercise by rewarding them with cryptocurrencies. Whether you're a casual fitness fan or a hardcore health enthusiast, you can definitely use this app for different levels of exercise. It can facilitate simple and relaxed walking up to intensive jogging and long-distance running. 
STEPN also has its own built-in wallet, marketplace, swapping features, and rental system (soon) that offer a convenient user experience (UX). 
You can start earning cryptocurrencies through this platform by purchasing one of its cool-looking non-fungible token (NFT) sneakers. You may also spend your hard-earned cryptos to purchase in-game items or cash them out straight away. 
Moreover, more people can potentially jump into this platform with its expected rollout of a shoe rental system. This means that STEPN newbies can earn from the app by renting digital shoes from sneaker owners. This could potentially be a win-win situation for them since owners can finally earn passive income by simply renting out their virtual shoes and newbies can immediately play without buying.
However, it is ironic that a fitness app that promotes exercise is also creating opportunities for "passive income". Moreover, the sneaker rental setup will also reduce the earnings of newbies similar to how play-to-earn (P2E) scholars earn typically less since a "Manager" takes a cut from their earnings. But at least it allows players who might otherwise not be able to afford to buy an NFT sneaker the chance to use the app.
STEPN also has light (but not bland) gamification elements, which are ideal for people who want to focus more on fitness rather than battles, quests, and challenges. If you're into fitness with more gamification, we suggest looking into Genopets.
The lifestyle app also aims to reduce its carbon footprint by purchasing Carbon Removal Credits to help keep Mother Earth running. 
STEPN's Main Assets
The M2E protocol is powered by three different assets: two SPL (Solana-based) tokens and NFT sneakers.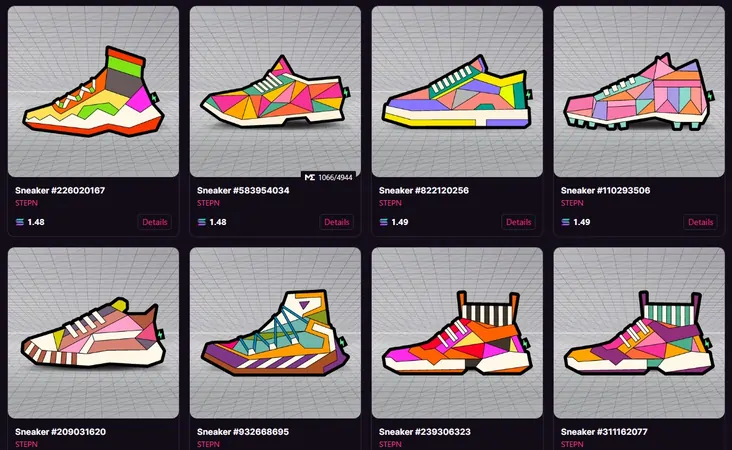 Sneakers 
A set of virtual Sneakers, which are powered as NFTs, is the most important asset in the STEPN ecosystem; without them, you cannot generate cryptocurrencies from the app. The Sneakers offer four main types:
Walker,
Jogger,
Runner, and
Trainer,
…each requiring a different minimum performance from players. 

Moreover, these Sneakers also "wear out" every time players use them for activities, and their Resilience level determines their durability. In other words, the higher their Resilience, the slower they can "decay" in the game. 
Furthermore, players should expect increasing repair costs for their sneakers as their shoes increase in level or quality. This means that high-level sneakers don't offer a total advantage for players, which is an interesting mechanism to create a level playing field for all players. See Gems and Sockets section for more details.
Green Metaverse Token ($GMT) 
Green Metaverse Token ($GMT) is STEPN's governance token, allowing its holders to play a role similar to a board member or shareholder, where they can jointly decide on how the protocol and ecosystem move forward.
GMT has a 6 billion maximum supply with a deflationary feature that halves its total supply every three years. 
Green Satoshi Token ($GST) 
Green Satoshi Token (GST) is the platform's utility and reward token that users can generate directly from their physical movements. 
While it has an unlimited supply, STEPN has already set various burning mechanisms to contain its supply so that it remains valuable for players, including minting costs, upgrading, repairing shoes, and unlocking gems, to name a few. 
How Does STEPN Work? 
STEPN is a whole ecosystem with many moving parts. This section aims to outline its most crucial aspects and how they interrelate.
Players must purchase a set of NFT sneakers before earning in the game. Once players have their sneakers, they can start walking, jogging, or running to earn GST tokens. Players can earn by grinding and participating in Person vs. Environment (PvE) and Person vs. Person (PvP) battles, as well as various challenges. 
The platform also offers varying game modes to accommodate different player preferences in exercising. The available modes are:
Solo Mode,
Marathon Mode, and
Background Mode.
Solo Mode, as its name suggests, involves no competition, and players can generate GST tokens from its solo exercises. 
Marathon Mode has weekly and monthly variants. The weekly marathon involves 2.5km (1.55 miles), 5km (3.1 miles), and 7.5km (4.66 miles) challenges, while the monthly competition offers 5km, 10km (6.21 miles), and 15km (9.32 miles) runs. 
Background Mode is definitely the most passive of all as it allows players to continuously generate GST tokens even if they're not actively using the app. This mode logs users' walking activities through their smartphone's Health Data app. 
Note: According to STEPN's whitepaper, the game is yet to release its Marathon and Background Mode. 
Now, let's talk about its Sneakers 
As mentioned a while ago, STEPN has four major Sneaker types: 'Walker, 'Jogger,' 'Runner,' and 'Trainer', and players can choose any of these types based on their preferred exercise intensity. 
Sneakers also have five levels of quality: 'Common,' 'Uncommon,' 'Rare,' 'Epic,' and 'Legendary.'
And players can always upgrade their Sneakers as long as they have enough GST to burn, sufficient GMT in their balance, and complete the game's required time duration. 
Now that STEPN's Sneakers and three game modes are all clear, let us now look at the game's other important aspects. 
Gems and Sockets 
Gems are unlockable assets that can boost Sneakers' four attributes: Efficiency, Resilience, Comfort, and Luck. Each gem must be inserted into the shoes' sockets. 
But players also have to reach four specific levels before they can unlock their Sneakers' four sockets. 
| | |
| --- | --- |
| Level 5 | First Socket Opened  |
| Level 10  | Second Socket Opened  |
| Level 15  | Third Socket Opened  |
| Level 20  | Fourth Socket Opened  |
Stepn socket unlock
Badges 
Badges are another form of reward for STEPN players, which they can gain by completing specific tasks. The Badges' perks include having a leaderboard point boost, lower minting cost, and increasing players' chances of leasing their Sneakers. 
Anti-Cheating Measures 
STEPN has also established specific anti-cheating protections to prevent players from 'gaming' its system. The app can detect if a smartphone was jailbroken or rooted, uses hackware, uses GPS spoofing, or has altered its mobile operating system in any way. Once detected, STEPN will intentionally function improperly and prevent players from retrieving their assets. 
How to Get Started with STEPN 
Head on to Google Playstore or App Store and download the STEPN app. 
Sign up using your email address. A verification code will be sent to your email, serving as your key to the app. 
Create your in-app wallet. Select the wallet icon located at the top right corner of your screen. It would create a 12-word seed phrase that you can use to recover your wallet in the event that you forget your password. 
Top up your wallet with SOL. Purchase SOL from your preferred decentralized exchange (DEX) and transfer it to your in-app wallet (Phantom or Solflare). Note: Always purchase a few extra SOL tokens for gas fees. You may also head first to the Marketplace and check the price of the Sneakers you want to buy. 
Time to shop for your brand new sneakers! Go to the Marketplace and select your preferred Sneakers. Use the platform's filter to narrow down the ideal shoes for you. Note: Be sure to have enough SOL tokens in your wallet. Alternatively, you can buy Sneakers at other marketplaces that list the NFT collection, such as Magic Eden.
You may also want to check out this link for a more detailed view of how to start playing STEPN. 
Is STEPN a Ponzi Scheme? 
Probably not, but it's difficult to be truly certain this early. While we cannot say for sure if STEPN will someday turn out as a Ponzi scheme, it has specific aspects to it that lead us to believe that it is AT LEAST attempting to build a legitimate ecosystem. 
But before going deeper into this issue, let us first define what a Ponzi Scheme really is. 
Any operations are considered a Ponzi Scheme if : 
Earnings of new investors come from the deposits of earlier investors (and not from the actual earnings of a business or system)
Artificially creating an active economic activity as "proof" that a business is earning. 
Now, let's look at why STEPN lacks the key aspects of a true-blue Ponzi platform. 
It is Creating a Sustainable Economy
STEPN is building for the long-term, which is counterintuitive to Ponzi business models. Its platform has three major ways to sustain its ecosystem.
First, it controls the inflow of new gamers, which is obviously the exact opposite of what a Ponzi scheme typically does. Second, its GMT token supply is designed to reduce by half every three years to combat inflation and gradually increase its value in the long term. Third, it highlights the importance of rerouting players' earnings into the platform, which would help maintain stability.
However, it's easy to determine why people can see parallels between STEPN and Ponzis if they look at the price history of the M2E ecosystem's assets, especially the reward token GST, which runs not only on Solana but also on Ethereum and BNB Chain.
Like most reward tokens in the P2E and M2E spaces, the reward tokens ($GST) have been obliterated in the STEPN ecosystem since it is what users cash out with, making it difficult to contain oversupply. The "Ponzi" fix would have been to use its funds to artificially raise supply and continue to attract more users with "guaranteed" or "high income", but that wouldn't be sustainable.
Notably, GMT, the governance token, appears to have managed to resist downward pressure better. This is a testament that there are still many users who see future potential for the protocol as it navigates through the bear market.
It Has a Clear Value to Provide
STEPN's main selling point is to incentivize a healthy lifestyle. While earning cryptos for every activity may give you a boost, it should only serve as a bonus rather than your reason for exercising, otherwise, the protocol won't serve you well. Unfortunately, many independent sources have helped spread misconceptions of high earnings and get-rich-quick schemes that have soiled the reputation of the protocol.
Remember, global fitness interest is not winding down anytime soon, as millions of people view it as a necessity rather than a luxury. In fact, the global fitness industry has achieved a market size of $96.7 billion in 2019 and is set to rebound after the global pandemic due to loosening restrictions worldwide. 
It Has Doxxed Team Members 
Who's hiding behind animated faces? Not one of STEPN's core team members. And this transparency highlights STEPN's commitment to creating a legitimate and truly beneficial platform for players. 
With team members' reputations on the line, it's less likely that they'd risk creating a Ponzi scheme with a short lifespan and a potentially devastating impact on their track records. But while these three aspects are critical components of a legitimate platform, players should always ingrain in their minds to only invest what they can afford to lose. 
Sticking to this golden rule should protect them from losing their savings and the unpredictability of the crypto sphere. 
What Makes STEPN Stand Out? 
With the number of move-to-earn projects popping out everywhere, what makes STEPN stand out is its team. While we have to trust the heavens for projects with undoxxed founders (hoping they really know what they're doing), STEPN's core team ensures that real experts are running the platform. 
Jerry Huang, STEPN's co-founder, has in-depth experience in game development, marketing, and iOS app creation. Yawn Rong, a fellow co-founder, meanwhile, has experience in angel investing, business, and start-up scaling. 
On top of that, STEPN has also onboarded Adidas' Vice President Scott Dunlap as one of its advisors, which is certainly a big advantage for a virtual shoe platform. Moreover, it currently has a slate of 11 investors, including Solana Ventures, giving the move-to-earn app the financial muscle to further develop its game and ecosystem. 
And most importantly, it is working towards making the protocol more sustainable and not falling prey to band-aid solutions or any short-term strategies despite the hardships.
While this may only serve as an overview of its foundation, its combined expertise gives it an edge over other M2E projects. 
You might also want to check our Move-to-Earn guide.
---
Join our newsletter as we build a community of AI and web3 pioneers.
The next 3-5 years is when new industry titans will emerge, and we want you to be one of them.
Benefits include:
Receive updates on the most significant trends
Receive crucial insights that will help you stay ahead in the tech world
The chance to be part of our OG community, which will have exclusive membership perks