The current market is quite hostile to the vast majority of non-fungible token (NFT) projects, with many of the smaller collections going under mint due to global financial concerns and other bearish sentiments. In fact, the number of projects that are launching also appears to be dwindling this August.
However, top-of-the-line projects are still stronger than ever, albeit with slightly fewer secondary sales than before. Remember, the higher the secondary sales, the more money project founders get, which in turn, translates to a bigger budget for continuing development.
Let's explore the most dominant NFT collections in the web3 world. Note that all of the top 10 projects happen to be on Ethereum. This is a testament that ETH is currently the king of web3, while Solana and Cardano are trying to grow their respective market shares.
CryptoPunks
Larva Labs started a pioneering NFT project called CryptoPunks back in 2017, drawing its inspiration from a cyberpunk community called Punk London. CryptoPunks was launched as a collection of 10,000 collectible characters in pixelated style with varying attributes that define their rarities.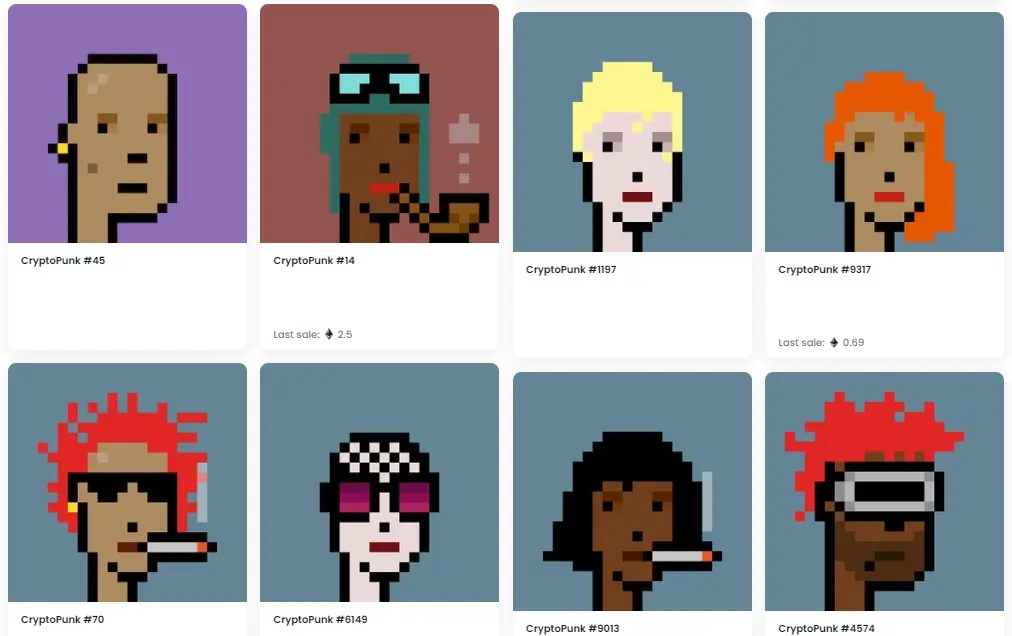 The project was initially an experiment that happened during a time when the NFT market was non-existent. The team began by giving free CryptoPunks NFTs to the crypto community (mostly Ethereum holders). Being extremely early in the space became its unfair advantage considering that history holds a lot of significance in web3 culture.
Its performance only seemed to flourish over time, gaining a sales volume of $52,801,464 in the past 30 days.
Bored Ape Yacht Club (BAYC)
Bored Ape Yacht Club (BAYC) is considered by many to be the "hottest club" in web3 and was founded by four core members who created Yuga Labs. The collection consists of 10,000 dope-looking apes with 170 possible traits. The team introduced themselves with creative pseudonyms to reflect their Bored Ape characters: Gargamel, Gordon Goner, Emperor Tomato Ketchup, and No Sass. However, their real identities have already been revealed.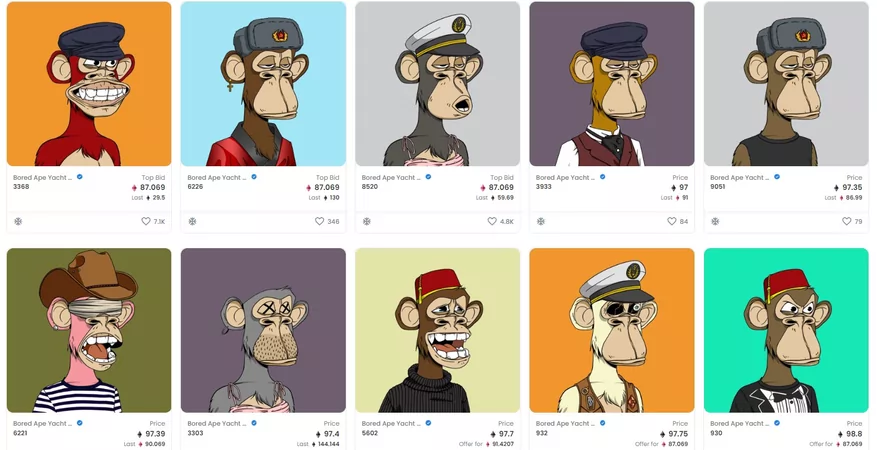 As BAYC provided a fresh vision and strong branding in the NFT space, the community started to grow, attracting famous personalities like Stephen Curry, Eminem, Snoop Dogg, Paris Hilton. Even brands and companies like Adidas and 9gag have taken part in its community. The elite community that gathered over time has catapulted the project to the top of the NFT world.
Its success had only begun, and its plan to further expand the BAYC universe through the Otherside metaverse.
This month's BAYC secondary sales volume has reached $52,060,782.  
Sorare
Football and baseball enthusiasts found their place in the NFT world through Sorare where players can win licensed digital cards featuring world-class athletes. The NFT-based game was recognized to have successfully gained more than a hundred affiliations with various clubs across several countries.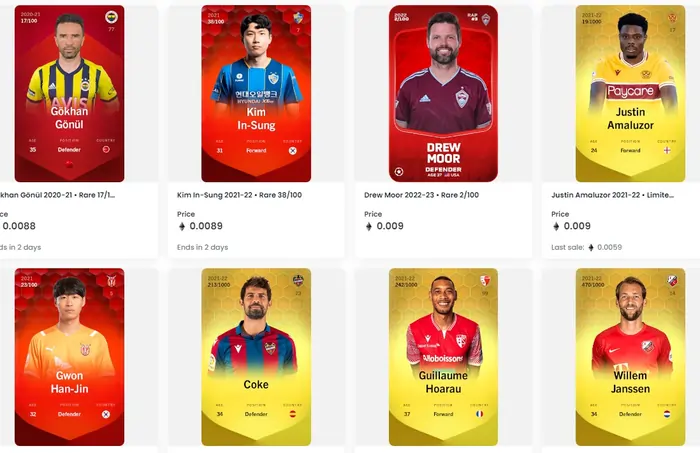 In Sorare, players have three main activities to do: collect digital cards, build lineups and enter contests, and compete to win. This strategy is an effective move for the enthusiasts and other collectors as the project currently reached a sales volume of $34,235,988 in the last 30 days.
Otherdeed
The expansion of the BAYC universe begins with exploring the Otherside metaverse, featuring Otherdeed NFTs, a collection that serves as land deeds to the new virtual world. In this extended world, the community can harvest a wide variety of resources in different lands.
The Otherdeed NFTs have a total supply of 100,000, with 45,000 parcels reserved for Bored Ape holders and Yuga Labs employees, while the rest are for the partners and early supporters.
The community embraced the Otherdeed NFTs, which resulted in positive sales just a few days after launch. With its initial success, the project team aims to exert collaborative work in the future for its growth.
Otherdeeds secondary sales have hit $30,023,934 in its last 30-day volume.
Mutant Ape Yacht Club (MAYC)
Mutant Ape Yacht Club is a collection of 20,000 Mutant Apes that provides utilities and benefits to the community while attracting new members to join. It is the second-tier collection of Yuga Labs, the second most valuable collection in the BAYC universe.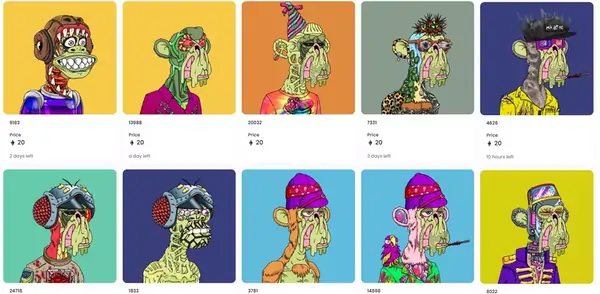 MAYC's strategy is about the story of Curtis, BAYC's founder, finding a strange machine that led him to the world of the Mutant Ape. Just like Yuga Labs' other successful projects, MAYC accumulated $23,944,866 worth of sales volume in the last 30 days.
Art Blocks
Art Blocks is a platform where artists and collectors meet, creating a dynamic community. The NFT collections in this space are rich in styles, but buyers usually do not know the way the art piece looks before purchasing it. Its concept started with Snowfro, which was inspired by CryptoPunks. During this time, he launched Chromie Squiggle, emphasizing the combination of provenance and generative output.
Since then, generative art has become more recognized. Through this project, collectors can better understand the artists' souls found within their pieces.
Today, Art Blocks continue to play an essential role in blockchain art, garnering $20,420,723 in sales volume over the last 30 days.
Potatoz
9GAG, founded in 2008, stayed true to its mission of providing happiness to the world. Its goals even reached the Memetaverse, where its web3 ecosystem, Memeland, is found. The project revolves around the Potatoz NFTs, comprising 9,999 utility-enabled PFPs that later became the first residents of the deserted land in its introduced lore.
The project has no clear roadmap because it wants to under-promise and over-deliver. It also emphasized that the community and social media will serve as its testimony of success. Currently, Potatoz earned $13,440,419 worth of sales volume from a 30-day record.
Moonbirds
Moonbirds positions itself as more than just a collection of utility-enabled PFPs with varying traits to offer; its foundation is built on community, enabling private club membership and other benefits such as nesting, which is a form of NFT staking where holders accrue rewards and unlock certain perks. Kevin Rose and Justin Mezzell, two well-known personalities in the NFT world, founded the project.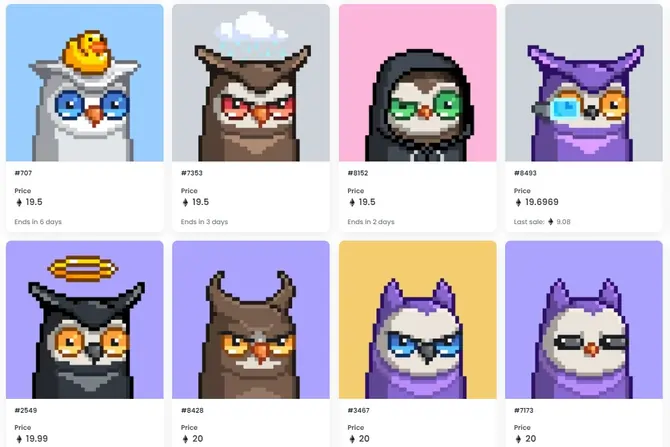 As of the time of writing, Moonbirds generated a sales volume valued at $11,495,420 in the past 30 days. With this figure, it became evident that the team's promise of departing from the digital ghost town was effective in attracting more members to the community.
Clone X
Clone X is a project composed of 20,000 uniquely-designed NFT avatars created by RTFKT, a creator-led organization that was acquired by Nike. The collection aims to set the standard for quality 3D art, and was designed to become deluxe avatars of metaverses. Additionally, every clone is different from one another, and the holders have the opportunity to personalize their avatars by downloading the source files.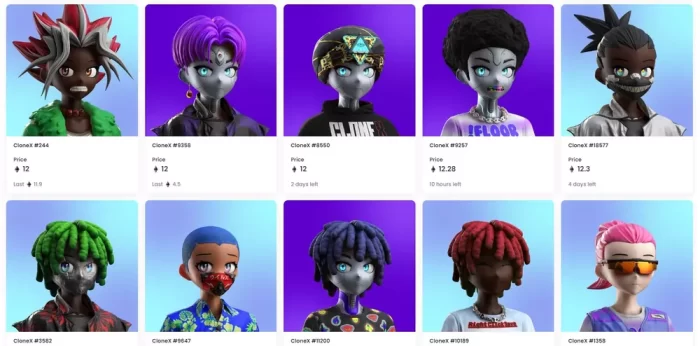 This month, CloneX accumulated a sales volume of $11,432,858, reflecting the community's growing anticipation.
Moonbirds Oddities
Moonbirds Oddities is the second-generation NFT collection of Moonbirds, featuring 10,000 Moonbird pellets, described as 'the expelled contents of the Moonbirds stomach'. The collection is a collaborative effort between the Moonbird founders and Gremplin, the artist of Nouns and CrypToadz NFTs. It was airdrop to Moonbird holders who nested (staked).
With the team and community behind it, Moonbirds Oddities got a sales volume worth $9,548,159.
---
Join our newsletter as we build a community of AI and web3 pioneers.
The next 3-5 years is when new industry titans will emerge, and we want you to be one of them.
Benefits include:
Receive updates on the most significant trends
Receive crucial insights that will help you stay ahead in the tech world
The chance to be part of our OG community, which will have exclusive membership perks